Four-leaf clovers and rainbows are all the rage this week! Just check out any elementary school hallway, art room or any aisle at your local Target — you'll see they're all decked out for St. Patrick's Day.
Discover & Explore is also celebrating the luck 'o the Irish this week with these fun & fabulous activities shared on last week's linky.
17 St. Patrick's Day Activities for Kids
You're sure to find a pot of gold at the end of these colorful activities:
Start off your afternoon with this colorful Rainbow Fruit Tray from The Joys of Boys that's sure to please!
And the kids will love this Gold Coin Dig sensory game shared from The Pleasantest Thing.
In the Playroom shows us how to do some easy Rainbow Felting Art with gorgeous results!
Kids will enjoy making & dancing with these Rainbow Rings from Buggy & Buddy.
Life Lesson Plans explores some color science with this Magic Milk activity!
More science fun can be found with these Rainbow Fizzy Pots at Little Bins for Little Hands.
You never know what might grow from this Rainbow Tree made by School Time Snippets.
Kids can practice their fine motor skills with this Q-tip Rainbow Painting activity from Teach Beside Me.
And talk about brilliant, try creating some Magnetic Rainbow Art with this idea from Munchkins & Moms!
Or hop over and visit Living Montessori Now for more than 100 Rainbow Activities for Kids.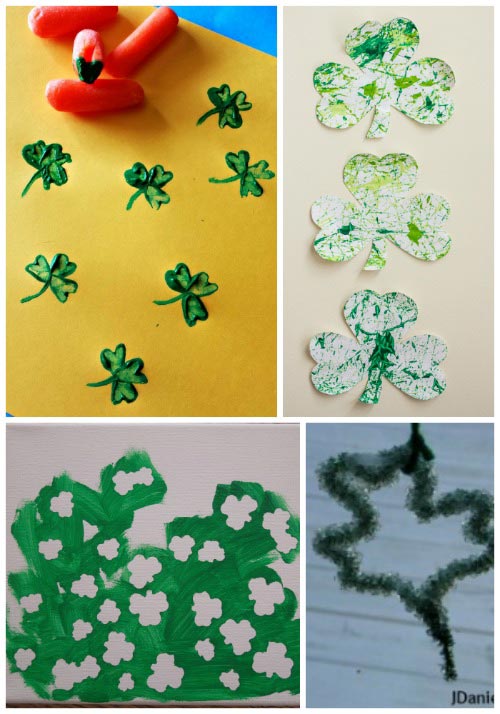 They say to find a four-leaf clover you need a lot of luck and a little perseverance — but kids aren't always that patient. So why not make a few of your own at home:
Create a beautiful Marble-painted Shamrock like this one from Plain Vanilla Mom
JDaniel4's Mom shows us how to make your own Crystalized Shamrock with this great science experiment!
And I love the Shamrock Sticker Resist Painting from Play Dr Mom!
For more painting fun, Sassy Deals shows us how to make Carrot-stamped Shamrocks.
Make your own Shamrock Luminary from World for Learning.
Try your hand at counting shamrocks & more with this free printable 'I Spy' game from The Pleasantest Thing.
You might also try trapping your own leprechaun for luck with this homemade Leprechaun Trap from Planet Smarty Pants.
Thanks to everyone who shared ideas — be sure to join us this week as we Discover & Explore Spring (linky opens later tonight!)!
You might also like:
St. Patrick's Day Fun for Kids