When my kids were young, they had no issues with their fine motor skill development. I attribute it to the fact that they loved Cheerios and were always playing tug-of-war with the dog 🙂
But once they hit elementary school, they both began to have issues with their printing and writing. I always thought that fine motor skill development was important when kids were younger but I never realized it was a skill they would need to work on after preschool.
Fun Ways to Improve Fine Motor Skills
There were a number of reasons this was happening — both kids were really active and would much rather spend time doing large motor activities (running, climbing, etc) than coloring, doing crafts or other activities that would help hone their fine motor skills.
And if there's any genetic influence on handwriting, they'll have an uphill battle overcoming some of the scrawl that they may inherit from our families.
When we began to see some issues — for example, it was taking them a really long time to complete their writing papers and they had odd pencil grasps — we talked to an occupational therapist (OT).
My biggest concern was that the kids were beginning to avoid writing. They would construct two word sentences and write the bare minimum on the school papers. I really don't care if my kids have gorgeous handwriting but I was very concerned that they were avoiding such an important skill and one that they would need throughout their lives.
The OT and their teachers both recommended the same thing — give them fun ways to build their finger muscles and enhance their fine motor skills.
Yea! I totally love the fun thing! So we made a list of activities and fun items that kids could use on a more frequent basis and it wouldn't even feel like they were 'practicing' 🙂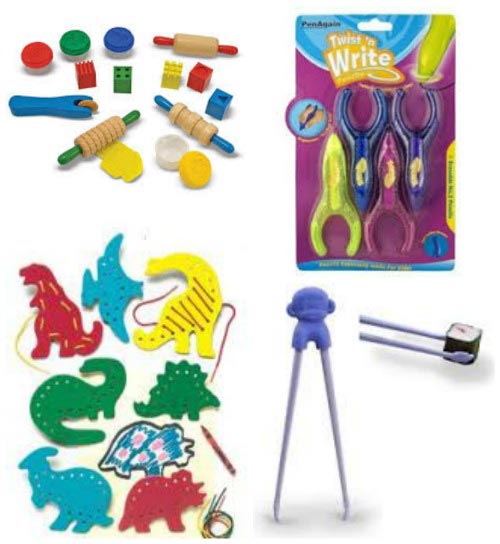 Here are a few of the items we began to use more frequently and they really helped along with their affiliate links for more information —
Play dough! Not kidding at all — think about all the rolling and molding kids do when they play with this. We also have the Melissa & Doug Shape, Model and Mold
play dough toys to use with it. Lots more fine motor practice when they are using the rollers, cutting the dough and making shapes too.
One of the odd items that was recommended was the TWIST N' WRITE Penagain Children's Pencils.
They remind me of a UFO for some reason (don't ask me why, I can't quite place it) but they were really helpful with correcting the pencil grasp! The kids can only hold this pencil with the correct grasp – it sort of just fits their hand (obviously some super smart OT must have created this).
Another fun alternative was to let the kids use chopsticks to eat. You can find kid-friendly ones like the Fred & Friends Chimpsticks Chopsticks
or get the Chopstick Helpers
which attach to any regular pair of chopsticks to make them easier for the kids to use. Lots of pincher grasp practice happens with these.
And the Lacing & Tracing Cards
were also a big hit. Holding the laces and weaving them in and out of the holes is a great activity. The cards come in a variety of shapes and themes so it's easy to find a set your child will enjoy.
They also suggested that we find fun ways to get the kids to use pencils and write more often. In our house, that seemed to be sketching and drawing animals, comics and funny pictures. When the kids were absorbed in activities that they enjoyed, they were less likely to worry about their writing and thus, got in more writing practice.
More Fine Motor Activities
How do you encourage fine motor development with the kids? What fun activities do they enjoy? This week's Discover & Explore linky is all about fine motor activities so please share your ideas with us!
Visit our Co-hosts for more fun activities too!
Fantastic Fun & Learning ** Buddy & Buddy

Please read the following guidelines for sharing:
Share family-friendly posts related to the weekly topic — kids activities, crafts, recipes, nature outings, printables, etc.
By linking up, you are giving me permission to share your post including one photo in our weekly feature post and on social media channels.
Visit 2-3 other posts that have linked up, find some new ideas & meet new friends!
If you'd like, grab a button for your post — we love to share and want to find lots of great activities to highlight for you!
Each of the host blogs will feature some of the outstanding posts the week following the linky!