October is the perfect time to enjoy some pumpkin activities for kids!
Welcome to Pumpkin season!! I'm sure if you don't already have a pumpkin (or two ;), you're probably off to find one this week.
While they make great decorations (especially when you use these FREE pumpkin carving stencils), pumpkins also offer wonderful learning opportunities in the areas of science, math, art and even engineering. And we're sharing some awesome hands-on STEAM activities kids can enjoy with their pumpkin this month!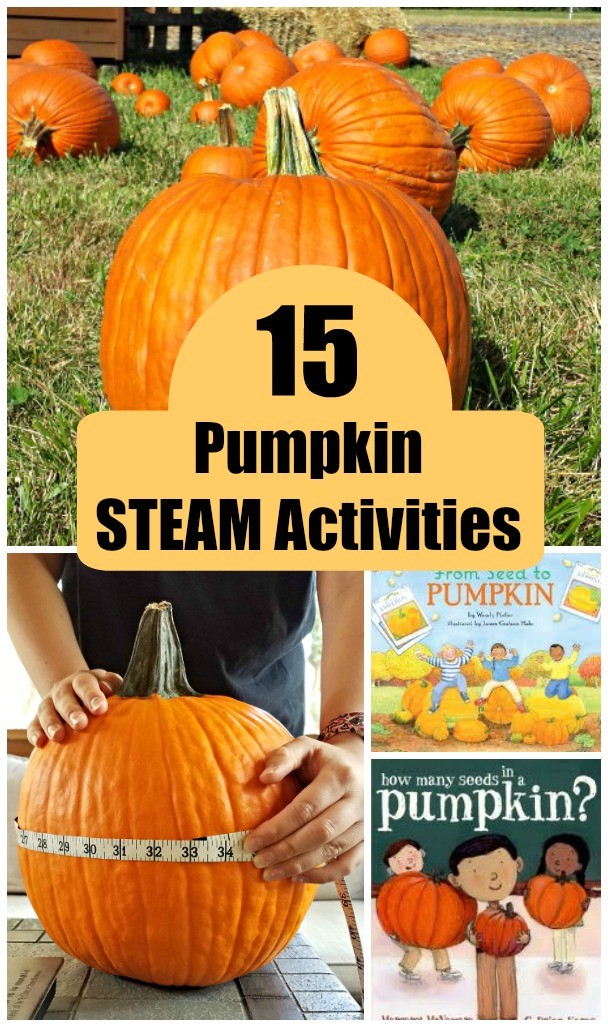 15 Pumpkin Activities for Kids
Since we can't start Pumpkin Season without a pumpkin, the first activity is to find one 😉
You can go in search of the perfect pumkin in a lot of places —
Visit a pumpkin farm and pick your own pumpkin off the vine!
Walk through a garden store or pumpkin patch and choose one.
If you still have a Farmer's Market open in your area, find a pumpkin there!
Or maybe you grew your own this year in your garden.
If you aren't able to find a large pumpkin, smaller ones are fun to learn with too. Try looking at the grocery store for a pie pumpkin or even small gourds which can look like pumpkins.
Once you've found a pumpkin, try a few of these great science, math, art and engineering ideas this month!
Pumpkin Science Experiments & Activities
1. Read to Your Pumpkin
Since our book recommendations are related to science, we included them in this category –
2. Experiment: Does your pumpkin sink or float?
Grab the FREE sink or float science worksheet and see how to do this easy experiment — all you'll need is some water!
3. Use an Optical Illusion to Turn a Pumpkin into a Jack o'lantern
Use this FREE printable Halloween Science Activity to learn about how our eyes and brain work together (this is actually a combination of science, art & a little engineering)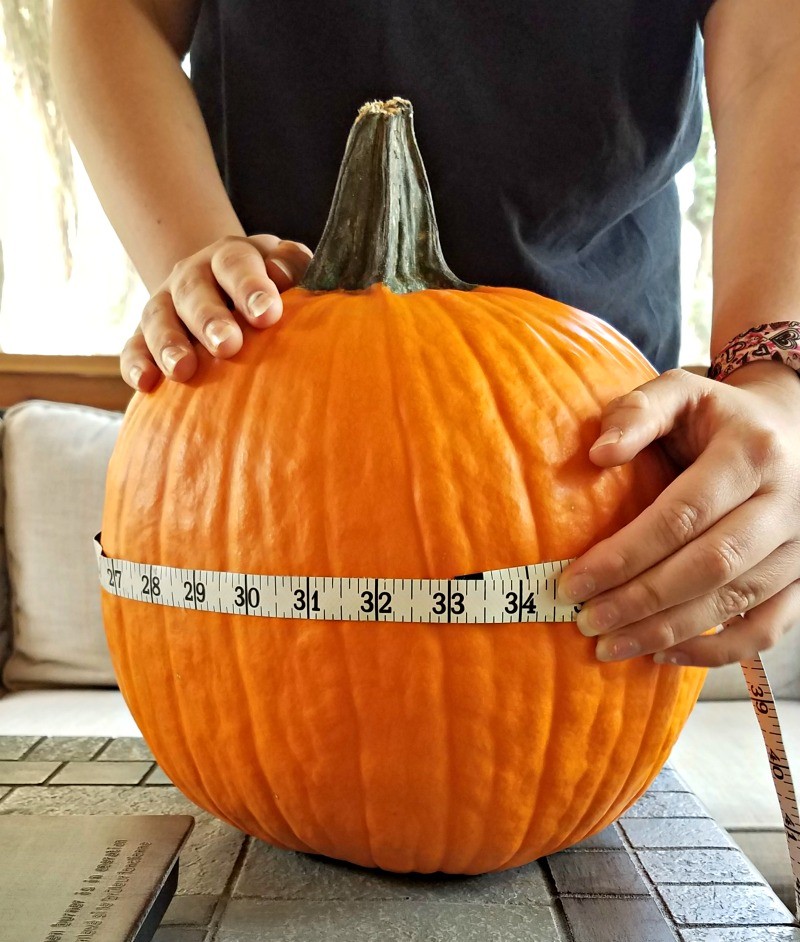 Pumpkin Math Activities
4. FREE STEM Activity Journal
Be sure to grab the FREE printable Pumpkin Activity sheet below to use with some of these math and art activities!
5. Measure the height of your pumpkin!
Use a ruler or blocks to see how tall it is and record it on the printable.
6. Guess how much your pumpkin might weigh
This is a great estimation activity for kids. Have them lift up their pumpkin and compare it to other items — then put it on a scale and see how close your 'estimation' was to it's actually weight.
7. Measure the circumference of your pumpkin
If your kids haven't heard this term yet, let them know it means the distance around your pumpkin). So if your pumpkin was a person, measure it's belly area 😉
The first thing they might notice is that a ruler doesn't bend — so you can try using a flexible measuring tape (like we did in the photo above) OR just cut a piece of yard or thread, wrap it around the pumpkin and then use the ruler to measure the thread.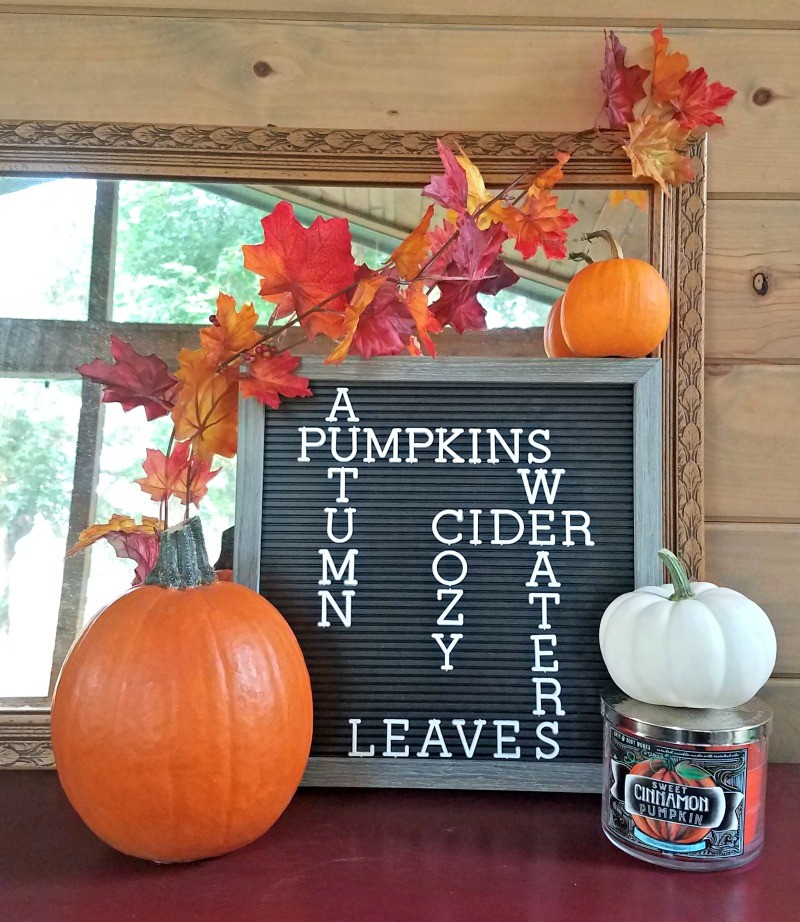 Art Activities with Pumpkins
8. Draw a picture of your pumpkin
Use the free printable below to create a sketch of your pumpkin – is it round? oval? tall? short? Does it have a stem on top?
9. Create a Pumpkin Story
Name your pumpkin — and then write a short story about how your pumpkin came to live with you!
10. Make Word Art
Using scrabble tiles, Bananagram tiles, magnetic letters or a letter board (like the one in our picture), create some word art! Spell out the word 'pumpkin' first. Then use other letters to build words about Fall or Halloween off of the word 'pumpkin'. This is a great spelling activity for older kids and a fun tactical activity for all!
11. Decorate your Pumpkin
Create an artistic Fall design with paint, markers, or glue on jewels!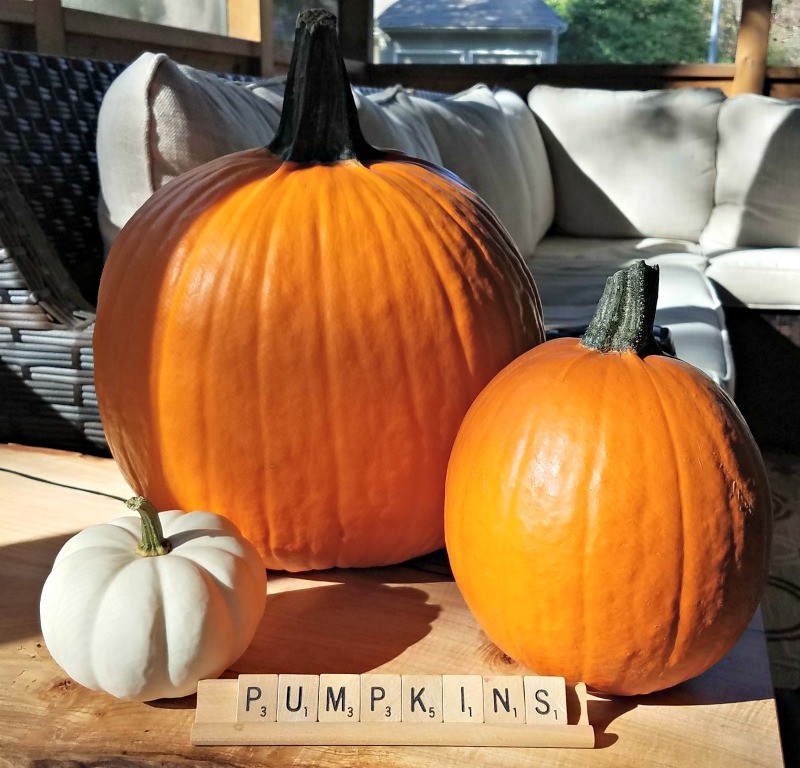 Pumpkin Engineering Challenge
12. Build a Pumpkin Tower
If you have a few pumpkins (especially smaller ones or gourds that look like pumpkins) have kids try to stack them! This takes some patience, creative thinking and a few trial & error rounds before you find a way yours might create a small orange tower 😉
Before we get into these next few activities, I just want to warn you that some kids get VERY attached to their pumpkin — so kids may perceive that we are "going to hurt the pumpkin". We had a pumpkin live with us until Christmas one year because my daughter had a hard time giving it up 😉 so you may need a 2nd pumpkin for these next activities.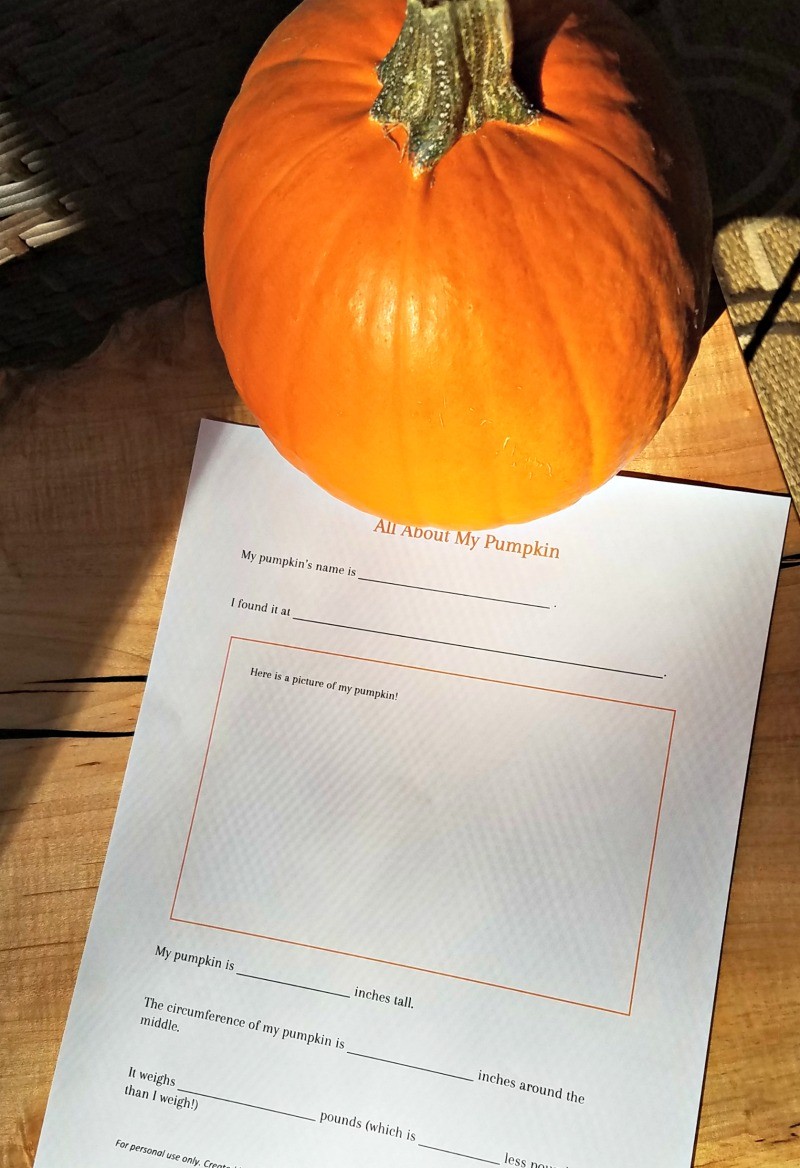 More Pumpkin STEAM Activities
13. Count the Number of Seeds in a Pumpkin
Guess how many seeds are in your pumpkin – write down that number. Then scoop out all the seeds and count them to see how close you were to the actual number. (math)
14. Make a Pumpkin Volcano
Once your pumpkin is all cleaned out, create a 'pumpkin volcano'! This activity is best done outdoors. Pour in 1 cup of vinegar and then add 1/4 cup of baking soda — and see what happens. (science)
15. Bake toasted pumpkin seeds!
Cooking is a combination of a few STEAM areas – math when reading the recipe and heat needed for baking, science while making the seeds (do you like salted or cinnamon seeds?) and technology with the use of an oven too!
BONUS: Once your done with all the activitites, turn your pumpkin into something cool for Halloween! Browse these 100+ FREE Pumpkin Carving Stencils for a few ideas! (a little engineering & art)
Grab a copy of the Pumpkin STEM Activity journal now!
More Fall & Halloween Activities for Kids
20 Outdoor Fall Science Experiments