Halloween will be here soon so it's time to get crafting with this glittery, kid-friendly decoration that will bring a little 'spooky' to any home.
I love this time of the year because it's also one of those holidays that allows your creativity to shine!
Like the year my son decided to be the 3 Stooges (yep, he wanted to be all 3 of them at once).
Or the year I had to make a tractor costume for the farm themed fall party they had at school. (Really, a tractor – couldn't have been a cow, horse or scarecrow, right?!)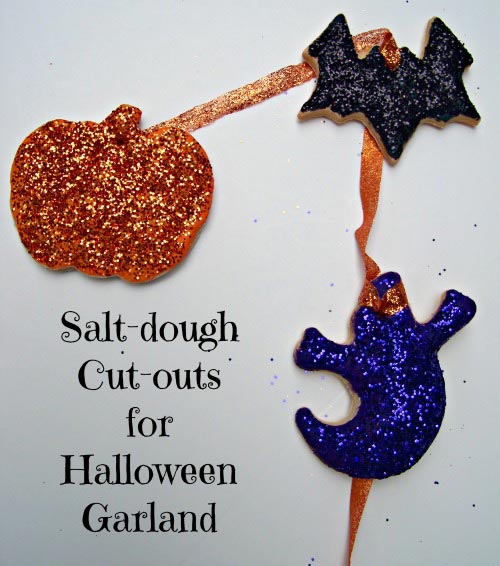 Easy Halloween Decorations: Salt Dough Ornament Garland
To get ready for the season, we decided to get creative and make some salt-dough ornaments with a Halloween theme that can be used to decorate for the holiday.
Who said ornaments are just for Christmas trees! These can be used to create a string of garland, garnish a black wreath or even hung on the doorknobs around the house.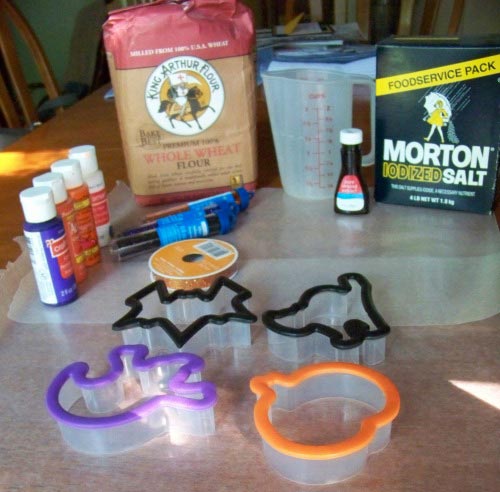 Halloween Salt Dough Ornaments
To create the salt-dough ornaments, you'll need the following supplies (I've included affiliate links for a few of the items we used):
As you can see in the photo, we also added a little vanilla flavoring — I was hoping it would make the dough smell a little nicer during our prep/play time, which it did — BUT, it ended up smelling so good that the dog has already chewed through the bottom part of the garland that was hanging on the wall!
** So I wouldn't recommend adding any flavorings if you have pets 🙂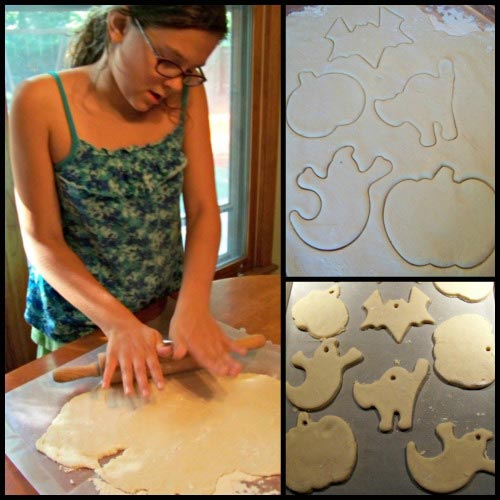 Now on to the best part of the activity — rolling and cutting the ornaments!
Give your kids an opportunity to play with and roll the dough (great for fine motor skills). We have a Kid-size Rolling Pin
which is great to have around the house for projects like this one — so easy for the kids to manipulate and use that there's a lot less frustation when rolling out the dough.
Make sure you have a well-floured surface when rolling the dough and cutting ornaments as it makes it much easier to transfer to the cooking sheet. The dough can be a little sticky so add flour as needed.
We used a straw to poke holes at the top of each ornament.
The recipe says bake for one hour and ours did come out a little dark (we didn't mind since we were planning to paint them) so you may want to check on them if you'd like a lighter colored ornament.
Let them cool and then they are ready for painting!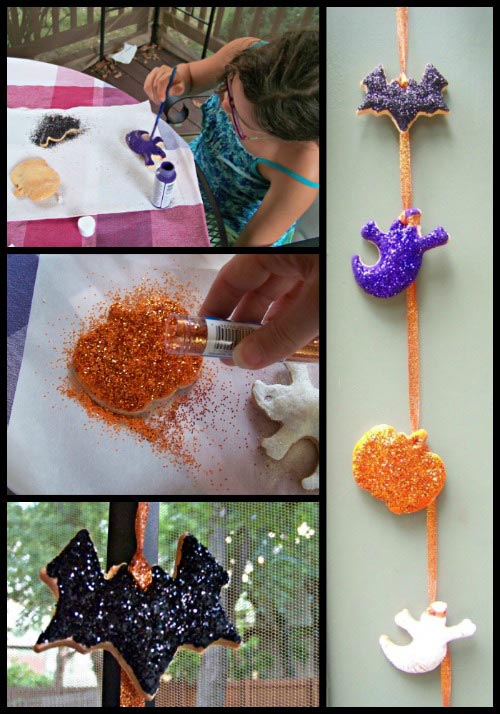 How to Make Salt Dough Ornaments Shiny
To make these ornaments 'pop', I would do one of two things:
Be sure to put some wax paper or other non-sticky covering down before you paint! We painted ours with a paper towel underneath them and had to peel a few off once the paint dried. No harm done really but just a lesson learned before our next painting project 😉
One the ornaments are dry, you can cover them with a generous coat of acrylic paint. We only need one coat of the purple and black paint while we used two coats of the white and orange paints. If you plan to add glitter, make sure to sprinkle the glitter over the ornament while the paint is wet and then let everything dry for one hour.
Honestly, we LOVE the glitter look of the ornaments!
Another thing I love about these ornaments is that they are pretty indestructable — we dropped a few and no harm done, so don't worry about them breaking during the process.

We found an orange glittery ribbon about 1/2 inch thick at the craft store to use — you could also use a nice jute twine to make it a more rustic garland. Thread the ribbon through the hole at the top and you're all set — pretty Halloween Garland for the front door or even to hand across a window.
We like the bat best — reminds us of the 'bat signal' in Gotham City 🙂
The dog? She enjoyed the ghost the most!
And of course, this Halloween craft pairs so nicely with a seasonal book too! Try one of these:
Little Blue Truck's Halloween
The Night Before Halloween
Room on the Broom
The Berenstain Bears Trick or Treat
More Easy Halloween Crafts:

DIY Giant Spider Web & Candy Holder