Enjoy these gorgeous kids books about leaves — perfect to pair with favorite Fall activities this Autumn or to take with you on a leaf scavenger hunt!

One of the best things about Autumn (next to the pumpkin bread, of course) are the beautiful leaves!
I love to go on long drives to see the gorgeous colors as they mix together across the treetops.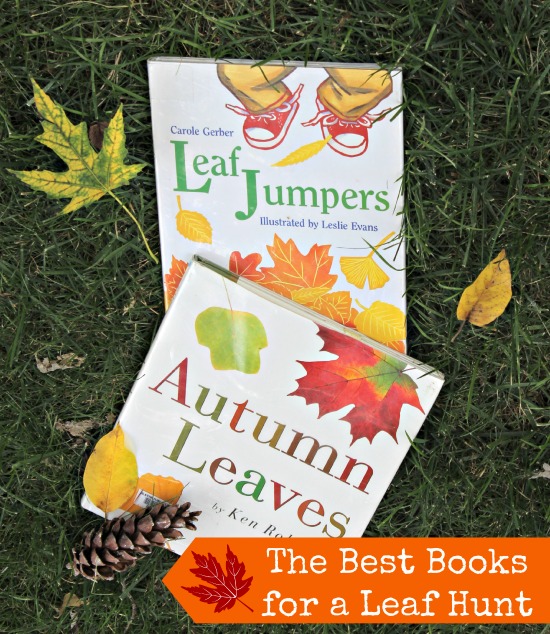 Kids Books about Leaves & Leaf Hunt Activities
The kids, however, aren't always as impressed — "All we're doing is driving around to see the leaves?!"
Yea, I guess leaf peeping is more of an adult thing. But kids do love to COLLECT all those colorful leaves as we walk around the neighborhood or take a hike in the woods.
And then, of course, all the questions start –
"Why is this leaf red and this one yellow?"
"What type of tree has the orange leaves?"
I'm no expert; I'm just here for the pretty colors 🙂
But there are some wonderful books to take with you on your next leaf hunt! We've rounded up some of our favorite leaf-themed reads – perfect for 'going on a leaf hunt' activities because each include pictures of various types of leaves along with the names of their trees. We're also including affiliate links for each of our recommendations along with SUPER fun leaf games & activities too!
Best Books about Leaves for Kids
Leaf Jumpers
is the perfect choice for preschoolers and kindergarten age kids as a take along book for a leaf hunt. It highlights the colors and shapes of leaves from the various tree in easy to read text.
Classic Autumn Activity: Let kids pile up and jump in the leaves – great idea for large motor skills and burning off some energy 😉 Use the book to play a matching game as you walk along looking for leaves. Or collect a variety of leaves and pair them with the pictures in the book when you return home.
Awesome Autumn
is one of our all-time favorite Fall books! This wonderful resource includes so much more than leaves — it has a great presentation of all things autumn with many fun facts about the season! A great book to take along as you search for leaves and many fun pages to stop and read on your outing.
Fall Activity: Explore a variety of Autumn Equinox activities for kids (such as migration and seasonal changes)!
We're Going on a Leaf Hunt
will be a huge hit with toddlers to take on a leaf hunt. As you walk along looking for leaves, the kids can 'act out' their leaf hunt by crawling, jumping and burning off some energy.
Fall Leaf Activity: Print off these FREE Leaf Hunt Cards and go on your own leaf hunt this week!
Another wonderful choice for younger kids is Count Down to Fall
. With this book, you not only get to match up the leaves but also the seeds that are producted by various trees.
I love the 'Creative Minds' sections included in books published by Arbordale Publishing where you'll find some great extenstion activities and games to play with the kids.
Autumn Equinox Activity: Collect colorful leaves along with a variety of tree seeds to create a beautiful Fall Nature Tray for exploration!
Autumn Leaves
includes beautiful detailed photos of the leaves from 13 popular trees. You'll find more of the science behind leaves — why they change colors and how they help a tree — along with some fun facts about each of the trees (did you know the gingko tree grew in prehistoric times?!!)
And for kids with LOTS of questions, try Why do Leaves Change Color? — an introduction to the concept of photosynthesis and peek into why leaves are green in the Spring and have colors in the Fall!
Fall Science Activity: Try one of these Fall leaf science experiments after reading these books!
I Can Name 50 Trees Today!: All About Trees
is a more advanced read for kids ages 7 and up. The book not only shows various leaves but also talks about trees that can be found around the world – tons of interesting facts!
Fall Activity with Trees: Try a few of these Tree Activities for Kids after reading this favorite book!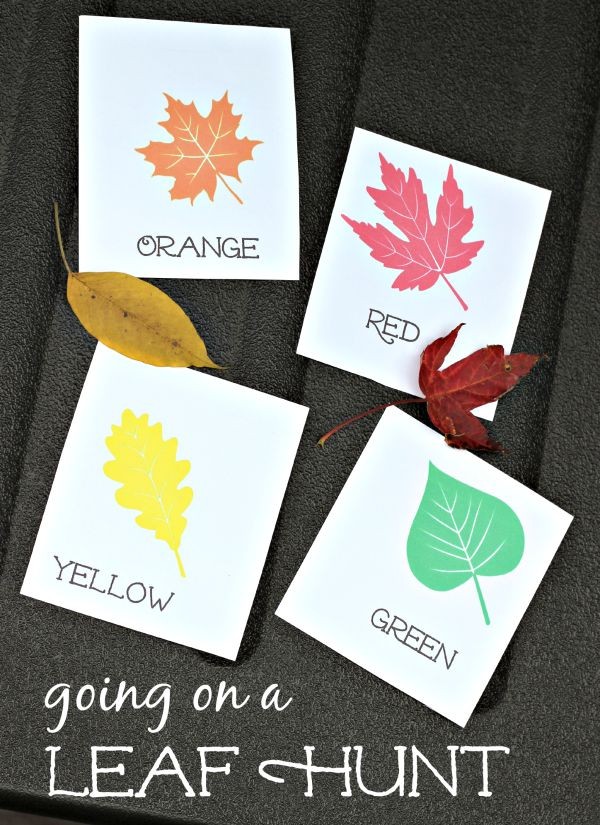 Leaf STEAM Activities for Kids
Be sure to pop over to our We're Going on a Leaf Scavenger Hunt post & grab the FREE printable leaf hunt cards to take with you! You'll also find some great math activities you can do with leaves too.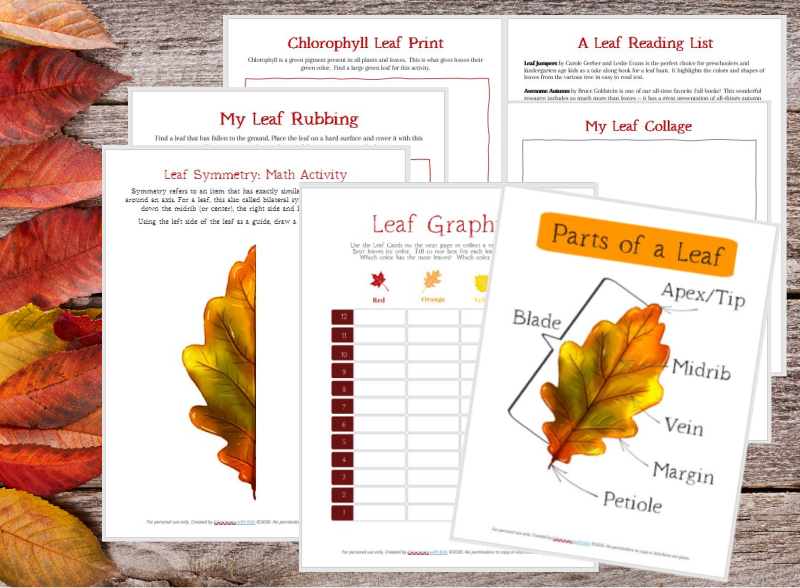 Kids can also explore science, math, art and nature as they learn about leaves with our *NEW* Leaf STEAM Printable Pack which includes 7 hands-on STEAM activities — create leaf rubbings, chlorophyll prints, learn the parts of a leaf, make a leaf graph & more!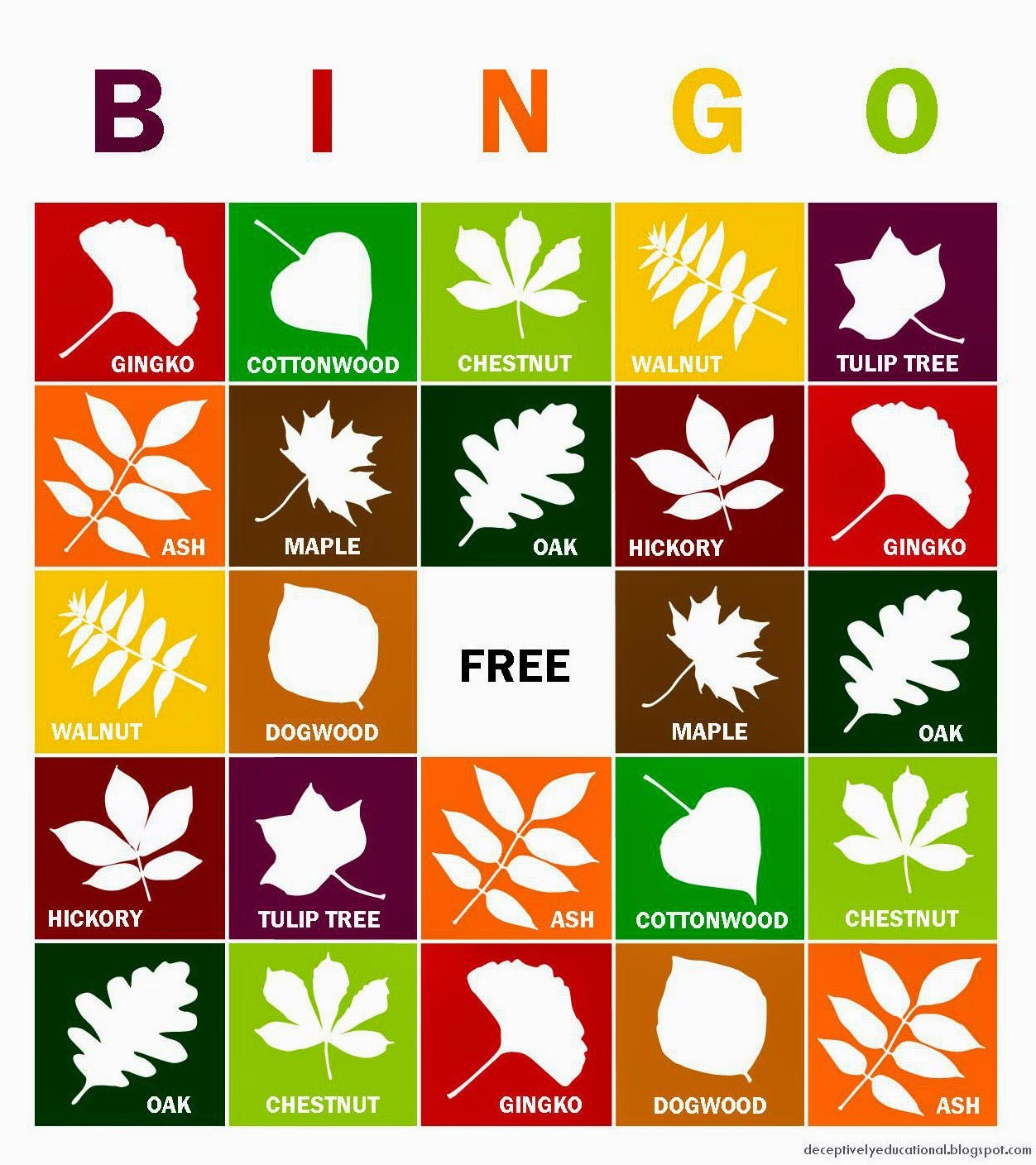 When you're back from your leaf hunt, visit our friends at Relentlessly Fun, Deceptively Educational and print this FREE Leaf Bingo game to play with the kids! A super fun way to practice what you learned on your hunt.
More Fall Leaf Activities
How Do Leaves Breathe? A Simple Science Experiment
The Art & Science of Leaf Rubbings