My daughter and I took a day trip this past fall and headed to St. Joseph in Missouri.
Not far from Kansas City (about an hour's drive), St. Joseph has quite a few wonderful attractions that families will really enjoy! During our day-long trip, we were able to visit three of the city's museums.
The Pony Express Museum
One of the things that put St. Joe on the map is it's the home of the Pony Express. The Pony Express Museum is a true historic museum that takes visitors through a wonderful time when the west was not yet developed but settlers where starting to call it home.
Families will really enjoy the exhibits throughout the museum with many hands-on opportunities for kids to play and learn! When you first enter the museum, you will walk through an old stable area where you can see how the horses were kept before their trip. There's a nice harness and tack area where visitors can learn more about the horses and equipment used for the long journey.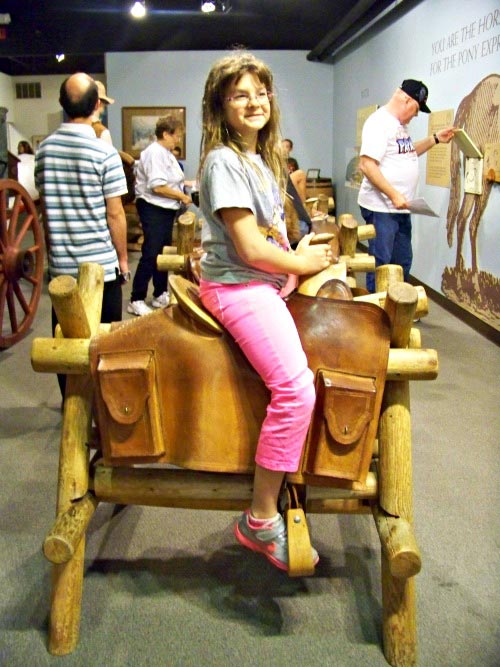 Once you enter the main exhibit area, you'll find quite a bit for the kids to do. There's a line of saddles so you can jump on and ride. The museum also has a long interactive display on one wall that allows you to see & smell the journey a rider on the Pony Express would take across the plains. I highly recommend reading the plaques and taking in the scents along the display.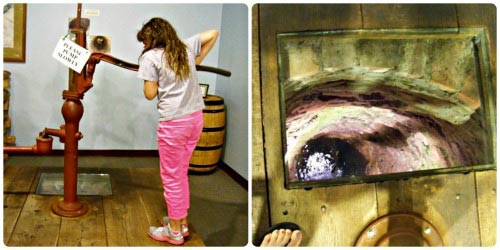 Another hands-on activity is the pump in the middle of the main room. It's a working pump from the original well which you can see through the floor as you pump the water.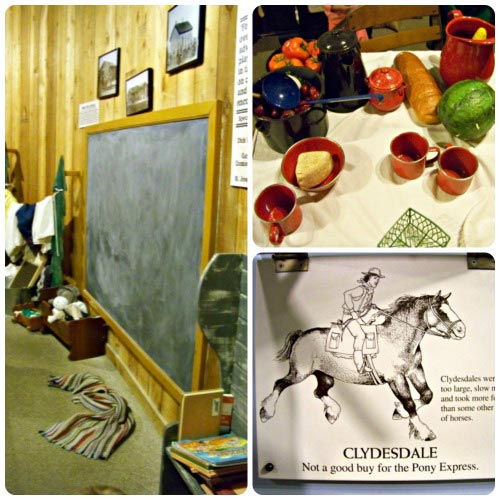 And as you leave the main room, you'll find a historic 'play room' for the kids! There's a play kitchen with foods that were popular during the era, a dress-up area and reading nook. Kids can also learn quite a bit about the different types of horses that were used (and not used) on the trails.
The museum hosts a number of fun events throughout the year so be sure to check the calendar before you visit!
The Patee House
Finding this gem was a wonderful surprise for us! The Patee House Museum is a National Historic Landmark and listed in the book 1,000 Places to see in the U.S. and Canada before You Die.
This is really more of a true museum in that many of the displays are not hands-on but they have a few really outstanding family-friendly opportunities to explore! Families will enjoy discovering some of the vintage items and almost every room has something for the kids to look at, play with or climb on.
Ask for a scavenger hunt card at the front desk (it was 25 cents when we visited). This is a great activity for the kids as they view the different areas of the museum. If they find the majority of the items, they can earn an 'ownership certificate' for the Patee Railroad — it's really a cool souvenier!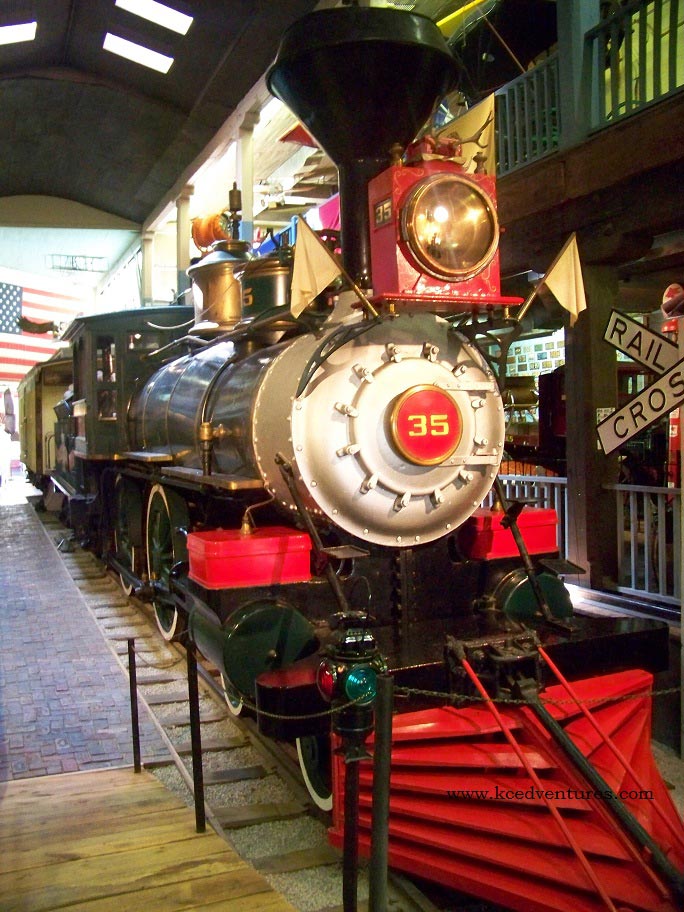 In the center of the museum, there's a full size train and mail car — and yes, you can climb aboard and explore! You can also visit the station master's office and view a number of other old cars and transporation vehicles. Be sure to search for the old mechanic's shop – there's a few fun buttons to press there too!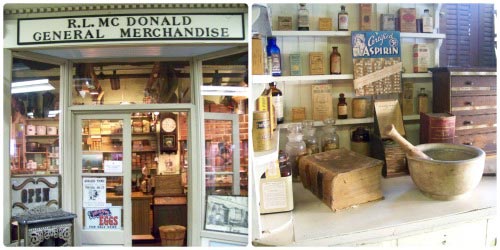 Visitors can walk through a recreated mini-town and visit an old dentist's office, optometrist, grocer, home and other small businesses from years past. Kids will find many of their scavenger hunt finds in this little townscape. Each of the shops are open so you can go in and see what businesses looked like and sold. We had quite a few discussions about vintage items that the kids had never seen (I love this about historic museums).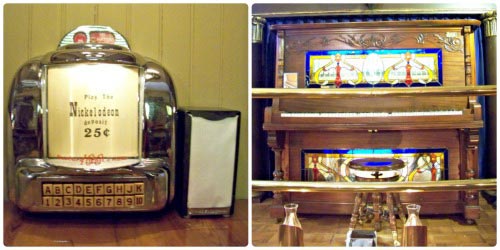 Then head to the Buffalo Saloon where you can order a sasparilla (soda) and have music played for you on the old player piano (there are small 'juke' boxes on each table — another fun historic find for kids to explore).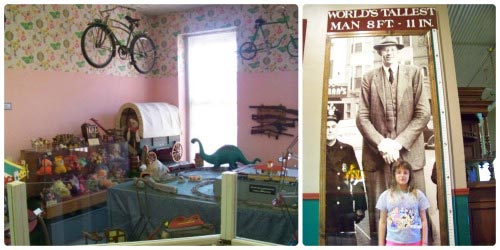 Upstairs, there are a number of unique and eclectic displays. Browse an old news and broadcasting room, vintage toy room and large display area for many old cars and buggys. Kids will also want to stand next to the picture of the world's tallest man and 'stand in his footprints'!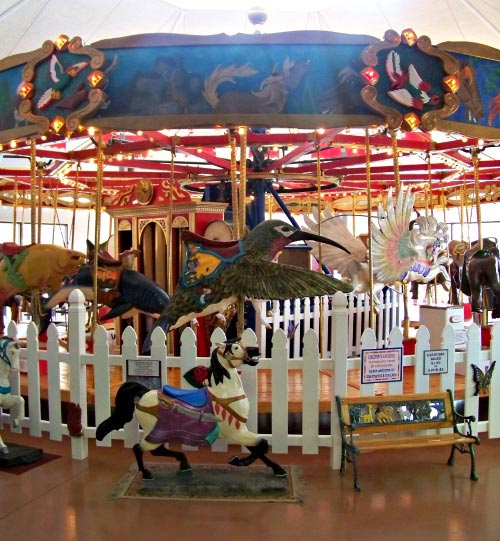 And we were very excited to find a working carousel at the museum! It's an old vintage one with beautiful animals to ride — a true merry-go-round! Be sure to check the museum's website for admission and hours of operation.
Remington Nature Center
I may be stretching this one a little but I really feel that the Remington Nature Center is both a nature center and a natural history museum. In fact, my daughter was more enthralled by the history displays than the animals.
Located right on the Missouri River, the center has ample parking and is fairly easy to find. Just follow the signs when you're getting close (it's kind of tucked off the beaten path which makes it nice since it's a little quieter when you're walking the pathways).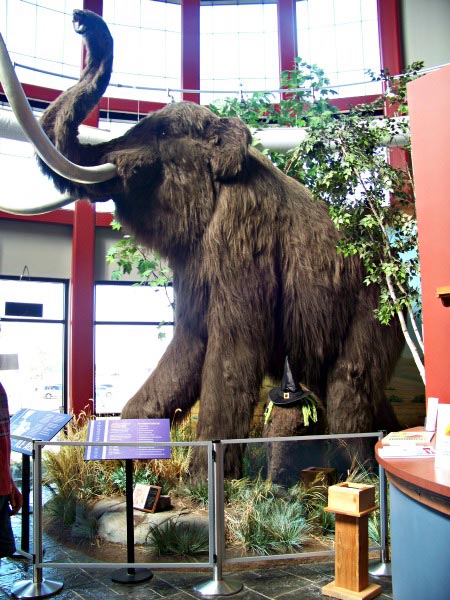 When you first walk into the center, you'll be greeted by this huge Woolly Mammoth! Really, it's gigantic! There's also a baby mammoth on exhibit and they give you a great idea of how big these creatures really were when they roamed the areas of the Midwest.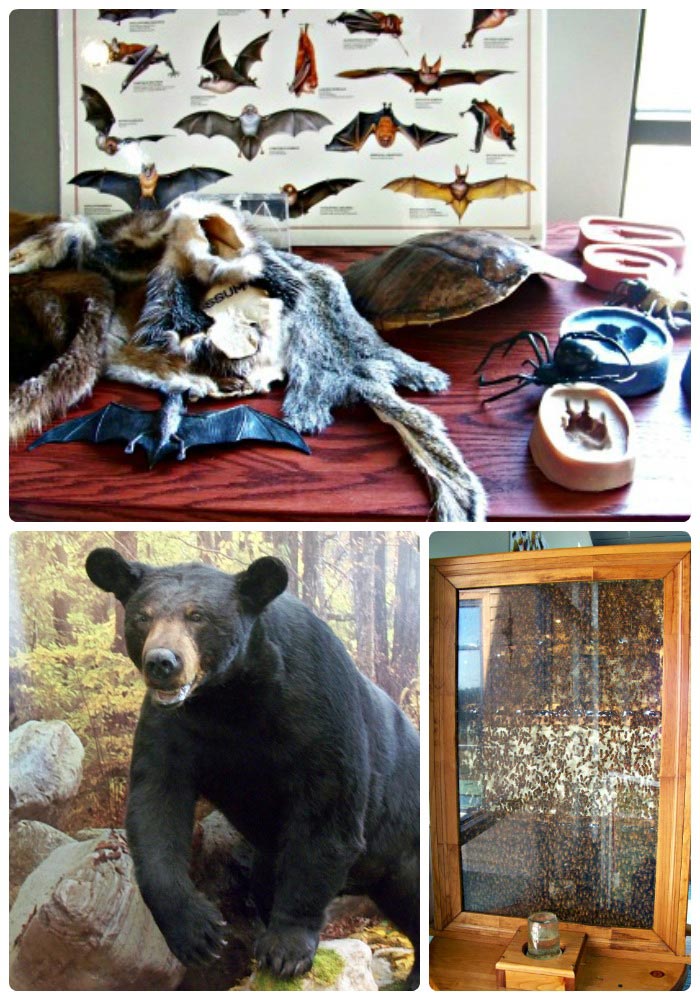 The center has some nice nature exhibits for kids. There's a large fish tank with many viewing areas, a working bee hive, extensive rock, fossil and arrowhead display and a wonderful hands-on area that allows kids to explore tracks, pelts and animal facts.
They also have a black bear on display — don't worry, he's not alive 🙂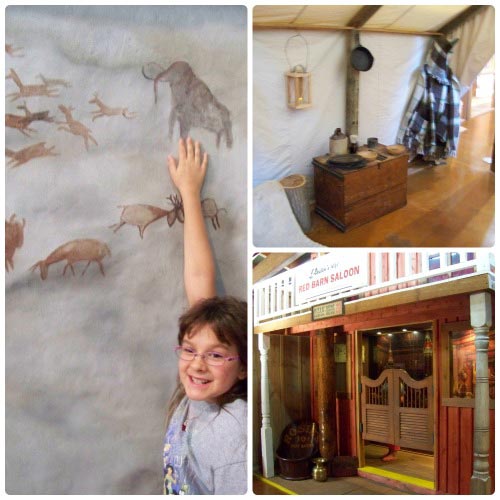 Near the back of the center, you can enter a cave and take a journey through time – this is the awesome natural history display I referred to earlier. The early part of the exhibit takes you back to the time that cavemen and tribes lived in the area. You will then move through the exhibit and learn about Native American tribes who lived in the area.
The next section of the display shows you what it was like to be a trapper — you can walk through what their camp would look like many years ago. From there, you'll move in to a small 'old west' town complete with saloon and swinging doors (watch out for those with the kids, I got hit on the way in AND out 🙂
This is really an enjoyable place for kids of all ages (toddler thru teens) since each of the areas can be explored on a variety of levels. They have a great scavenger hunt page on their website so be sure to print out one before you head out to visit.
The nature center is open 7 days a week and offers some fun special events and programs. Be sure to check the hours and admission before your visit.
More Midwest Museums
If you're interested in more museums from across the Midwest, be sure to visit the attractions featured in our museum linky. Each month, travel bloggers from across the Midwest will share their best tips and trips on a focused topic.
If you have a review of a Midwest museum, please feel free to share it below!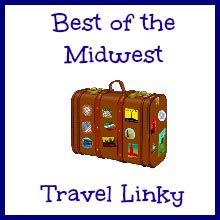 We'd love to see where you've been visiting!

Please read the following guidelines for sharing:
Share posts related to the monthly topic.
By linking up, you are giving me permission to share your post including one photo in any feature posts and on social media channels.
Visit 2-3 other posts that have linked up, find some new places to visit & meet new friends!