This week's Discover & Explore linky is going prehistoric to share ideas about Dinosaurs & Fossils!
Over the summer, my daughter was able to do a fossil dig during our visit to Mammoth Site in South Dakota. She had a great time searching for buried bones and learning how pateontologists excavate an area once they discover a fossil.
It takes so much work and patience to dig out those bones! Mammoth Site did a wonderful job of setting up the dig so the kids have a really good idea about the amount of work involved. As you can see from the photos, the bones are buried pretty far down in the dirt, as that's where most fossils.
And you can't just use a shovel — much of the digging is actually done with your hands and paint brushes so that you don't damage the bones.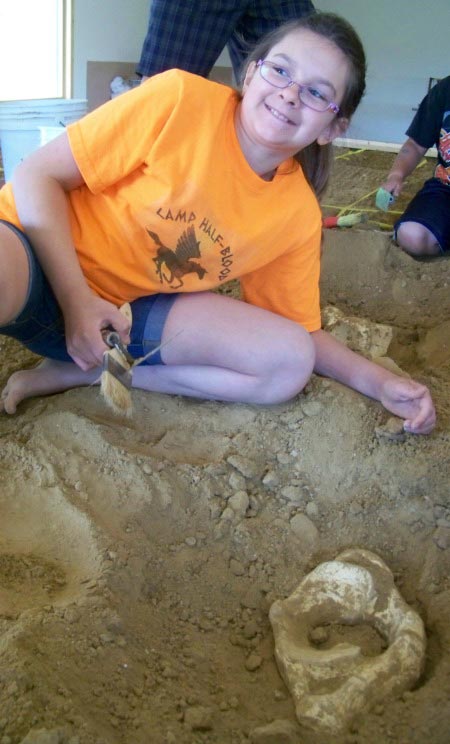 Once you find a fossil, you are suppose to leave it in the dirt and mark the area. Scientists will want to examine the surrounding area for more information about the animal. There may be other bones close by (bones from the same animal or even others). We were also told that they look for details in how the bones are layed out which can give scientists details about how the animal died.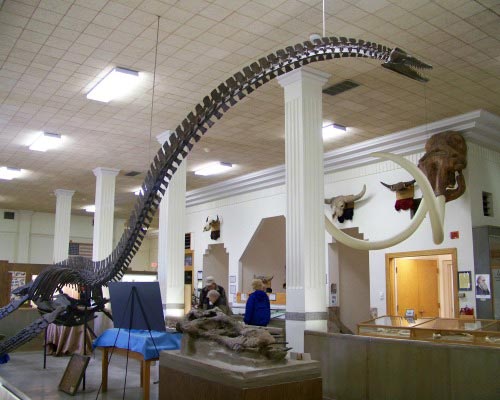 We also visited the Museum of Geology in Rapid City & Badlands National Park which is one of the richest fossil beds in the United States. In addition to walking Fossil Trail in the Badlans to see the various types of bones that have been discovered in the park, we were also able to talk to a scientist who was working on cleaning and restoring one of their newest fossil finds.
Future Paleontologists & Dinosaur Scientists
All this fossil fun got us to thinking about who actually finds all these amazing bones! We learned that many paleontologists and geologists make these important finds but fossils are also discovered by many other peoople.
In fact, during our trip through the Badlands National Park, we learned that one of the fossils found in the park was discovered by a 10-year-old girl who was there on vacation!
Since many kids are crazy about dinosaurs, I wanted to share some wonderful resources that will encourage them to continue their curiosity and possibly one day make an amazing discover of their own!
I've included affiliate links for each of the resources for your information & convenience.
Books about Famous Paleontologists & Dinosaur Discoveries
The Dinosaurs Of Waterhouse Hawkins (which is a Caldecott Honor Book)
is one of my favorite dino discovery books! First, the illustrations are just gorgeous and it's a wonderful book about sharing your creativity!
It's the story of Benjamin Waterhouse Hawkins, who was really more of an artist than a scientist. He was the first person to draw dinosaurs and make models of what they looked like before they died — he was able to do this by talking with scientists and looking at the fossils that were being found.
Barnum's Bones: How Barnum Brown Discovered the Most Famous Dinosaur in the World
is a great story about the first person who discovered a T-Rex fossil! This is a wonderfully entertaining biography about a scientist for the American Museum of Natural History who had a knack for finding dinosaur bones. Kids will really enjoy learning about the first T-Rex ever found!
Stone Girl Bone Girl: The Story of Mary Anning
is a great addition to paleontology books since it highlights one of the female scientists. Mary Anning discovered her first dinosaur fossil at the age of 12! She found hundreds of fossils during her lifetime, both large and small ones. A very inspiring read for kids of all ages.
Hands-on Dinosaur Resources
I love to use interactive items when exploring topics from history. Sometimes it's difficult to find ways to give kids a good feel for what happened so long ago.
American Museum of Natural History website
The Amerian Museum of Natural History has an outstanding site called Ology — there are special sections for each area of science with a huge area devoted to Paleontology which includes games, hands-on activities, interviews with scientists & more!
National Geographic
Older kids will enjoy the National Geographic Prehistoric World — learn about new dinosaur discoveries, who lived during what time period and how scientists find fossils.
Discovery Cards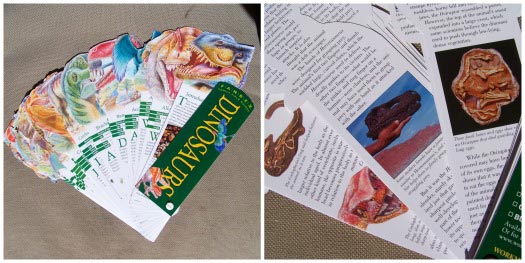 This is an awesome set of discovery cards that explore dinosaurs! The Family Field Guide Dinosaur Cards can be used to learn about the habits, diets and lifestyles of 50 types of dinosaurs.
The cards are full-color with detail descriptions on the front, along with a great likeness of each dinosaur. On the back, kids can see the details about actually fossils that have been found along with information scientists have learned about the dino.
More Dinosaur & Fossil Activities: