We have a wonderful gift idea for the kids this year – their very own online library!
Yes, I'm totally serious.
There's a wonderful website called Bookboard that boasts more than 400 kids books in their digital library — and you can try it for FREE!
Bookboard and I share a common goal – we both want to share the gift of reading and encourage kids to find books they love.
First, let me tell you a little about Bookboard
Bookboard encourages kids up to age 12 can discover, unlock, and collect books on their own digital bookshelf. The service grows with your child's reading level and interests.
They are an award-winning website winning recognition from two outstanding organizations –
The website was awarded a 2013 Family Choice Award which recognizes the best in children and parenting products and also a Gold Winner of the 2013 National Parenting Publications for its amazing design that motivates kids to keep reading.
The idea behind Bookboard is that kids begin with a book based on their reading level. Once they have read that book, other books within their reading level and also ones that fit their interests are then awarded to them.
Books are accessible on both the iPad and on your computer using the Chrome browser. So kids can read at home and also on the go!
Bookboard is perfect for families that travel during the holidays – having a "library in your lap" makes a huge difference in how often kids have some dedicated reading time.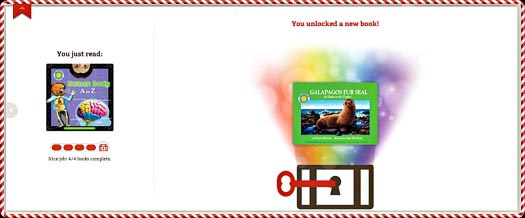 Bookboard reinforces the experience of story time with rewards that instill a love of reading in kids by gradually unlocking more books. Kids love getting surprises, right?! So each time they finish a story, they are 'surprised' with another!
Why We Love Bookboard?
Each time my daughter finishes a story, she is rewarded with a new book! And they have a wonderful variety of books — from the Berenstain Bears to the non-fiction Smithsonian series, pictures books, easy readers and chapter books! Right now, she's flying through the Boxcar Children series also available on Bookboard.
And we can use Bookboard anywhere! When we travel, we have more than enough books to keep her reading both in the car and anywhere we stay. No more heavy suitcases stuffed with books to keep them reading. When visiting grandparents, we just hop on the computer when it's time for a story (which is great because there's not always kids books in the house). And when friends are over, we can share the books that we've collected on our bookshelf!

Here are some of the books currently on our bookshelf
I also love the weekly emails I receive that tell me what books my daughter has read, which new ones she has unlocked and some great details about her reading habits. This makes it easy to track how often she's reading and also start some great discussions about the books. She just finished a book about whales — I received the email letting me know and that night at dinner, I asked her about the book. Instant conversation! And discussing what kids read helps them with their comprehension skills too.
And a huge plus — I don't have to store the books around the house! Don't get me wrong – we love books and have a ton but it's getting to be hard to find shelf space around here. So having a virtual bookshelf is the perfect option!
A Great Gift for the Holidays
A subscription to Bookboard would make a great gift for the kids (or even a fun idea tucked into a stocking — Santa loves to encourage reading 😉 It's perfect for families who love to read, kids who aren't crazy over books but enjoy technology or anyone looking for a tailored reading service where they can receive feedback on what their kids are reading.
And Bookboard is so committed to reading, they want you to try the service for free! No credit card or payment needed and the gift arrives immediately! Kids can try out the service at no cost to see if it's going to work for your family.
A free subscription would also be a great way to keep kids reading over winter break — Check out their favorite Winter reads too!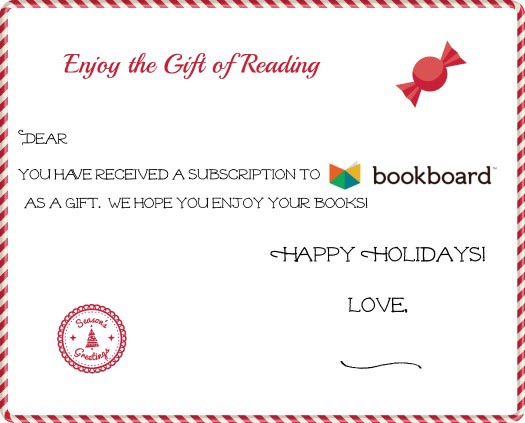 A Free Printable to Give too
And since it is the holidays, we know you'll need a way to 'wrap' the gift — so we created this free printable certificate for you!
Just tuck it into a stocking, fold it to mail or roll it up, tie with a ribbon and place it on the tree.
So there you are — super easy holiday shopping + a great gift the kids will love!
Happy Holidays to You!
~ Jacquie