FunChristmas in July activities for kids to enjoy this summer!
Every year since my kids were young, we've celebrated 'Christmas in July' – fun day when we forget about the heat of summer, spend some time together enjoying favorite Christmas activities and make a memory or two together.
Start your own celebration this year with these creative ideas & activities that are fun & easy to do during summer.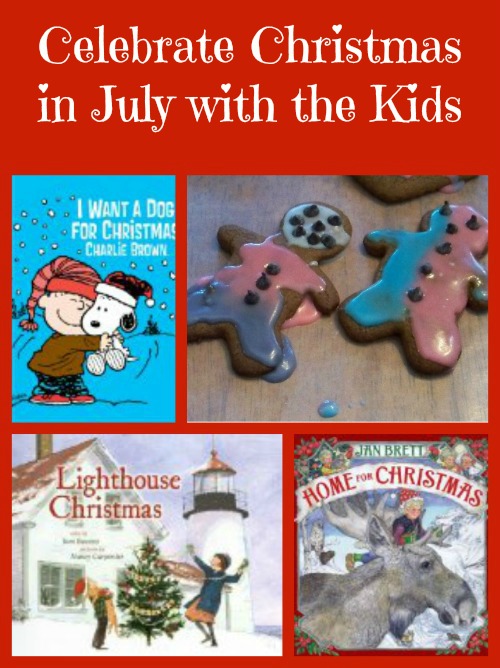 How to Celebrate Christmas in July with Kids
I'm not sure how we started this tradition — I'm sure it came about because I was watching holiday movies in July and typically start talking about our holiday travel plans (or who's planning to visit us this year).
Somehow, the kids caught on and thought it was a fun tradition to begin 🙂
The first thing I do is to designate a day for celebrating – you can choose July 25th if you'd like it to be the same day as Christmas, or any other day during the month. I always choose a day that I know will allow us enough time to do some baking, read a few books, take in a holiday movie and enjoy some fun holiday activities together.
If you have the printable Advent Activities set (which includes 100+ fun ideas for the holidays!) you can use them to set up a fun "Christmas in July" countdown for the day!
Here are a few of the ways we've celebrated over the years along with affiliate links to some of our favorite holiday items.
Read New Christmas Books this July
The holidays always get so busy and there's usually a few favorite kids books about Christmas that we wanted to read but didn't get to because of the craziness. So each summer, I'll put a few 'new to us' books on reserve at our library (or even buy a few that may be on sale as a surprise 😉
Check your local library for some of the holiday items they've purchased in order to prepare for this year's holiday season. I found three of the newer ones at our library that we didn't get to read this past Christmas:
Home for Christmas by Jan Brett — we are big fans of her books! The illustrations are beautiful and the side stories are fun to follow along with as you read the book.
Lighthouse Christmas by Toni Buzzeo seemed like the perfect combination of holiday & summer (we enjoy visiting lighthouses on our summer vacations). The pictures are wonderful and the story tells about an older sister who is trying to make Christmas special for her younger brother as they are faced with the thought of spending Christmas away from their father.
The Carpenter's Gift: A Christmas Tale about the Rockefeller Center Tree by David Rubel was a wonderful find! It is set during the Depression and shares the story of Harry & his father who sell Christmas trees in New York City and donate the first tree to Rockefeller Center. It's a true story of giving and I highly recommend it!
Family Volunteer Ideas
This is truly what the holiday season is all about — being helpful and generous. In order to keep with the true meaning, we plan some volunteer work before school begins. We use our 'Christmas in July' day to talk about what we'd like to do together. For ideas, browse this FREE printable list of 30 Family Service Projects & Acts of Kindness!
For the past 3 years, we've hosted a neighborhood food drive to benefit the local food pantry. Other ideas might include donating school supplies to a back-to-school drive or volunteering to deliver for Meals-on-Wheels over the summer.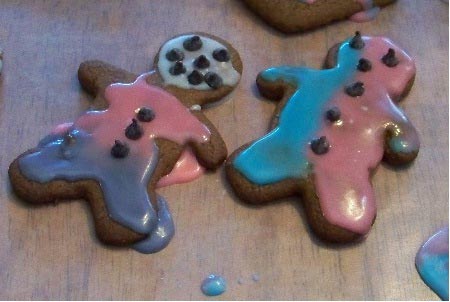 Bake: Who Doesn't Love Cookies!
We ALWAYS bake!
It may be gingerbread cookies, or maybe we'll decorate a candy house. Sometimes I'll let our kids choose one of their favorite recipes that I usually only make during the holidays.
And of course, everyone helps with the baking — that's one of our highlights. It's always a treat to have a holiday cookie in the house in the middle of summer 🙂
Try an Easy Christmas Nature Craft
Spend some time thinking about homemade items kids may want to make as gifts. Summer is usually a more relaxed time so your kids may be more likely to want to be involved in crafts.
And it's also a great time to gather nature items to craft with — try these 20+ Nature-inspired Holiday Crafts!
Enjoy a Holiday Movie (& Game) in July
We're not the only ones celebrating 'Christmas in July' — the tv networks do too! Hallmark Channel always runs their holiday specials and some of the movie channels also feature Christmas specials!
In fact, print off a copy of the FREE Christmas Scavenger Hunt and see if you can find all the items while you watch a movie too!
There's never enough time during the busy holiday season to see some of our favorite films so this is the perfect opportunity to catch up 🙂
A few of our favorites:
I Want a Dog for Christmas, Charlie Brown
And if you've never had a chance to see Emmet Otter's Jugband Christmas, it's a family favorite at our house & highly recommended!
Check your local tv listings, streaming service (like Amazon Prime or Netflix) or better yet – grab a much-loved family favorites on DVD and curl up on the couch with a cookie.
Merry 'Christmas in July'!
~ Jacquie
More Family Fun Ideas:

100 FREE Summer Activities Near Me
50 Fun Things to do at Home with Kids