I grew up back east where you could drive for an hour and reach the next big city. That's not the case in the Midwest; the cities are farther apart and a day trip definately takes a whole day.
But boy are there some wonderful Midwest cities to visit!
With spring in the air and summer on it's way, I thought I would ask some of my friends to share their favorite places around the Midwest.
Learn about some of the great day trips & weekend jaunts from Kansas City!
Exploring Henry Doorly Zoo & a stay at Mahoney State Park
Family Fun in Omaha
My friend Julie heads up the fabulous website Family Fun in Omaha — a wonderful resource for all the events and activites around the city. Check out the great list of all the things to do with kids in Omaha as you plan your trip.
We've visited Omaha on a few different weekends and loved visiting the amazing Henry Doorly Zoo, spending the weekend at Eugene T. Mahoney State Park (awesome water slide, horseback riding and great family cabins!) and driving through the Conservation Park and Wildlife Safari.
Here's a few insider tips from Julie on what to see:
Omaha is a perfect family-friendly destination! From the award winning Omaha Henry Doorly Zoo and Aquarium to the fantastic Children's Museum, there are so many options for families.
Fun Free activities include visiting the amazing Joslyn Art Museum, strolling through the shops and restaurants of the Old Market, and walking across the Bob Kerrey Pedestrian Bridge. Kids love exploring the trains at The Durham Museum, watching the model trains pass replicas of Omaha landmarks at Lauritzen Gardens, seeing the animals at the Wildlife Safari Park, and watching a baseball game with the Omaha Stormchasers or at the College World Series.
Visit Family Fun in Omaha for an Omaha Kids Calendar, upcoming events, and many more resources to help you enjoy all that Omaha has to offer!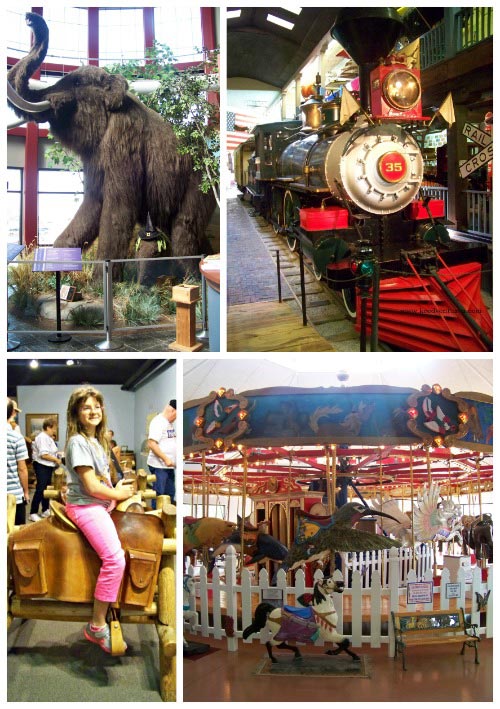 St. Joe Missouri
One of our favorite day trips was to St. Joseph this past fall. We headed out to explore a few of the museums and just LOVED the trip! Learn more about our visit to the Pony Express Museum, Patee House & Remington Nature Center.
Our wonderful insider for St. Joseph is Joe Town Fun! They have a great list of all the local attractions along with an events calendar too.
If you're planning a visit to St. Joseph or you decide to go on a spur-of-the-moment adventure, here are some honorable mentions —

The museums are not to be overlooked. Visit the St. Joseph Museums Complex to be fascinated by Glore Psychiatric Museum, experience pure, gothic beauty at Wyeth-Tootle Mansion and more; and be sure to visit the Pony Express Museum and Patee House Museum to learn about the influence of the Pony Express – fun for the whole family!
Another favorite is Remington Nature Center where you'll have a lovely indoor nature experience and you can enjoy the Riverwalk afterward for equally lovely views of the Missouri River and a picnic. For other local outdoor experiences, be sure to visit Krug Park and take the time to drive along the 26-mile St. Joseph Parkway System.
St. Joe offers talented theatrical performances at the historical Missouri Theater and Robidoux Landing Playhouse. Albrecht-Kemper Art Museum is a beautiful museum offering a variety of visual arts exhibits.
Shopping and dining in St. Joe is abundant with unique, locally-owned stores dining downtown and throughout, as well as retail stores and restaurants at The Shoppes at North Village and in-between.
St. Joseph also offers many festivals throughout the year, Kansas City Chiefs Training Camp, Mustangs Baseball, St. Joseph Aquatic Park, Blacksnake Roller Girls Derby, Schweizer Orchard and so much more!
For information on local, family-friendly events, please visit Joe Town Fun and the St. Joseph Convention & Visitors Bureau at Discover St. Jo.
Kids Fun in Topeka
There's quite a bit for kids to enjoy in Kansas' state capitol. If you have a choice, I would definatley visit on a sunny day as some of the outdoor attractions will be a big hit!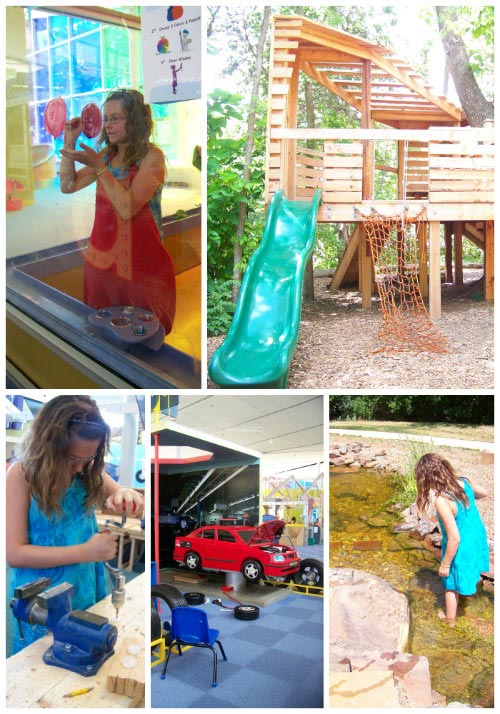 Kansas Children's Discover Center
The children's museum in Topeka is AH-MAZING! Really, we have been to more than a dozen kids museums around the United States and the Kansas Children's Discovery Center has to be one of our top 3 faves!
First, they have an outstanding outdoor space. The museum is located on a large area with walkways that wind through the trees, outdoor play spaces, bikes that the kids can ride on paved trails and a large natural water area that the kids can explore (yes, that means they will get wet so pack accordingly).
Inside the museum, you'll find two large spaces that are specifically for babies and toddlers with many interactive and sensory activities. For the big kids (preschool through age 12), the museum boasts some of the most creative play spaces: fix your own car at the auto shop, play doctor or vet in the hosptial area, host your own lemonade stand, create art in the enclosed paint room (where you can paint on the walls!) and build something!
My daughter's favorite area was their 'Build' section – they have REAL tools! Yes, saws, screwdrivers, hammers — all real and all for the kids to use. (Parents: get over your fear – they told us they have never had any accidents) It's really a great space where adults can guide kids to learn about tool safetly and then let them loose to create.
One of the things we enjoyed most about the museum is the attentiveness of the staff and the little details they offer – it was a hot day during our visit but there was a water station located outside for the kids who were exploring the trails, they have the cutest teeny bathrooms for their tiny visitors, staff are great about encourage kids to take turns at the various stations and all the areas were clean, clean, clean!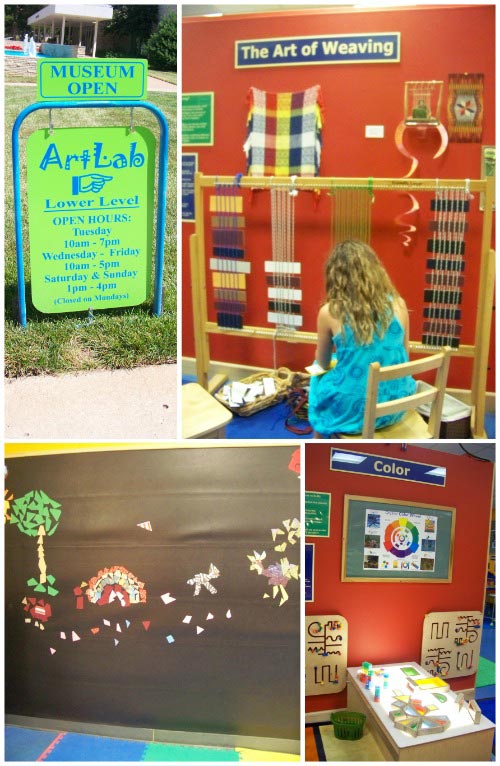 Art Lab at Washburn University's Mulvane Art Museum
Another brilliant area for kids — if I could replicate this interactive art space, I would include one in every city! The Art Lab is located in the basement of the Mulvane Art Museum on the Washburn University campus. Parking was really easy (and free).
After a brief tour of the exhibits in the museum (it's a small space so perfect for families to visit), we headed to the Art Lab to explore the interactive areas. Kids are encouraged to creat & explore in this colorful space! There are different stations where kids can try out various art techniques — printing, mosaic, weaving, drawing and lots more!
Each area offers opportunities for both younger and older kids to try some hands-on art. We really enjoyed the weaving area and print-making activities. Some of the activities allow kids to make items they can take home while others offer a way to explore art during your visit. And so much learning takes place during the process too!
If you have more time during your visit to Topeka, I would also suggest a stop at Gage Park to ride the train and burn off some energy at the playground. The park is located directly across from the Topeka Zoo too if you want to stop and see the animals. For details on the city, see the Family Adventures lising on the Visit Topeka website.
What's your favorite Midwest day trip or weekend outing?
You might also like:
6 Kansas City Adventures for Kids