Do your kids love those brightly colored bricks? They will LOVE a visit to Legoland Discovery Center in Kansas City! And it's not just about building – there are rides, a 4D movie, master builder class and lots of room to create, build and explore!
Kansas City all in Legos!
Who is Legoland Kansas City best suited for?
Staff at Legoland tell us that most of the attraction is aimed at kids ages 3 – 10 years old (and I would agree with them). There are 2 rides which will accommodate adults, and also some height restrictions which are listed for various activities.
Kids younger than 3 years old have their own Duplo Village. Older kids and teens will enjoy one of the rides and the 4D movie, but there really isn't much more for them to do (unless they are just Lego-crazed fans who love to build!).
For families with babies & toddlers: Single strollers and front-to-back double strollers are allowed. Side-to-side (double wide) strollers are NOT allowed. As you might imagine, legos are very accessible throughout the attraction, so you'll want to keep an eye on toddlers who might be to young to know that these should not go in their mouths. I would also suggest bringing a blanket for any infants if you plan to see the movie (temperature changes occur).
For kids with special needs: Legoland is very colorful, loud and there is a lot going on at once. If you have a child that does not thrive under these conditions, you may want to wait until Fall 2012 to visit. Legoland staff informed us that in the Fall, they will start advertising some 'low sensory' evenings (I love that they are already planning for this!). To learn more about these types of activities, make sure to follow their Facebook page for updates.
How much are tickets and should I buy before we go?
Tickets are available on the Legoland Kansas City website.
Tickets are currently available at a small discount ($2 off) but time is limited.
Regular ticket prices are: Child (ages 3 – 12) $16.15, Adults (113+) $20.45, under 3 are free.
Tickets will get you priority admission to the attraction (so you won't have to wait in a long line). They say it's best to visit weekday evenings and also evenings on the weekends if you want to avoid the crowds (remember, school field trips will take place during the weekdays).
What are the highlights at Legoland?
There are a number of items that kids will enjoy. We'll give you a brief overview of each:
Lego Factory Room
This is the first room you enter when you get off the elevators. Kids can see how lego bricks are made – from the mixing to the moulding to the painting. There are some great hands-on activities in this room – the best is that you can get your height and weight measured in Lego bricks (fun photo op if you plan to visit again when your kids are older or are a season ticket holder)!
You also can take home a free Lego the kids can take home. Don't just fly through here – this is part of your entry experience and once you leave the room, you won't be able to return until your next visit.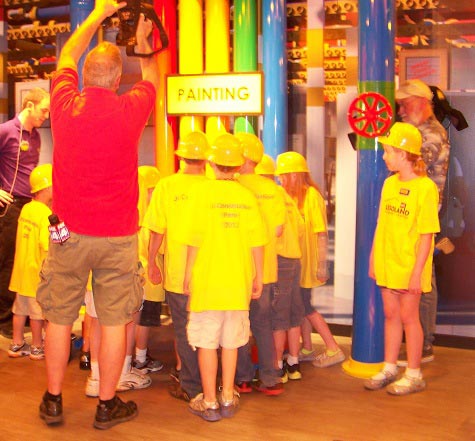 Kingdom Quest
The first of two rides at Legoland, Kingdom Quest is the story of Lego knights who must rescue the princess from the trolls. There is a short queue here, which includes monitors that you watch in order to understand the goal of the ride – to save the princess. I will tell you, it is very dark in this area. Kids who don't like the dark may want to bring a 'lovie' (blanket or stuffed animal).
The ride is also in the dark but very cool! Riders sit in Lego cars and ride through while each person uses a 'laser' gun to shoot at targets. You can fit 5 people to a car, and you each accumulate your own score (I'd suggest kids vs. the adults to see who can rack up the most points). There are ride restrictions listed at the entrance. Again, this is part of your entry experience so you will only get to ride this once, and then you move on to the other areas.
The remaining areas listed below are all together in one huge room, so you can visit and re-visit these areas throughout your visit.
Mini-land
Mini-Land is a cityscape of Lego buildings that were constructed based on Kansas City landmarks: Liberty Memorial, the stadiums, the Plaza (with working fountains), the Nelson-Atkins Museum! Don't just run through here, the room changes from daytime to nighttime and all the lights in the buildings come on! Plus, there's something special to see over the stadiums when the lights dim.
They also have a wonderful panorama of Lego buildings from the "Wizard of Oz" – I didn't look to see if Dorothy has on red shoes, so if you find her in the Lego people, let me know!
Duplo Area
This is a special area for younger kids where they have larger legos, a small climbing area and fun lego animals.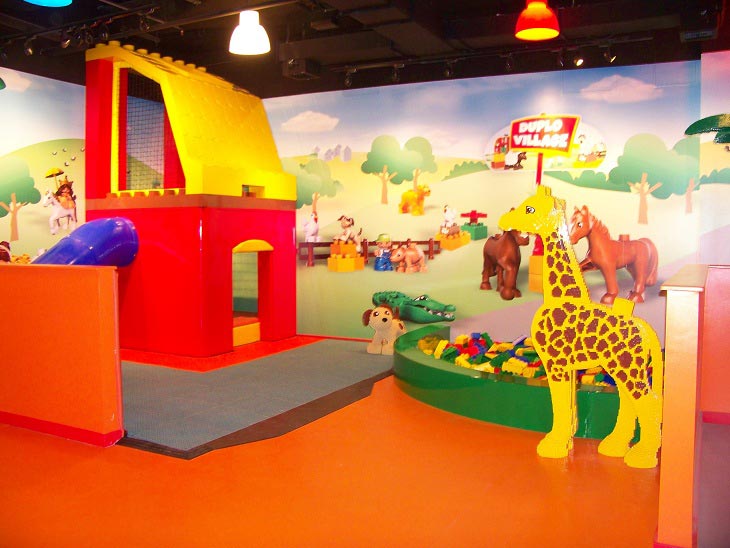 4D Cinema
The movie is definitely a highlight that both kids & adults will enjoy. There are actually 4 different 15 minute movies that are on a loop – so you can see one of them, go play for a while and then head back to the theater for a different movie. The movies run continuously but ask the staff which is up next so you don't see the same one twice. This is 4D – there will be some climate change to be ready 🙂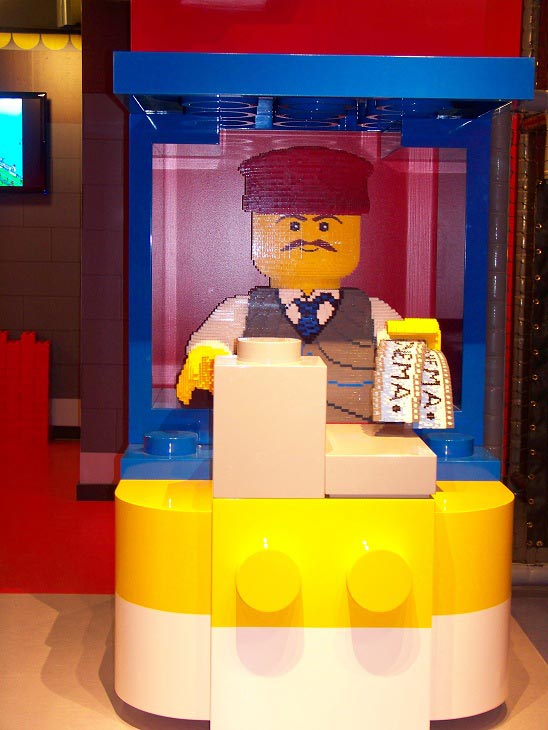 Building Areas
There are quite a few themed building areas:
Lego Racers – kids can build and race their own lego cars.
'Friends' Area – a pink & purple area with building tables and a karaoke station for those who like to perform.
Lego Bo x es – like a sandbox, but filled with legos – kids can sit together and build
Earthquake Table – build your lego structure and then press a button to see how strong of a quake it will withstand.
And Legoland has a regular schedule to make sure all the lego bricks are washed and cleaned.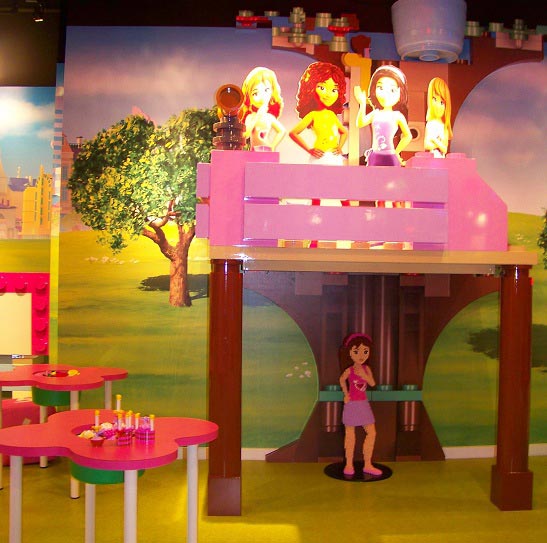 Master Builder Academy
Every 30 minutes, a Master Builder will teach kids how to build something cool with legos – they have their own room with individual tables and kids can follow along by watching the large tv screen. This was a neat thing because the staff at the class was very kid-friendly and fun!
Large Playland Area
With lots of obstacles and places to climb, this has to be one of the coolest play areas I've seen! It can accommodate quite a few kids at once – and the kids that were there during our visit just LOVED it! BRING SOCKS and you have to be between 3″ to 4'9″ tall in order to enter.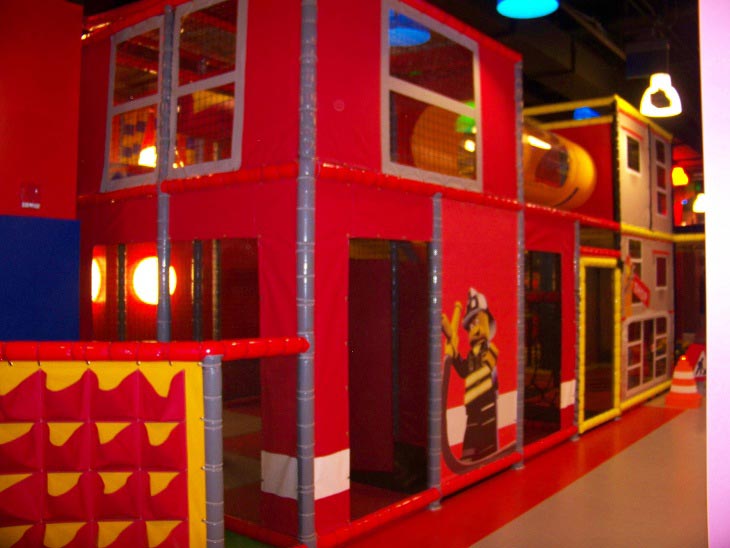 Merlin's Apprentice
This is the second ride in Legoland and your kids can ride this as much as they like (but they'll have to get off and get back in line). It's a car that seats 2 people, rises in the air and then spins around (not too fast, so most kids should enjoy it). Both kids and adults can ride, but riders need to be at least 3 feet tall to ride. There are a number of other cautions and ride restrictions so be sure to read the details before riding.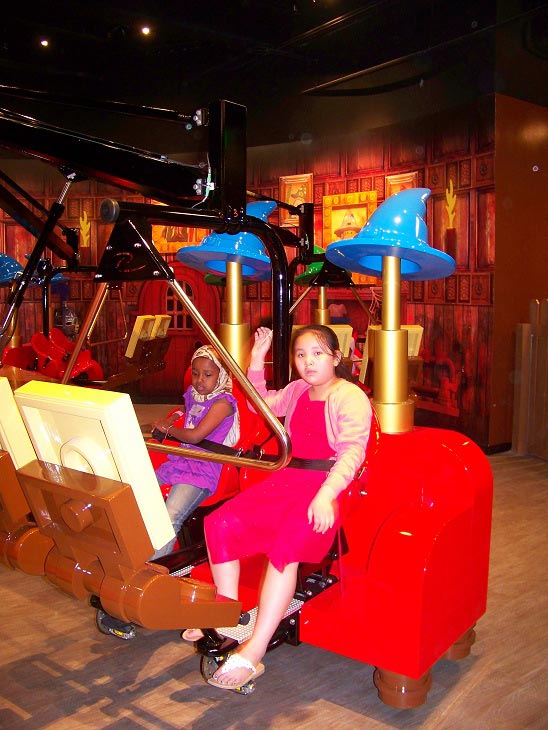 How long should we plan to visit?
Well, how long can Legos keep your kids occupied? I would budget at least 2 hours. The beginning of the tour will probably take about 30 minutes. Once you get into the 'free play' area, you can decide how long you stay at each activity. But remember, there's a movie, ride, Master Builders class, play area and a number of building stations (not to mention other kids so you may have to wait to play in some areas). And if your kids are big Lego fans, they will find a lot to do!
Legoland also recommends that the best time to visit is weekday evenings and also evenings on the weekends if you want to avoid large crowds. School trips take place during the weekdays, and we all know how busy attractions can get on the weekends 😉
Can we bring in food?
No outside food is allowed (with the exception of baby bottles and baby food). Legoland has a large cafe area with sandwiches, fruit, drinks, snacks and lots of tables and chairs.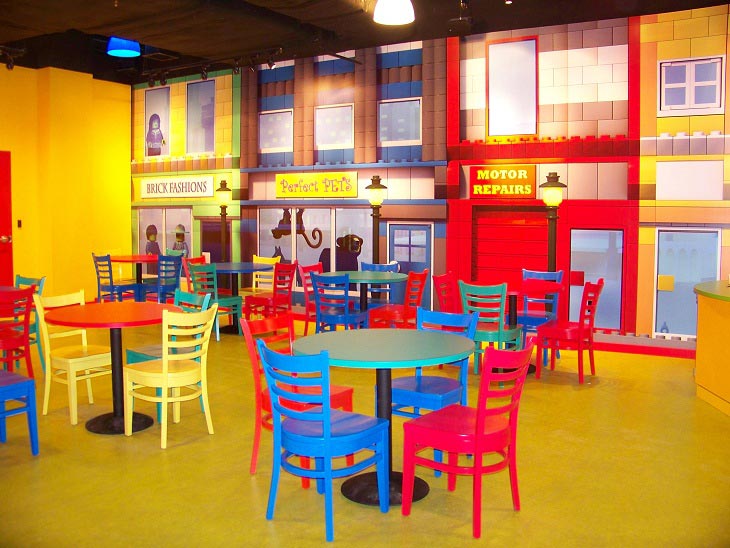 As a great addition to your visit, stop by Crown Center to try some Kansas City FudgeTM at Chip's Chocolate Factory!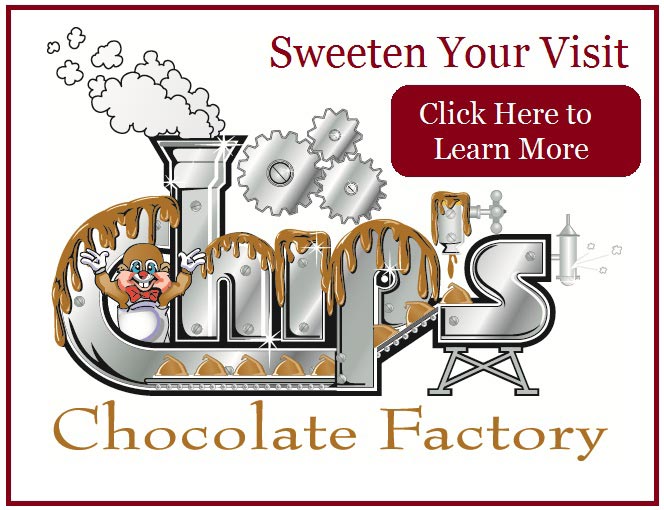 Have Fun!!