Creative ideas for nature and outdoor gifts for kids!
The holidays are coming and we want you to be able to spend more time relaxing than shopping.
Wouldn't that be nice —
feet up,
fire going,
warm cup of tea & a cookie (or two),
Bing crooning "I'm dreaming of a white Christmas…"
Ahhh.. now that says holidays!
Not a crazy, overcrowded mall 😉
But the shopping has to get done — and we all know, it's not really the shopping that takes all the time, it's coming up with the gift list!
In order to help get the gift-giving juices flowing, we have list of wonderful gift guides with ideas for kids of all ages.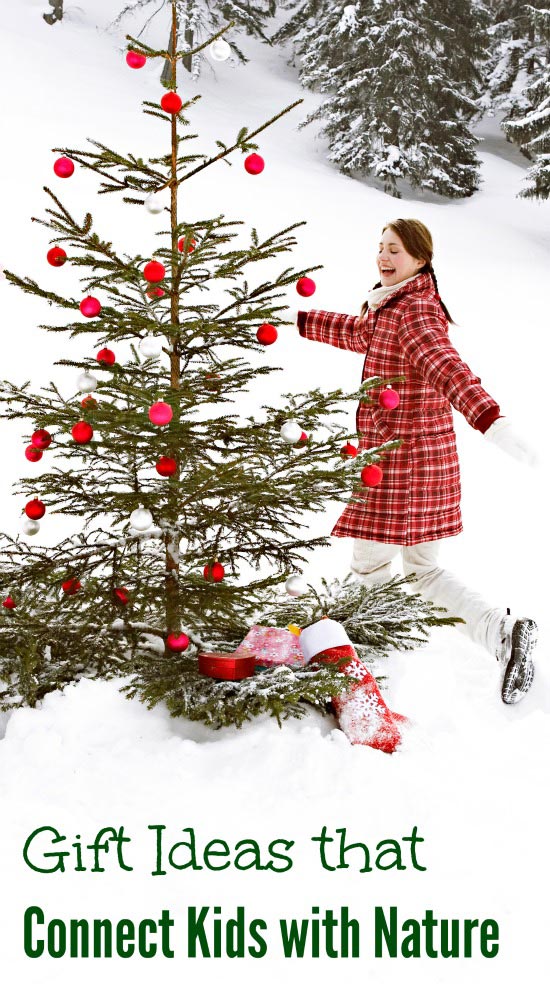 15 Nature & Outdoor Gift Ideas for Kids
We are nature-lovers and know that in this age of technology, it can be hard to get kids interesting in going outside. There are so many health benefits to spending time outdoors. This holiday, consider a gift that will connect your kids to things like animal behaviors, lifecycles of living things, observation activities that answer all those 'why' questions kids seem to have on a daily basis and items that will excite them about outdoor time!
We've rounded-up some outstanding items, things we have loved and continue to use and award-winning books & toys. There are affiliate links for each of the items on our list so you can learn more about the details and current prices — however, we like to stick to things that are affordable and moderately priced (unless it's one of those 'investment' toys that you'll use for years).
Creative Nature Gift Ideas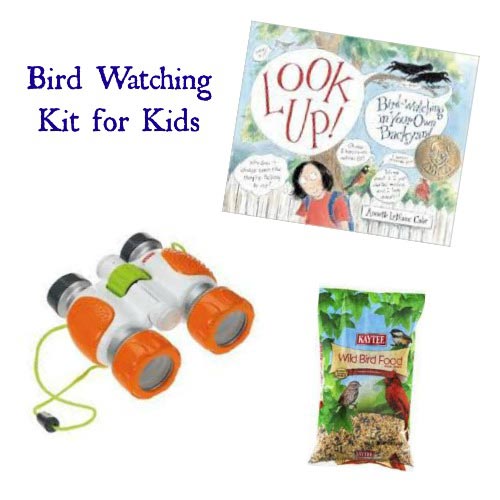 Look Up!: Bird-Watching in Your Own Backyard
is an award-winning book which focuses on a life-long hobby: bird-watching. My daughter would spend hours on winter days just staring out the window at the birds. And then came the questions, "Why is that one red?" and "How do they stay warm in the snow?"
I love the lay-out of this book — it reads like a comic book and has really fun illustrations. And the kids will laugh at some of the great jokes in the pictures. Use it as a read aloud for younger kids (ages 4 – 7 years) or as a gift for kids ages 8 – 12 who are reading on their own.
Pair it with a bag of Wild Bird Food and some fun binoculars — sturdy set of Binoculars for elementary age kids or the Compact Folding Binoculars for older kids.
Almost every kids knows who Ms. Frizzle is — and about all her adventures in nature! Now you can bring the Magic School Bus to your house! Parents, educators and scientist teamed up to create The Magic School Bus Explore The Wonders of Nature — a hands-on kit that explores animal tracks, rocks, bugs, lifecycles and so much with with tons of activities for kids to do! If you live near the ocean or plan on visit this year, check out The Magic School Bus Exploring Oceans kit!
If you have toddlers in the house,we love the Djeco Nature & Animal Stacking Blocks which has pictures showing animals and items from nature — this is a set that will grow with the kids through preschool.
Preschoolers and up will enjoy the eeBoo Portraits of Nature puzzle with pictures of various plants, animals and insects – a great family activity and vocabulary builder too!
More flying fun — the Insect Lore Live Butterfly Garden
comes with a butterfly habitat along with a mail-in coupon for your own set of five butterfly larvae and special food. Kids can watch as the larvae progress through the butterfly lifecycle and then release their butterflies into the wild! This is an awesome observation activity for kids of all ages.
One year, my son asked for a Venus Fly-trap! Yep, one of those carnivorous plants — and his grandparents came through for him. It was great to watch him watch the plant and he could even feed the darn thing if he wanted!
There are a number of different indoor plant or garden activity kits that kids would love — try the Enchanted Fairy Garden Kit
for any fairy lover or the Creativity For Kids Grow 'n Glow Terrarium.
If you do have kids who want a live plant, I highly suggest visiting a local garden store and finding one that's already grown — it takes a long time to grow a cactus or Venus Fly-trap from seed.
More Gifts for Kids Who Love the Outdoors
Books and Take Along guides are also great gifts! Try the Exploring Nature Activity Book for Kids or The Kids' Outdoor Adventure Book for TONS of great activities & ideas!
And visit our list of 25 Nature Books & Field Guides for Kids too!
Another super cool option for kids is an monthly outdoor adventure box! The award-winning Think Outside Boxes come with a variety o themes (navigation, star gazing, first aid, etc) each box includes outdoor gear, puzzles, survival skills and challenges! Check them out for the holidays and save 40% Off Your First Intro Box at Think Outside Boxes!!
Another great gift that my kids received and have kept for years was their starter rock collection. For some reason, kids are just facscinated by rocks, gemstones and minerals. For a starter kit, we would suggest one with a sturdy box or case — almost all good kits will come with a detailed identification guide. The GeoCentral Box of Rocks Kit
is a really nice starter set that also include a small magnifying glass.
Then the kids can head out on their own to add to their collection (we've always looked for cool rocks while traveling to other parts of the country).Or try a GeoCentral Rock and Crystal Excavation Dig Kit
if your kids like to be surprised and they can excavate their own gemstones!
If you live in an area where it snow, you know that cabin fever can hit pretty quick. Most of the schools don't take kids outside for recess as much in the winter so enticing them to enjoy some outdoor time afterschool and on the weekends means happier & healthier kids (and parents too)!
To encourage more outdoor play, try some of these kid-favorite items:
Sno-Brick Maker for Building Winter Snow Walls, Igloos and Castles
And don't forget the sleds for kids and teens! For toddlers and younger kids, try the Paricon Toddler Boggan Sleds
(which gives Mom & Dad their out outdoor workout). If you have a kids that made for speed or a teen who loves to go fast, definately look into the Zipfy Freestyle Mini Luge Snow Sled
(I won't even ride this one!)
For more gift ideas, check out the Creative Activities for Curious Kids list in our Amazon storefront too!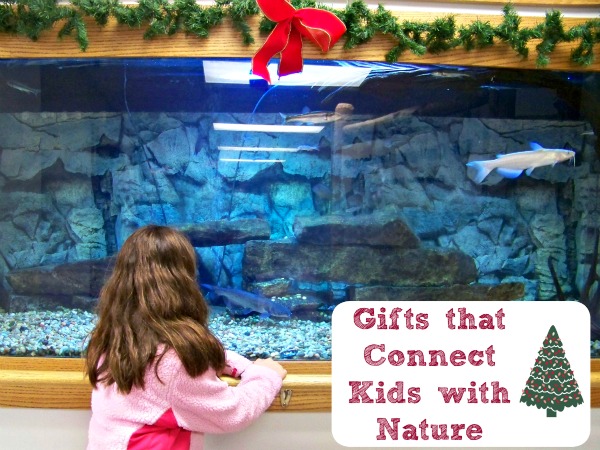 More Fun Activities for the Holidays:
25 Ways to Slow Down & Enjoy the Holidays