Enjoy these Christmas-themed nature books and winter play activities!
Christmas is a wonderful time to invite nature into the house!
We love creating & crafting with natural items during the holidays — they're not only free but plentiful. Not to mention, some of them have such a wonderful scent!
So enjoy these great play activities, books and crafts from nature that are perfect for the holiday season!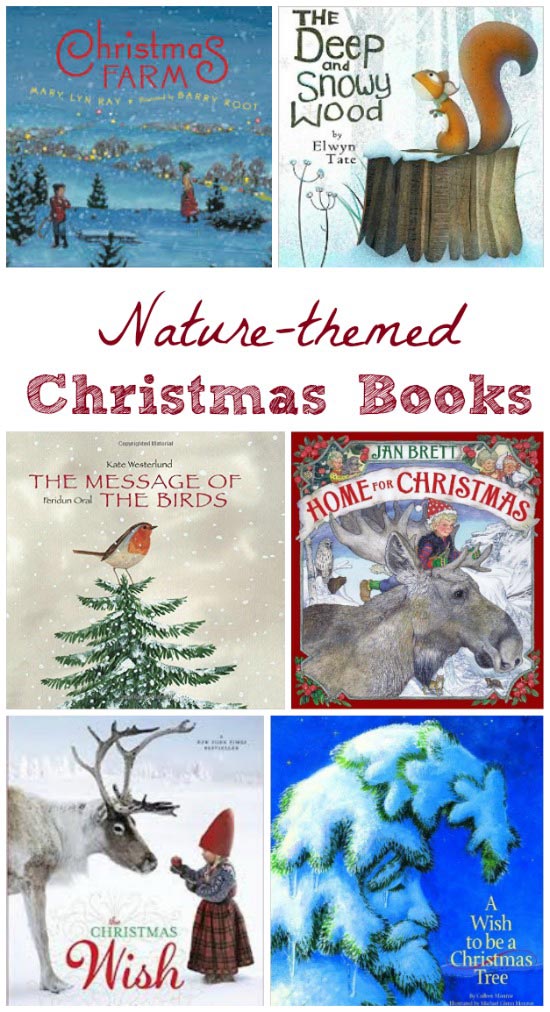 Nature-themed Christmas Books & Activities
It's easy to incorporate natural items into crafts, play and holiday decorating! They're also a great item to include in your Christmas countdown activities too.
And then there's the research that shows having a connection to nature helps to reduce stress during the holidays 🙂
Oh yea, we all need that!
Plus, the kids will get some much needed outdoor time while they search for twigs, acorns, pinecones and stones. So send kids outside to gather up a few items and enjoy these fun activities that connect nature & the holidays! And if you have a nature lover in the family, check out these Gift Ideas that Connect Kids to Nature too!
Nature-themed Christmas Books
We love reading books that highlight the beauty of nature during the holidays! My favorite things about these stories are the illustrations — they are so beautiful in each book.
Plus many of these are perfect to read before or after a walk in the woods! Here are a few of our favorites along with affiliate links so you can learn more about each one:
A Wish to Be a Christmas Tree – a story of friendship & giving during the holidays!
The Christmas Wish – a gorgeous story about a young girl named Anja who wanted to be one of Santa's elves.
The Deep & Snowy Woods – the animals are curious about the special person who visits their woods each year.
Mr. Willowby's Christmas Tree – the only thing better than having a tree for the holidays is sharing a tree! This is a holiday classic that kids & families will really enjoy!
The Legend of the Poinsettia – a classic tale of the favorite flower of Christmas!
Christmas Farm – one of the newest favorites on my list! The story of two unlikely people , an elderly woman and young boy, who decide to start a Christmas tree farm together.
The Message of the Birds – an old owl tells the story of how all the birds of the world use to carry the message of Jesus' birthday.
Home for Christmas — enjoy the outdoors and woodland animals with a wild troll who runs away for the holidays. The author, Jan Brett, has many beautiful books that celebrate nature — see them all here –> Wonderful Winter book list.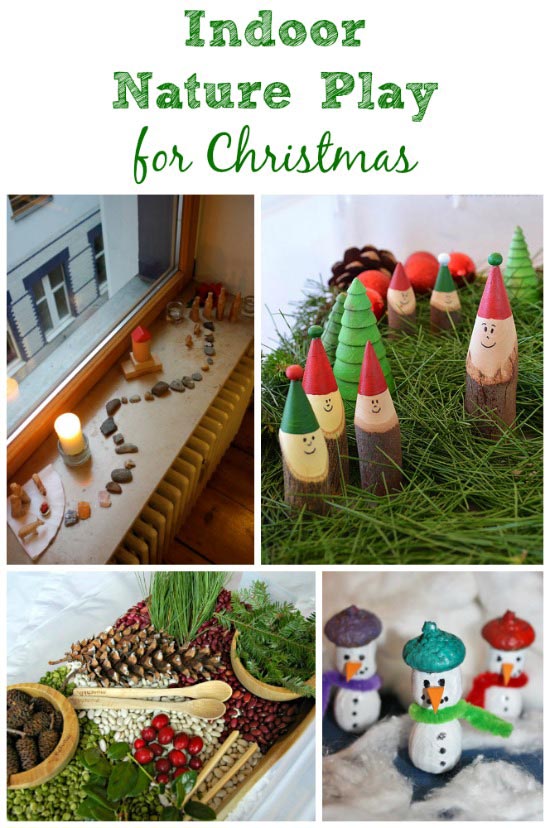 Indoor Nature Crafts & Activities with a Christmas Theme
Make Christmas Ice Wreaths to hang | Edventures with Kids
Challenge your kids to identify Christmas smells with this Scents of Christmas activity | Edventures with Kids
Create a Christmas Sensory Bin so kids can enjoy all the smells of the season | Little Bins for Little Hands
Turn sticks into Magical Jingle Wands | Learning for Kids
Make an Imaginary Play Scene with a holiday theme | Pickelbums
Use sticks & holiday items to make a nature-inspired ornament | My Bright Firefly
Turn acorns & acorn tops into a Snowman's Wonderland | The Pinterested Parent
Create a stone walkway for the Wise Man in your Nativity scene | Explore & Express
Add natural items to homemade playdough | The Imagination Tree
PLUS 20 More Nature Crafts & Activities for the holidays!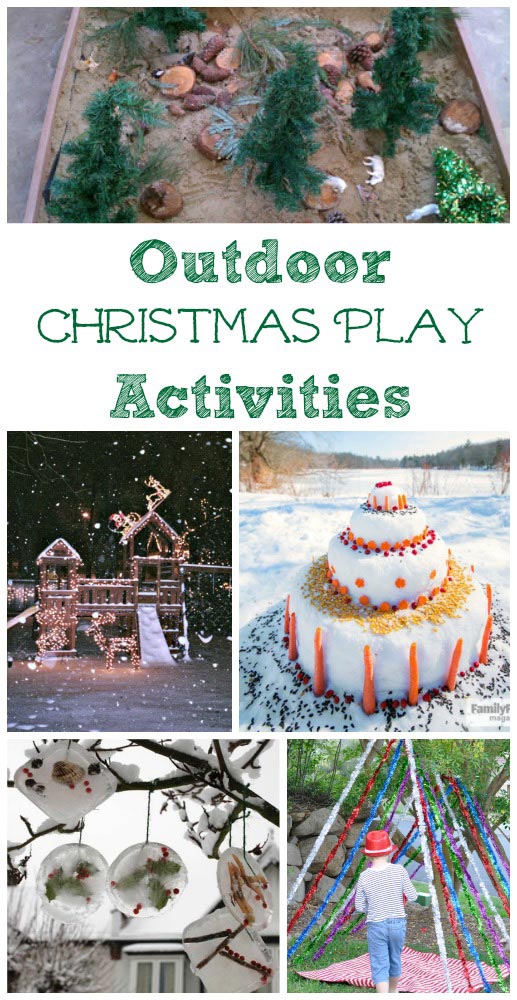 Outdoor Christmas Activities
Go for a Holiday Walk in the Woods with the FREE printable below!
Head out on a Winter Scavenger Hunt (free printable!) | Edventures with Kids
Put up a Tinsel Tent for some outdoor reading | Be a Fun Mum
Turn the sandbox into a Winter Forest | Exploring the Outdoor Classroom
Put lights up on your playset for fun play in the dark!
Go on an outdoor luminary walk or create one in your backyard.
Use these free printables to get the kids outside for a Reindeer Hunt | Bloom Designs
Create a Christmas Cake for the birds | Parents Magazine
Make Ice Ornaments for your yard | Red Ted Art
Get your free printable activity & get out and enjoy nature this Christmas season!
More Christmas Activities:
25 Ways to Slow Down & Enjoy the Holidays