Explore some science & math in the garden with these FUN plant STEM activities for kids!
Gardening is the perfect way to inspire kids to explore botany (the study of flowers & plants), habitats and pollination. It's also a wonderful family activity since everyone can get involved in planting, growing and harvesting from your own backyard.
Even if you don't have the time or space for a full-blown garden, your kids would enjoy starting some flowers and veggies in a few posts on your porch. And these STEM activities are a wonderful way to learn while you grow!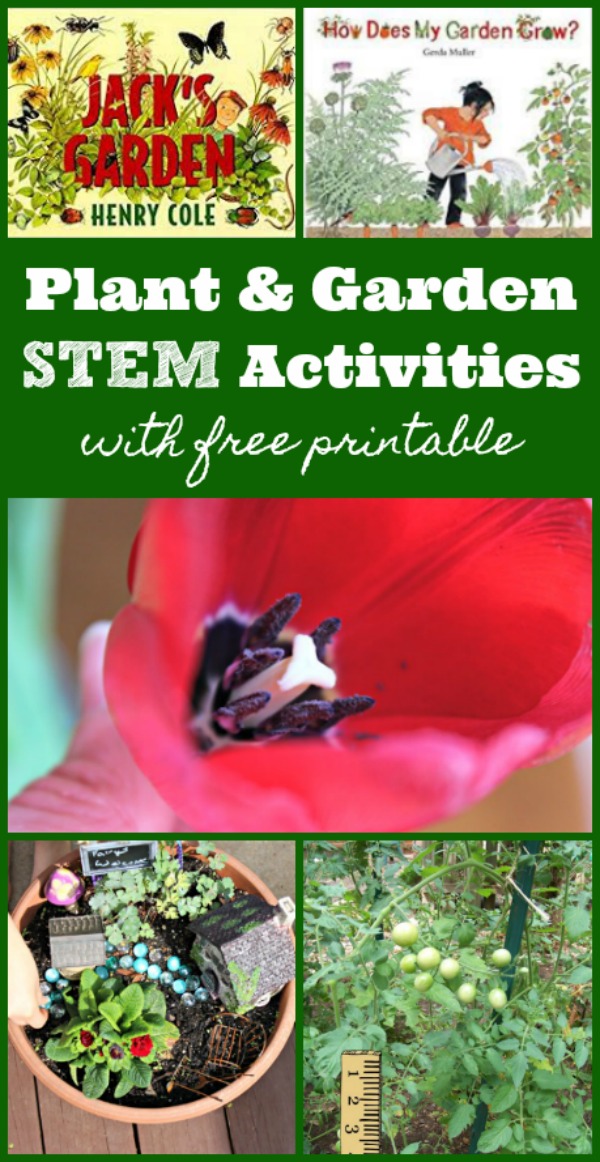 9 Plant Activities & Garden STEM Projects
We are joining the Storybook Science series again this week with the focus of science in the garden! So we are, of course, including some great book recommendations along with STEM activities and affiliate links to some of our favorite plant & garden items for kids too.
One of the first things many kids will notice as they explore plants is that they grow 🙂
This is very obvious to us but for kids, it's a small revelation. You'll hear lots of questions:
"How does it grow?"
"How tall will it be?"
"Why is it growing?"
"Can we make it grow faster?" (This question seems to be reserved for things like growing pumpkins
and Strawberry Plants
, not so much for those veggies you'd like them to eat 😉
So before we head straight to the dirt, let's talk about a few books that will inspire your kids to learn more about plants and gardening:
Garden & Plant Books for Kids
One of my favorites if you plan to grow flowers is Zinnia's Flower Garden! The story shows the reader each of the steps you take to set up and cultivate a garden. I love the playful illustrations along with the details about seeds, weather and the garden environment. And your kids will LOVE reading the mini journal entries on each page too. This is a great preschool garden book!
The next two books we chose based on the extensive details and gorgeous illustrations in each one!
Jack's Garden is the story of how a boy plants & grows a garden in his backyard. The illustrations are SO detailed you can explore the garden habitat and talk about the tools and science involved in gardening. Readers will see what insects visit the garden, what animals & organisms live in the dirt to help the garden grow and tips for starting your own garden!
How Does My Garden Grow? is a wonderful story of Sophie, a city girl who visits her grandparents in the country one summer and learns about all the plants you can grow in a garden. This is a longer picture book with TONS of details about the different types of vegetable families, garden tools and animals & insects that visit her garden.
And if you're looking for more great garden reads, visit our 30 Gardening Books & Activities for Kids!
Once you have an idea of which plants you'll grow, explore STEM (science, technology, engineering & math) with these fun ideas!
Garden Science Activities
The books we've recommended above are all perfect when it comes to dicussing the various science concepts of plants & gardening!
HABITAT: As you plant your garden or pot, talk about the habitat you are working with — what insects live in the soil? What animals visit your garden for food (such as bees) or might live there all the time (for example, snails or ladybugs)? Grab this FREE printable Garden Scavenger Hunt to help with this!
GROWTH & ENVIRONMENT: Plants need four things to grow — water, sunlight (for most), air and good soil (dirt with nutrients). Mention these items to your kids as you plant your garden or pots.
PLANT BIOLOGY: Discuss the various parts of a plant (roots, stem, leaves, buds, flower, fruit). The detail of the discussion will vary with the age of your child — here's a post to get you started: Exploring the Parts of a Flower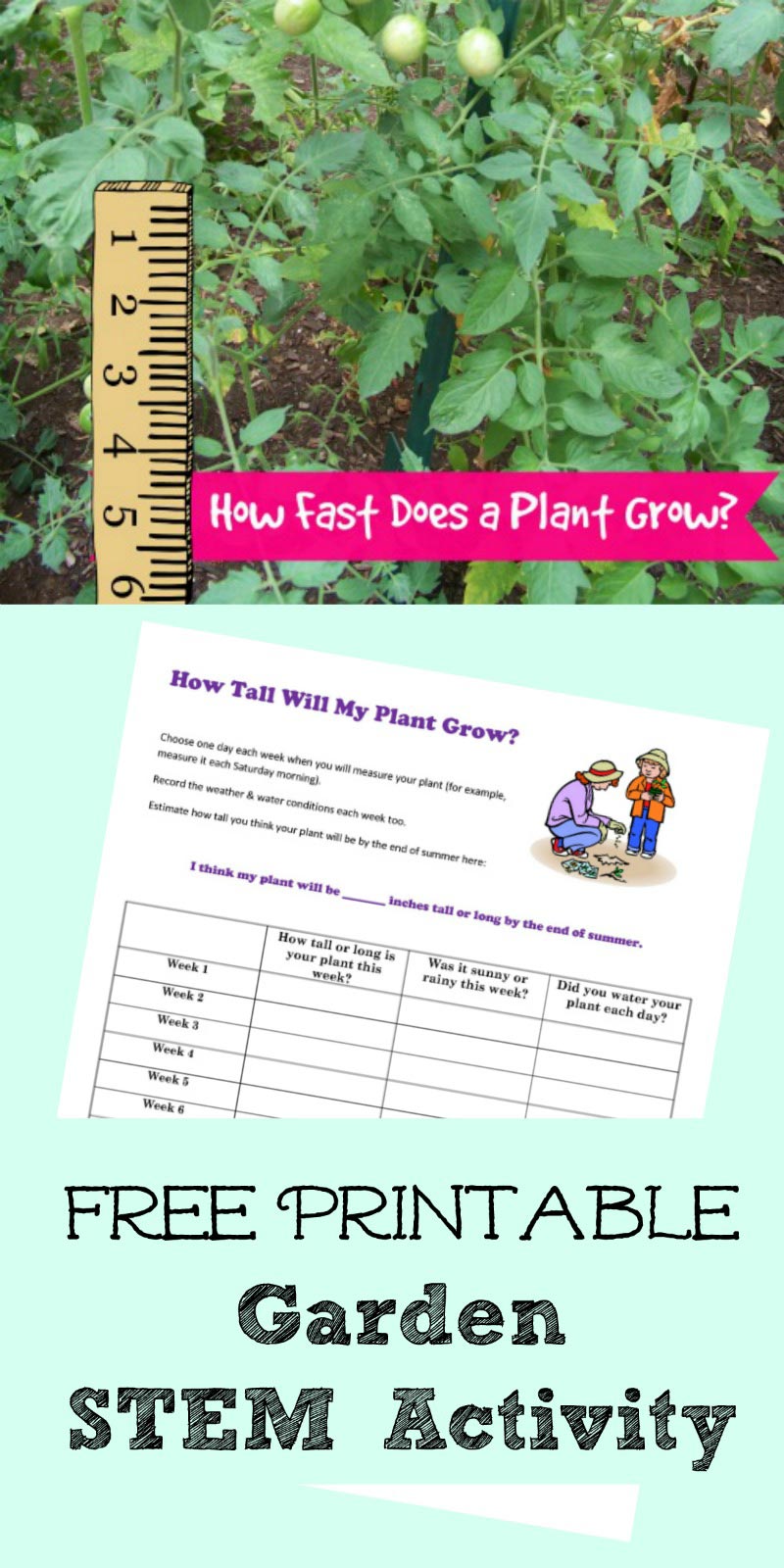 Math Project: Measuring Plant Growth Worksheet (FREE printable)
There are many factors involved in plant growth — a few key items that will help kids to understand the idea of botany.
You can use the FREE plant growth measurement worksheet below to record your plant's height and growing conditions.
Have your kids can use a ruler or tape measure — we love this kid-friendly Tape Measure
if you don't have one in the house — great for math activities! Daily measurements will allow the kids to see how tall their plant is each week and record it along with the weather conditions.
Be sure your kids understand that different plants will grow at different rates — some will grow quickly and others are slower to grow. Some plants (such as sunflowers) will also be much taller than others when they reach maturity. And the amount of water, sunlight, type of soil and air temperature can all impact plant growth.
Here are a few suggestions for plants that will grow quickly & quite long (so they're fun to measure):
Sunflower Seeds "Crazy Mixture" (10+ Varieties)
Cucumber Seeds – perfect for salads
Large Leaf Italian Sweet Basil
When you first start your seeds or plant your seedling, check the seed packet or plant tab. These will tell you approximately how tall or long your plant will grow and will also give you the approximate number of days to maturity.
Engineering & Technology Activities in the Garden
It's actually easier than you think to integrate these two STEM areas with plants!
For engineering, you'll probably need to create something to 'hold up' your plant as it grows. This idea works best with plants such as green beans, cucumbers, tomatoes and sunflowers (or other tall plants). Older kids might even 'engineer' a watering system — something that catches rainwater for use in the garden.
And for technology, use your phone or camera to snap a photo of your plant each week! It's a great way to track plant growth and if you stand in the same spot to take the picture every week, you can line up the photos to see how quickly your plant is growing.
It can also be lots of fun to take some pictures of your kids standing next to their plant every few weeks especially if you are growing sunflowers or vine plants such as beans, pumpkins or cucumbers.
You might also be inspired by some of the STEM activities we used in our fairy garden last year too!
Art in the Garden
And if you'd like to include some art for a set of STEAM activities, try having your kids make this beautiful & easy rainbow garden pots!
Use this free printable to have the kids measure your plant each week during spring & summer.
More Plant & Garden Activities:
30+ Gardening Activities for Kids
And be sure to see all the garden & science activities at the Storybook Science series this month too!