Grab a few of these FREE gardening printables and worksheets and inspire kids to grow something this year!
Spring is the perfect time to introduce your kids to gardening! It doesn't have to be anything complicated — a few seeds in a pot or an herb garden on the windowsill is the perfect starter project. Or even a mini Fairy Garden as a family project!
Today's round-up of free garden printables will help you to plan your garden, track your plant's growth, learn about plants & seed and even inspire the kids to do some reading too!
23 Free Garden Printables & Worksheets
There are SO many fun printables for gardening — from planning out your garden to scavenger hunts to plant journals that inspire nature exploration!
Gardening offers many learning opportunities — understanding how things grow, exploring bugs & worms and the science of plants (botany). Plus we've included affiliate links for items we love to have on hand and some fun ideas for connecting science, math and reading with gardening activities too.
Since some of these printables will be used throughout the garden season (and more than likely, taken outside near the dirt & water 😉 you may want to laminate them so they won't get wet and ruined. It's also a great way to keep them to use from year to year. If you're looking for a good laminator, the Scotch Thermal Laminator 2 Roller System is a great price! Kids can use Dry Erase Washable Markers on laminated printable which can then be easily removed so you can reuse the printable.
And if you're a teacher or homeschool family who wants to tie in some formal lessons with your garden activities, I recommend these two books:
The Gardening Workbook includes 32 lessons on gardening, plant science and nutrition for grades 2nd – 6th. I love the creative writing ideas for each activity along with book recommendations, fun facts and planning pages.
Gardening Lab for Kids is full of weekly lessons on seeds, soil, compost and more! It includes 52 plant-related activities and hands-on experiences for kids of preschool, kindergarten and elementary ages.
Printable Garden Journals & Planners for Kids

Get a colorful plan together to track what you'll grow!
How Fast does My Plant Grow? tracking journal | Edventures with Kids
Draw Your Garden planning page | Carrots are Orange
Deciding What to Plant printables | Harrington Harmonies
Vegetable Planting Schedule | Nemcsok Farms
Garden Notebook cover | A Number of Things
Garden Plot layout | Nemcsok Farms
Kids Garden Journal | Nuture Store
Related Activity: Get Ready for Garden Season – Crafts & Activities
Plants & Seeds Worksheets

Kids can learn about plant life cycles and how seeds work with these printables!
My Seed Collection | Inspired Treehouse
Life Cycle of a Plant Learning Packet (30 pages) | 3 Dinosaurs
Parts of a Plant (ages 3 – 7) | The Natural Homeschool
Dissect a Bean Seed | Preschool Powol Packets
Life Cycle of a Pumpkin Mini-book | The Preschool Toolbox
Plant Observation Journal page | Buggy & Buddy
Graph What's Living in Your Yard! | Preschool Powol Packets
Garden Scavenger Hunt & Activities
Fun activities that inspire science, reading and nature exploration in the garden!
Bug Scavenger Hunt (see who's living in your garden) | Edventures with Kids
Garden Scavenger Hunt (pictures & words) | Edventures with Kids
Garden Scavenger Hunt (with words) | Fantastic Fun & Learning
Garden Photo Scavenger Hunt | Go Explore Nature
Preschool Garden Printable Pack | Embracing Beauty
Carrott Seed Lapbook | Homeschool Share
ABC Garden Letters | Tot Schooling
Tale of Peter Rabbit Lapbook and Unit Study | Homeschool Share
Gardening Literacy Pack | SallieBorrink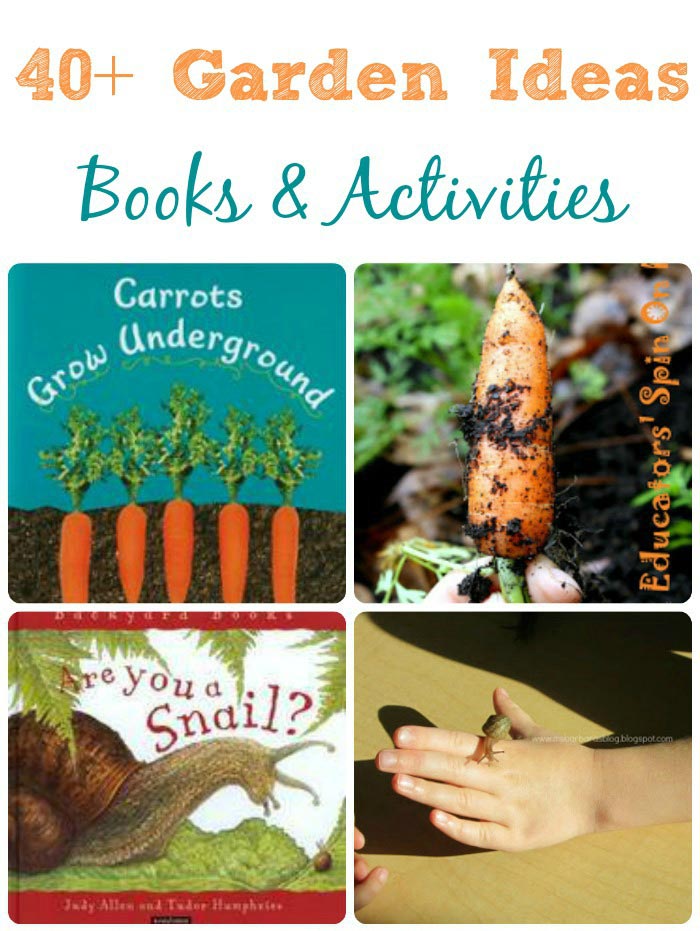 More Garden Activities for Kids
Books & Activities that Explore Plants and Seeds