In honor of Spring this week (yea!!), I thought I'd begin a new weekly series: 5 Fun Finds!
Every week, I find TONS of great things as I'm curating new content or writing posts. I need a way to share these with YOU!
So each week, I'm going to choose a different theme and share some great resources, feebies and fun things that the kids will enjoy.
Isn't is just beautiful?! Makes you want to get outside, right!
This week, I'm highlighting ways to connect with nature —
in honor of Spring coming on the 20th and also because March 18th – 24th is National Wildlife Week too!
The goal of National Wildlife Week is to celebrate wildlife and connect kids with the outdoors. Studies show that our kids spend less time outdoors than we did as kids – and time outside is important for kids' health, development and appreciation for nature.
The National Wildlife Federation is challenging everyone (especially kids & teens) to get outside for at least 90 minutes a week for the rest of the school year.
Really, 90 minutes is not a lot of time – the kids would probably love more! So I am uping their challenge – I want to encourage you to get the kids outside for at least 30 minutes EVERY day!No matter the weather, you can find something fun to do outside.
And just to prove it, here's some great resources to help you achieve this goal: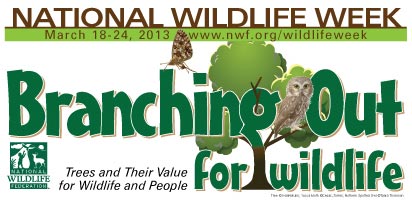 Free Printable Wildlife Cards
Choose from one of five sets of printable Wildlife Trading Cards, available free from the National Wildlife Federation. Print out a set of cards and head outside to match them up to the actual items.
Explore Your Backyard
One of my favorite nature blogs is Go Explore Nature – it's a great resource for fun ways to get kids outside more often. Browse their list of 32 Ideas for Spring Backyard Nature Fun – from mud prints to nature bingo to a photo safari, everyone will find some inspiration to get outside more frequently!
Become a Junior Ranger
Most of our National Parks have Junior Ranger programs – these are amazing hands-on activities for kids ages preschooler – teen. Programs vary from completing an activity book to attending a nature program. And some can even be done at home and then mailed in to the park for your badge. I've written about why we love Junior Ranger programs before – both of my kids have really enjoyed their experience with these activities.
Oh yea, that's the best part – kids get a badge when they complete the requirements! They love this!!
Programs exist at National Parks and historic sites around the country so check the list to find a program near you.
Discover the Forest
Learn about animal sounds, animal tracks, using a compass and more at Discover the Forest – a fun website for families who want to connect with nature. One of my favorite items on this site is the free printable Book of Stuff to Do with lots of great nature activities for the kids!
Get Up Close
Housing a Forest has a found a wonderful way to explore nature a little closer. You can turn your smartphone into a microscope with cool, inexpensive tool you can buy and attach to the phone.
Kids will LOVE to get up close and learn more in addition to getting some really great pictures of what nature looks like 'under a microscope'!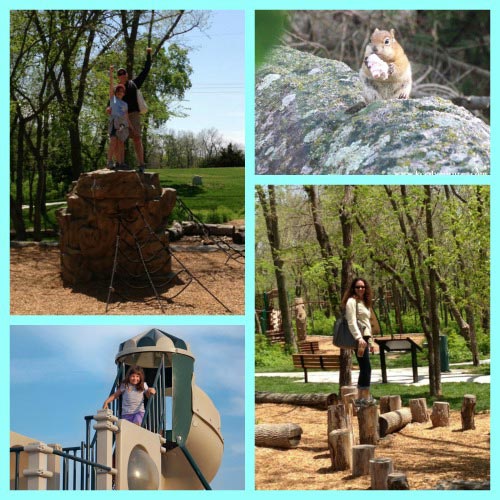 Need a few more ideas?
Enjoy a Day at the Park with one of these 18 outdoor activities.
40+ Ideas for fun in your own backyard!
Print out our Spring Scavenger Hunt and head out to a park or even your own neighborhood.
Create an Outdoor Activity Jar for some 'surprise' fun and activities.
Head out on one of these 7 Nature Walks for Kids to see what you'll discover!
Happy Exploring this week!!