Have you ever taken the kids to visit a farm? We have so many conveniences in our lives that most children don't understand how their food is grown or where it begins.
Farm visits can be lots of fun for children — seeing the animals, learning how food is grown and gaining some knowledge about food and agriculture.
I know what you're thinking — how the heck would I even begin to find a farm to visit?!
There are actually some great resources that will help you find a place close to home where you and the kids can learn more about how our food is grown or gathered before it's delivered to the store.
Bottle-feeding the baby goats is lots of fun!
Farmsteads & Petting Zoos
These are fairly popular across the world. Kids love to visit farmsteads and petting zoos because they are able to interact with the animals. Many times, you'll find goats, chickens, horses and other barnyard animals at these locations.
We have an amazing farmstead in Kansas City! Deanna Rose Farmstead is not only home to many animals but also offers some great educational activities. You can watch them milk the cow, learn how milk is processed and travels to the store, feed the chickens and get a close up look at pigs, horses, turkeys and many others.
Petting zoos and farmsteads can be found by doing a local search online or looking in your phone book.
Working Farms
Believe it or not, some farms open their doors (and gates) for tours! Many times, you'll find that a local farm will offer public tours. In some cases, you'll find a dairy farm that will show you how milk is taken from cow to bottle. There are also farms that are home to goats, alpacas and other animals that help to produce various items we might eat or use.
If you're up for a real adventure, you can also vacation at a working farm! Families can be involved in farm chorse, learn all about the animals and enjoy some country fun (along with some great food!)
To find a local farm that offers tours or even overnight stays, visit Agritourism World and search for locations near you.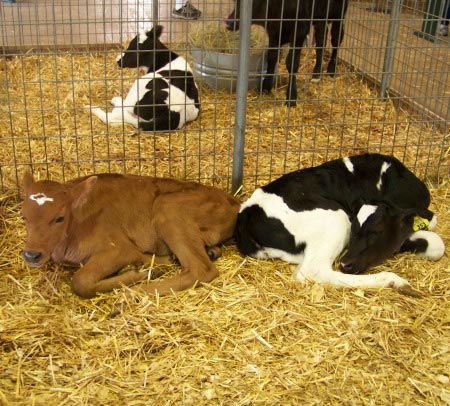 Visiting calves during a day at the farm
Pick Your Own Fruits & Gleaning Activities
Not all farms have animals — some are home to the fruits and vegetables that we love! You might visit an apple or cherry orchard to pick fruit, take a tour of a wheat farm or find a local gleaning project. Gleaning is the process of picking extra produce before it spoils and is usually done by groups of volunteers — the fruits and vegetables are then donated to local food pantries or community kitchens.
The Society of St. Andrew is one of the larger organzations that coordinates gleaning projects across the country.
Picking fruit can be lots of fun along with very educational. My kids didn't realize blueberries grew on tall bushes until I took them blueberry picking that first summer. And cherry picking was even more fun – there's ladders involved 😉 Apple picking allows you to use baskets on long sticks to gather the fruit.
And what I love the most — the kids get a great understanding of how much work goes into growing and harvesting that apple that they eat at lunch!
To find a farm or orchard that offers pick your own fruit or veggies, visit Pick Your Own and click on your state or country.
Kids Books about Farm Life
If your kids are intrigued by farm life, they will enjoy some of these fun books. I've included affiliate links for your information and convenience.
The Year At Maple Hill Farm
recounts life on a farm each month of the year. I love how the story shows when the farm is most active and also gives you a peek into farm life during the quieter winter months. The illustrations are really nice too.
Farm
is another beautiful look at the seasonal changes on a farm. I just love the little details that the author put into the book — the farmer drinks coffee and listens to the weather report while he drives the tractor, and what the kids need to do when they arrive home from school. Older kids will really enjoy this story.
Our Farm: Four Seasons with Five Kids on One Family's Farm
is an actually account of a family farm. The stories are told through the voices of the children which makes it very appealing as a family read-aloud. Kids will learn about farm chores, daily life and the culture of rural areas as they read about the Bennett family and their adventures.