Enjoy these fun indoor & outdoor Fall games for kids and adults – great for Autumn parties and Halloween fun!
Seasonal games are a big hit in our house – especially Fun Fall games!
Playing charades, BINGO or heading out on a scavenger hunt is always a lot of fun — but it's a bonus if the game is holiday-themed!
Ramp it up a notch this year with these Fall & Halloween games that kids and adults can play inside, outdoors, at parties or just for fun!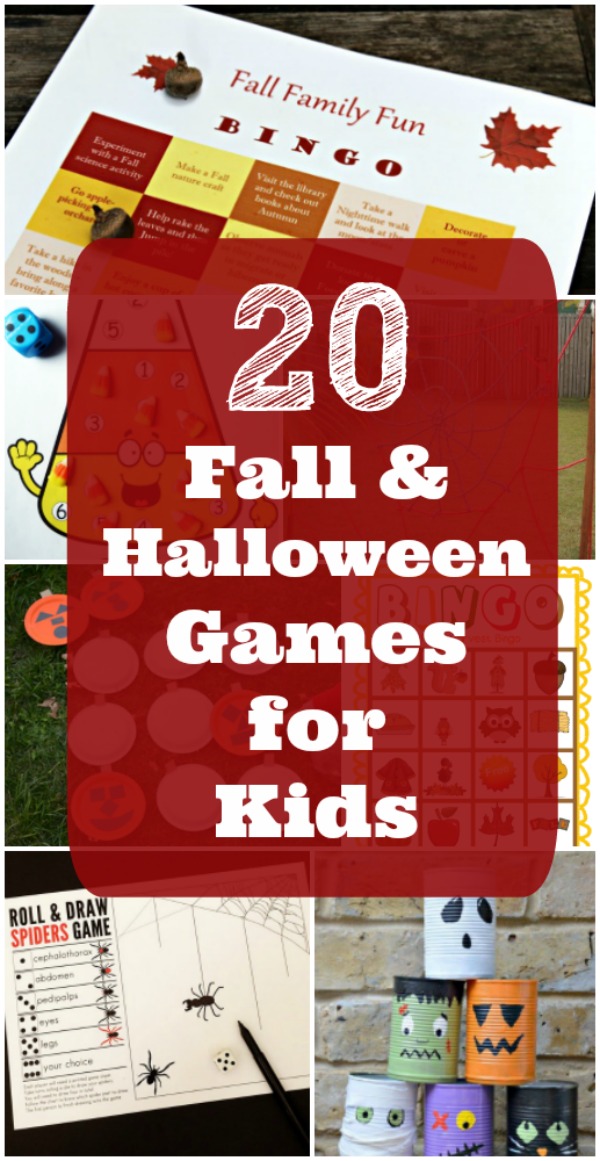 20 FUN Fall & Halloween Games
Games are not only a fun family, group or classroom activity — they're also a great teaching tool for life skills!
Think about it, games teach kids all types of skills:
playing by the rules,
communication,
negotiating the win/lose concept and
strategic thinking
not to mention practice with reading, counting and motor skills too
All wrapped up in a fun activity!
Kind of like sneaking in the vegatables – kids have so much FUN playing these games that they don't even realize their learning at the same time 😉
This group of games is sure to please preschoolers, elementary age kids and tweens (there's even games that teens & adults will enjoy too)!
Try a fall-themed scavenger hunt with your family this weekend — or one of the Halloween games that's perfect for a festive gathering or class party.
Some of the games help burn off energy, others are sit-down activities that include FREE printables and we've also included affiliate links to a few favorites that we pull out every October!
Indoor Fall Games for Kids & Adults
Use red, orange & yellow balloons for this no-mess Touch & Feel Sensory Game!
What's on Your Phone? Gratitude Game || Edventures with Kids
Fall Harvest BINGO || The Wise Owl Factory
Fall-themed Roll, Draw & Write || The Educator's Spin on It
Easy weekend fun with these 18 Autumn Scavenger Hunt Ideas!
Fall Family Activity BINGO Challenge
And if you're looking for Thanksgiving ideas, take a peek at these 27 Thanksgiving Games & Activities!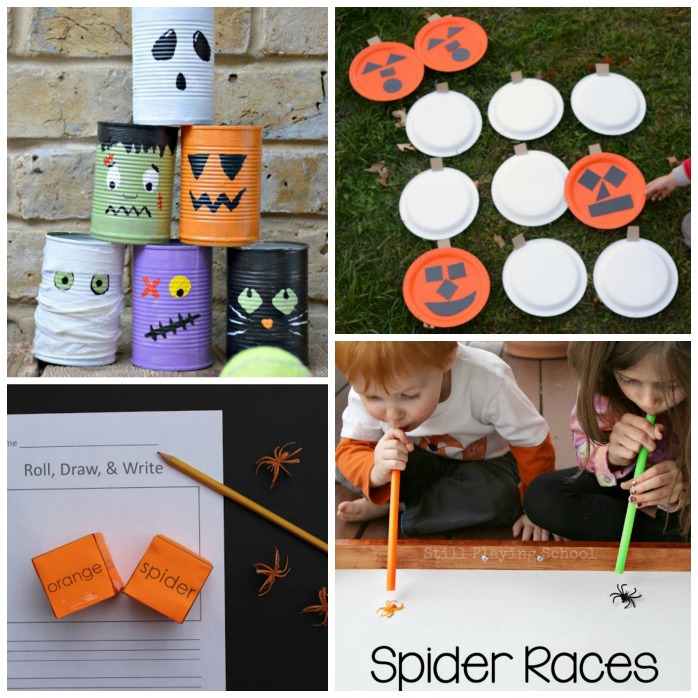 Indoor Halloween Games for Kids
Halloween Charades || Edventures with Kids
Guess What's in the Box? Touch & Feel Mystery Game || Edventures with Kids
Halloween BINGO || The Quiet Grove
It's the Great Pumpkin, Charlie Brown Board Game
Candy Corn Math Game (w/free printable) || Totschooling
Halloween Seek & Find Game || Little Bins for Little Hands
A Spooky Halloween Night Game (for older kids) || The Joys of Boys
Haunted House Drawing Game || Mama Smiles
Roll & Draw Spider Game || Childhood 101
Pin the Nose on the Pumpkin Game
PLUS these 31 FREE printable Halloween Games & Activities for kids too!
Outdoor Games for Fall & Halloween
Halloween Scavenger Hunt Challenge
Spider Web Obstacle Course || Mother Natured
Halloween Ghost & Pumpkin Bean Bag Toss Game
Outdoor Fall Scavenger Hunt with FREE printable!
Ghost Races || Fireflies & Mudpies
DIY Halloween Tin Can Bowling || Red Ted Art
Spider Races || Still Playing School
Halloween Bucket Ball Toss || Play & Learn Everyday
Life-size Pumpkin Memory Game || Pleasantest Thing
AND try these —> 40 More Outdoor Fall Games for Kids!
MORE Games & Activities for Kids and Adults:
10 Printable Thanksgiving Games for Kids & Adults
12 Christmas Minute to Win It Games for Kids & Adults