Learn about owls with these fabulous owl crafts and books about owls for kids!
With all these wonderful seasonal changes, I am definitely in the mood to get started on some Autumn themed crafts & activities too!
Today's theme — everything Owl!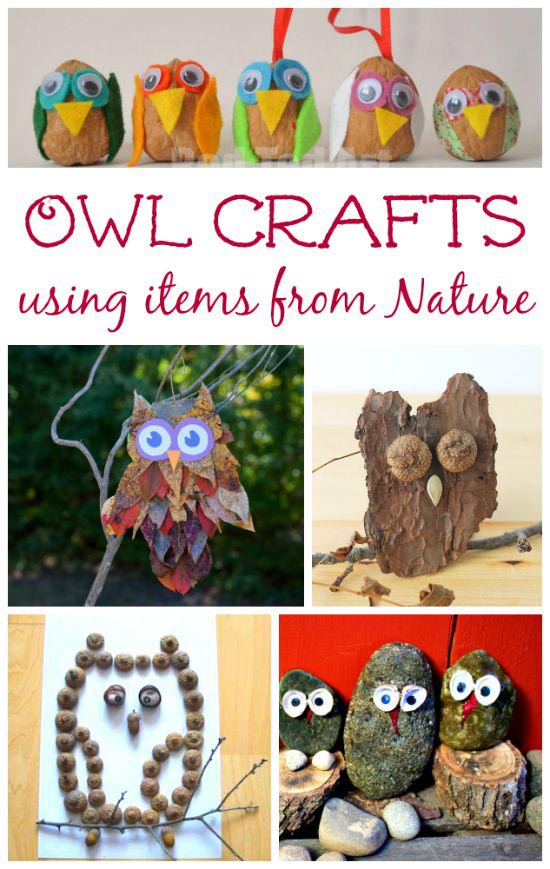 20 Owl Crafts for Kids to Make
You know how things happen in 3's?
Well this week —
1. we dropped our oldest off at college so now both kids are back in school,
2. found trees with their leaves changing
3. the temperature last night dropped to 56 degrees!
Can you say 'Fall is on the way'?!!
There's something about the start of a new season that gets my creative juices flowing. I've pulled out our Fun Things to Do in the Fall (print a free copy for your home too!) and started making plans for the things we look forward to doing in Autumn.
Family hikes and brunch with apple cider pancakes are right at the top of the list 🙂
This week I thought I would share a round-up of outstanding Owl crafts & activities since they are also big fans of the cooler temps and fall-like weather.
And I think they are just so darn cute too!
Owl Crafts using Nature Items
Some of my favorite Fall crafting adventures are those that include natural items — pinecones, leaves, acorns, sticks, etc. Getting the kids outside to gather materials and burn off some energy is always a plus before sitting down for a craft session.
Bark Owl craft | Fireflies & Mudpies
Owl in a Tree frame | Inspired by Familia
Stone & Shell Owls | Rhythms of Play
Pinecone Owls | Mum in the Madhouse
Pumpkin Owl | Fun Crafts Kids
Walnut Owls | Red Ted Art
Acorn Tops Owl | Crafty Crow
Leaf Owl | Six Cherries on Top
Owl Crafts & Owl Book Pairings
We also love using books as a kick-off to our craft projects so I wanted to pair up some beautiful owl crafts with classic owl stories.
I suggest reading the book first and then discussing the story as you make your craft — this really helps to enhance communication skills and reading comprehension with kids! I've included affiliate links for each of the books so you can learn more about our selections.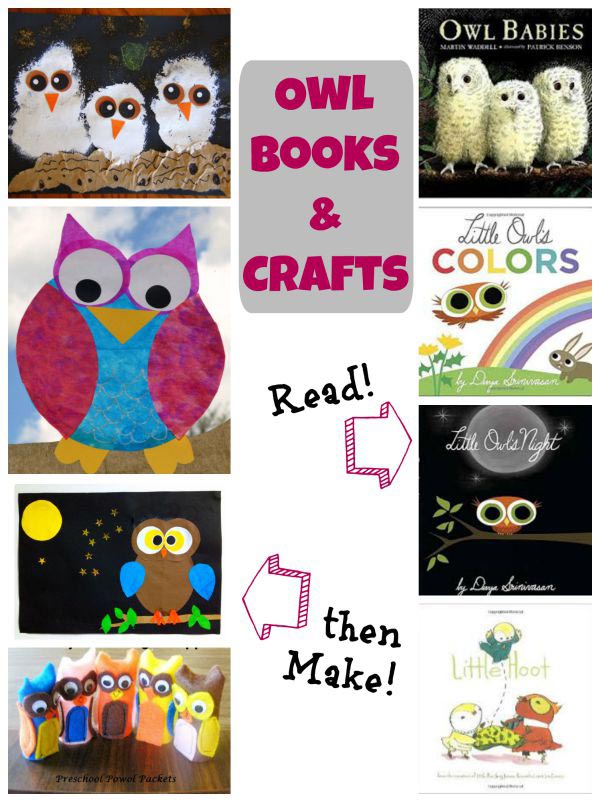 Preschool Powol Packets made these cute Owl Finger Puppets which would be adorable reading buddies for toddlers with the story Hoot: A Hide-and-Seek Book of Counting.
Both this Fuzzy Cotton Owl Trio at Queen Bee Coupons and the Owl Babies painting project from I Heart Crafty Things are the perfect activity to pair with the much-loved story Owl Babies
!
The writing activity on this paper bag Owl Guessing craft from Buggy & Buddy can be paired nicely with the seasonal favorite, Owl Moon
.
This super cute Felt Owl craft at Sunny Day Family reminds me of the adorable baby bird in Little Owl's Night
!
Kids of all ages will enjoy creating their own Button Owls from Learn Create Love while listening to the wonderful read-aloud story of Owls in the Family
!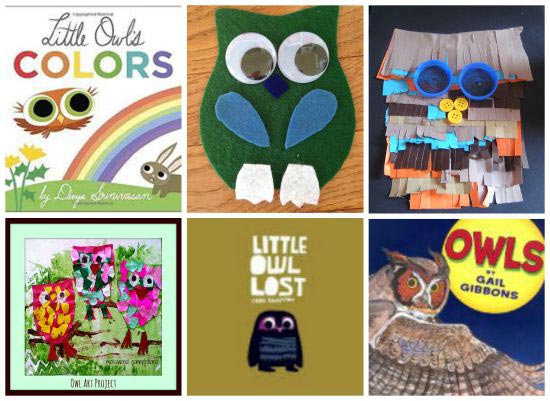 Put together a colorful Owl Suncatcher like this one at Hand Made Kids Art or the colorful Owl art projects from Mosswood Connections while you read Little Owl's Colors
.
The kids will have fun using these fun paper bag Owl Puppets from Kitchen Floor Crafts to act out the story Little Owl Lost
.
The bedtime favorite, Little Hoot, fits wonderfully with this beautiful Owl Shape craft at B-Inspired Mama.
If you're looking for a book with TONS of details about owls, go with Owls by Gail Gibbons
and create this fun Fringe & Bottletop Owl from Rainy Day Mum.
And I always like to pair and Easy Reader book with an easy craft 😉 Create these cardboard tube owls while you enjoy a long-time favorite, Owl at Home (and I Can Read Book)
.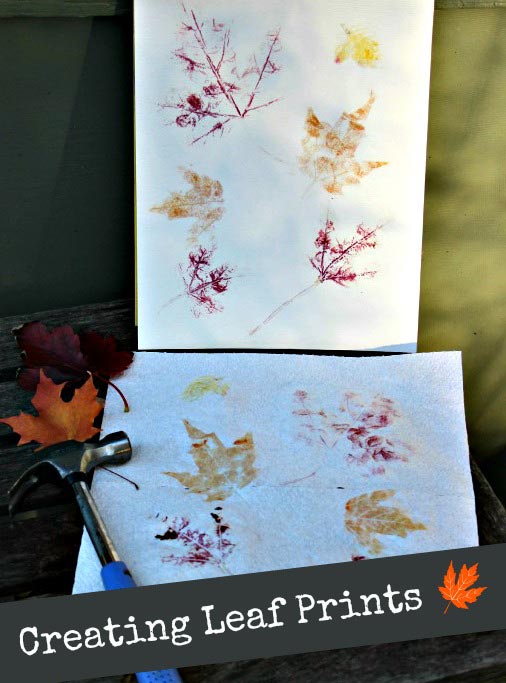 MORE FUN FALL ACTIVITIES
20 Outdoor Fall Science Activities
12 Gorgeous Nature Crafts for Kids