Creative ideas on how to get rid of extra Halloween candy!

I'm always amazed at how much candy we accumulate during the week of Halloween!
I think my kids must look extra good in their costumes on some years because we end up with waaayyy more candy than I think we should have — and more than we will ever eat. Which is why I like to have non-candy options for trick or treaters!
So what can you do with all that extra candy?
We've got a few really good ideas for you!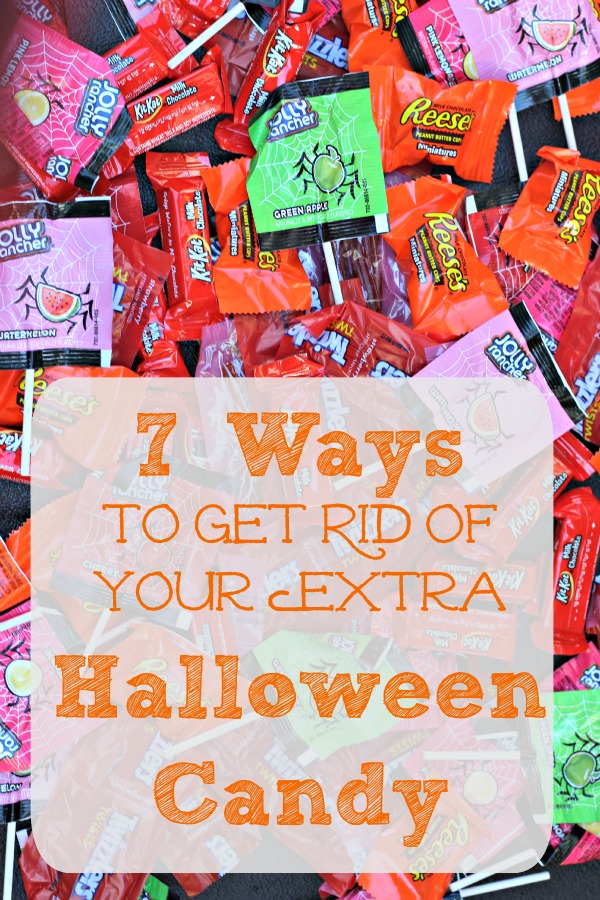 7 Ways to Get Rid of Your Extra Halloween Candy
One of our favorite traditions is to dump it all out on Halloween night and sort it into groups — then Dad takes his share (like as many Reese's as the kids will let him grab 🙂 and the kids do the whole "bleah – I won't eat these" type of thing.
And then I look at what's left — STILL too much candy.
In fact, when my daughter pulled out the candy container this week, there were still a few pieces of candy in it from Easter. Some candy is good – but too much of a good thing just takes up space not to mention tempts my peanut-butter-cup-loving-husband too 😉
So here are a few AWESOME ways to use up all that leftover candy!
Where to Donate Extra Candy Near Me
Operation Gratitude accepts candy donations through November 8th this year and sends it on to US Troops stationed around the world. There are also dentists & orthodontists who participate in Operation Gratitude and will accept donations at their offices — to see if there's one near you, visit the Halloween Candy Buy Back program.
Operation Shoebox also accepts candy donations to send to soldiers — in fact, they accept them year round (but only send fresh candy — think extras from Valentine's Day too).
Be sure to check your own city for places that may accept candy donations — some nursing homes, charities and locations such as the Ronald McDonald houses are possibilities.
Use Left Over Candy for Science Experiments
Try a few of these awesome science activities —

Test a Candy's Solubility | A Little Pinch of Perfect
Classic Sink or Float experiment | Reading Confetti
Explore Ghost Peeps | Housing a Forest
Use it for a Science Fair project! Candy Experiments is an entire website with fun ideas!
Play a Game Together!
Try a fun game that use candy for family night!
Candy Corns in a Bottle | Edventures with Kids
Use candy corns as markers with a printable Halloween BINGO game | Artsy Fartsy Mama
Ideas for Holiday Candy Crafts
Do you remember some of those holiday candy decorations that were so popular when we were kids? I can remember making lifesaver ornaments that we had on the tree for years 🙂 Get creative with these fun ideas – you might also check with the Art Teacher at school to see if they need any for projects:
Put aside a variety to use with this easy Gingerbread House | Edventures with Kids
Turn your Skittles into Paint | One Good Thing
Create Candy Mosaic Art | Pink Stripey Socks
Make these adorable Christmas Candy Lights! | DIY Crafts Mom
Do Candy Math or STEM Activities
Seriously, playing with your food is ok in this instance 😉 Here are a few 'sweet' ways to learn —
Try this STEM Building Challenge using candy pumpkins | Lemon Lime Adventures
Construct a Candy Catapult | Playdough to Plato

Learn about measurement & volume | Classroom Magic
Counting Christmas Tree Ornaments | Amy Pessalano
Try a Random Act of 'Sweet' Kindness
Why not 'candy bomb' a parking lot?!
There's a lot of people who don't have trick or treaters at home but wouldn't mind a piece of candy, right? Surprise some random strangers by leaving a treat on their car windshield one day with a note that says "Have a sweet day!"
Be generous with all the adults you love – Grandpa might want a few of his favorite treats . Or send some into the office with Mom & Dad if they work somewhere that has a candy/treat jar for employees.
Use it for fun greetings with these awesome candy sayings to go with it!
More Holiday Fun
10 Printable Thanksgiving Activities for Kids & Adults
Nature-inspired Holiday Projects
25 Ways to Slow Down & Enjoy the Holidays with your Kids