Are you ready for trick or treats?? Great tips on things to do before Halloween night!
Halloween seems to always sneak up on me —
Are the costumes ready?
Do we have enough candy? Or other non-candy Halloween treats to hand out?
What's the plan for trick or treating?
But you really want to be able to enjoy the night with the kids — I mean, they'll only want to dress up and head out with Mom & Dad for a few years, right?!
So here's a quick checklist to get you ready for fun at home on that big night!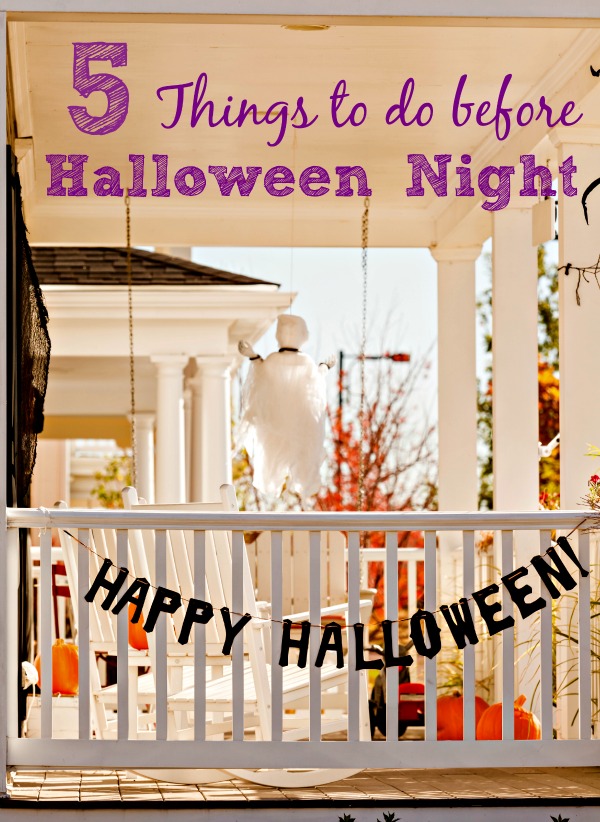 5 Things to do Before Halloween Night
Whether it's pulling the costumes together, prepping a fun Halloween-themed dinner or coming up with alternatives plans for things to do at home, we've got you covered! We're including tips for trick or treat safety, healthy Halloween dinner ideas and things to do at home on Halloween night along with affiliate links to a few of our favorite items too!
1. Get the Costumes & Candy Ready Early
Don't wait until Halloween morning to find out that you're missing a mask!
Have kids decide what they will wear and pull everything together the weekend before Halloween. Check for all those accessories that they think will make their costume awesome and have them round it all up.
If you want to give the kids a little incentive to DECIDE on a costume (you know how that goes, right?!) have a 'dress rehersal' dinner the week before 🙂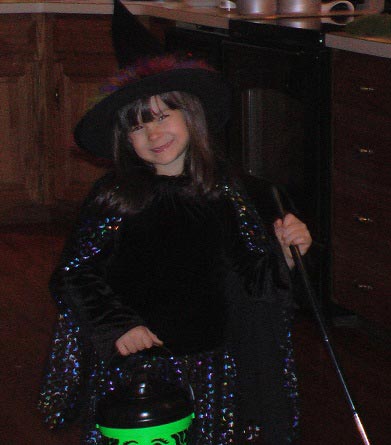 Believe me, it will be so much more enjoyable to get everyone dressed if you have it all in one spot.
By doing this, you'll quickly see if there's anything missing and will have time to make or get whatever is needed.
And be sure to dig out some warm clothes that can be worn under the costume in case of cold weather.
Bonus: If you're attending any of the early trick-or-treat events, you'll be ready for those too!

2. Grab Those Treat Bags
You gotta have something to put the candy in, right?!
If your kids are like mine, they already have their minds set on what they want to use to collect their candy. Maybe it's the much-loved bag they use every year (like these adorable treat bags from Pottery Barn Kids that always go ON SALE in October!) or that cool tie-dye pillowcase they made at school.
Whatever it is, dig it out now so you're not faced with the "But I can't go without my bag" as you walk out the door.
Don't be afraid to get creative — the year my daughter went as Dorothy, she used a basket (with Toto) to collect candy.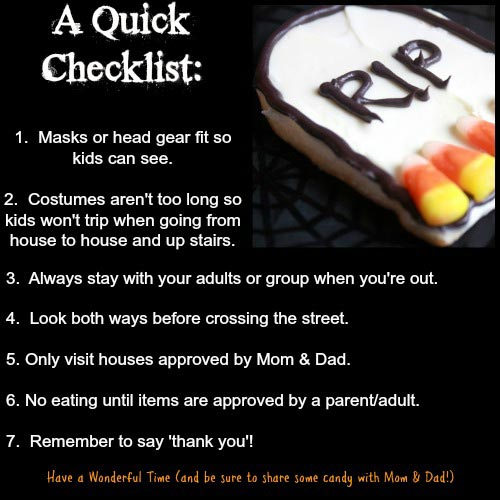 3. Trick or Treat Safety for Halloween Night
Be sure to cover all the things excited kids need ot hear before they head out to trick or treat!
We usually discuss safety rules at dinner the night before — including a little 'role playing' for younger kids to help them practice.
In addition to tips for staying safe, it's also a good idea to be sure kids have some type of light, flashlight or reflector if they'll be out after dark. We like to use glowsticks or Halloween LED bracelets so we know they can be seen especially if they're wearing a darker costume.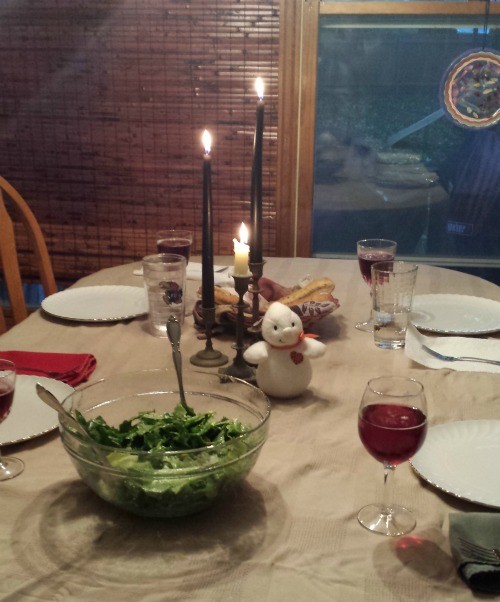 4. Plan a Healthy & Easy Halloween Dinner
You know your kids will want to snack on their treats when they get home so start them off with a healthy meal. Protein will help them to not feel too hungry while they're out and vegetables are a must on a night like this.
And we always like to set a fun-themed table on Halloween night too — candles make it a little spooky and memorable!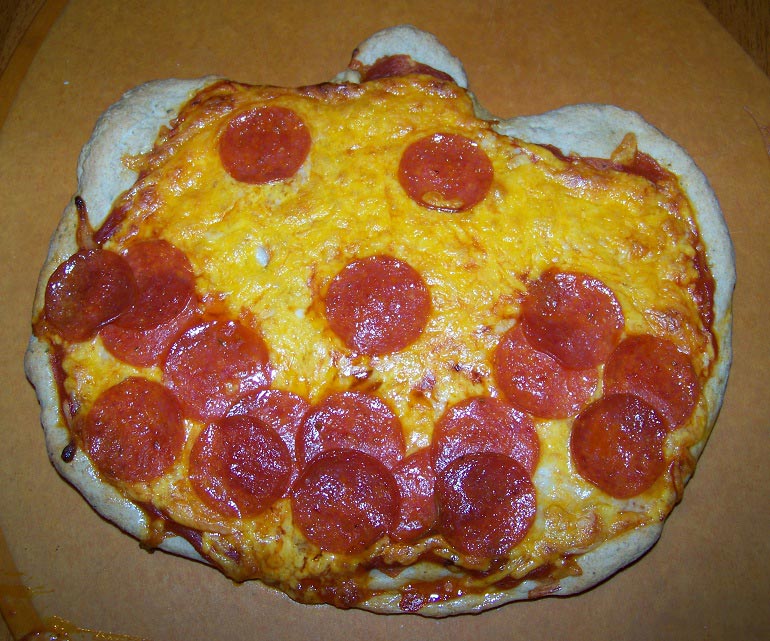 We like to make dinner fun — this whole wheat jack o'lantern pizza was paired with a 'spooky' salad one year.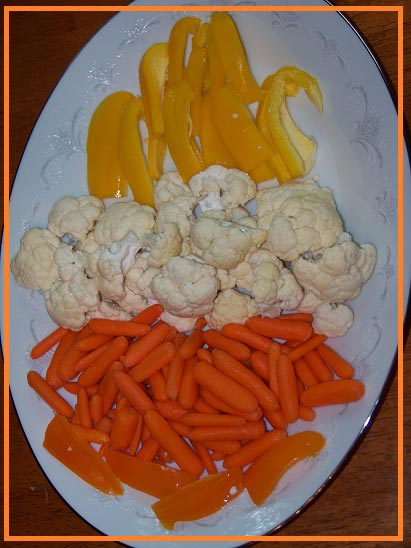 We also like to have veggie trays for easy eats while we're getting ready. This candy-corn themed veggie tray was super easy and a big hit!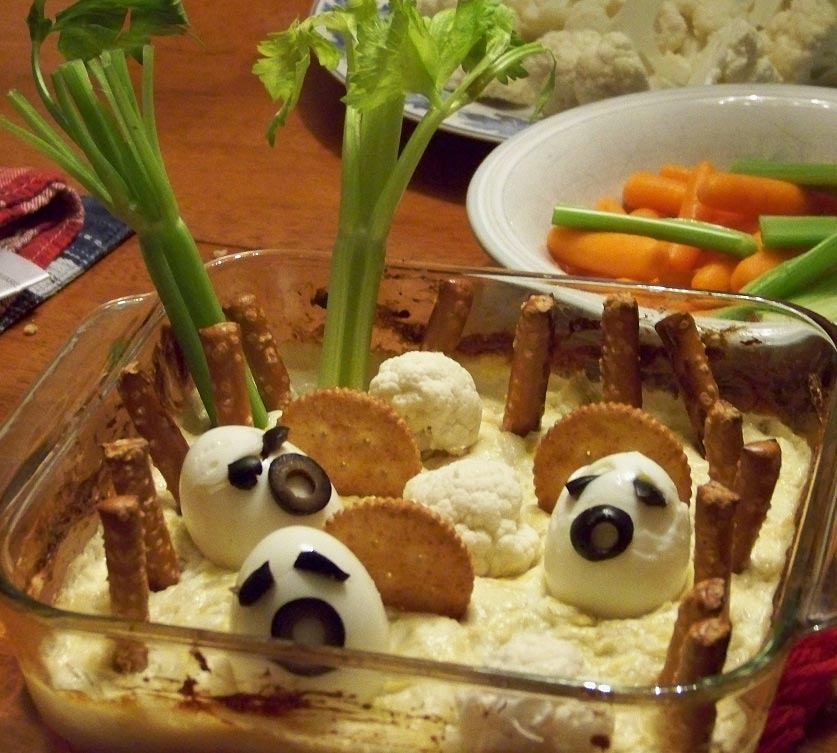 And one year we made a fun 'ghosts in the graveyard' veggie dip too (the ghosts are hard-boiled eggs with black olive garnish).
Other fun ideas for dinner —
Mummy pizza from Cooking by Moonlight
Grilled Cheese Sand-witches from Martha Stewart
Feeding Frenzy has a great Vegetable Skeleton
Halloween Stuffed Peppers or Pumpkins from Go Dairy Free
5. FUN Things to do at Home on Halloween Night
It's always a great idea to have some back-up plans — one year, it rained SO hard that we were home after 5 minutes of trick or treating. And when Halloween falls on a weekend, we always like to have some fun at home after trick or treats!
Here are a few ways to enjoy time together on Halloween night!
Hand out candy – my kids LOVE seeing their friends come to the house 🙂
Curl up for a Halloween reading session!
Teach kids how to dance to Thriller (throw-back 80's Halloween style!)
Make some hot cider or cocoa and talk about the night.
More Fall Fun for Families:

20 Fall & Halloween Games for Kids
44 Fun Fall Activities for Families