Kids (and adults!) will love this fun Halloween game -- create your own DIY touch & feel mystery box or bags!
I wanted to create something easy but fun for the holiday with a little spooky but not to scary. Mystery touch & feel boxes or bags are just the ticket!
I promise they are not so creepy (even though you could easily make it spookier if you'd like) -- it's always the anticipation that gets kids as they slooowwwly put their hand in the bag wondering what it will feel like.
This is so simple to do and such a fun activity for parties, trick or treaters or even as a Hallowen science experiment.
And I bet you have what you need right in your house (just add the free printable tags we have for you below ;)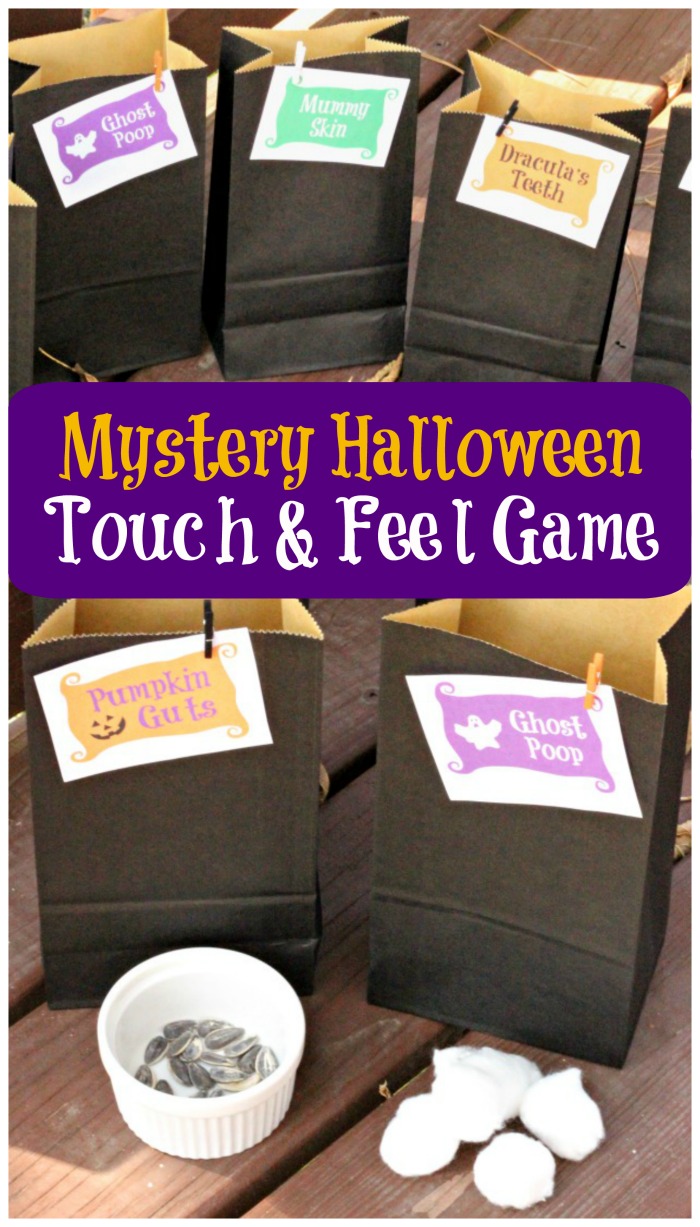 Halloween Mystery Box or Bags
I tried to think of things that weren't too scary and we had around the house -- and things that wouldn't be too messy because if you're using them at a party, then you don't have to worry about all the kids having messy hands or getting stuff on their costumes (which could end in tears and who wants that, right?!)
Plus, I wanted them Halloween-themed too so we went with some traditional Halloween figures and matched them with 'body parts' that seemed appropriate :)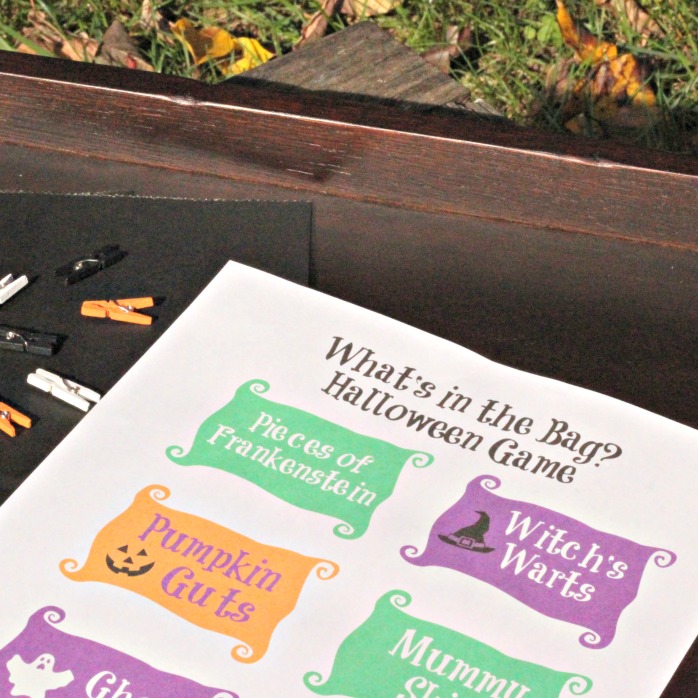 There are a few things you'll need for the activity and I'm including affiliate links for items we used in addition to the free printable you can download!
Tape or small clothespins to attach the tags to your bags/boxes
The items on the following tray of supplies ...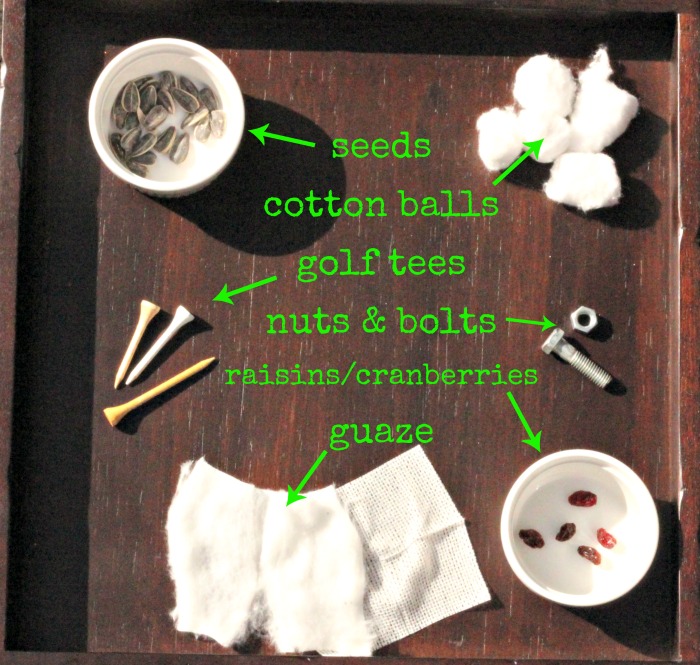 So here's where the fun comes in -- I'll tell you the secret items but DO NOT tell the kids!
It's no fun if they see you putting things in the bags :)

Seeds = Pumpkin Guts
Cotton balls = Ghost Poop
Golf Tees = Dracula's Teeth
Nuts & bolts = Frankenstein Pieces
Raisins or dried cranberries = Witch's Warts (my favorite!)
Guaze or cotton bandages = Mummy Skin
If you want to make the bags a little creepier, you can use real pumpkin guts or put some ketchup on Dracula's teeth -- things like that go over well for teens.
You can also use real vampire fangs if you want something each kids can take home as a fun souviner too!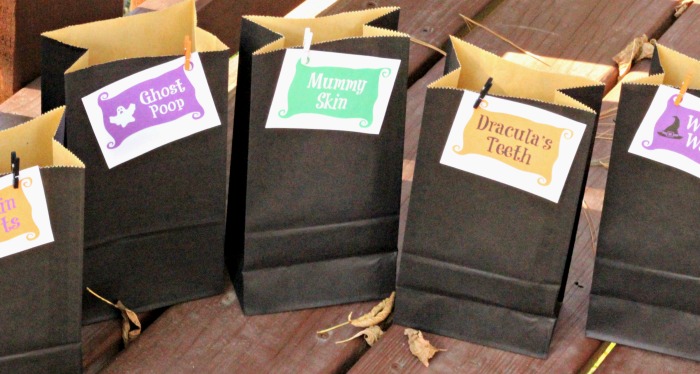 Just cut out your labels and tape or clothespin them to your bags.
Be sure the bags are tall enough (and in a dark area) so that snooping kidlings can't see inside.
And if you want to turn this into a science experiment, give each child a piece of paper and ask them to record what they think they feel.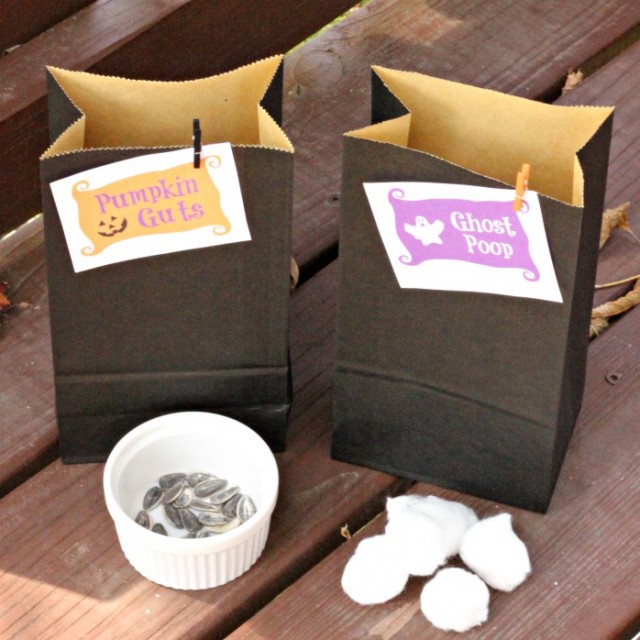 Some of the items (like Ghost Poop) I put directly in the bag but other items (the seeds & raisins) I put in a small dish first.
Now just line up all your bags and creep out your kids (lol!)
See how brave they are and how much they laugh when they really see what's in the bag.
And it's a great activity to do with a Halloween-themed story too!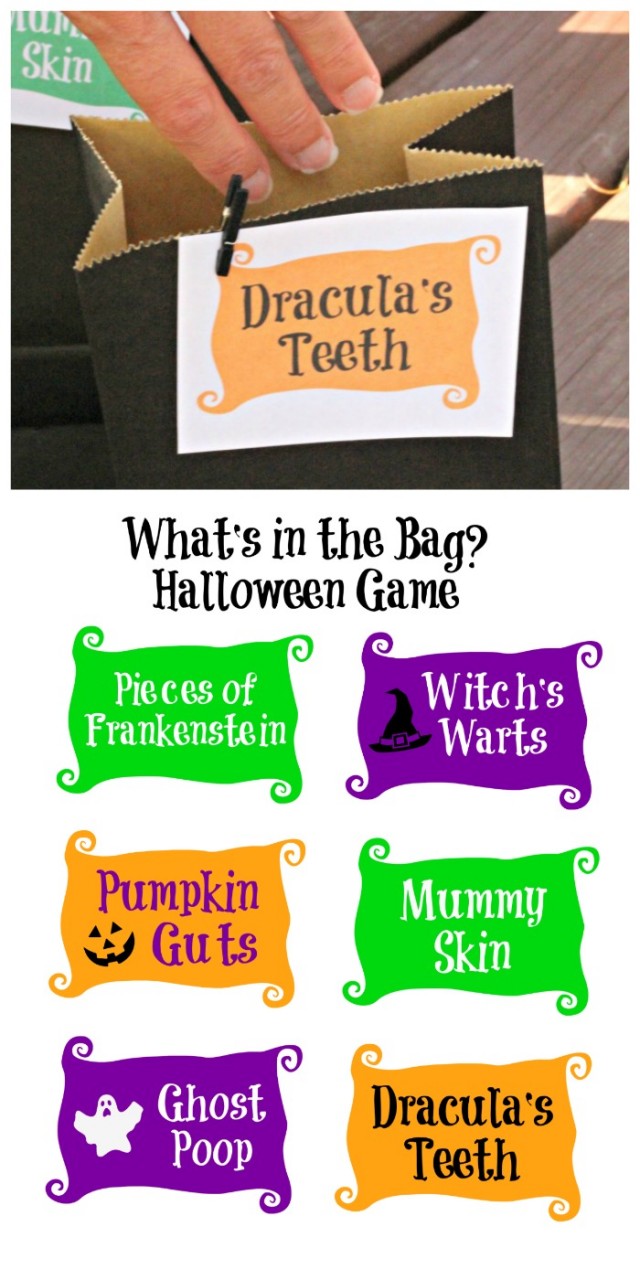 Here's the free printable Halloween Touch & Feel bag tags for you to use too!
Happy Halloween!
~ Jacquie
MORE Fall & Halloween Fun for You!
44 Fun Fall Activities for Kids
27 Thanksgiving Games & Activities