Both kids & adults with enjoy this Halloween Charades Game with free printable cards and fun ideas on how to play!
Whether it's time for a family gathering, class party or just something fun to do on the weekend, we love quick & easy holiday-themed games. One of our favorites is playing charades! Our Holiday Winter charades game was the first in this series. Today we're sharing a fun one for Halloween — free to print, easy to play and perfect for thinking on your feet!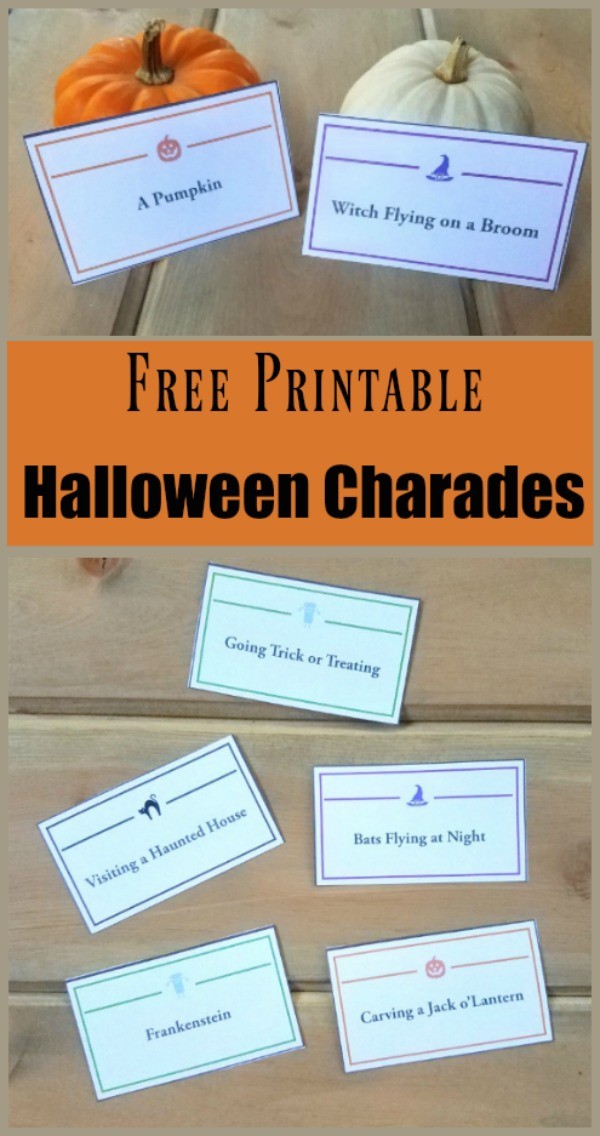 Halloween Charades Game Ideas with Free Cards
This is one of our 5 Super EASY Halloween Games (ideas that are print & play and can be set up in less than 5 minutes too!)
I'm not sure what's more fun during a game of charades, watching the person who's trying to act out the item on the card or listening to all the crazy guesses from the rest of the players!
Plus, I LOVE the fact that this is a "get off the couch" type of game — so perfect if your kids have a little too much energy (or maybe ate one to many pieces of candy corn this week 😉 If your family enjoys playing games together, be sure to check out the *NEW* Printable Halloween Games & Activities set too!
We've included a set of FREE charades cards for you, directions on how to play and affiliate links to a few items we used to prepare our game at home.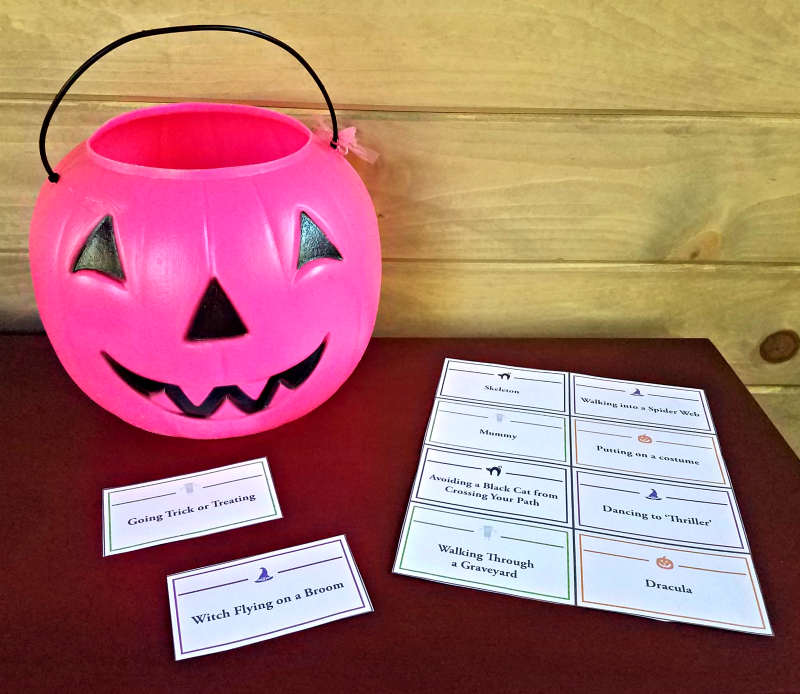 How to Play Charades
A quick refresher for how to play charades:
Each player chooses a slip with a Halloween-themed word on it (we like to put ours in a plastic pumpkin — plus you can add in a few other items like spider rings or vampire teeth to keep everyone on their toes 😉
Without saying the word or talking, the player must act out the word for others to guess.
Whoever guesses the item correctly earns the next turn to choose a word!
Charades is similar to games like Catch Phrase or Guesstures if you've ever played those.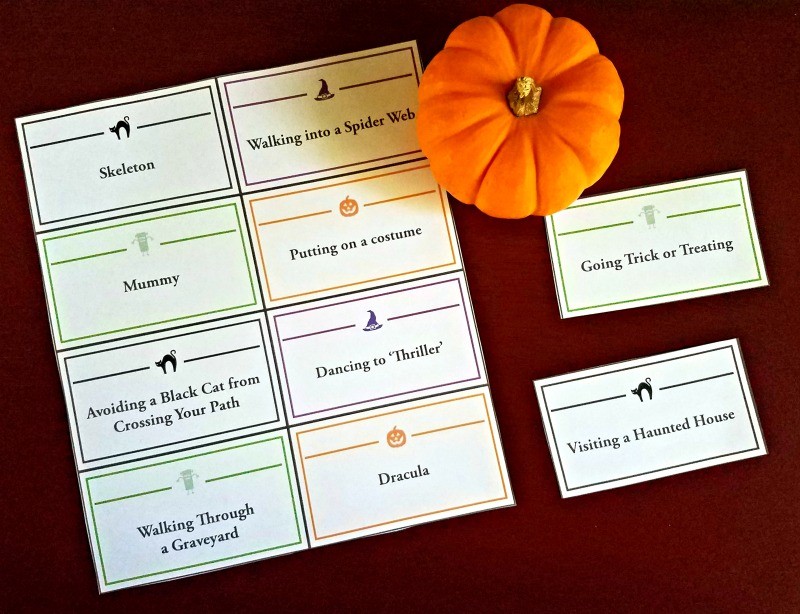 To prep your Charades game:
Grab your set of Halloween Charade cards below
Cut out each of the clues
It's not really competitive — just more of a "have fun!" type of game. It's a great activity for a Halloween party and for all ages — just like our Halloween Mystery Touch & Feel Box game!
If you want to be sure everyone gets a turn, just allow each player to choose a card instead of allowing the person who guesses the item to take the next turn.
More Halloween Charades Ideas
You can use these Charade cards in a few other ways too!
Halloween Minute to Win It Game: Older kids, tweens, teens and adults will love this speed game! Set the timer for one minute (or 2 minutes if you want a little more time) and see how many cards each player can act out and HAVE OTHERS GUESS during that time!
This is also a super FUN activity to do with our printable set of Christmas Charade cards too!!
Halloween Pictionary: The cards can also be used for a drawing game. Grab a few pens (orange, black, green & purple would be perfect!) large pad of paper — as each player chooses a card, have them draw the item on the paper instead of acting it out.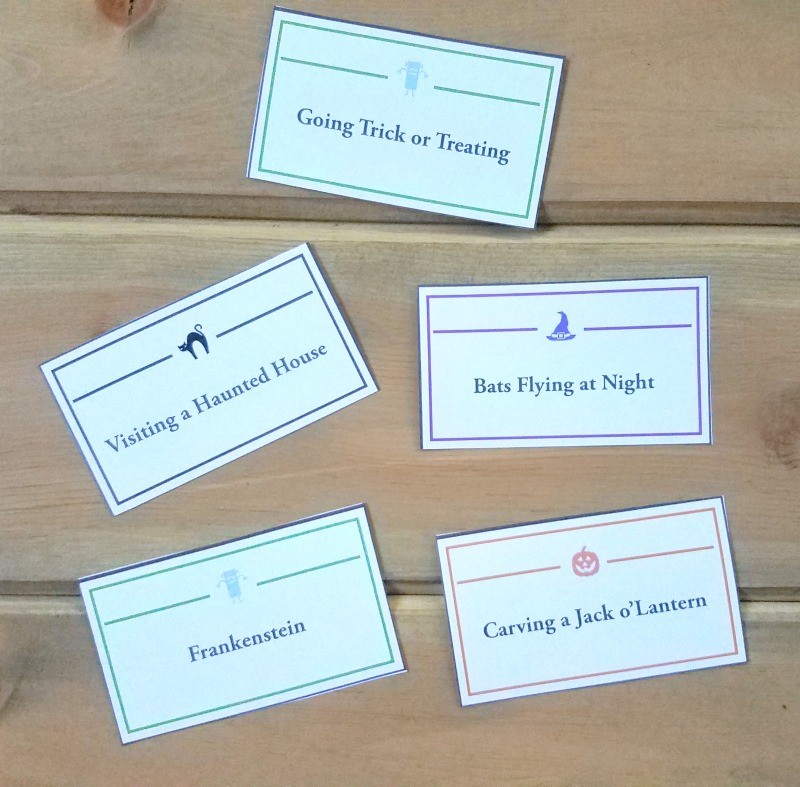 Halloween Charades Word List
We wanted to include some traditional items as clues along with other activities that might be a little harder to act out or guess. Plus, I wanted to be sure the game included fun items for kids from preschool age through teens too.
Have you ever tried to act like a pumpkin??!!
Seriously, what does a pumpkin do exactly?
'Dancing to Thriller' is one of my favorites for the game! Big time fun to teach kids this dance if they haven't heard of it (especially tweens & teens).
And watching someone act out 'walking through a spider's web' – classic fun!
If you have kids who like word games, check out our FREE printable Halloween Word Games too!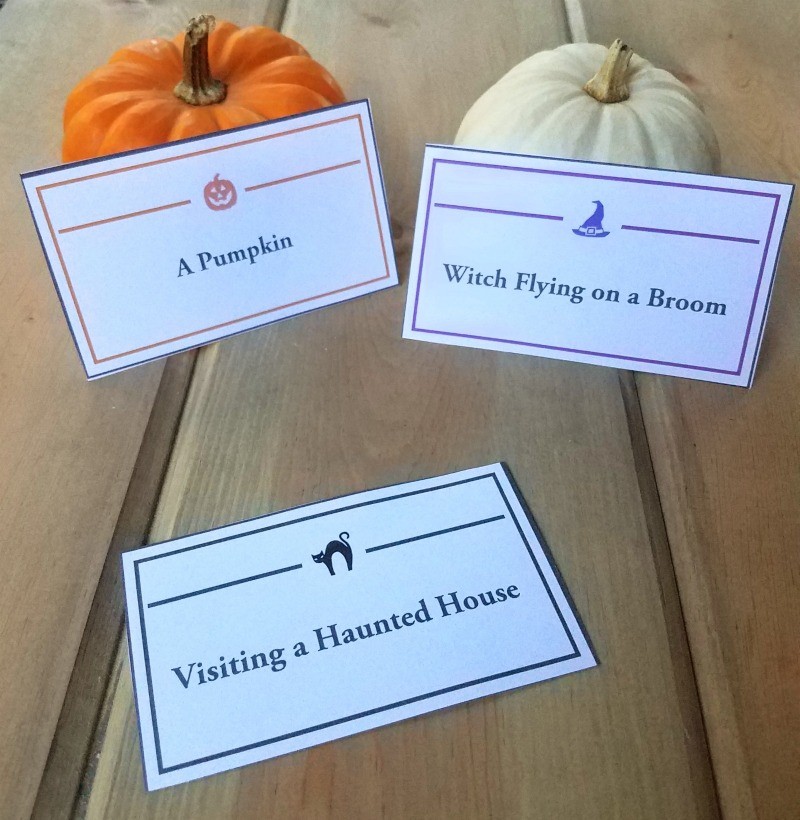 Here are the clues you'll find in this set of Halloween Charade cards:
A ghost
Frankenstein
Dracula
A pumpkin
Visiting a haunted house
Bats flying at night
Going trick or treating
Dancing to "Thriller" (one of my faves!)
Carving a jack o'lantern
Walking through a graveyard
Putting on a costume
A mummy
Avoiding a black cat from crossing your path
Walking into a spider web
A skeleton
A witch flying on a broom
The game is perfect for classroom parties, Halloween gatherings or family fun time!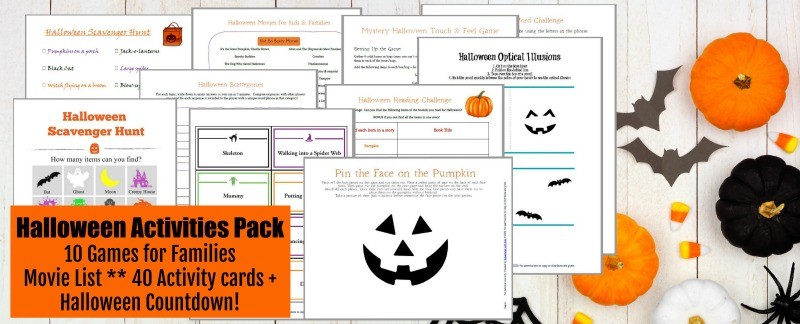 More FUN Halloween Games
And if you're looking for more fun ideas for Halloween, check out these Printable Halloween Games & Activities! Lots of great activities and ideas for kids to enjoy during the week leading up to Halloween 😉

And if you LOVE games, check out these 25+ Fall & Halloween Games for the whole family!!
Print off your set of Halloween Charades and have some fun this week!
More Fun Printable Games:
10 Printable Thanksgiving Games for Kids & Adults
Printable Christmas Charades Game: Holiday Movies & Favorite Traditions