These FREE back to school printables for parents & kids are perfect to use this month (and during the new school year) as your kids get ready for that first day of school!
Our kids here begin school next week (yikes!). It's hard to believe that it's almost time to say 'good-bye' to summer.
In order to help you make back to school a little less hectic (because less chaos means more time to enjoy :), we've round-up 35+ free back to school printables that will get your kids out the door, make lunches easier and get the school year off to a great start!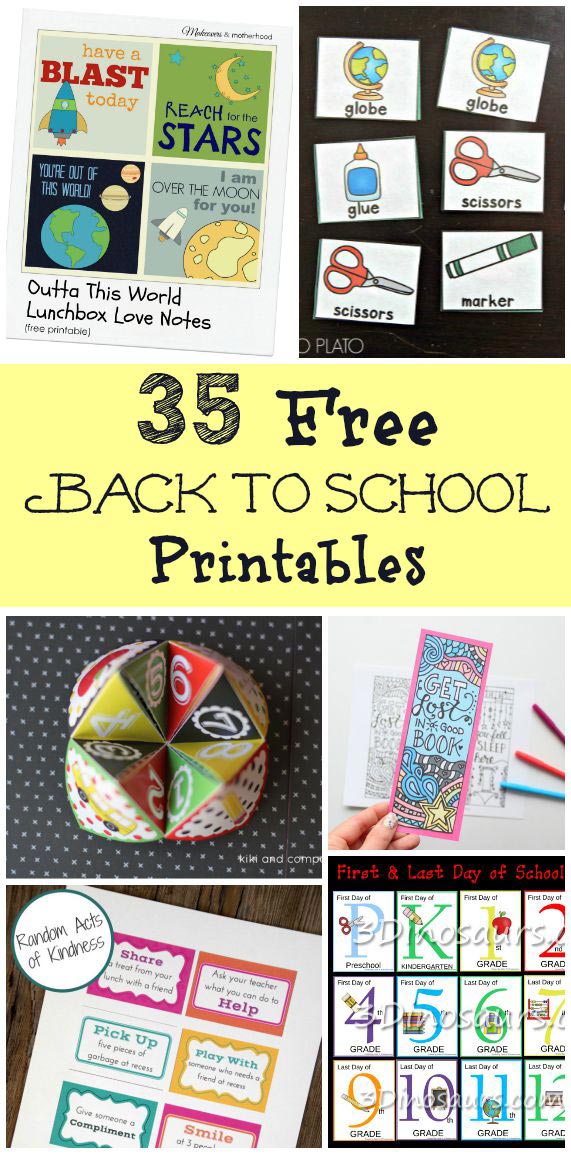 35+ Free Back to School Printables
Although we aren't in any huge rush to get back to a school schedule, I do like to fit in a few fun things during that first week back — maybe a special breakfast or a fun way to kick-off school days at the breakfast table.
Of course, those first day of school pictures that I always insist on taking (even when the kids think they're too old for them :). Plus, it's time to get my own ducks in a row with ways to make those weekday breakfasts sessions a little easier and more organized.
I wanted to include free printable helpers for various times of the day — you'll find some that help get your kids ready & out the door, others to use with lunches and teacher communication and some fun ideas to get your kids talking after a long school day!
If you'd like to laminate any of them so they'll last longer, try the Scotch Thermal Laminator if you're looking for an affordable one. And be sure to leave a note to thank each of these amazing blogs for creating & offering these free items too!
First Day of School Printables to Get You Organized

Be sure to grab this Ultimate Back to School checklist & planner to keep track of what needs to get done before school begins!
Keep your kids busy as you look for school supplies with this fun Back to School Scavenger Hunt from Life Over C's.
3 Dinosaurs has some colorful First & Last Day of School printables to use for photos.
If you'd like something more traditional, try these Chalkboard Back to School photo signs from East Coast Mommy.
Visit Moments a Day for a printable First Day of School Interview page to record some of your child's favorite things — includes a spot to include a photo too!
This Back to School Memory Game from Playdough to Plato is perfect for younger kids — help them recognize some of the items they'll see in their new classroom.
How about a family game night with this Back to School BINGO from Mom Endeavors.
And inspire kids will this beautiful Back to School wall art printable from Kiwi in the Clouds! Perfect for the breakfast table or classroom.
Free Back to School Printables to Make Mornings Easier!

It may take a few reminders of what kids need to do to get ready each morning — these adorable Morning Chore Cards from See Vanessa Craft are great visual cues!
Make sure everything gets to school (and comes home!) with these awesome Backpack Checklists from JDaniel4's Mom!
Here's a fun way to pass the time at the bus stop — a Back to School cootie catcher from kiki & company!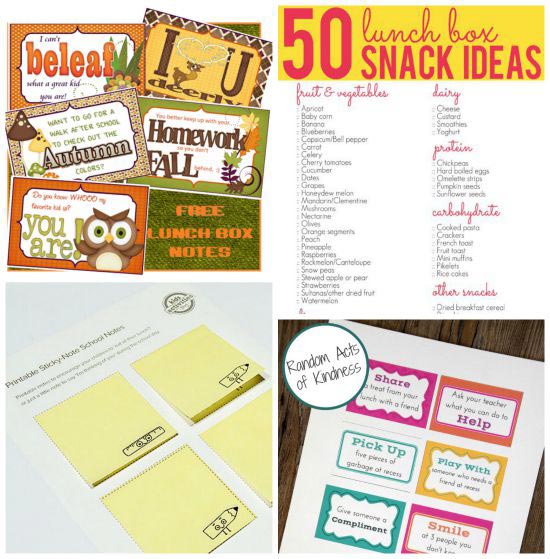 Lunch Box Jokes & Printable Notes for School Lunches

Looking for a list of school lunch options? Here are a few:
How to Pack a Lunch from While He Was Napping
Lunch Ideas w/many healthy options from Meet the Dubiens
Teaching Kids to Pack a Lunch from Rage Against the Minivan
And Tried & True has a list for Vegetarian Lunch options too!
Childhood 101 has a SUPER list of healthy snacks that make it easy to get lunches packed!
Plus LOTS of lunch box jokes & notes:
Gotta love these Awesome Rockin notes from Makeovers & Motherhood that will make kids smile.
What do We do All Day has a great set of Tongue Twister Lunchbox Notes for kids who love to laugh 🙂
Growing Book by Book has a cute set of Lunch Box cards that inspire reading practice.
Kids will love these funny Knock Knock Joke printables along with these Lunch Box Riddle Jokes from A Mom with a Lesson Plan!
For kids who are always 'reaching for the moon' these Outta This World lunch box notes from Makeovers & Motherhood are perfect!
These Autumn-themed lunch box notes from 3 Boys & a Dog are just too cute!
And one of my favorites — these Random Acts of Kindness lunch box notes from Meaningful Mama — love that they encourage kids to do something nice!
Back to School Organizational Printables

I love this Note to the Teacher fill-in from 3 Dinosaurs for days when the kids need to arrive late or leave early.
These adorable Fall-themed Teacher Thank You Notes are sure to come in handy! — 3 Dinosaurs
These are a MUST — printable fill-in Backpack Tags from Sweet Rose Studio. No more looking in lost and found when it's misplaced 😉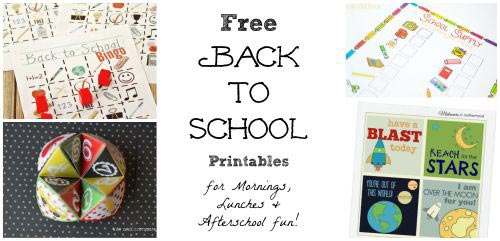 Back to School Printables for After School Activities
Catch up on the big events for each day with this free printable list of 20 After School Questions to ask your kids!
Check out Kids Activities Blog has a fun set of color-by-number pages that kids can enjoy when they get home from a long day.
Kids can learn what school is like around the world with this free printable Schools Around the World activity!
Enjoy a scavenger hunt together — choose from one of these 50+ printable scavenger hunts! You could do one each week as a new after school tradition for the year 🙂
Encourage the kids to do their reading with these printable Coloring Bookmarks from Kitchen Counter Chronicles.
Looking to kick-start a conversation with older kids? Try this trick of a Family Conversation Jar with free vocab word printables.
Extra FUN & Free Back to School Printables
If you're an Elf on the Shelf family, East Coast Mommy has this fun Back to School Elf on the Shelf greeting from your Elf 🙂
Looking to infuse some extra fun into playtime sessions? Try these 40 Free Pretend Play printables for play dates!
and don't forget to visit our Vintage-themed Back to School ideas too!
More Back to School Ideas:
The Best Books for Back to School (Preschool to Middle School Reads)
10 Ideas for Spending Time with Kids during the School Year