Enjoy these multicultural STEM picture books that are perfect for preschool and elementary girls & boys who love to tinker, create, invent and engineer!
You know us, we LOVE sharing great books for kids!
And since we also love sharing STEM Activities for kids too, I thought we'd combine these two BIG global ideas – diverse children's books and STEM activities — into a truely AMAZING list of books that will inspire both kids and adults!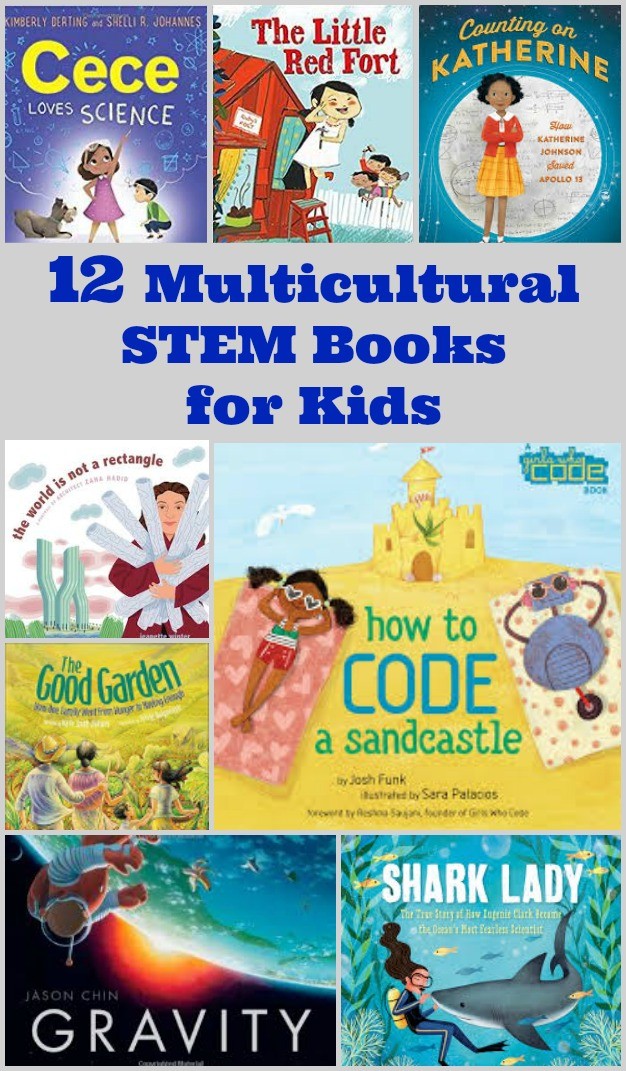 12 Multicultural STEM Books for Kids
I've said before that one of the best ways to introduce a new concept to a child is to start with a book.
It worked for us when math became a challenge (we paired math books with hands-on measuring activities)! And we used books as a great way to introduce cultures from around the world when my kids started to become more aware that life is different across the globe.
Today's book list overlaps STEM topics and themes (which every child should be learning) with diverse characters and we have been paired with Josh Funk, the amazing author for How to Code a Sandcastle for this year's celebration!
How to Code a Sandcastle (which is highlighted below) was named one of the Smithsonian's Ten Best Children's Books of 2018 and like all of the books on our list, it's both a wonderful introduction to a STEM topic along with being a story that features diverse characters in a positive and engaging story!
Diverse Picture Books with STEM Themes
I highly suggest that these books are used as read alouds since most will introduce concepts, terms and ideas that many of us adults never were able to experience as kids (you know, back when cell phones only existed in movies and computers were found in your high school programming lab!) We've included a summary for each of our books along with an affiliate link so you can learn more about our selections!
How to Code a Sandcastle by Josh Funk is a wonderful adventure into the world of coding! Pearl has been trying to build a sandcastle all summer and now she has one last chance. So she recruits her robot Pascal — and creates a series of code — to help build the best sandcastle ever!
Readers will learn basic coding terms such as sequences and loops and how to apply them to a real world problem. The book also includes a great 'Guide to Coding' that can be used for learning activities. Many thanks to Josh for sending us a copy of this book for MCBD! And take a peek at Josh's *newest* book too — How to Code a Rollercoaster!
Cece Loves Science shows readers how to use science to solve every day problems. Cece is a budding scientist who loves to ask questions. Her best friend Isaac is equally as curious. So they team up for a science project to test how to get Cece's dog Einstein to eat his veggies!
In addition to the book showing kids how to set up their own experiment, I also love the variety of science words and scientists that are introduced during the story. This book would pair nicely with some of these simple science experiments for kids!
The World is Not a Rectangle: A Portrait of Architect Zaha Hadid is the inspiring story of a Muslim women who had to overcome many cultural obstacles to achieve her dream of designing buildings. The book shares Zaha's life as both a child and an adult along with highlighting what buildings she designed and where they are around the world!
If you have kids who love the idea of engineering, be sure to see these 12 Engineering Books & Activities for Kids!
Izzy Gizmo has a knack for fixing things, carries around an inventors bag and has a very supportive Grandpa. This gorgeous story gives readers an insight into the many out-of-the-ordinary ideas and failures that come up during the creative process. I love looking at all the various inventions Izzy tries to make and the role her Grandfather plays is crucial — every inventor needs someone to keep them going and cheer them on!
If you're raising an inventor, try this Make Your Own Tinker Kit activity!
One Plastic Bag: Isatou Ceesay and the Recycling Women of the Gambia shares the experience of a young woman who saw plastic bags blowing around her city and decided to do something about it. Since the plastic bags were ruining the environment around their city, the solution to upcycle them into useful items not only helped people but also saved the environment – truely an inspiring story!
Learn about other environmental activists with these 20 Inspiring Nature Books & Activities!
The Little Red Fort is a fun and creative version of the traditional Little Red Hen story. Ruby has some creative ideas and one day she decides to build a fort. She asks her brothers to help but they just laugh and tell her she doesn't know how to build — until they see what she creates! And kudos to the author for showing Ruby's mom helping her too.
An inspiring story for all kids to put their ideas into action. And I love the "types of forts to build" section included too!
Building Books was a breathe of fresh air on the traditional gender roles in many picture books! Katie & Owen are sister & brother — Katie loves to build while Owen loves to read. And the two are constantly arguing about who's hobby is the best 😉
One of my favorite pages in the story is when Katie has to read a book for school – it's hilarious! This book is perfect for encouraging a little sibling harmony in addition to its' appreciation of recognizing STEM skills in young kids.
The Good Garden: How One Family Went From Hungry to Having Enough is an inspiring story about a family in Honduras who is able to build a life because of their garden. Another great story about how people see a problem in their life and use STEM to find a solution!
It's an especially good read for older kids as they'll learn how sustainable gardening is helping many to eat better around the world. And be sure to see these Gardening Books & Activities for kids too!
Divide and Ride takes the reader on a fun (and mathematical) trip to the amusement park! When 11 friends visit a carnival, they have to troubleshoot how to sort themselves into smaller groups in order to enjoy the rides together.
As a kid who grew up in a family of 5, I can tell you that these problem-solving skills were very familiar. Includes a great set of suggestions for more math activities too. For more fun math reads, check out these 25 Marvelous Math Picture Books too!
Counting on Katherine: How Katherine Johnson Saved Apollo 13 tells the story of Katherine Johnson from when she was a young girl who loved math to her achievement of becoming a ground-breaking mathematician at NASA who was able to save the lives of the astronauts aboard Apollo 13! A wonderful story of how a love of math can inspire someone to overcome obstacles in life to do what they enjoy.
If you've seen the movie Hidden Figures, this book brings the story to life for young kids. And I just LOVE the biographical details included in the book – so interesting!
Gravity includes gorgeous illustrations, a funny story line and awesome science facts about the force of gravity! The book does a wondeful job of using pictures to explain a complex science concept to young kids.
The "More about Gravity" section dives deeper into the concept in a fun and engaging way. A great read for young scientists!
Shark Lady: The True Story of How Eugenie Clark Became the Ocean's Most Fearless Scientist was a book that sent shivers down my spine (did you know a group of sharks is called a shiver?!) Eugenie became fascinated with sharks at age 9 and continued to pursue her passion all through her life.
Her work as a famous ichthyologist has improved our knowledge and understanding of sharks, as well as our appreciation for these creatures. Kids will love this brave character along with the beautiful illustrations that share her story.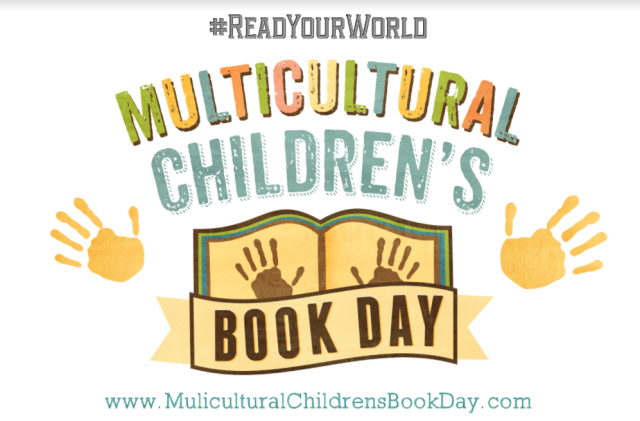 Celebrate Multicultural Book Day
Multicultural Children's Book Day is in its 7th year and was founded by Valarie Budayr from Jump Into A Book and Mia Wenjen from PragmaticMom. Our mission is to raise awareness of the ongoing need to include kids' books that celebrate diversity in homes and school bookshelves while also working diligently to get more of these types of books into the hands of young readers, parents and educators.
More STEM Activities & Diverse Books for Kids:
Around the World in 30 Books – A Reading Trip Across the Globe