Cuddle up & enjoy these 14 AMAZING Winter picture books and chapter books for kids, tweens and teens!
We knew it would arrive at some point – colder temps are upon us. In our house, cold weather is synonymous with curling up with a good book (or two!).
There's just something about Classic Winter Books for Kids that scream 'grab a blanket and cuddle up on the couch'.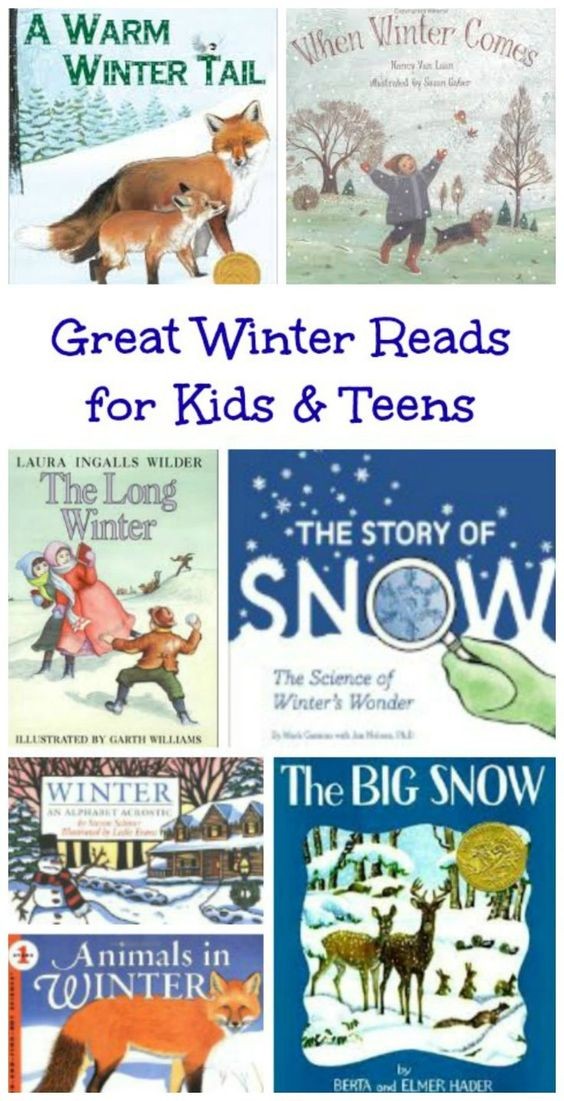 14 Books about Winter for Kids & Teens
We enjoy a variety of stories at this time of the year and there's a little something for everyone on this Winter book list — fun read-alouds for the whole family, non-fiction books that share the science of snow, chapter books that tweens & teens won't want to put down and beautiful picture books that transport the reader into a Winter wonderland!
Plus the BEST things about Winter reading — cozying up near the fire or with a cup of hot cocoa — now there's an awesome incentive to curl up with a good book! Browse some of our favorite Winter stories along with affiliate links so you can learn more about each of our selections.
Winter Picture Books for Kids
A family bundles up for a walk in the winter weather in When Winter Comes by Nancy Van Laan. The poetic text and paintings allow the reader to experience the wonderful oncoming of winter and the questions that every child asks during the changing of a season. Best for Ages 2 – 7
Hibernation Station by Michelle Meadows & Kurt Cyrus tells the story of adorable animals as they board the log-built train and make their way to hibernate for the winter. You'll be impressed as both kids and parents learn how many animals hibernate during the colder months. A cuddly look at animals preparing for cold weather! Best for Ages 2 – 8. This book also make our list of 10 Books & Activities about Hibernation and Migration.
Kids can learn how animals survive the winter in the non-fiction book Animals in Winter (Let's-Read-and-Find-Out Science) by Henrietta Bancroft & Helen K. Davie. This is a great option for kids who are learning to read too. The book discusses migration, hibernation and includes beautiful illustrations. Best for Ages 3 – 7
How do animals stay warm in winter? A Warm Winter Tail by Carrie A. Pearson. Readers will be surprised at some of the unique adaptations that animals use in the cold weather. A great book with science facts about how animals cope during the winter months. Best for Ages 3 – 8
One of my all-time favorite books is Winter: An Alphabet Acrostic by Steven Schnur! Twenty-six short acrostic poems are paired with creative illustrations that walk the reader through winter experiences. Acrostic poems are really cool to read with kids because it allows them to see words in a different way. Be sure to explore the details in the pictures and discuss how each word is used to create a poem. Best for Ages 3 – 9
A classic story that many parents will remember from their childhood is The Big Snow by Berta Hader & Elmer Hader. As the animals notice winter is coming, they begin to prepare. And then comes the big storm! Children will enjoy the alternating black & white and color drawings. This is a longer picture book and definately worth the read! Winner of a Caldecott Medal. Best for Ages 3 – 9 And if you're a fan of classic kids' books, be sure to see our 10 Classic Winter Books for Kids.
Snowflake Bentley by Jacqueline Briggs Martin is a true story of a farm boy in Vermont who becames captivated by snowflakes. He grows up to be the first person to ever photograph a snowflake. Sidebars throughout the story explore the science of snow so readers are able to learn some of the fine details that we can't see with the naked eye. Winner of a Caldecott Medal. Best for Ages 5 – 10
The Story of Snow: The Science of Winter's Wonder by Mark Cassino is a great non-fiction look at the details of snowflakes. Learn about the crystals, colors and creation of these beautiful wonders of nature! Best for Ages 7 – 12, especially kids who love science & nature, or ask a lot of 'why' and 'how' questions! This is also a great book to read while doing the "How Much Water is in Snow?" science experiment!
Chapter Books about Winter for Read Alouds, Tweens & Teens
Experience winter on the prairie in 1880 with Laura, Mary, Carrie, Ma, Pa and their friends in Walnut Grove in The Long Winter by Laura Ingalls Wilder. A great family favorite that introduces kids to what winter life was like long before ipods and indoor heating! Winner of a Newbery Honor. Best for Family read-aloud
Gooseberry Park by Cynthia Rylant tells the story of three animals friends must figure out where to relocate a mother squirrel and her young babies after a horrible storm destroys her house. This is one of those stories that has something for everyong — younger kids will adore the animal friendships and older kids will enjoy the funny exchanges. A family favorite with lots of humor! Best for Family read-aloud
For more great read-alouds, see 50 Favorite Read Aloud Books for Kids & Families!
Snow Treasure by Marie McSwigan is a classic story of how a group of children save their country's teasures by transporting gold bars on their sleds past the Nazis in 1940. A thrilling read that shows the bravery and leadership of kids! Best for Ages 8 – 12
Brian's Winter by Gary Paulsen is the account of Brian, our hero from the novel Hatchet, and what would have happened if he was never rescued. How does a 13-year-old survive the winter in the Canadian wilderness. Best for:Ages 10 – 15 especially those who love adventure reads! Find more great reads like this at 11 Wilderness Adventure Books for Ages 9 – 12!
Blizzard!: The Storm That Changed America by Jim Murphy is the historic account of the blizzard of March 12, 1888. Based on personal accounts and news stories, the reader feels that they too are experiencing one of the worst natural disasters in this country's history. Best for Ages 10 – 15
Trapped by Michael Northrup us a page-turning adventure about seven teens who are trapped at their high school during a blizzard. As the snows builds up and the electricity and food run out, the kids must decide how to work together and try to survive. I had a hard time putting this book down! Definately for older kids as there's some teenage themes woven throughout the story. Best for Ages 13 – 16
More Great Book Lists for Kids:
Classic Winter Books for Kids of all Ages!
Around the World in 30 Books — A Trip across the Globe