Wonderful winter books with indoor and outdoor play activities for kids!
Now that we're in the throws of winter (and most of the holiday gifts have been played with over the past few weeks), it's time to introduce some new ways to beat the winter doldrums.
Today we're sharing some of your favorite winter books (along with a few new ones!) and great activities to pair with each story.
Join us as we explore some wonderful winter activities that inspire both indoor & outdoor play!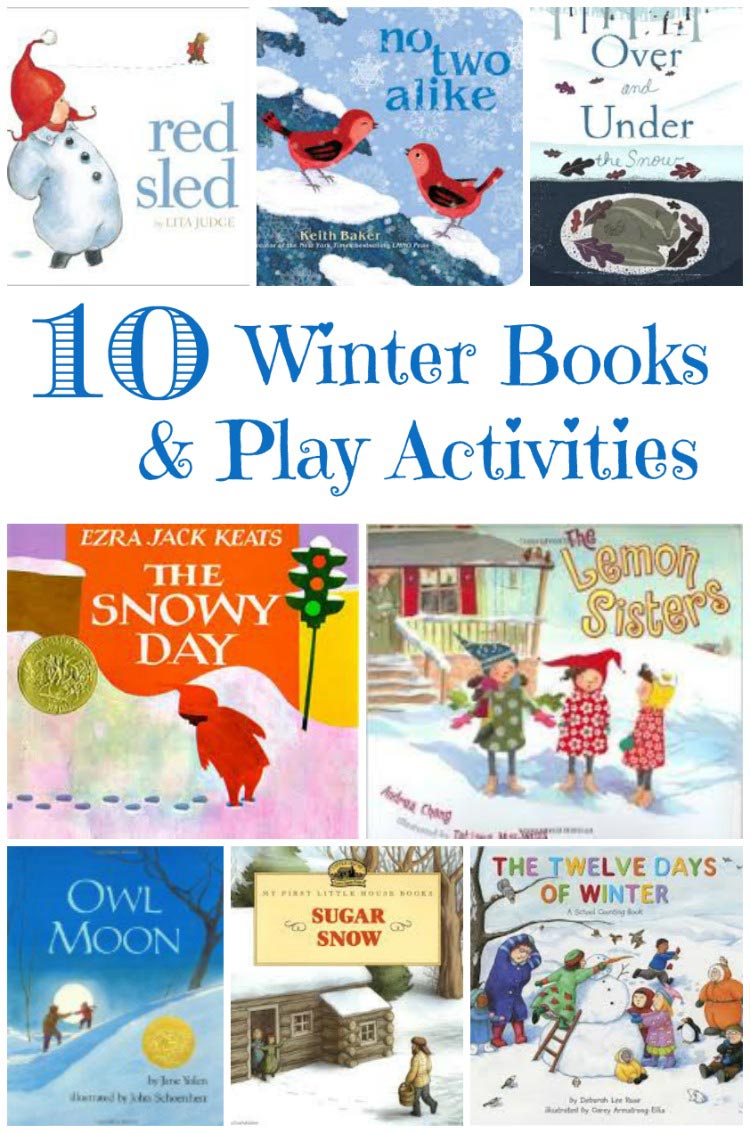 10 Winter Books & Activities for Kids
Whether you have snow or not, kids can enjoy some fun winter activities that are easily paired with a good read (add in some hot cocoa and it makes a cold day just a little warmer)!
And these are a great playdate idea for fun things to do in winter with friends too! Read the book and then set the kids loose to re-create the story or activities.
We're including both outdoor activities and indoor play that are perfect for preschoolers and elementary age kids who need to get creative and burn off a little energy. You'll also find affiliate links for each of the books on our list so you can check out the details.
Children's Winter Books & Outdoor Activity Ideas
The Lemon Sisters nice story about an older woman who recalls playing in the snow with her sisters when she sees her three young neighbors outside one day. The woman is surprised by her sisters for her birthday and all six enjoy some fun in the snow.
ACTIVITY: After reading the story, head outside to make snow chairs for everyone. Then grab some clean snow, or use crushed ice from the freezer, to make some lemon ice!
Peter puts on his snowsuit and heads outside for some fun in the snow. Follow along on his chilly adventure in The Snowy Day — an award-winning favorite!
And if you're an Amazon Prime member, you can also watch The Snowy Day video for free right now!
ACTIVITY: Head outside and find out what you can use to make tracks, trails or other designs in the snow. See how we got out and explored animal tracks in the snow one afternoon.
Try your boots and a stick like Peter; you can also try a sled, soccer ball or other toy to see what prints you can make.
Lola can't wait for it to snow – and when it does, she and Charlie head outside for some sledding and snow fun! But all too soon, the snow melts and Lola wishes they could have snow everyday. Fun facts about Antarctic too!
ACTIVITY: Make snow angels and a snow dog like Lola & Lotta, along with a mini-snowman that you can keep in your freezer.
And of course, have hot cocoa when you head inside!
A host of woodland creatures borrow a boy's red sled one night, and off they go for some winter fun! The Red Sled is a beautifully illustrated picture book with hardly any words, so ask the kids to narrate as you read the story.
ACTIVITY: Go sledding!!
Which animal are you most like when you go sledding – the moose, bear, raccoon, porcupine? And what noises does your sled make as you go 'swooshing' down the hill?
A young girl and her father take a quiet walk one winter evening, hoping they will hear and see an owl. Owl Moon is a classic story that shares a special connection between a parent and child.
ACTIVITY: Talk a nighttime walk on a winter's eve and listen – what do you hear as you walk? And don't forget to look up at the sky too!
Winter Books & Indoor Activities for Kids
A beautiful book that takes the reader on a trip through nature, both above and below the ground. In Over and Under the Snow, kids will learn about how different animals cope during winter.
ACTIVITY: Do some observations in your backyard to see what animals do during winter. Use this free printable backyard observation sheet if you'd like.
You can draw a picture of animals that you see along with what they are doing. Also, make a list of the animals you see in your yard in the spring & summer. Can you find them in the story – what do they do in winter?
Follow along with two birds as they explore the winter landscape. No Two Alike is a sweet story highlights the uniqueness of nature in winter – it's not just snowflakes that aren't alike! My favorite part — the bird who skis on pinecone needles!
ACTIVITY: After some time outside, color or paint a winter scene.
How do you draw snowflakes, tree brances and animals? Are the ones you make ever alike? Talk to your child about how so many items in nature have differences even if they are so slight that we may not be able to see them until we're up close.
A wonderful read that shares the story of a grandfather and grandson who enjoy doing fun things together. Kids will enjoy the beautiful illustrations in Lucky Pennies and Hot Chocolate along with knock knock jokes and reading how everyday activities can create a bond with family members.
ACTIVITY: Make hot cocoa together and talk about the fun things kids like to do with the adults in their life!
This picture books series of the classic Little House on the Prairie novels is a wonderful introduction to how winter use to be for many of our ancestors. In Sugar Snow, Pa talks to the girls about making maple syrup and sugar snow.
Most kids don't realize that you need a good, cold winter in order for the trees to create sap for syrup. Wonderful questions always arise when reading historical fiction.
ACTIVITY: Try making your own sugar snow (if you have snow) or enjoy some pancakes with maple syrup along with the book!
A hilarious look at a teacher who's trying so hard to keep the kids busy and engaged on a long winter day. I laugh everytime I read The Twelve Days of Winter.
Kids will love searching through the pictures at the various antics of the children, and the text is written to the tune of "The 12 Days of Christmas" so the rhythm of the story is very familiar.
ACTIVITY: Lots of ideas for indoor fun: build a blanket fort/hibernation zone under the table, snip paper snowflakes or make a sock snowman. Also try some of these 33 fun things to do in winter!
More Great Book Activities:
Around the World in 30 Books — A Trip across the Globe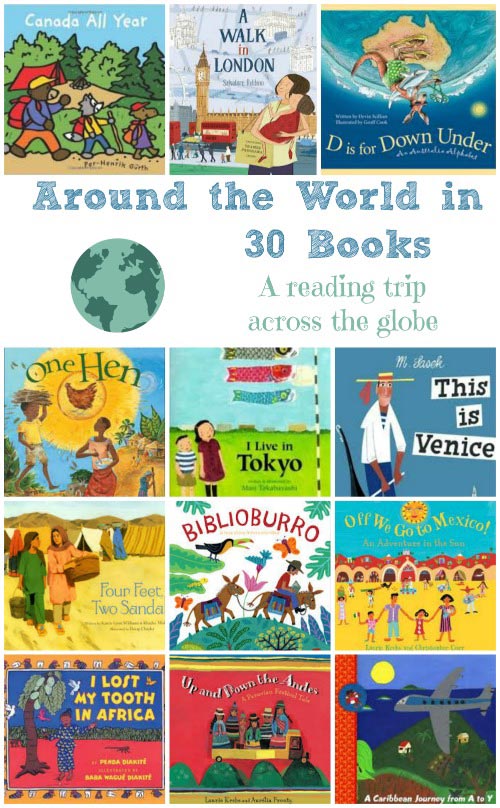 You might also like: