Welcome to our December Online Book Club for Kids! Each month, a group of amazing bloggers highlights an author and create a variety of activities and crafts to go along with their books.
This month we're featuring the books of Jan Brett!
I always love the idea of using books and stories to help children learn life skills.
It seems so much easier to explain some of the commonplace ideals and manners of our society to kids when you're reading about them in a book. Jan Brett's book really lend themselves to this goal.
I'm sure you've read at least a few of her beautiful stories. In addition to being an author, Jan Brett is an amazing illustrator.
And one of my favorite things about Jan Brett's stories are the sidebar illustrations in many of her books!
As you read the story, make sure you look at the pictures that surround the main part of the story (sometimes they will be on the side of the page like in the Wild Christmas Reindeer) and other times they will be on the top and bottom of the page (as they are in Annie and the Wild Animals).
These sidebar illustrations give you an idea of other things taking place in the story and they are a wonderful conversation starter for kids. My daughter enjoys making up her own story as we read and see the additional illustrations.
When we were reading through some of her books, my daughter and I realized that there were a number of stories that led back to a discussion about manners and how to treat others.
Here are a few of the books that discuss how to act when you have visitors or when you are visiting someone else's home:
With it being the holiday season, we began to talk about how we should be 'on our best behavior' (so to speak) when visiting others or having guests in our own home.
Here are a few 'tips for kids' that can be discussed before visiting a friend or family member, or talked about before guests arrive at your house.
Being a Gracious Guest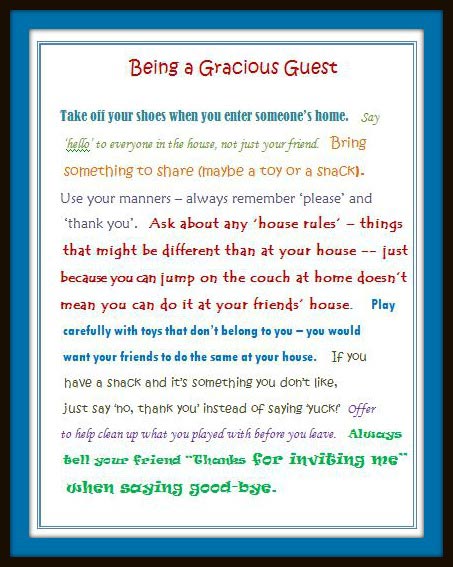 Being a Helpful Host/Hostess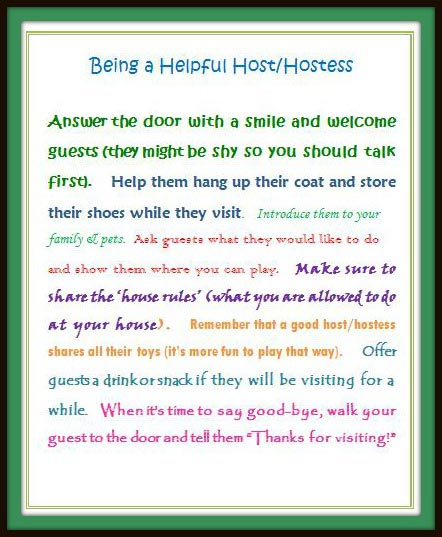 It's also fun to do some fun role-playing to practice the skills of being a gracious guest or a helpful host/hostess.
Kids love to 'pretend' they are visiting others or hosting a guest — what a fun way to practice before visiting Grandma & Grandpa this holiday!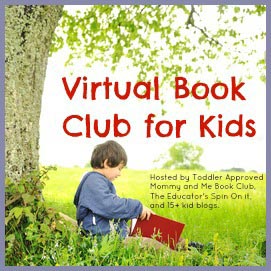 For more great crafts & activities to match with Jan Brett's books, visit some of these wonderful projects: