This post brought to you by Biz Stain & Odor Eliminator. All opinions are 100% mine.
This is the second part of our 'Teaching Kids to Clean' series.
First, we tackled all the dirty details on getting kids to vacuum. Now we're moving into the laundry room so the kids know how to do their laundry before they head off on their own.
My kids are always saying "Mom, I got something on my shirt/skirt/shorts", so we were excited to be part of the Biz Challenge as we learned how to treat all those mystery spots and other obscure stains that come with having kids.
There are 3 stages to getting laundry done — sorting, washing and folding. Mind you, this is getting the laundry done, not put away — that's a whole different story, right?!
We introduced our kids to laundry in various stages over time. This helped them to understand how important each step is along the way.
Sorting Laundry
Our kids began to sort their clothes when they were about 7 years old. This was a big eye-opener to them as they thought you could just toss everything in one load and get it clean.
(We did try some sorting before this age but it seemed that I was always digging back through the hamper because they are such concrete thinkers when they are younger and couldn't make many 'judgetment' calls on their own).
I know that each house has a different method for sorting laundry. Growing up, my parents used the terms "whites, colors and darks". My father-in-law is a dry cleaner so my husband grew up without sorting any laundry (that was kind of fun when we first got married 😉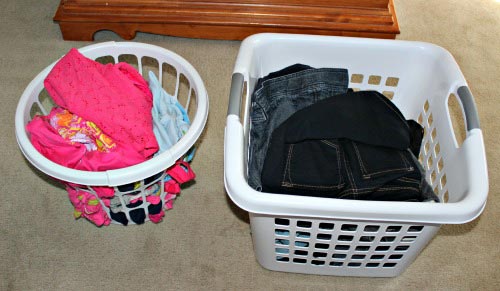 The key is coming up with a quick & easy sorting system that works for your family.
In our house, we sort clothes into 3 groups:
whites, skives & pj's (yes, I have to say skives — the kids don't have white underwear so they always forget)
jeans & sweatshirts
all other colors
This works well for our family since it's based on what we wear most frequently.
The kids also help with washes for towels/sheets and kitchen napkins/tableclothes too since those are pretty easy to gather up and put in the washer.
While Sorting:
When you teach kids to sort the clothes, remind them of two things:
If there's an item that has any stains, be sure to keep it separate so it can be treated.
And check all pockets and remove any objects you've felt the need to store in your pants or sweatshirts (rocks, coins, gum, school id's, the crayon you were using at the resturant when we were out for dinner last night — I learned that one the hard way 🙂
Getting Clothes Clean
The first step (and honestly the biggie in our house) to getting the clothes clean is to pretreat anything that has a stain.
For example, the pasta sauce that was spilled all over the table cloth on lasagna night.
You know kids — there's always grass stains, popsicle drips and all kinds of 'unknown' spots that show up on their clothes. Which is why I was exstatic to work with Biz for this post! I have used another pre-treater for a while but honestly, it wasn't kicking some of the big time stains.
"How did you get mustard on the BACK of your t-shirt?!"
Oh yes, that's an actual question at our house.
Kids don't understand how much work it is to actually get the clothes clean so it's important to show them the various steps.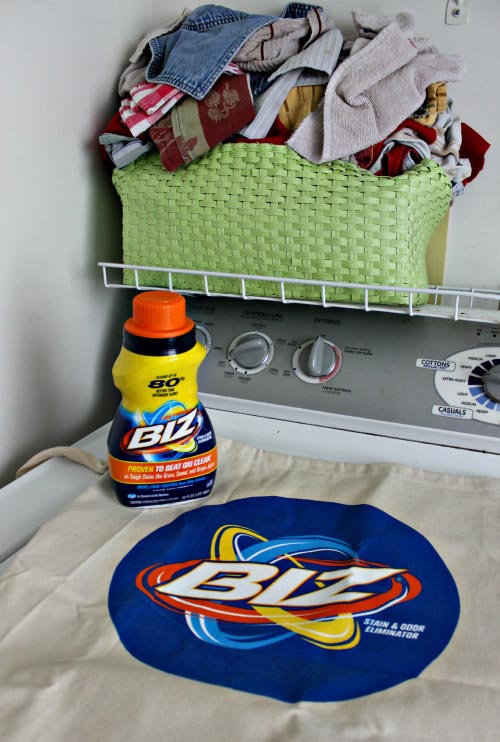 Step 1: Remember to keep stained clothes separate so they can be pre-treated.
My daughter learned this the hard way with the mud stain on her new blue sweatshirt. She was not a happy camper when it came out of the dryer and was still stained.
You might even want to set up a separate laundry bag for clothes that need to be pre-treated. Biz was nice enough to send us a cool bag for this purpose which is a really awesome idea!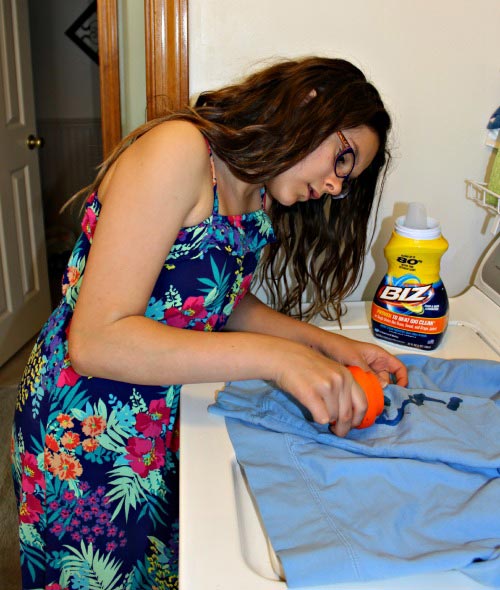 Step 2: Help Mom pre-treat the stains for any clothes or messes that are made.
This covers the pasta sauce on the table cloth. In my own little world, I believe that if I show the kids how much work it is to clean things then they are more likely to be careful and not make such a mess in the first place.
This also covers items like the hard water stains that show up on the shower curtain in their bathroom.
I mean seriously, there's a plastic liner behind the curtain — the curtain shouldn't even get wet AT ALL. But horrible rust-colored water stains that have appeared all along the bottom.
"I don't know how that happened Mom" — and I'm sure they have no clue.
So I taught the kids how to pre-treat for stains using Biz. Biz contains more stain fighting ingredients than any of the other products on the market and we need all the stain fighting we can get in this house!
We wet the stained area with warm water, poured a small amount of Biz on the stain and then let it sit for about 10 minutes. For some of the tougher stains, we rubbed it in a little using our fingers. Then we added the items into our regular load of laundry.
Folding Laundry
This has been a tricky wicket in our house as the kids seem to have their own way of folding items and then the towels don't quite fit in the towel cabinet or they can't figure out why their t-shirts don't fit in their drawer.
Folding is not intutive — it's important to model it for the kids. Show them how you fold the clothes — some households roll their t-shirts and others fold. Some families roll their socks together and other families buy all one color sock and just dump them in a basket for the kids to grab.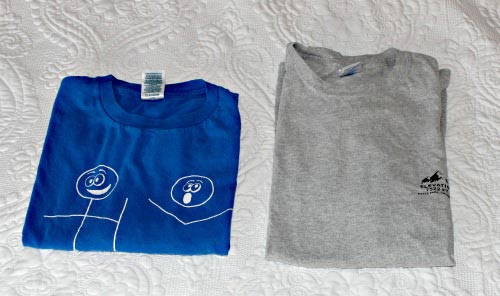 My mom was visiting this week and we were both folding laundry — as you can see with out t-shirts, we clearly fold them differently. She uses the three-fold over method while I use the (somewhat lazy) two-fold. Obviously, I need to practice my folding 🙂
Be patient with this step as folding will take practice. We started the kids on washclothes and socks since those were the easiest. Then we graduated to towels and t-shirts. Take it a step at a time and help them to master the various techniques. It's not rocket science but it does take patience and practice — remember, we're not going for perfection but trying to build their skills so they don't leave the house looking like one big wrinkle 😉
I SO have to share our before & after photos with you along with where to buy Biz because we were super happy with the results of our Biz Challenge —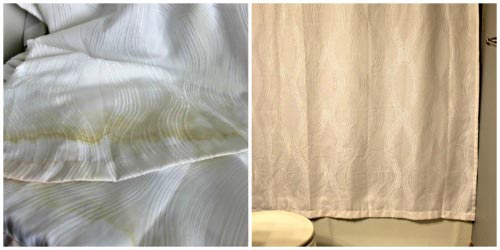 The shower curtain now looks amazing! It's just like a brand-new one without any trace of the water stains.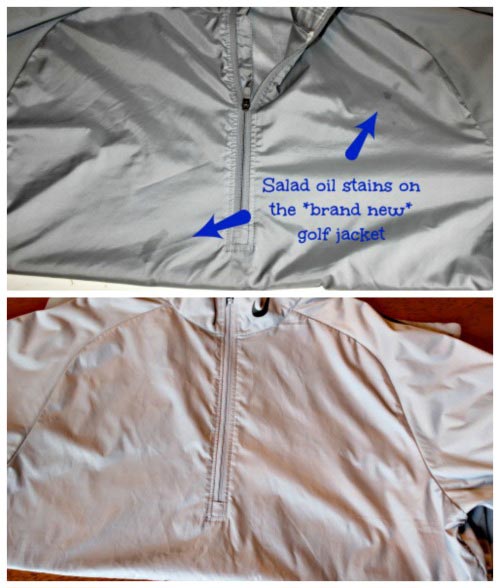 The salad oil came out of the golf jacket (yea!) — I'm sure I'll have to do this again in a week so it's good to know that stains will come out.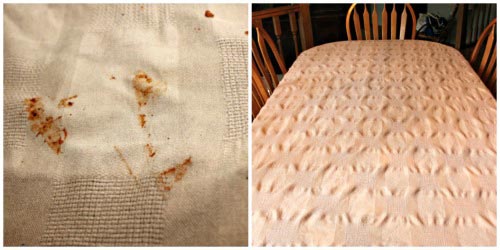 And no more lasagna on my tablecloth either!
If you'd like to try Biz to fight all those crazy stains (and I would highly recommend it!), they are offering our readers the chance to save $1 on Biz!
You can also check our Biz on on Facebook for tips on how to ROCK the stains in your house!
Do you use (and love!) Biz to fight stains? I would love to hear your experiences!