I am a member of the Collective Bias® Social Fabric® Community. This shop has been compensated as part of a social shopper amplification for Collective Bias and its advertiser. As always, we only share items that we love and all opinioins are my own!

The other day, my daughter asked me if I was writing anything new for the blog. She always gets excited if I tell her it's a book review or there's a new project we get to do together. But this conversation went a little differently since my newest project is about how to clean and vacuuming for kids …
Me: "Actually, I'm writing a mini-series about how kids can help clean around the house."
Kid (with deer in the headlights look): "Mom! Kids don't like to clean!"
Me: "Guess what Honey, parents don't like to clean either."
Kid: "Really?!" (yep, kids will never stop surprising me with their questions)
But I assured her that this wasn't any regular old cleaning – "this is the stuff big kids get to do so they learn how to take care of their own house one day".
(and a small spark of interest was seen)
So with that mark of approval, I would like to introduce you to the first post in our series —
Teaching Kids How to Vacuum
Today we are going to tackle vacuuming. Next week, we will focus on laundry (yes, kids CAN learn to help with laundry and not shrink all the clothes). And we'll go on from there to a few other items.
First things first (because I am always asked this question when I present at parent groups)—no, we do not give our kids an allowance for doing daily/weekly chores or jobs around the house.
In our home, we have four people who live here, eat here and make a mess here. So, four people need to chip in to make sure that the house is comfortable and clean enough for us to live, eat and mess up each week 😉
Allowance is definitely an individual choice for each family. I'm telling you how we do it because I really can't answer how much any of these jobs are worth from an allowance stand-point. If you do have an allowance system, please feel free to leave a note in the comments as to what the kids earn for completing their jobs.
On to the job of learning to vacuum –
Our kids learned how to use a vacuum when they were about 10 years old. This worked well for us because at this age, they were strong enough to push the vacuum without any help. Our previous vacuum was pretty heavy and even I complained about carrying it up & down the stairs.
Thanks to #EurekaPower and #CollectiveBias, we were able to replace it with the awesome new Eureka AirSpeed All Floors vacuum which is super light and easy to manage.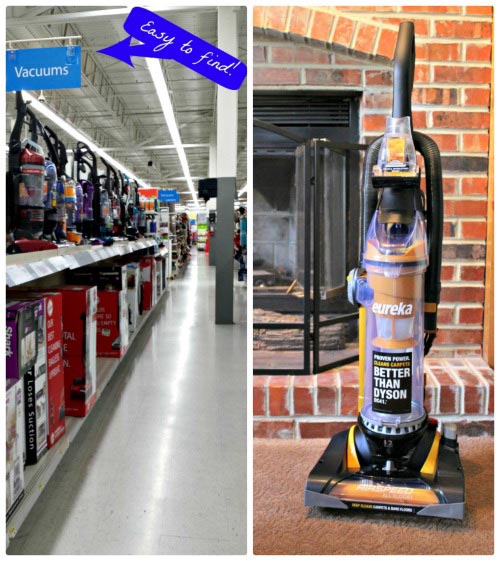 We purchased this vacuum at Walmart for less than $100 which is a great price for a canister vac (love that we don't have to buy bags for it – so much more environmentally friendly). And it's powerful enough to take on any challenge that life throws at your and tackle everyday messes — like all the mud, food and craft mishaps that happen on a daily basis in our house 😉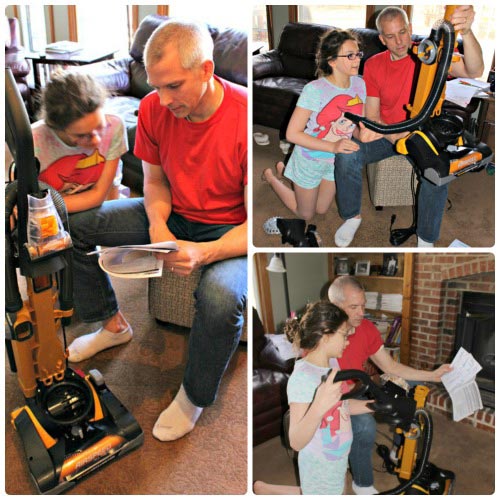 Whenever we get something new, the kids like to help us put it together (another great life skill 😉 so my daughter and hubby pulled everything out and had the vacuum put together in 16 minutes flat!
Super easy, no tools required and we're ready to clean house!
Of course, before we just go suck everything up willy-nilly, I explained a few of the 'rules' – aka "how to not break the vacuum on the first day we got it".
I decided to make a free printable for this so the 'before you vacuum' and 'how to NOT break the vacuum' details were right there for reference when the kids need them.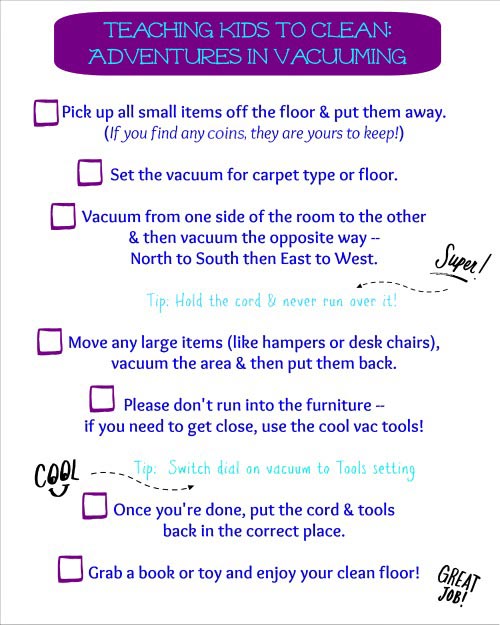 Grab your free printable & get the kids started on their vacuum adventure!
I have to tell you a quick story:
I was headed to the grocery store one morning and asked my son to vacuum while I was out shopping. I got a call at the store to tell me the vacuum was broken – it wouldn't move.
So I figured the belt was broken and told him I would check things out when I got home.
Guess what?
I had it set on 'hardwoods' (a setting which locks the roller in place) and had forgotten to tell him to check this setting on the vac. Thus the reason for the reference list – live & learn 😉
As you can see on the printable, I tell this kids that if they find any loose change when they are checking the floors, it's theirs to keep. This is great incentive for them to check under the bed, coffee table, etc. to make sure there are no little items that can get sucked up as they clean.
Once we picked up the small objects and went over the key parts of the vacuum, I grabbed some baking soda and sprinkled it over one area of the carpet.
"What the heck?"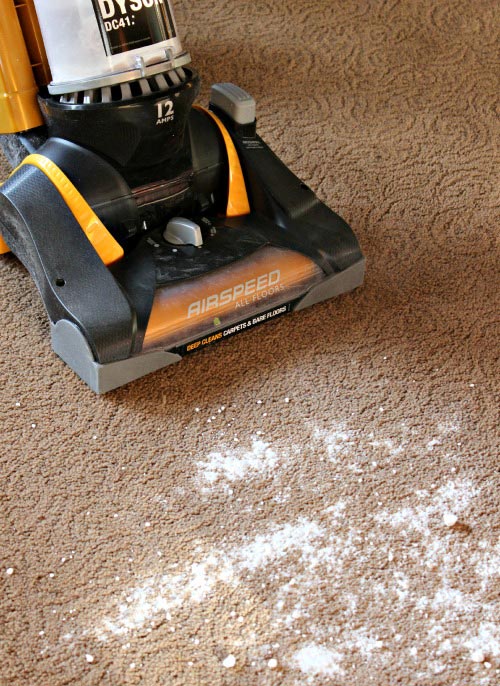 This is a super great technique for teaching kids (or anyone) how to vacuum properly – they now have something they can SEE that needs to be cleaned up.
It helps the kids to understand that you can't just make one pass with the vacuum and think that the rug is clean – you need to go over the same area a few times in two different directions. I call it the "North to South; East to West" clean — teach the kids to vacuum back and forth in one direction and then to make the second pass in the other (perpendicular) direction.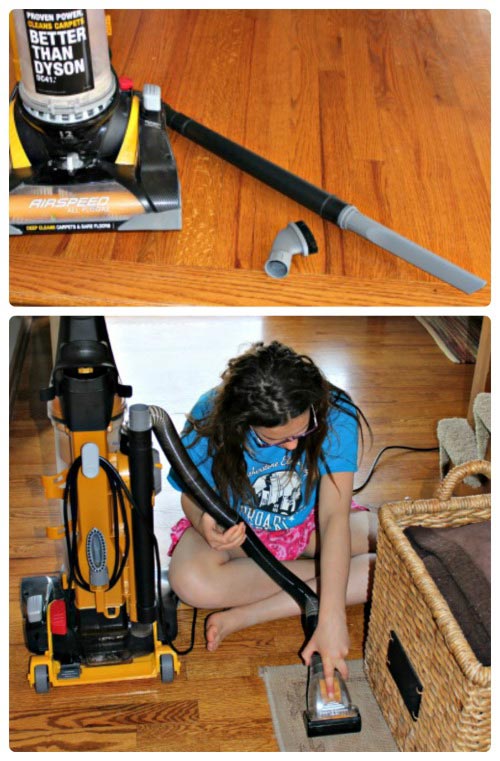 Once the room is vacuumed, teach the kids to use the cool vac tools! Kids will LOVE using the tools — something about mini-items is appealing to them. The Eureka AirSpeed has an crevice tool, a dusting brush and this really handy mini-brush that's great for stairs and area rugs.
The vacuum has really powerful suction to deep clean carpets. In fact, we vacuumed the house before we purchased the new AirSpeed and then vacuumed it again the same day. I refuse to show you have much gross stuff was still left on the carpets (it was AMAZING how fast the canister filled up!) — my husband's phrase was "This vacuum really sucks – literally!" 🙂
Make sure the kids know how to wrap up the cord and put back all the tools in the correct spot so you can find them the next time. And congratulate them on being one step closer to being a home-owner one day 🙂
What tips do you have for teaching kids to clean?