My daughter was in her first play this past weekend (she was a swan with a beautiful costume). And as is the custom with many performances, we brought her flowers on her first night.
They were pink, deep purple and orange — she's a kid that loves bright things — and as she rearragned the flowers each day (because that's what kids do when they get their own flowers), she noticed a number of things.
Sometimes the flowers were limp and sometimes the stems were very firm. The color in the orange flowers faded quickly while the pink and purple flowers retained their color. And some flowers turned brown and had petals fall off earlier than others.
Plant Activities for Kids
All the flower discussions lead me to introduce her to a new word — botany: the study of plants.
Since these plant questions were front of mind when I was reviewing last week's Discover & Explore Plants linky, I thought I would pair up some of the great activities with books about plants so your up-and-coming botanist could do their own plant study at home.
How Wee Learn has a wonderful activity for sorting seeds — comparing, contrasting and learning where about those items that will produce a plant.
Living Montessori Now has a wonderful list of more than 30 hands-on Flower & Plant Activities that share the parts of a flower, its lifecycle and ideas for sensory exploration.
Sunny Day Today Mama shared what to grow for a Butterfly Garden.
Some kids may not be too interested in gardening. What Do We Do All Day has a great idea to spur their interest — have a plant race! Use this free printable to track the growth of your plants.
Every plant lover will enjoy The Lorax! There are many activities you can pair with this classic story — Africa to America shares 5 Earth Day activities and we share how to explore ecology and discover the trees in your city.
If you've never read Miss Rhumpius, believe me when I say it's a book for the ages! And School Time Snippets has some great activities for exploring flowers to go along with the story.
And for an AWESOME idea of what to do with your plants once they've grown, check out this beautiful Nature Art from Joys of the Journey!
Or dry some flowers to make these gorgeous flower keychains from Sunny Day Today Mama and give the gift of plants to someone you love 🙂
Kids Books about Plants, Seeds & Flowers
Here's a list of books I recommend using with these plant and flower activities. I've included a variety of both fiction and non-fiction titles that kids will enjoy along with affiliate links for each so you can learn more about our selections.
Stories about Seeds
Learn all about how plants start!
Oh Say Can You Seed?: All About Flowering Plants
How a Seed Grows (Let's-Read-and-Find-Out Science)
From Seed to Plant
The Tiny Seed
Great Books about Plants & Flowers
Kids will enjoy learning about the parts of a plant and different varieties of flowers too.
The Magic School Bus Plants Seeds: A Book About How Living Things Grow
Berenstain Bears Grow-It! Mother Nature Has Such a Green Thumb!
What Does Bunny See?: A Book of Colors and Flowers
Miss Rumphius
Dr. Seuss' The Lorax
Wildflowers, Blooms & Blossoms (Take Along Guide)
For more ideas on growing plants, visit our Gardening with Kids pinterest board:
Be sure to join us for our weekly Discover & Explore themes so your great ideas can be featured!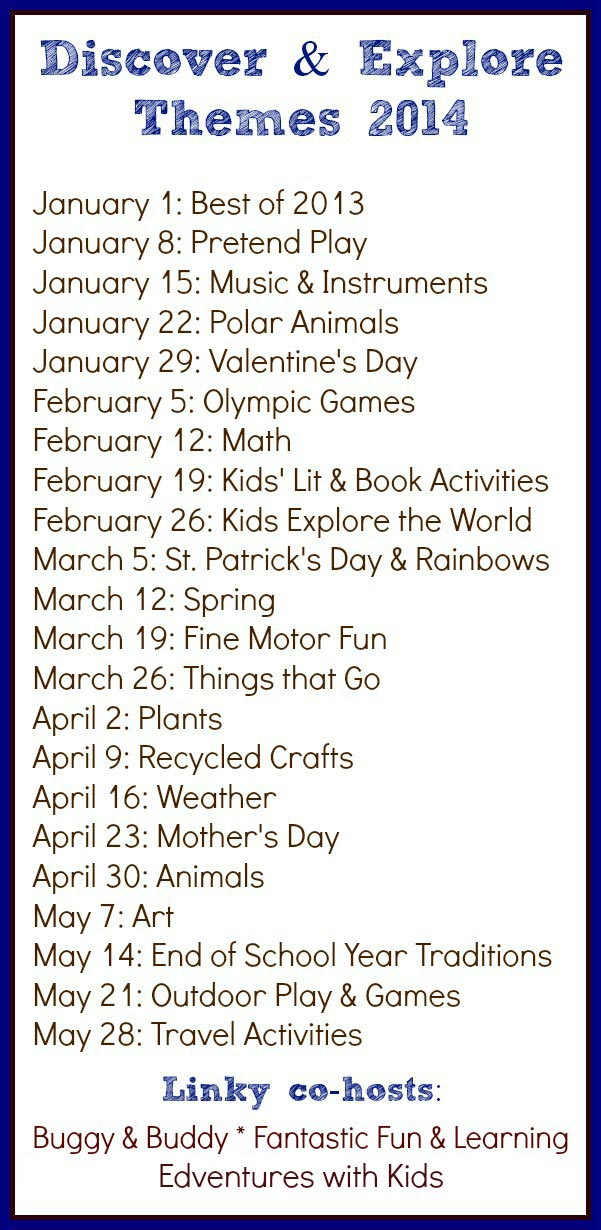 You might also like:
30 Gardening Activities for Kids