Does your family enjoy going to the movies? We are big fans especially of family movies that we can all see together.
So we always like to look ahead and see what new movies are coming soon – you know, check out the trailers, see what's worth seeing and read the book (if it's based on one).
Kids Movies in Theaters for 2014
Here are the top movies in 2014 for kids & families — bookmark or pin this for future reference!
I've tried to include links to the trailers, websites and release dates if they were availabe. Please know that this information may change based on production schedules especially for movies being released later this year. In fact, the release date of the newest Hobbit movie was bumped while I was writing the post so you can never tell what might happen 😉 You will also find affiliate links to any books or any additional information related to each movie.
So grab the popcorn & watch a few trailers!
The Nut Job (PG)
Opens January 17th
A definate kid feature with talking animals and crazy humor 😉
LEGO Movie (PG)
Opens February 7th
This will be a huge hit with any LEGO fans! And these movies are a great opportunity for the kids to re-create the action at home with their own LEGO sets — encourage pretend play, it's great for a child's creativity!
Mr. Peabody & Sherman (PG)
Opens March 7th
This may be one the kids & their grandparents will enjoy together! The movie is based on the 1960's animated characters that were originally seen in the Rocky & Bullwinkle series. In the original cartoon, The Best of Mr. Peabody & Sherman
, the characters travelled through time to save historical figures. Hoping the movie will have a similar theme!
Ernest & Celestine (PG)
Opens March 14th
Based on a wonderful book series by Gabrielle Vincent, Ernest & Celeste is the story of a friendship between a bear and a mouse. If it's anything like the books, it's going to be darling!
Muppets Most Wanted (PG)
Opens March 21st
A long-time family favorite, the newest Muppet film includes some big stars along with an evil frog and some great Muppet humor!
Island of Lemurs (G)
Opens April 4th
Narrated by the incredible Morgan Freeman, learn what it's like to live with the lemurs. This live action nature film is a great opportunity to introduce kids to life in the wild.
Rio 2 (G)
Opens April 11th
Blu & Jewel, the beautiful birds from the original movie Rio
along with their three kids head to the jungles of the Amazon. Follow along for another wonderfully colorful adventure!
Heaven is for Real (PG)
Opens April 16th
Another movie based on a book. This is the true story of a young boy who has a near death experience and how his family finds the courage to share it with the world. There is also a children's version of the book titled Heaven is for Real for Kids: A Little Boy's Astounding Story of His Trip to Heaven and Back
. I'm not sure if this movie will be appropriate for younger kids — the idea may be a little complicated for them to understand.
Disney's Nature: Bears
Opens April 18th
Disney always does an amazing job with their nature films and I'm sure Bears will live up to their reputation. And if you see the movie during the opening weekend, Disney is making a donation to the National Parks Foundation for each ticket sold. There is also a great Educator's Guide for the movie too.
Legends of Oz: Dorothy's Return (PG)
Opens May 9th
Once back in Kansas, Dorothy decides to return to Oz to help her friends. This is an animated feature based on the books The Wonderful Wizard of Oz
by L. Frank Baum and Dorothy of Oz
written by his grandson Roger Stanton Baum.
Million Dollar Arm (PG)
Opens May 16th
We love the Disney sports movies — always a unique look at some of the lesser-known but interesting athletic tales. This is based on the true story of a sports agent who recruits some young cricket players from Asia to play Major League Baseball in the U.S.
Please note: Most of the following movies have not yet released a rating
Maleficent
Opens May 30th
This looks like a movie for teens & adults — kind of the dark side to Sleeping Beauty. There's very limited information out at this time so keep watching for more details.
How to Train Your Dragon 2
Opens June 13th
If you haven't seen the original movie How to Train Your Dragon
, we would HIGHLY recommend it! My kids & I were pleasantly surprised by the depth and detail of the original film. And for the record, these movies are based on the popular book series How to Train Your Dragon by Cressida Cowell.
I can't wait to see what types of adventures Hiccup has in the newest installment!
Transformers 4
Opens June 27th
A very popular series with tweens & teens, Transformers 4 is sure to be another big hit!
Disney Planes: Fire & Rescue
Opens July 18th
Dusty (from the original Disney's Planes
) learns that his engine is damaged and he can no longer race. So he joins forces with other retired planes to fight wildfires in Piston Peak National Park. I love that this movie will introduce kids to the 'nature' side of rescue vehicles!
Guardians of the Galaxy
Opens August 1st
The newest Marvel super hero movie based on the comic book series that began in 2008. It should be easy to get the kids to read a few comics before they head to the theater 😉 I would suggest this one — Guardians of the Galaxy, Vol. 1: Cosmic Avengers.
In this space adventure, Peter Quill must help to protect the Galaxy against evil forces.
Teenage Mutant Ninja Turtles
Opens August 8th
There's not much known about the most recent TMNT movie so be on the look-out for a trailer release and announcements soon!
The Maze Runner
Opens September 19th
This is one for the teens! Based on the YA book series, The Maze Runner young Thomas is placed in an all boys community after his memory is erased. He realizes they are all trapped in a maze and must work together if they ever want to escape.
Dolphin Tail 2
Opens September 19th
Dolphin Tale 2 will recount another true story in the life of Winter the dolphin. This one will include the same stellar cast as the first movie along with a new baby dolphin named Hope who was rescued at the aquarium in 2010.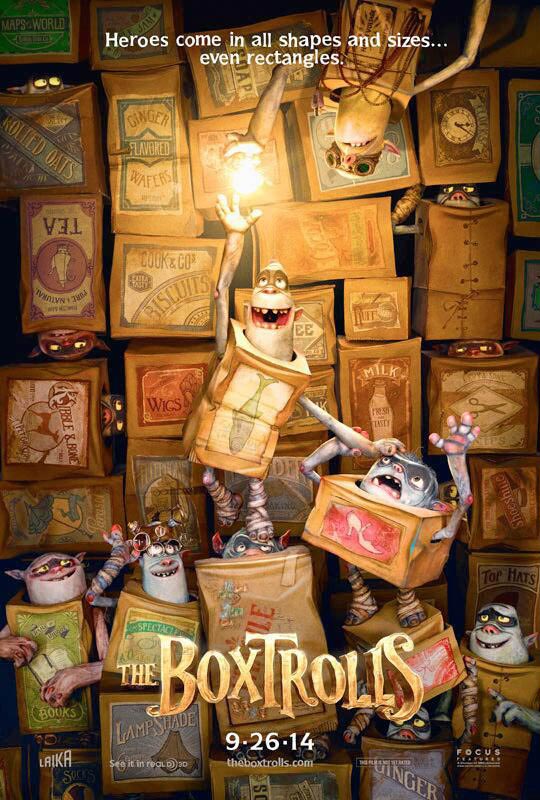 The Box Trolls
Opens September 26th
A cool stop-motion animation film about a young orphaned boy raised underground by cave-dwelling trash collectors. Based on the novel Here Be Monsters! (The Ratbridge Chronicles)
by Alan Snow, I expect that this 3D film will be a charming one!
Alexander and the Terrible, Horrible, No Good, Very Bad Day
Opens October 10th
Disney production – trailer not yet available
Based on the book Alexander and the Terrible, Horrible, No Good, Very Bad Day
, I have high hopes for the film since the book is a children's classic! Alexander is a boy who is having a bad day — no matter what happens, things just don't seem to go his way. The story is a great reminder to parents that the small things in life can really set the tone for a child's day. Please do read the story before you see the film — kids will really enjoy the book!
The Book of Life
Opens October 17th
An animated film that tells the story of a young man who goes on a journey to face his fears, fulfill family expectations and follow his heart. Many of the overviews describe it as "Romeo and Juliet during a Day of the Dead celebration".
Big Hero 6
Opens November 7th
Disney is at is again with this animated comedy adventure! A group of six kids and their robotic sidekicks are recruited by the government to save San Francisco. The limited trailer looks beautiful and I think it will be great to see what Disney does with making an urban-based film.
Hunger Games: Mocking Jay Part I
Based on the third book in the trilogy, fans of the The Hunger Games books Trilogy will rejoice in the third film, Mockingjay. But beware, this film will only be part of the final book leaving many on the edge of their seats for the final film!
McFarland
Opens November 21st
Disney production – trailer not yet available
The second Disney sports-themed film this year — McFarland is based on the true story of a high school track coach who leads his team through several challenges and issues to get them to the championship. Looks to be a very inspirational film that will be great for tweens/teens & their parents!
Paddington
Opens December 12th
Follow the adventures of a young bear who travels to London (because he loves everything British) to find a home. And he finds the Browns who make him a part of their family — but will it last? Based on the wonderful book series Paddington Bear by Michael Bond which has also been published in a picture book too — Paddington
.
Annie
Opens December 19th
This will be an adaption of the Broadway musical and some sources say the music will be more contemporary. A favorite musical for kids — I can't wait to see what they do with this version! If you have older kids, you might want to watch the original movie version before this one and then do a compare/contrast of the two movies.
Night at the Museum 3
Opens December 19th
Very little information is out yet but if this is anything like the first two movies in the series, it's going to be awesome! And a great one to pair with some historical learning for the kids 🙂 If you haven't seen the first moive – Night at the Museum
– I highly suggest renting it before you head to the theaters for the third.