Pair each of your favorite Christmas Traditions with a special book and enjoy these special stories during the holiday season!
The holiday season is the perfect for for traditions such as Christmas countdowns and special family activities. Every year, my kids and I have a special book tradition — we have a secret stash of holiday books that we only bring out at Christmastime. We find all our Christmas & Winter books and put them in a special basket to read throughout the month.
Sometimes we'll wrap the books and choose one each night for a 'surprise' story time. And on other years, we'll match a book with each of our favorite Christmas traditions.
---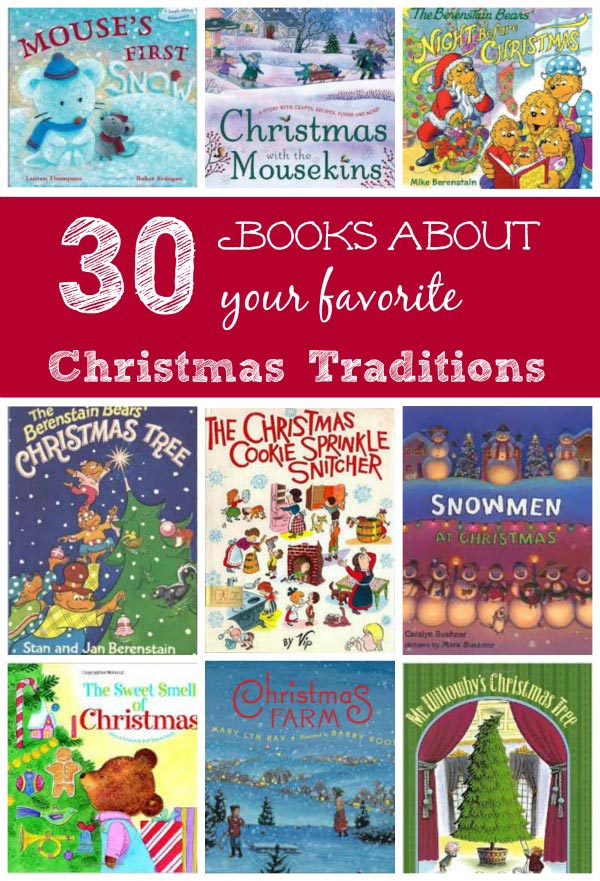 30 Kids Books about Favorite Christmas Traditions
By pairing a story with a special family tradition, our kids have fun relating their experience to that in the book and they have learned some of the history behind each of the traditions too.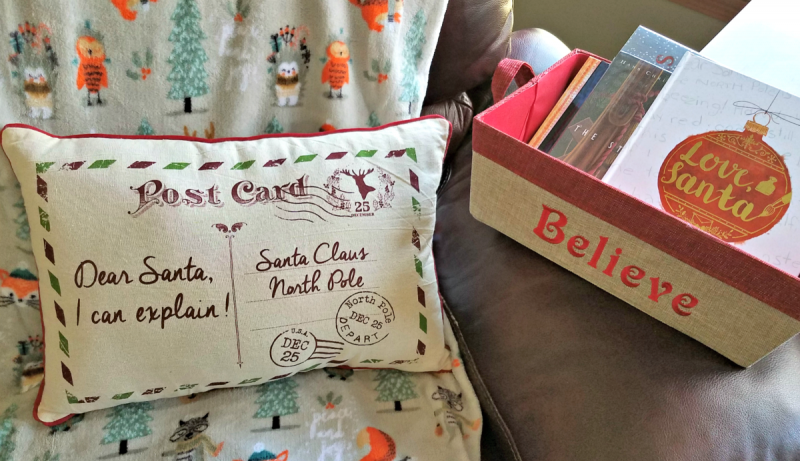 And if you enjoy holiday books or do a book-a-day countdown to Christmas, consider creating a themed Holiday Reading Area for your kids!
Our sponsor for this inspirational reading center was At Home stores, where we found a cozy winter/animal themed throw, an adorable Santa pillow & a great basket to hold all your holiday books!
Here's a list of Christmas Traditions along with some of our favorite books to go with each one! We've also included affiliate links so you can easily find more details about each selection along with other seasonal recommendations.
Tradition: Getting your Christmas Tree
Whether you head out to a Christmas Tree farm or browse the local tree lot, you know that part of the fun is finding 'just the right' tree! This is one of our favorite Christmas activities each year!
The Berenstain Bears' Christmas Tree, the Bear Family loves their annual trek into the woods to find their Christmas tree! But when they finally find the one they love, they also realize that it's a home for some other forest friends. When they come home without a tree, their friends come to the rescue!
The Year of the Perfect Christmas Tree: An Appalachian Story
is a beautiful story about a young girl & her mother. The two must accept the responsibility of finding the town's Christmas tree since her father has not yet returned from war. So Ruthie and her mother set off together on a quest to find the perfect tree — The Year of the Perfect Christmas Tree is a must read during the holidays!!
Christmas Farm
is a great story of how young kids can have a huge impact in the lives of others, and how friendship blooms across the years! When Wilma starts her own Christmas tree farm, she realizes she may need some help. Her 5-year-old neighbor steps up to help her and together they care for the trees together year after year.
Tradition: Giving to Others
One of the things that make the holidays so joyous is giving to others! If your family enjoys volunteer activities during the holidays, print off this free set of Ideas for Service Projects and Gracious Giving tracker.
Mr. Willowby's Christmas Tree
is a wonderful story about a tree that's just a little too big for the Willowbys — so they cut a little off the top. The butler takes that top for his room, which is just a smidge too tall, so he cuts a little off too. As the story continues, the reader experiences the joy of how many people benefit from Mr. Willowby's Christmas Tree!
The Carpenter's Gift: A Christmas Tale about the Rockefeller Center Tree
is a special story of giving. When Henry was young, he and his father sold Christmas trees in New York City. They give the gift of a tree to the construction workers at Rockefeller Center. In return, Henry's wish for a real house comes true. Henry then plants a pinecone from the first tree, lets it grow and years later, donates it to be the tree that stands in Rockefeller Center.
Tradition: A Visit from Santa
Visiting with Santa and writing him letters are a big tradition for many kids.
Santa's Book of Names
poses the question "What would you do if you found Santa's Book? Edward is a young boy who can't quite read but happens upon Santa's book. He is treated to a trip with Santa and realizes that it's up to him to read the book, which he learns to do beautifully! Since books are a big part of our holiday, I do love this story 🙂
Santa Claus
is a book for all kids who ask those great questions at this time of year – how does Santa's sleigh work? What is reindeer training like? In addition, the book includes holiday tags, stickers, Santa's map, cookie recipes and much more! We have tons of fun with this book every year!
Tradition: Putting Up the Nativity
Many families have a nativity scene — some put it up at the beginning of the advent season while others add one item to the creche or manger each night.
This Is the Stable
is a beautifully illustrated version of the first Christmas. Kids will enjoy the rhyming verse and flow of the story as they learn who visited Bethlehem that night. If you have a play manger scene like this , this is an awesome book to pair with it during Advent!
Mortimer's Christmas Manger
is about a mouse who doesn't like his mouse hole — it's cold and dark and lonely. So when he happens upon a manger scene on night, he thinks it's the perfect place for a mouse his size! Wonderful illustrations add to this great story of the true meaning of Christmas; kids will love following Mortimer's journey!
Tradition: Decorating the House
Nothing is more festive than a decorated home — let the kids help and share your family momentos with them! Try making a few of your own decorations:
Build a Healthy Gingerbread House
Christmas with the Mousekins
is a newer book that quickly became one of our favorites! The Mousekin family is preparing for Christmas and readers can follow along & do activities with them. The book includes easy crafts, recipes, poems and stories. It's a great book to inspire fun, handmade decorations for your house!
If You Take a Mouse to the Movies (A Special Christmas Edition)
is a childhood favorite! The story follows the antics of the mouse as he starts his day at the movies, wants some popcorn which he then wants to string together to decorate the tree and on and on. Kids will enjoy the quick moving holiday fun as mouse weaves many Christmas traditions into his day.
Tradition: Going to See the Lights
One of our favorite traditions — getting the kids into their pj's one night and driving around the city to see the beautiful light displays!
Christmas Lights
is an adorable book about a family (with kids in their pj's) who drive around their town to see the lights. Books like this one always lead to a wonderful discussion of favorite light displays and the colors of Christmas. A fun family tradition!
Christmas Lights
is a cute book with a special treat — real blinking lights! Your kids will enjoy seeing all the types of lights that make the season festive. The colors in the illustrations are very warm and really make the lights stand out as you read. It's a very peaceful book that would be wonderful as a bedtime story or in the car when you are out looking for the lights in your town.
Tradition: Building a Snowman
A childhood favorite! Trying to build the biggest snowman and making snow angels too.
Snowmen at Christmas
is a fun look at what snowmen do for Christmas when we all go to sleep! I love the amazing antics in this book and kids laugh at what snowmen enjoy about the holiday. A great read for bedtime (especially on a day you built a snowman)!
The Snowman
is a classic book for kids and beautifully illustrated — it's a wordless book that follows the adventures of a boy and the snowman he created. The Snowman introduces the boy to his world and the boy shows the snowman the wonders of our world. A wondeful story that inspires the reader to help 'read' the book by making up their own words.
Tradition: Christmas Songs & Carols
Fa la la la la! Kids love music so sharing holiday songs and carols is a great way to help them enjoy the season. It's one of those Simple Ways to Enjoy the Holidays.
I am a HUGE fan of Richard Scarry! And Richard Scarry's Favorite Christmas Carols
has a fun bonus — a mini-piano attached! Richard Scarry's Favorite Christmas Carols includes 10 popular carols along with the notes (which are labeled on the piano keys) so kids can play along with the songs!
My First Christmas Carols
is a beautifully illustrated book by Tomie DePaola featuring some of the classic carols that are sung throughout the world. If this is the first Christmas your family is caroling (in the neighborhood or with friends), your kids will enjoy practicing eight traditional carols.
Tradition: First Snow of the Holiday
It's that magical time when everything is covered in a beautiful white blanket, peaceful and quiet.
Dream Snow
is a great story to read when the kids are wishing for snow on Christmas! On Christmas Eve, an old farmer wonders how Christmas will come when there's no snow. As he sleeps, he dreams of snow — and when he wakes up, there's a blanket of white! Gorgeous illustrations from a favorite author make this a must read!
There's just something adorable about a 'snowmouse'! In Mouse's First Snow, loveable Mouse enjoys many winter activities now that the snow has arrived. The illustrations are so engaging — we're a big fan of Mouse!
Tradition: Seeing the Nutcracker
Another fun family event – heading to the theatre to see this wonderful holiday show.
The Story of the Nutcracker Ballet
tells the story of the Nutcracker but also shows some wonderful pictures of what you might see when you attend a live performance. My daughter likes to read this story with a nutcracker close by 🙂 I love this kid-friendly version as it helps children know what to expect when they attend the show.
Tradition: Baking Cookies
Whether you're baking for family or Santa, cookies are a fun way to get kids involved in the kitchen. These books pair nicely with the following activities:
The Amazing Scents of Christmas science activity
One of the best parts of baking at Christmas is the wonderful smells that fill the house. The Sweet Smell of Christmas (Scented Storybook)
is a favorite scratch-n-sniff book! My kids just love these and they make wonderful gifts. The book includes some great baking scents — gingerbread, candy canes, apple pie — YUM!
The Christmas Cookie Sprinkle Snitcher
is an older book that's finally back in print! When your cookies are baking in the oven, pull out this book and enjoy finding out who stole all the sprinkles in this fun holiday story. The book also has a wonderful message about sharing.
Tradition: Go Sledding
Bundle up and spend an afternoon swooshing down the hills!
Red Sled
shows what happens when the woodland animals take a red sled out for some nighttime fun. The outstanding illustrations and sparse text make this wonderfully enjoyable and sometimes laugh out loud funny! I just love the pictures in this mostly wordless picture book!
Tradition: Ice Skating Fun
Another great family outing plus a great way to get some exercise in the winter months!
One snowy day, Nanny decides to take Eloise skating — and she insists on bringing her dog. But can dogs skate? Eloise Skates! (an Early Reader book) will appeal to many children who can identify with the difficulty of learning new things. Kids who want to learn to skate or who are just learning will enjoy the story.
Older kids will be interested to learn the skating terms and various things skaters can do in A is for Axel: An Ice Skating Alphabet. Kids will learn about the history of skating, techniques used by skaters and great moments of the sport.
Tradition: Buying a Poinsettia
One of the few winter flowers, many places display these gorgeous blooms during the holiday season.
Many homes have poinsettias at this time of the year. In The Legend of the Poinsettia
, children can learn more about the significance of the flower and why it blooms at Christmas. The book is written and illustrated by Tomie dePaola who does a wonderful job with the pictures that clearly convey the historic and cultural tradtion!
Tradition: Watch a Holiday Movie
Enjoy the book before you see the movie! There are so many holiday movies that began as books – here are some of our family favorites!
The Polar Express (book)
The Polar Express (DVD)
How the Grinch Stole Christmas! (book)
Dr. Seuss' How the Grinch Stole Christmas (DVD)
The Animal's Christmas Carol
The Muppet Christmas Carol
Tradition: Christmas Eve
There's nothing like a holiday story to get you ready for a long night's sleep.
Many families have the tradition of reading The Night Before Christmas
on Christmas Eve. There are so many versions of the story — choose the one your family likes the best and keep the book to hand down to your kids when they start their own family.
Christmas Is Coming!
is another wonderful book to read on Christmas Eve day! Juliette and her parents are getting ready for Christmas Day – baking cookies, decorating the tree, wrapping gifts. I love the gold-tipped illustrations in this book – the pages look like they glow as you read!
Plus one bonus Tradition: Snow Days
Something that every child should have at least once it their life — permission to spend a winter's day outdoors because school is closed!
In Fancy Nancy: There's No Day Like a Snow Day
, Fancy Nancy and her friends get a snow day! Who doesn't love a snow day (unless you have to drive in it 🙂 See what Nancy and her friends do with their day off from school — it may give your kids some ideas for activities they'd love to do on snow days.
Happy Holidays!
~ Jacquie
MORE HOLIDAY ACTIVITIES:
25 Ways to Slow Down & Enjoy the Holidays
20 Great Stocking Stuffers for Kids