September is Hunger Awareness Month – a great opportunity for a family service project by organizing a neighborhood food drive!
Fall is a big time for many food pantries needed to stock the shelves and this year, especially, they will serve many families. Our goal is to inspire as many people as possible to donate to your local food pantry to help local families this month!
How to Organize a Neighborhood Food Drive
It seems that every day I find myself reading more and more posts about local food pantries – people waiting in lines for hours to pick up items, pantries not having enough in stock to help families. And with many families having to file for unemployement during this past year, pantries will need all the donations they can get to keep up with demand going into the Fall.
Remember, when schools closed last March, many children and families who depended on meal assistance through the schools had to do without for quite a while. And now, with many schools offering online classes, families are once again facing that same struggle trying to keep healthy meals on the table.
Kids who don't have enough food are more likely to get sick and aren't able to concentrate in school. According to Feeding America, 18 MILLION live in households that struggle to put food on the table.
This year, those kids and families need US to make a difference.
And I want to make it easy for anyone to help — Doing a food drive in your area can be completed in less than 1 hour! AND this can easily be done using a contactless pick-up so anyone can participate.
How's that for easy 🙂
It really is a wonderful service project for families, especially those with young children. We've done this at least 5 different times in our neighborhood and it's always been a huge success!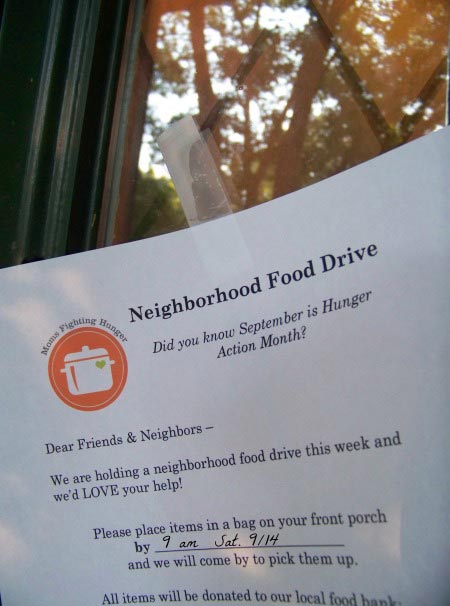 Step 1: Choose a Date & Print off these Neighborhood Food Drive Flyers.

Grab this FREE printable food drive flyer, and fill in the date you plan to collect your items!
The flyer also includes a list of the most needed items that are highly requested at many food banks and pantries. Feel free to add others any additional items and in our experience, many houses will donate a good variety of food.
You can call your local food pantry to ask what items are most in need and also arrange for a drop-off date so you know when to deliver the donations.
We found that most people are more likely to donate if the name of the food pantry is included so we also left a line for that information.
The flyer also asks neighbors to leave their donation on their front porch on your designated day & time — perfect for social distancing guidelines and contactless pick-up!
I would suggest delivering the flyers at least 5 days prior to your pick-up date so neighbors have time to grab something at the grocery store once they've seen the list.
Step 2: Take a walk and leave the flyers at each neighbor's house.

This is where the kids can help — leave a flyer on each door in your area! Take a family walk or bike ride around the neighborhood one day or evening. We taped some to the door, or rolled them and tucked them into the door handles. You can also print flyers on brightly colored paper so they can easily be spotted on the doorways.
You may also want to send out an email or message on social media, or alert neighbors by sharing the information on the Nextdoor app or leaving details on a community-shared mailbox area.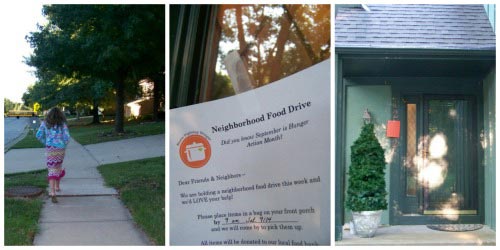 Step 3: Grab a wagon or the car and pick up donations!
On the day & time you listed, go back around and collect donations. If you have a few cardboard boxes, use them to box up donations when you collect the items. And a nice touch would be for kids to color a few 'thank you' notes and leave them for families that donated items.
Once collected, take your donations to your local food pantry!
Really, it's that easy and will make a big difference in the lives of kids this month, and next month, and well into the holiday season!
If you'd like to share photos of the kids doing a food drive, I would LOVE to see them! Be sure to tag us on Instagram so I can tell you & your kids "Thank You!!" for all your help & kindness!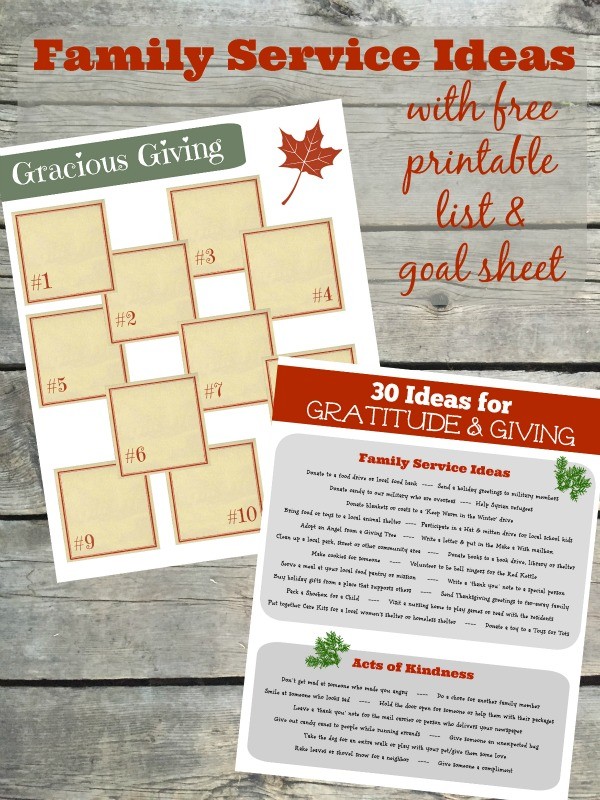 More Family Service Project Ideas:
30 Family Service Projects for Kids & Adults