Enjoy these FREE printable Halloween Word Games for kids, tweens, teens & adults!
I've frequently been known to sneak learning into holiday fun; one thing I've learned is that kids LOVE to do holiday activities waaayyy more than they love to do homework 😉
So I take advantage of that fact and frequently pull together free printable Halloween Activities to keep my kids both entertained AND busy & thinking.
Today's FREE printables are the perfect combination for October — Halloween-themed Word Games!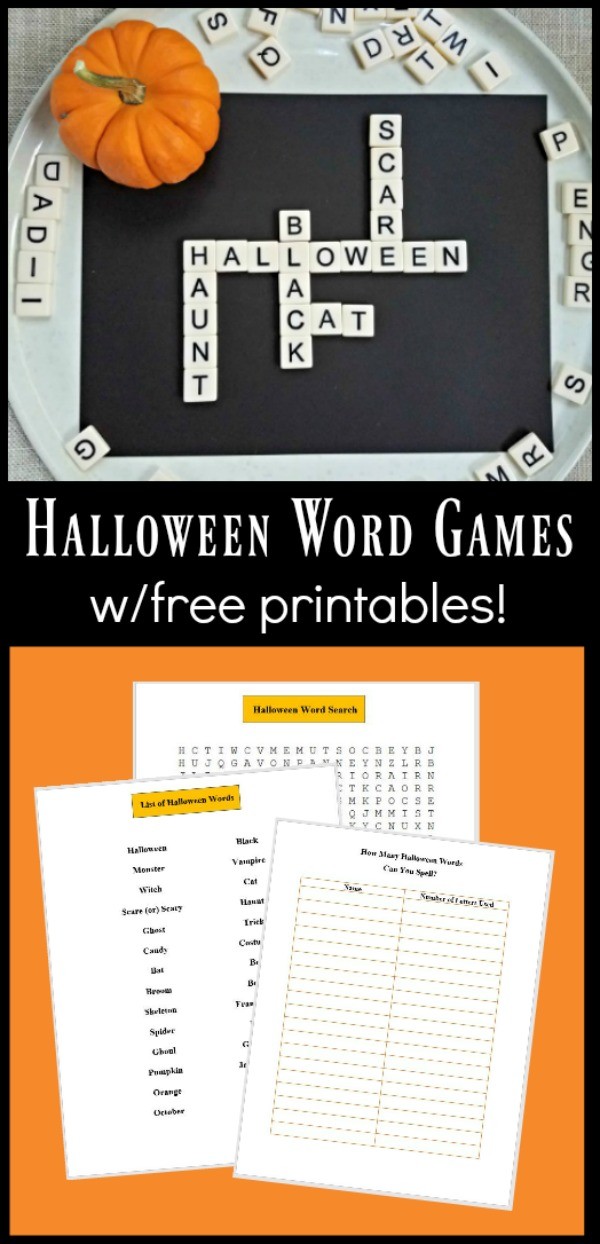 Halloween Word Games (with FREE printables!)
When it comes to holiday-themed activities, I love finding paper games that involve logical thinking and reading. Word games offer kids of all ages the opportunity to practice spelling, pronuncation and expand their vocabulary. Our 10 Printable Thanksgiving Games for Kids & Adults are a perfect example — a fun holiday-themed way for kids to play & learn!
Younger kids are challenged as they sound out new words and practice their spelling; older kids can practice spelling, pronuncation and expand their vocab. Even tweens & teens need this practice as they prep for things like SAT and ACT tests. Today we're featuring a fun group of games for all ages, along with affiliate links to items you can use and FREE printable word gam.es too!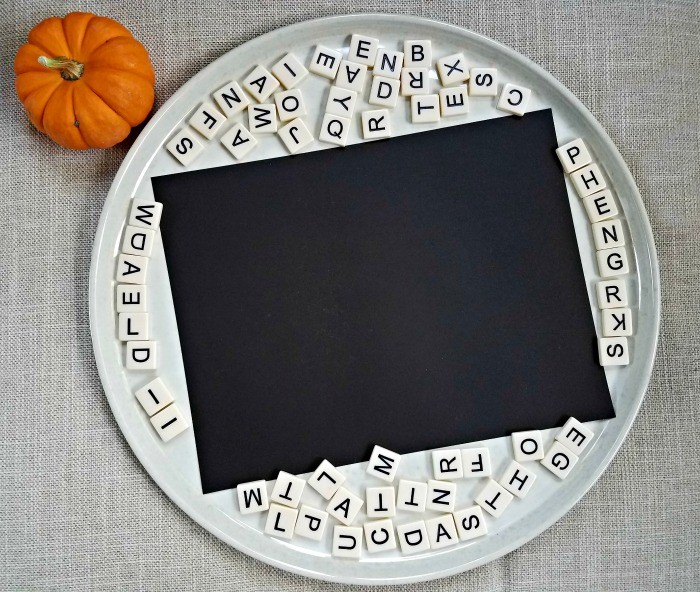 Halloween Create-a-Word Game
For this activity, you'll need a few supplies:
one large tray or an open area on a table
scrabble tiles or Bananagram tiles (we use these a LOT in our activities!)
a black or orange piece of paper
the FREE printable word list below (for younger kids or if you're using this for an ESL activity)
a small Halloween-related item – (we used a tiny pumpkin but items like these Halloween Squishy toys are also fun to use!) because some people think better when they have an item to hold in their hands.
This is a great game to set up at a party and also a fun activity for a literacy center too! Another of our favorite word games to use as a fun learning activity are Halloween Madlibs! These puzzles are wonderful for helping kids to understand parts of speech!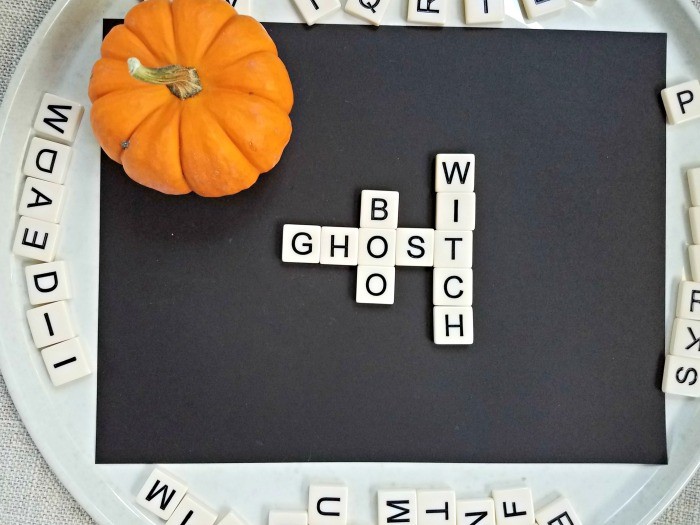 There are three purposes to this game:
Locate the letters on the tray to spell Halloween-related words,
Use letters from previous spelled words to build a word puzzle and
Be strategic in how you build the word puzzle!
Younger kids who are just learning to pronounce words or spell them can use the free printable Halloween Word list that we've included below! Older kids and adults should try and brainstorm words.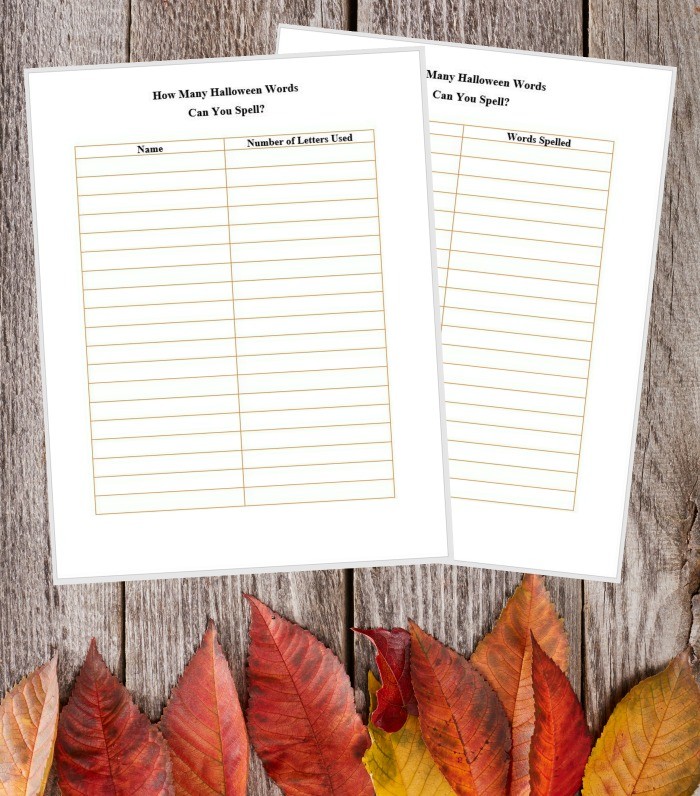 Kids, tweens and teens can use the free printable worksheets to track a few items related to vocabulary:
Each person can record the number of words they build in the create-a-word game
Players can also track the number of LETTERS used when they build their words! This is a great challenge that will push kids to think about longer words and also help them to work on mastering the spelling of longer words.
As a bonus, if you are using scrabble tiles, players can also add up the number of 'points' they would earn too.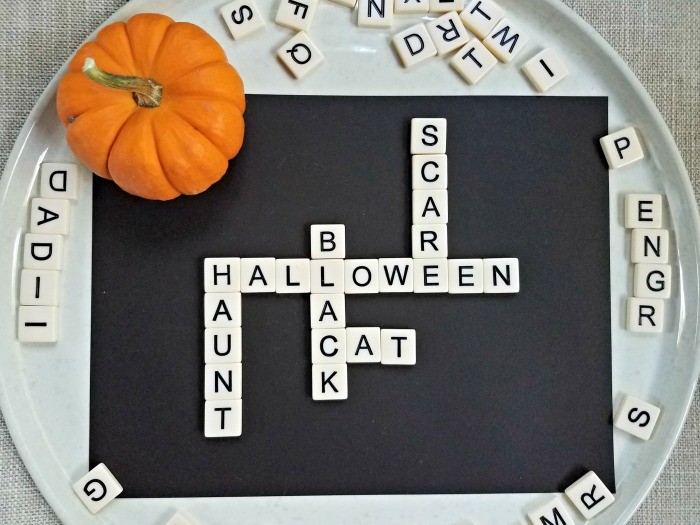 Tweens, teens and adults should use the titles to brainstorm any word related to Halloween to create their word puzzle. You can also play this with more than one person — have each player take turns to build their word off one of the other existing ones on the tray.
There's also some logical reasoning that needs to be used as you add words to the puzzle — the idea is to build words in a way that it allows you to add MORE words. You can see in the photo above, there are already two 'C's in the puzzle — so the word 'cat' could be built off either of those. Players must think about where to place their words as they build.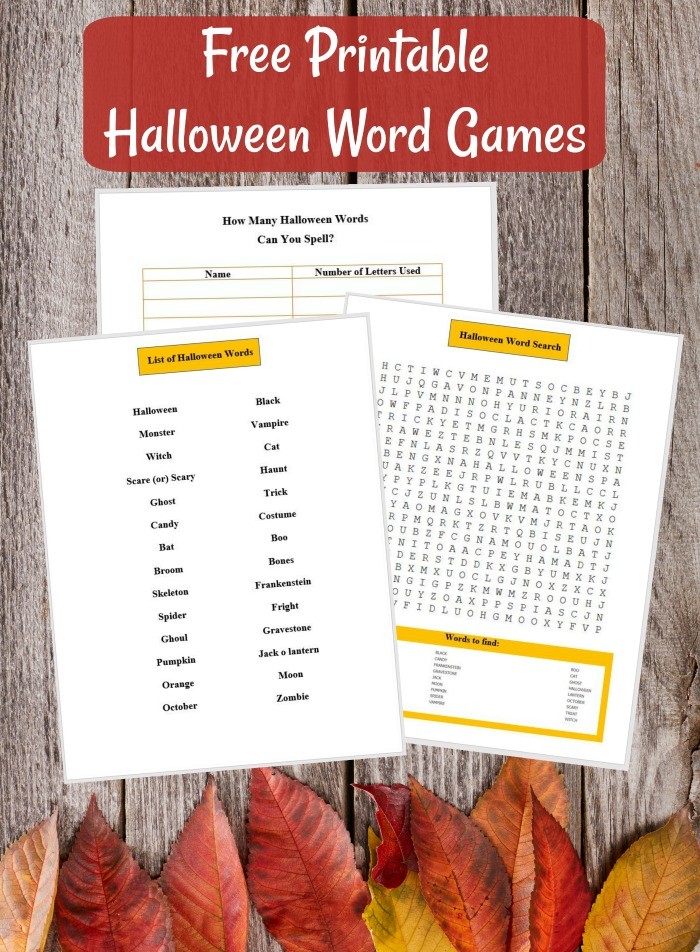 Printable Halloween Word Search worksheet
The second game we've included in the free printable pack is a Halloween Word Search! Fun for all ages, the puzzle lists a variety of words related to the holiday and is perfect for kids, tweens, teens and adults.
Play as Halloween Minute to Win It Games
Both of these games can easily be played as "Minute to Win It" games for a fall party or Halloween activity!
For the Create-a-Word Game: Give each player one minute to see how many words they can spell using the tiles.
For the Halloween Word Search: Set a timer so each player has one minute to find as many words as they can in the puzzle.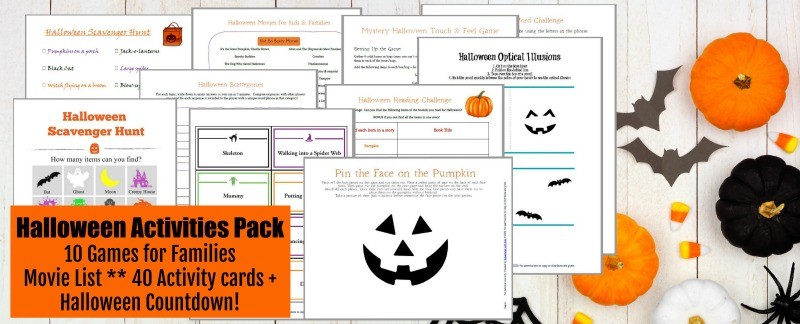 More FUN Halloween Games
And if you're looking for more fun ideas for Halloween (especially if you'll be celebrating at home) check out these Printable Halloween Games & Activities!
More Halloween Games:
5 Easy Halloween Games (with FREE printables!)