Disclaimer: I am being compensated by Girl Scouts for sharing my thoughts on the #ICantWaitTo campaign as part of the Mom It Forward Blogger Network. As always, all opinions are my own — I only share programs that we really love and can highly recommend!
I still have all my Girl Scout badges from when I was younger — which was more years ago that I care to share with you lovely readers 😉
I earned badges for sewing, art, housekeeping and music — but more importantly, I also earned them for community health, sports, science and outdoor skills.
Why am I telling you this?

Because when I grew up, there were things that girls did and things that boys did — but if you were in Girl Scouts, you had the opportunity to learn some of these fun skills. And scouting was one of the only places where girls were encouraged to learn these skills! There were always wonderful leaders there to teach you and support you as you gained this new knowlege.
I loved learning how to pack a backpack, row a canoe and knowing that I could make a difference in my community. And as an adult, I appreciate having had the opportunity to gain these skills — they come in handy every summer we go hiking, when I take my kids canoeing and even had an impact on what I chose to do in college.
I went to overnight camp, made some amazing friends, learned how to talk in front of a group of people and knew there would always be some new skill to achieve. My Mom was one of the leaders for our troop and my sister & I were scouts together.
So when my daughter came home in Kindergarten and wanted to be a Daisy (which is the youngest level in Girl Scouts), I knew it was my turn to give back. I became a co-leader for her troop for 4 years.
The girls learned how to support one another and work together; my shy Daisies turned into Brownie leaders. They learned first aid, hiking, cooking and sports.
And we took some amazing field trips —
We went behind-the-scenes at a local movie theater
Spent an afternoon tracing history in a local cemetary
Learned business skills at an ice cream shop
Rang bells to help the Salvation Army during the holidays
Climbed on a truck & practiced fire safety skills at the Fire House and
Helped the environment by doing a clean-up project (while earning the same Woodsy Owl badges that our moms earned when they were scouts!)
The girls were always so excited to explore new places — as leaders, we constantly heard "I can't wait to" visit the movies! "I can't wait to" ring bells this weekend! And this is the reason Girl Scouts has chosen these words for their current campaign —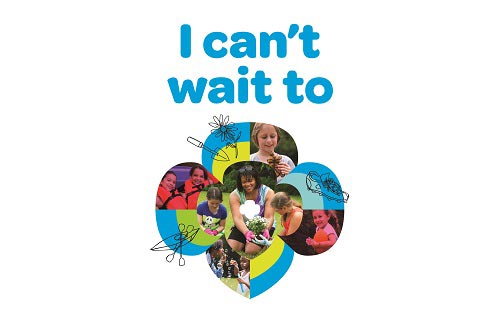 Girl Scouts is dedicating the week from September 30 – October 6 to getting the word out to parents and caregivers who want girls to make friends, have new adventures and do great things.
Being a Girl Scout volunteer means helping girls to learn things they may not have the chance to learn elsewhere. It means building future leaders and taking them on amazing adventures. And it's a hugely rewarding experience!
Did you know that 75% of the girls in scouting are in Kindergarten – 5th grade? It's a perfect time to introduce girls to the benefits of being a scout and pursuing their full potential — and volunteers are crucial to offering every girl this opportunity.
The Girl Scout "I can't wait to" recruitment campaign is aimed at letting volunteers know they are vital to the success of each girl. As a volunteer, you will help provide a safe and supportive environment where girls can girls can be themselves, have fun and experience new things.
To learn more about Girl Scouting and how you can be involved, visit the Girl Scouts YouTube channel.
Share your knowledge, your experience and your enthusiasm with the next generation.