I am being compensated by Bookboard for sharing my thoughts on their digital library. As always, all opinions are my own — I only share programs that we really love and can highly recommend!
Last month, we signed up for a free trial on Bookboard, a digital library for our iPad.
And this month, I'm sharing all the details so you can get your own FREE trial subscription for this wonderful service!
All the Juicy Details to Get Kids Reading
First, you need to know that Bookboard offers more than 400 amazing kids books in their digital library!
From childhood favorites like the Berenstain Bears to wonderful nonfiction books from the Smithsonian Institute — all types of books and topics for kids from ages 2 – 12. This also includes great chapter books such as the Boxcar Children series. And they have some wonderful seasonal reads available too.
Bookboard is currently only available for the iPad — so instead of asking to play one of the apps, my daughter now uses it to read books! I love having this option available. We have a number of doctor's appointments this month due to a broken wrist and no matter how quickly she finishes a book, there's always another available right at her finger tips.
Books on demand — such a great idea!!

How Bookboard Helps Kids Advance Their Reading
Kids can choose which books they'd like to read and Bookboard will then serve up similar titles based on their reading levels and interests. As kids become stronger readers, they have access to more advanced books from the library.
Once your child finishes a book, they receive a reinforcing message and also unlock a new book to read. I really love this feature because it automatically serves up a new book for the kids to try — no looking around for something to read anymore.
This feature motivates kids to keep reading because they know when they finish the book, they'll be rewarded with another! And it encourages them to try different types of books because Bookboard will vary their book suggestions.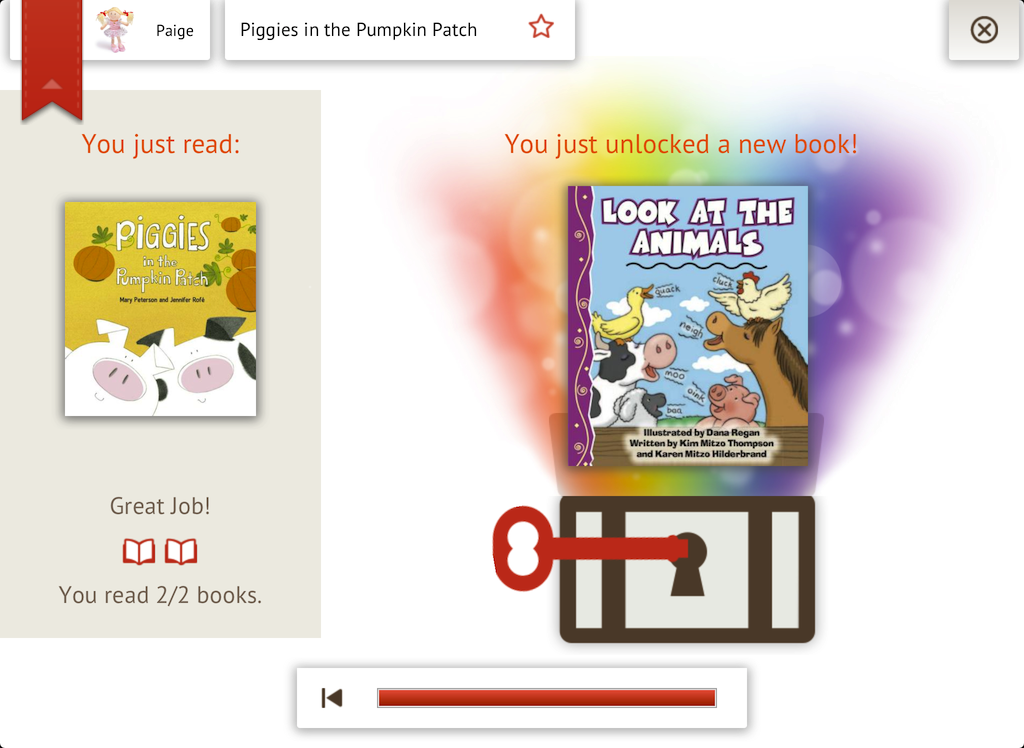 This screenshot gives you an idea of what your child will see when they finish a book — a nice message along with tracking of how many books they've completed — and the next book will have a similiar reading level and theme.
Each book is added to their collection – they can go back and re-read favorites or even read them aloud to the family.
Easy Parent Involvement in Reading
Bookboard keeps parents involved in a number of ways. First, parents have their own log-in area so you can see what your child is reading, how many books they've completed, amount of time reading and more great details.
Also when my daughter completes a book, I receive an email letting me know that she's read the book, what book she has unlocked and other new books she would be interested in reading. As a parent, I can both review the books that are being earned and also see her progress – an excellent way to stay connected to what the kids are reading!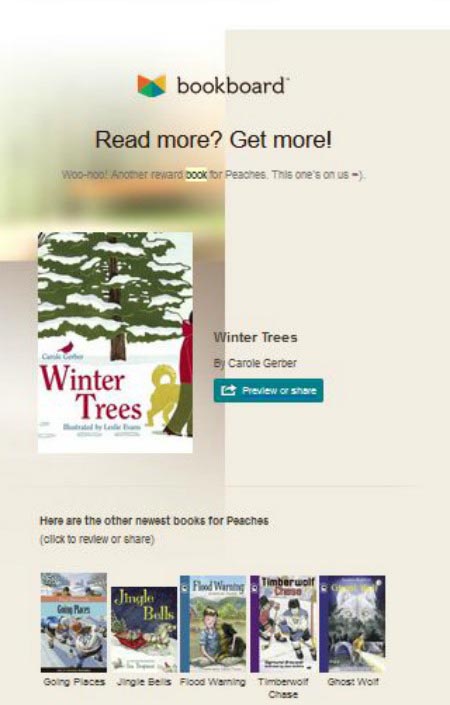 So at dinner, I can say "Nice job on completing the book! What was your favorite part of the story?" Instant literacy conversations are born and I'm reinforcing reading too!
It's also easy for my daughter to practice reading aloud to me using books from her library too. If she has a favorite, I'll ask her to re-read some of it to me so I can hear her fluency and help her with any words.
Register for your FREE trial today!
So what are you waiting for — register for your FREE trial today! Bring more books into your home with this easy option.
And a yearly subscription to Bookboard is a wonderful holiday gift! I'm sure grandparents or a cool aunt/uncle would adore giving your kids access to a library of books instead of buying a toy that will get played with and forgotten in a few weeks.
Leave me a comment if you have any questions — I'm happy to let you know how Bookboard is working in our home!