Enjoy these mystery picture books & chapter books for kids who love playing detective!
Do you have a child who loves a good mystery?
Our youngest adores detective books — in fact, when she first started reading on her own, that was the only genre she would read.
We would visit the library and search for any new mystery story that wasn't too scary. She loved the mystery within the book but not the spooky side of things.
As the story revealed clues, it would draw her in as she tried to figure out what happened before she read it in the book.
Once you find books that your kids love, you run with that since it will inspire continued reading!
So we've rounded-up some of our favorite detective and mystery books — picture books, ER (early readers) and chapter books (which are perfect for older sleuths or as family read-alouds) — see which ones your kids might enjoy!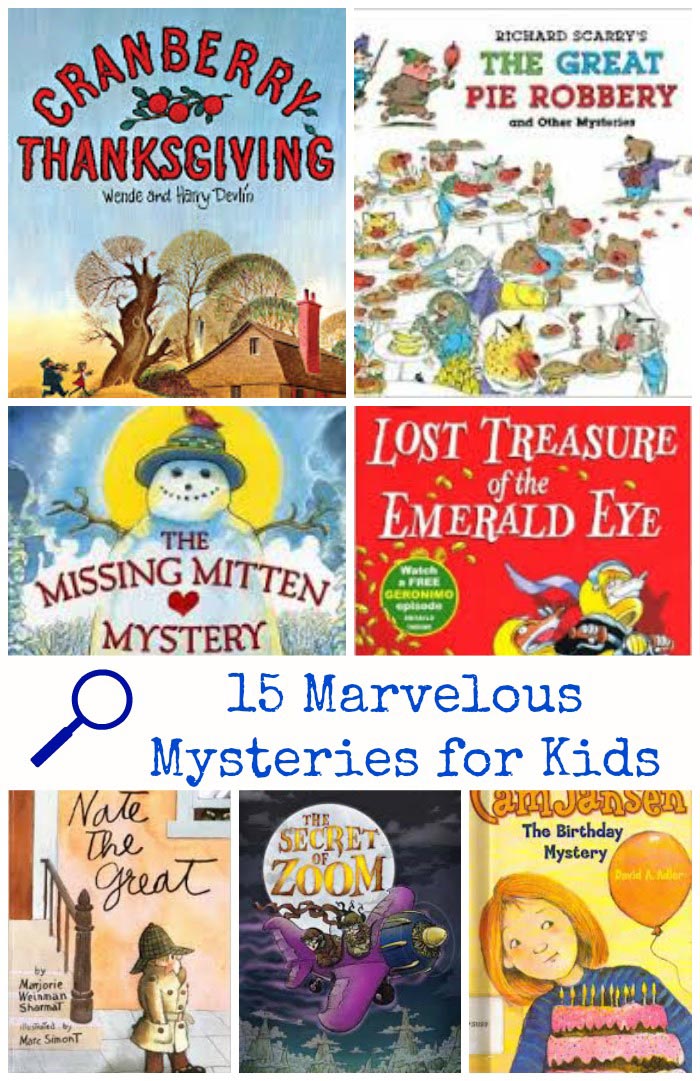 15 Great Mystery Books for Kids
Mystery books can be very appealing for kids of all ages, especially those who are just learning to read or might not enjoy reading. They are usually stories that intrigue kids to keep reading as they uncover new clues and information with each page.
Many kids LOVE the idea of searching for clues and puzzling through the details to solve the case.
And your kids will learn quite a bit as they read a mystery —
They build observation skills as they look and listen for clues.
They learn about anticipation — the desire to want to learn more!
They practice calculation — the skill of piecing together what they know.
And they make predictions — can you use what you know along with a 'skilled' guess to solve the mystery?!
Below we've included some of our favorite stand-along mystery books along with favorite detective & mystery series (so it's easy to keep reading if your kids get hooked on the genre!) along with affiliate links to each of the stories, some of our favorite sleuthing items and FUN mystery activities to pair with the books too!
One of the things kids LOVE to have on hand when they read a mystery is some cool dectective items:
a pad of paper and pencil is perfect for keeping notes (like this flip-open memo pad!)
a magnifying glass is a must for any sleuthing reader and
dressing the part is always fun — try this Sherlock Holmes hat for kids who aspire to be a detective!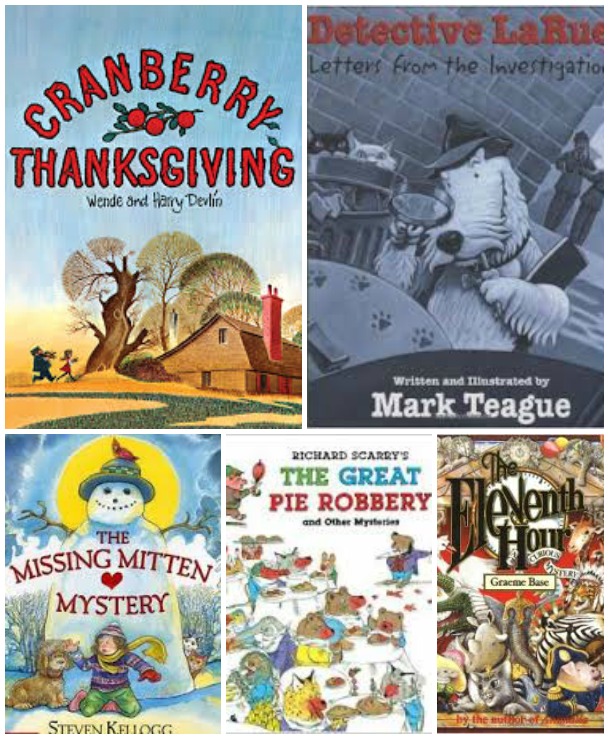 Mystery Picture Books

Richard Scarry's The Great Pie Robbery and Other Mysteries
This was the first ever mystery that I read as a kid and I LOVED it!
Sam Cat & Dudley Pig find fingerprints, look for clues and solve some very kid-funny mysteries. And the illustrations are excellent – kids can turn back and forth to look for their own clues on various pages.
The Eleventh Hour: A Curious Mystery
Another wonderfully illustrated book, Graeme Base has kids searching for clues at a birthday party. As all the animals help Horace the elephant celebrate his 11th birthday, they realize that someone has eaten all the food! There are so many things to see in the pictures and the book will appeal to kids, teens and adults.
Detective LaRue: Letters from the Investigation
Ike LaRue, the furry star of this book series, finds himself in jail and wrongly accused! When the Police can't solve the crime, Ike takes things into his own hands (I mean paws!). A very humorous tale with just as many laughs as clues.
The Missing Mitten Mystery
Finally someone has written a book about one of the most common things to happen during winter – losing a mitten! So many kids will be able to identify with this mystery as Annie and her dog head out to find her lost mitten. Readers will be entertained as they too search the pages for clues.
Cranberry Thanksgiving
Maggie knows the best thing about Thanksgiving is her grandmother's cranberry bread. But when the recipe turns up missing, Maggie & Grandma have a different opinion on who may have taken it. One of our favorite's for the season — and this book is part of a series (just search for the Cranberryport books by Wendy Devlin) so there's quite a few to read year- round.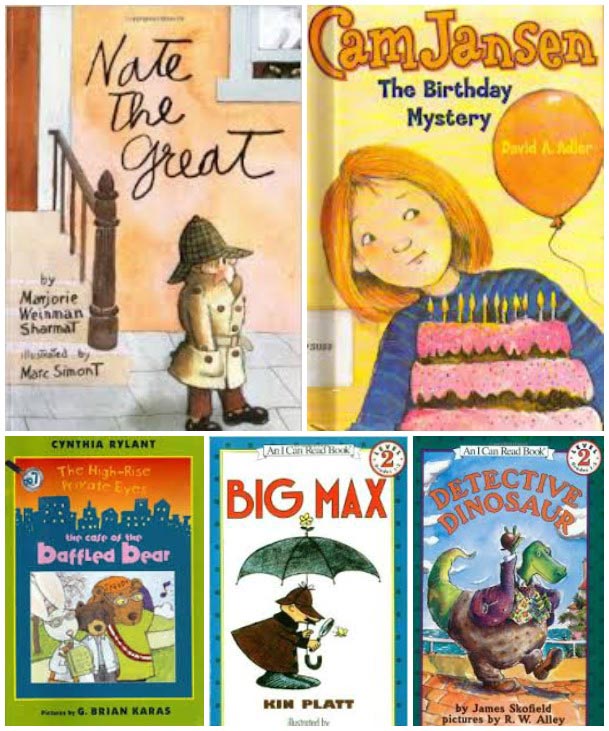 Daring Detective Books for Kids

Nate the Great
He loves pancakes, helps his friends and wears the coolest hat – what's not to love about one of the greatest kid detectives! Read along as Nate searches for clues, asks all the right questions and tracks down 'who done it'!
Since Nate is the same age as most of the kids who pick up these books, readers are drawn to his cleverness and the idea of being a pint-sized detective. Plus, it's a series — there are more than 25 Nate the Great titles for your kids to read!
Big Max and the Mystery of the Missing Giraffe
Big Max is the "World's Greatest Detective" and his out to find the missing giraffe in this book. This fun ER series follows Max (who dresses like Sherlock Holmes) as he sets out to solve some kid-friendly mysteries. Big Max is also a fun series for kids just starting to read on their own.
Cam Jansen: The Birthday Mystery
A more advanced ER series and one that appeals to many female readers, Cam Jansen is an everyday girl with an amazing ability – she can recall everything she sees! In fact, her real name is Jennifer but her family and friends call her "Cam" because of her photographic memory. Cam uses her memories to recall clues that many of us would miss as she sets out to solve mysteries at home, school and camp. And this is another wonderful series for kids — Cam Jansen has more than 30 books in the collection!
Detective Dinosaur
Another wonderful series for early readers, each book consists of short chapters where Detective Dinosaur solves a quick and easy case. Kids will enjoy piecing together the clues with this prehistoric sleuth! And since each chapter is an individual mystery, they are great for kids who don't like to "read a whole book" in one sitting.
The High-Rise Private Eyes #1: The Case of the Missing Monkey
I don't know what it was about this ER series but my daughter could not put them down! Bunny Brown and Jack Jones are on the case in these comical mysteries. The main characters remind me of the old 1940's sleuth films and my daughter just loved all the funny jokes woven through the story. These stories are both funny and quick reads — kids will enjoy breezing through the whole series of the High-Rise Private Eyes!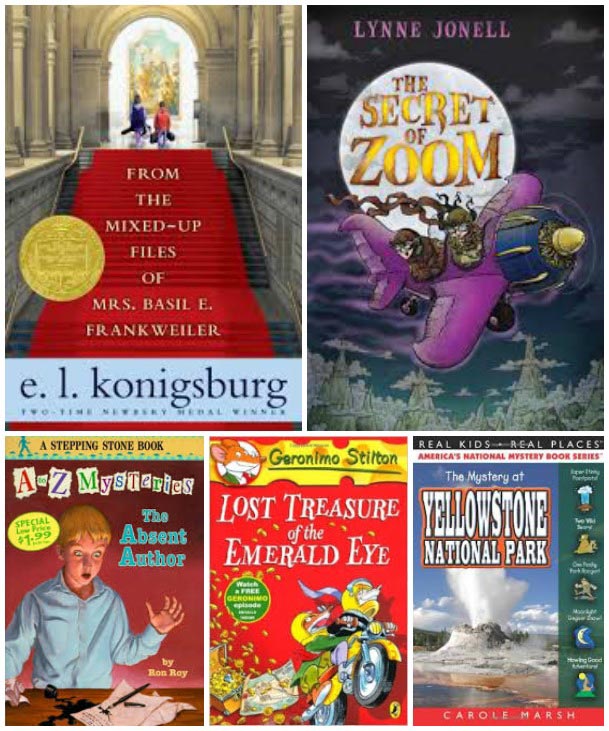 Mystery Read Aloud & Chapter Books
The Absent Author (A to Z Mysteries)
This is probably one of the most well-know mystery series for younger kids (ages 7 – 10 years) because of the ease of reading, short chapters and creative detective work of the main characters (who are always kids). There are 26 books in the A to Z Mystery series, one for each letter of the alphabet and yet each can be read as a stand-alone story too.
The Secret of Zoom
This is what we're currently reading and it's really, really good! Christina isn't sure what music, math, melting rocks and her mother's disappearance has in common but she's determined to find out! She and her newly found friend Taft set out to piece together the clues and search for the missing orphans on Starkian Ridge.
The Mystery at Yellowstone National Park
The perfect blend of fantasy and non-fiction – each of the Carole Marsh mysteries take place in real cities and locations around the world! Readers are introduced to the monuments, sites and factual details as they delve in to solve the mystery with real-life kids! We just love the combination of fictional mystery in a real-life setting! The series also has some outstanding add on activities that can be found on the Real Kids, Real Places website!
Lost Treasure of the Emerald Eye
Another hugely popular detective series for kids are the Geronimo Stilton books. When my son first brought home one of these books I was so impressed with the amount of color included in the illustrations and text throughout the book – they have all the beauty of a picture book wrapped up in a captivating store. Many of the mysteries are funny and fast-paced. Kids who enjoy these will also love the Theo Stilton series (Geronimo's cousin).
From the Mixed-up Files of Mrs. Basil E. Frankweiler
Claudia is not happy at home – so she hatches a plan to run away and live in the Metropolitan Museum of Art. She takes along her brother (who is the only one with enough money to finance their trip) and they begin their awesome adventure and take up residence at the museum. Then things get really interesting as they find themselves caught up in the mystery of the angel statue that may have been the world of Michelangelo himself!
This is a wonderful story for kids who hope to come across a real life mystery to solve on their own!

And of course, don't forget about those great mystery books that we grew up with as kids – The Hardy Boys and Nancy Drew mysteries are still quite popular among middle school and high school kids. In fact, there is a newer Nancy Drew series titled Nancy Drew and the Clue Crew which appeals to a younger audience (ages 7 – 9 years).
If you're looking for a great activity to pair with the books, be sure to check out the Fingerprint Science for Kids ideas!
Mystery Activities for Kids
It's always great to pair a hands-on activity with a book! Here's a few to try:
Fingerprinting Activity for Kids – search your home & collect real fingerprints!
Mystery Sensory Balloons — use the clues to find out what's hidden in each balloon!
Halloween Mystery Touch & Feel Game — a fun way to test your clue-finding skills!