We played outside all the time when I was a kid! Seriously, those had-to-be-called-in-to-eat type of days. Even on school days, I remember walking home with friends and talking about what we'd do that afternoon before dinner.
Just like this Come Out and Play! video (definitely brings me back to childhood) — "going out to play" meant using your imagination, exploring new places and feeling grown up because there weren't any grown ups around — just kids who were having fun.
Do you remember those feelings?
Sadly, play is disappearing with our kids. 70% of moms played outside when they were kids and only 31% of their kids play outside today.
And yet, play is such an important way for our kids to stay healthy & build life skills — learning to be independent, trying out a new idea to see if it works, negotiating and communicating with friends without an adult jumping in to solve the issue. Not to mention all the benefits of getting outside.
Play is vital for our kids!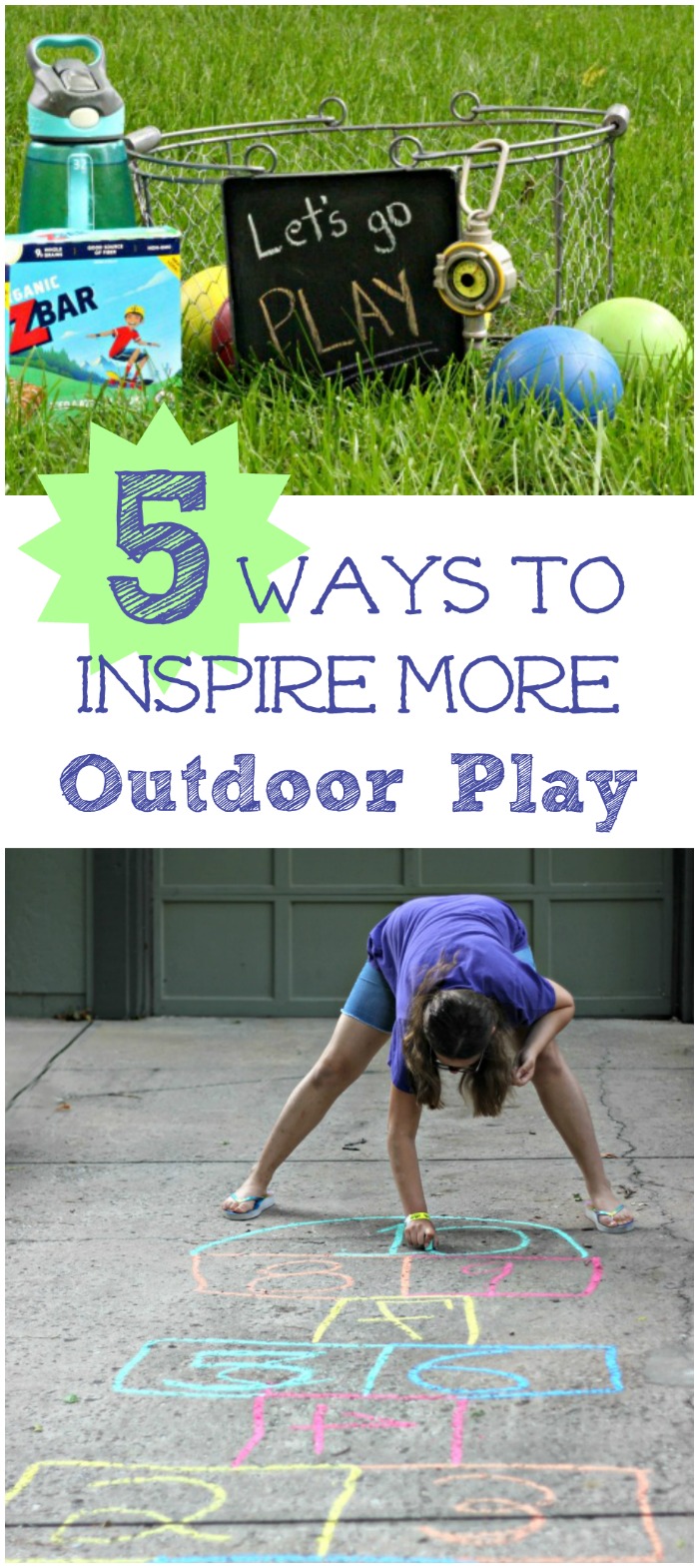 5 Ways to Encourage Kids to have More Outdoor Play
Today we are partnering with CLIF Kid — an organization dedicated to reclaiming play. We're encouraging boys and girls everywhere to get back outside, push their boundaries and feed their adventures!
I know this isn't an easy task for many of us — busy schedules now that our kids are back in school, the pressure that so many of us parents feel to 'supervise' playtime or be present 'just in case' they are needed.
Not to mention, the fact that our kids may not even remember how to play!
You know — when kids finally get a few free minutes where there's nothing scheduled and no one's 'prescribing' their activity — they are free to do anything they want to do.
That's the point when we might hear "Mom, I don't know what to do" or "I'm bored – there's nothing to do."
Just so you know — that's the first step toward learning to play 🙂 This is the wheels in your kid's head start turning and they begin to postulate some idea all on their own.
For example, when I looked out the window one summer and saw my kids had grabbed their sleds, pulled them up the playset and were using the sleds to slide down the slide. They were "in rockets and blasting off" that afternoon.
Sometimes your kids might need a little inspiration to get started on those play adventures — try these ideas to encourage them to get outside & play a little more: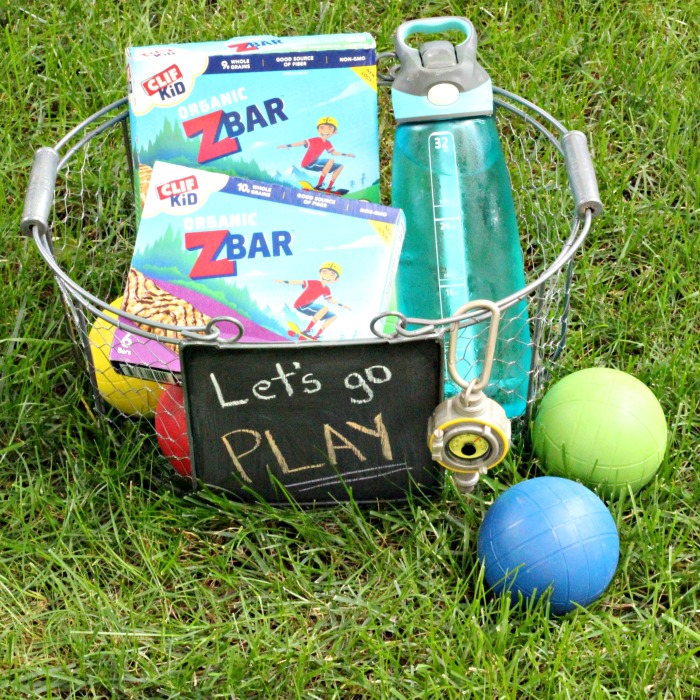 Create an Invitation to Play
Sometimes all it takes to get kids outside to play is a reminder of all the fun things they could do!
I like to leave 'invitations to play' at the backdoor or on our back porch — for example, a box of chalk or a basket (above) with bocce balls. You might also notice there's a compass hanging from the basket — another subtle hint at someplace to explore.
Invitations to play are eye candy for some outdoor time — they say "Hey! I haven't done that in a while!"
Other ideas for invitations to play could be: a frisbee, bubbles, taking some of their favorite 'indoor toys' outside for the afternoon, a long piece of fabric that could become a reading fort or a cape for a superhero or anything else your kids might dream up that day.
Nothing elaborate — just something that will spark their interest and imagination.
Picnic-type Snack-times
My kids are big 'picnic' style eaters 🙂
When they were younger, I started having snack time outside after school. I figured they were couped up inside all day long and needed some fresh air along with some time to unwind and just play. So we'd pack up a healthy *but fun* snack and head outdoors.
I'll be honest – this was one of my more brilliant ideas as a parent 🙂 Think about it — no clean up after snacktime because the crumbs are in the yard, fresh air and open space that encouraged them to get up and get active and their mood was so much better! They didn't have a backpack with homework staring them in the face, we didn't bring our phones or any electronics so they were more likely to talk and think about just playing.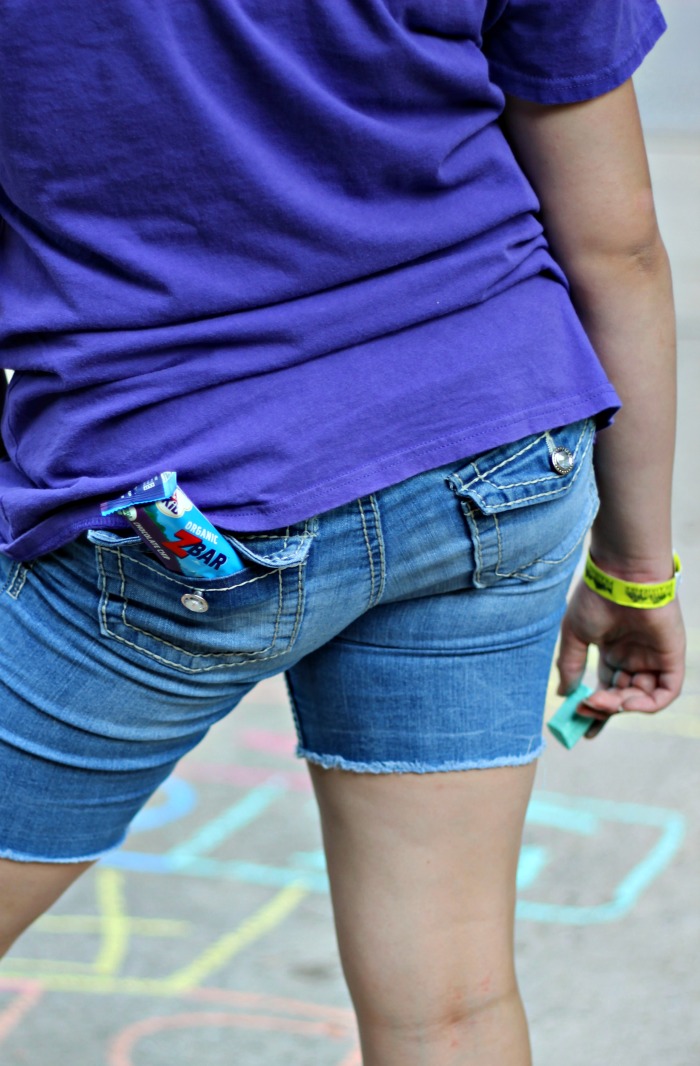 Since my kids always tell me they are "starving" after school, I love having protein-rich snacks on hand like the CLIF Kid Zbars®. I love them because they are the perfect portion size for kids, are made with organic ingredients and have no high fructose corn syrup or artificial flavors. My kids love them because of the taste! Chocolate chip, oatmeal cookie — flavors they like to have in their back pocket when we head outside after school 😉
Share about Play from your Childhood
Kids LOVE to hear stories about when their parents were younger — all the funny and crazy things you might have done when you were their age.
My husband & I are always telling stories about our neighborhood friends — how we would hike back to the creek to explore or play kickball after the sun set. I loved those skip toys that fit over your ankle — I would challenge myself to skip with it the whole way around my house 🙂 and it's one of the first outdoor toys I bought for my kids when they were old enough.
What did you play when you were a kid?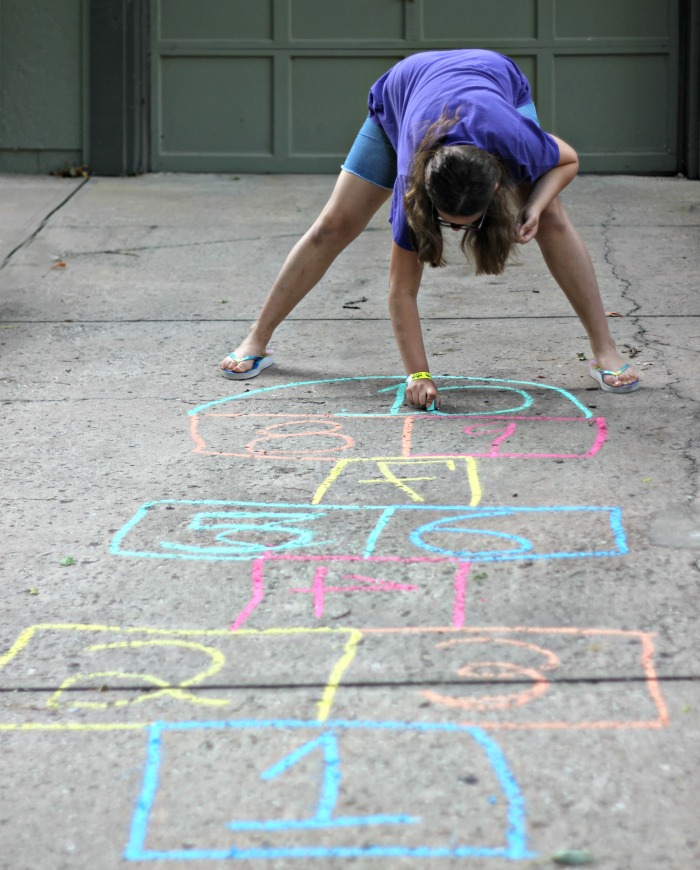 Teach Your Kids a Classic Game
Now I have nothing against Four Square or Tag but chances are, those are the games your kids play at recess. And it can get a little boring to play the same thing all the time, right?
So why not show your kids some of those classic games and play activities that we did as kids!
Do your kids know how to hopscotch?
Play badminton or bocce?
Jump rope or do hand-clapping to Miss Mary Mack, Mack, Mack … ?
How about homemade tin can stilts? Now those were awesome!
These outdoor play activities never get old — and chances are, your kids will teach them to their friends since some of the vintage games are 'new' to this generation.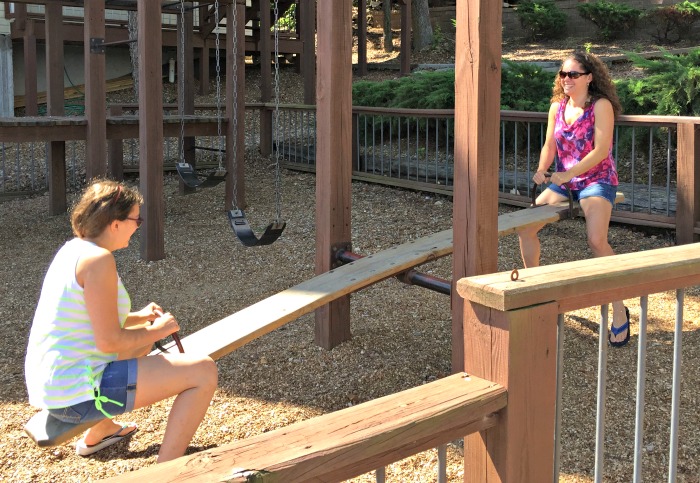 Try something new together
Recently, we went away for a long weekend and happened upon a play area that had a teeter-totter.
They are a rare find these days, aren't they?
And my daughter asked "What's that?"
Oh! My! Gosh! So of course, the first thing we did was drop everything and teeter-totter 🙂
This is a great example of why we love to stop by play areas when we travel – there's always something new to try together. My kids have introduced me to space nets (we had nothing like that when we were younger 😉 and I've shown them how we would 'put out lives on the line' at the playground (lol!)
Best of all, we're building memories together while we play.
MORE OUTDOOR ACTIVITIES:
40 Outdoor Scavenger Hunts for Kids
30 Games & Activities to Play at the Park
I was selected for this opportunity as a member of Clever Girls and the content and opinions expressed here are all my own.