Have you ever had an experience where a certain smell brings back memories?
It happens to me every year at this time — the scents of Christmas take me back to years past.The wonderful aroma of cookies, the amazing smell of a fresh tree — it's like I'm a kid again 🙂
So when I started brainstorming about which book we would feature as part of the Story Book Advent with Rainy Day Mum, it didn't take me long to decide — we were going to share an activity from one of my favorite childhood Christmas books!
The Sweet Smell of Christmas is a wondeful interactive scratch-and-sniff book!
The story follows Little Bear during the days leading up to Christmas as he encounters all the sweet smells around him — baking gingerbread cookies, the piney smell of the tree, hot cocoa *yum*.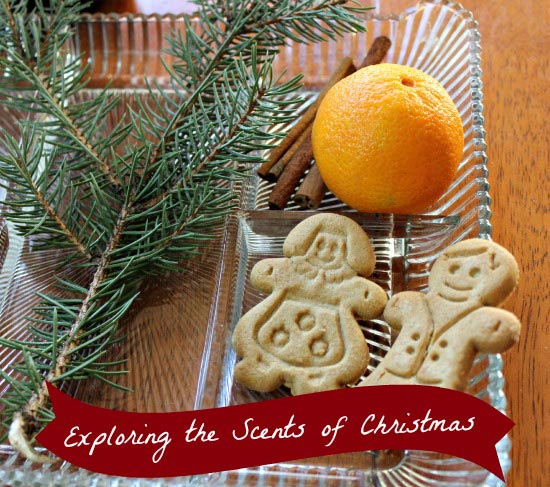 The Science of Smell: A Sensory Activity for Christmas
There are so many things I love about this book. First, it's a vintage read that was originally published in the 1970's. And you know how much I love sharing vintage books with kids (check out our full list of the best Classic Kids Books to see our favorites).
I'm also a huge fan of Richard Scarry and this story is written by his wonderfully talented wife, Patricia Scarry, with those endearing illustrations.
Plus, interactive stories are just so much fun for kids (I can remember reading this as a child and scratching the scented circles as we turned the pages).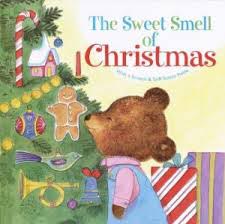 Even though The Sweet Smell of Christmas has it's own scents, we thought it would be fun to pull together a sensory activity based on all the fun holiday aromas.
Kind of a 3D version of the story for your nose 😉
This is also a great hands-on activity that explores the science of smell.
We're including details about the experiment along with affiliate links to items we used to create our science of smell activity.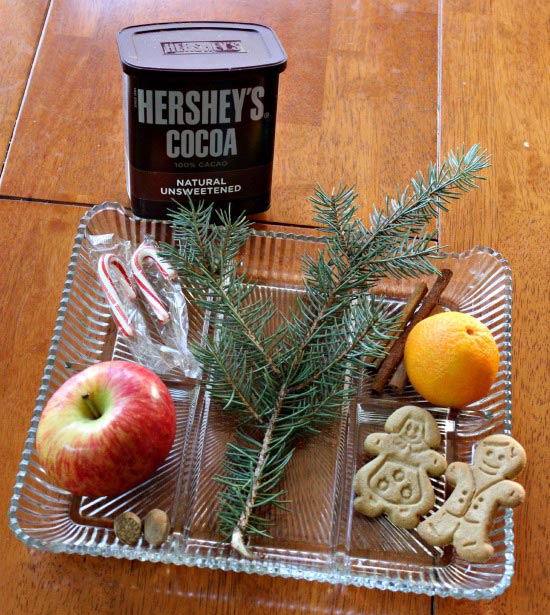 First up — gather your supplies!
The book shares six different scratch-and-sniff spots that kids can enjoy.
Based on Little Bear's experiences, we used the following items:
a branch from a pine tree,
an orange,
candy canes,
an apple and
some fresh spices (cinnamon sticks and nutmeg).
You can also substitute or add in any special scents you think would make the activity more interesting too!
And I recommend keeping an eye on the gingerbread cookies — those things seem to disappear when I turn my head (hmmm…wonder where they go 😉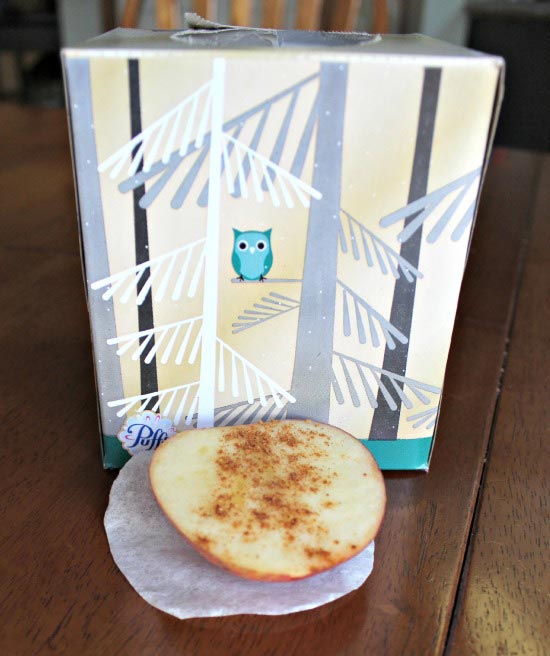 In order to replicate the smell of apple pie, we sprinkled some cinnamon and nutmeg spice on a slice of apple.
As a side note, it really tastes great too so be sure to eat it when you're done with the activity.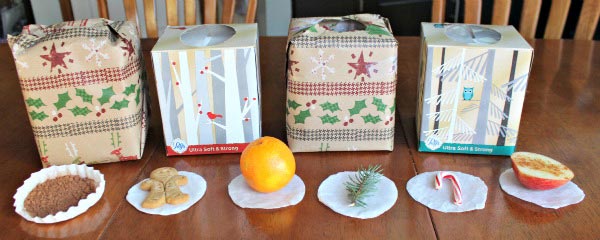 Now you can set up this activity in a few different ways.
For younger kids, you can lay out each item and have them take a wiff while you talk about it's scent. (Note: be careful when smelling cocoa powder as it can be inhaled — just place a small amount on a wet cloth or better yet, make a cup of hot cocoa 😉
You might want to open some of the items (for example, slice the orange and break open the gingerbread cookie) in order to get a stronger scent.
And did you notice we're down to only ONE gingerbread cookie — see what I mean about disappearing!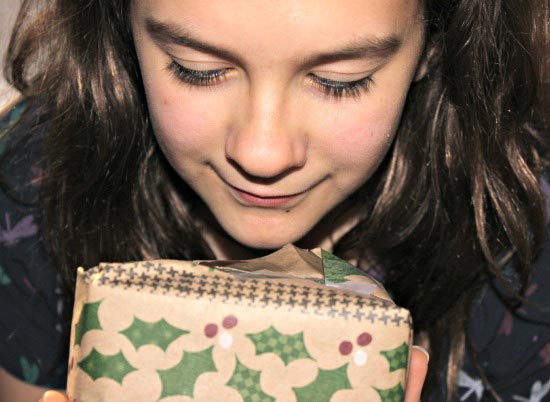 Another way to approach this activity is to put the items in empty tissue boxes (we wrapped a few and found some with a holiday theme). Then have the kids take a sniff of each box without looking inside — can they identify the item by its scent?
So what was our favorite smell?
My daughter's was the gingerbread cookies (no surprise there 😉
Mine was the pine branch — it reminds me of a walk in the forest which we love to do on our family hikes!
And we both loved the taste of the spiced apple slice — you should really try one!
If you're a fan of scratch-and-sniff books like we are, here are a few other titles to check out:
How Do Dinosaurs Eat Cookies?
The Gingerbread Family: A Scratch-and-Sniff Book
Daniel's Sweet Trip to the Bakery: A Scratch-&-Sniff Book (Daniel Tiger's Neighborhood)
More Christmas Ideas:
25 Ways to Slow Down & Enjoy the Holidays
100 Ideas for Your Advent Countdown
20 Great Stocking Stuffers for Kids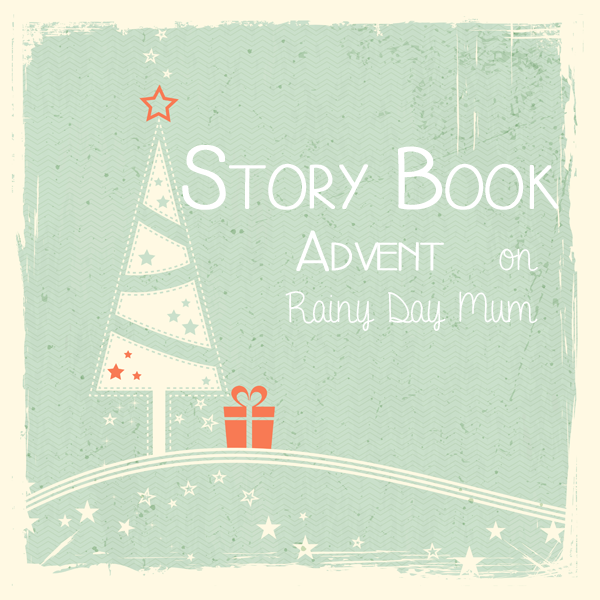 Be sure to visit the Story Book Advent page for more holiday-themed storybook play activities & crafts!