I am a member of the Collective Bias Social Fabric Community. This shop has been compensated as part of a social shopper amplification for Collective Bias and its advertiser. As always, all opinions and content are my own and I only recommend products that I use and enjoy!

I don't know about you but my kids tire me out — All. The. Time.
It's a good tired – wouldn't trade it for the world! Parenting takes lots of energy and I'm always looking for ways to stay healthy and full of energy. Luckily, I've found a few things that really work for me, and no, it's not hours at the gym.
My "keep Mom healthy" secrets include superfruits, natural probiotics and daily exercise!
I decided a long time ago that I wanted to be a parent who keeps up with the kids. I want to play chase and tag with them. And go biking, sledding and swimming – not sit on the sidelines. And it was also really important for me to find ways to fit in easy and simple healthy behaviors that I could stick with for a long time.
I'm one of those people who likes to make small changes that then become habits. One thing at a time, make it a habit, move on to the next.
And I need to make sure they are small changes that fit into MY life and schedule. It doesn't do me a bit of good to think that I'll make it to the gym five days a week when I know in reality that will never happen.
So here are 3 easy daily habits that help me stay healthy and full of energy –
Power Fruits with my Favorite Foods
I love baked goods — they are my Achilles' heel! For some people, it's a glass of wine or bowl of ice cream. I'll take a scone or muffin over those two any day! And I bake all the time (which makes it hard to avoid all those yummy treats).
I knew that I didn't want to give up baking or my favorite treats. So to balance out my baked goods addiction, I make sure to pair them with fruits that have a really big bang for each bite!
Super easy and man, they taste good!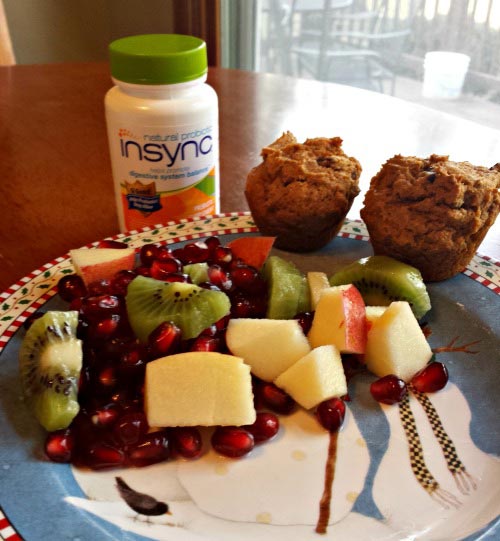 Fruits like apples, kiwi, blueberries and pomegranate make a quick & tasty fruit salad with my mini pumpkin chocolate chip muffins!
Some of these fruits are so easy to mix in with your regular diet. I toss berries and pomegrante seeds in my pancakes or bake them in muffins. You can make fruit kabobs with the kids — just put a variety of fruits on a stick. And many of them even taste great with ice cream 😉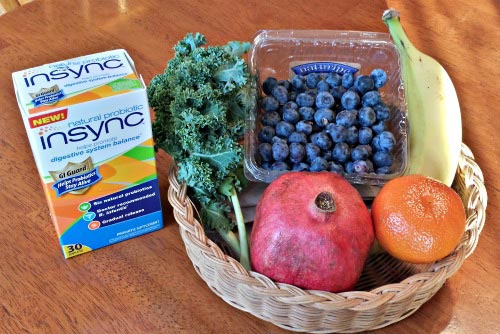 Other fruits are great grab-and-go snacks! Bananas, apples and oranges are what I grab when we're running to activities or I need a quick snack on the road while traveling. They're also great to sneak into the backpacks for morning snacks for the kids.
I also tried kale chips recently after two friends told me how much they loved them. They were right – really good and very easy to make. Another great way to add some kale to your diet during the winter months is to use it in soups.
Not all fruits are created equal — If you're going to eat something, make it count!
Natural Probiotics
I've long heard that probiotics are great to have in your daily diet. According to the research, they help to boost your immune system and help digestion. The catch for me — everyone's always told me to eat yogurt, but I'm not fan.
My kids love yogurt — seriously, they eat it like it's candy! I'm not crazy about the texture. But I know it's healthy so I've always felt a little guilty that I don't eat it more often.
Then I learned that natural probiotics come in a supplement (fist pump! no texture issues there!) So on one of my weekly trips to our local HyVee grocery store, I found Insync Probiotics in the Health and Pharmacy aisle.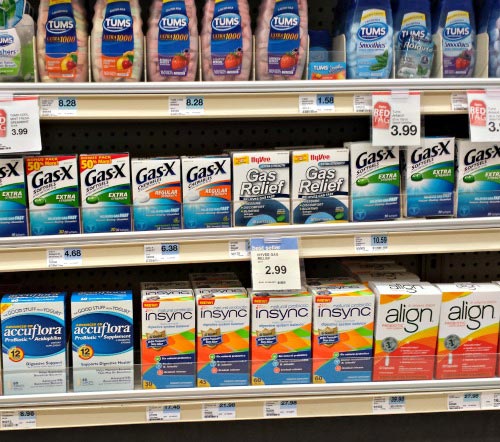 These probiotics are doctor recommended and include 6 strains of natural probiotics. They fit right into my goals – easy to take each morning with breakfast and another great step to keeping my body healthy so I can keep up with these insanely active kids! Plus, I can find them on my regular weekly shopping trip too.
Exercise Every Day
You might think this is a hard habit but it's really not as long as you make it fit your life. Here's the secret — find an activity that you enjoy doing and that makes you happy!
For me, I love the outdoors! Doesn't matter what the weather, having some time outside to walk, hike or do something active not only helps me stay physically healthy but also mentally healthy.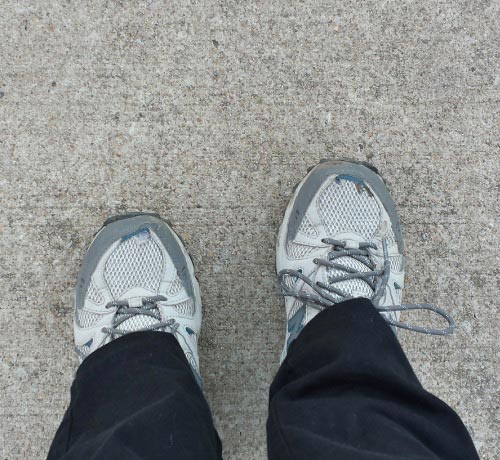 This is my view every evening – sneakers and a sidewalk.
I don't care that a polar vortex has come in and it's 5 degrees outside (seriously! I was walking in that last week), I'm out there every single day because I love it! The key for me is active time outside.
It's my "me time" — to get outside for some fresh air, listen to music I enjoy and clear my head!
And when I'm done walking, I always seem to have more energy. It's like a magical second wind that helps me get through the rest of the night, get the kids to bed, finish up things around the house and get some writing done before I crash.
So there you have it — my three secrets to staying healthy and upping my energy levels!
Life is so much more enjoyable when you feel good and can enjoy quality time with the kids.
So how do you stay healthy and keep up with the kids?
Leave your tips in the comments below!
You might also like: