The Black Hills/Badlands area is very expansive and Rapid City is the closest city to Custer State Park and Mount Rushmore.
There are a number of fun attractions in the area so we took a family vote on what we wanted to do. I'll be honest — this did not really work in my favor.
"Who wants to go see cute little bears who climb on your car and who wants to see slimy snakes?"
Yep, 3-to-1 in favor of the snakes.
I'm not a snake fan but the rest of the family loves them so off we went to Reptile Gardens.
Reptile Gardens
The attraction is located about 20 minutes from Custer State Park & Mount Rushmore and I was pleasantly surprised with how much there was to see – and not just snakes either (whew!). It's a very popular attraction which is open seasonally from April – November. We visited on a cool day (temps were in the 60's) and there was still quite a crowd.
Traveler's Tip: When you purchase your admission, make sure to ask them for a Vacation Pass. This will allow you to return to Reptile Gardens for FREE during your stay in the area. I LOVE that they offer this perk as there's quite a bit to see & do so it's nice to have the option to return if you'd like to later in the week.
Be sure to check the show schedule for the day. They offer 3 amazing shows and I would recommend seeing all of them if they are available during your visit. In between shows, you can tour the various exhibits in the Glass Dome, visit the other animals in the park or play on the playgrounds. Also, most of the attraction is located outdoors so make sure to bring a jacket/hat and sunscreen.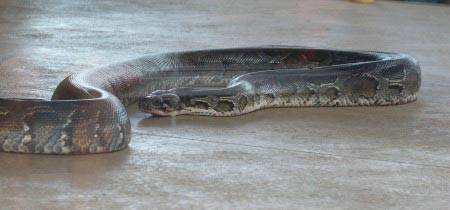 Don't worry – there's a glass window between you & this guy!
The Snake Show was our first stop (I figured that I should just 'man up' and deal with the slithery things). My husband is a big snake lover — in fact, he had them as pets when he was younger (which explains why my kids now want one).
During the show, a very knowledge (and brave!) keeper will introduce you to a variety of snakes – and yes, some are poisonous. There's a large glass window between the audience and the stage so if you're squeamish like me, that will give you a little comfort.
We learned quite a bit during the show; even my husband learned a few new things. The keepers interject quite a bit of humor throughout the show as they share a number of details about each reptile, its' habitat and features. Visitors will also learn how to identify a variety of snakes and what safety precautions to take if you should ever come upon one in the wild. And at the end of the show, the kids will be able to 'pet' a snake.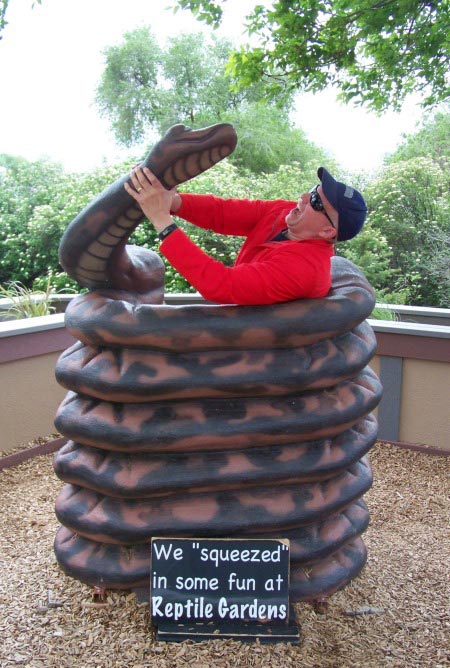 We headed over to the Gator Show next, but not before my husband got caught up in the snake's coils on the playground (great photo opp for the kids too).
During this show, we were able to see both alligators and crocodiles. The shows are nice because they are long enough to give you some interesting information about the reptiles but short enough to hold the attention of wiggly kids. Each show lasts about 25-30 minutes with interaction time at the end.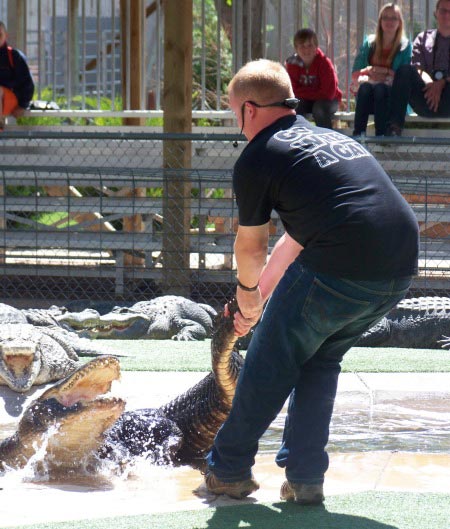 And if the alligator won't cooperate – you grab him by the tail!
If you thought the staff member at the snake show was brave, try getting in the cage with more than 20 gators. Oh, and the keepers FEED the gators & crocs during the show! We were all very entertained during this show – the presenter had a great sense of humor with the animals.
The big thrill – you can pet an alligator!
Here's Fluffy (I kid you not, that's his name) — a cool experience as none of us have ever touched an alligator.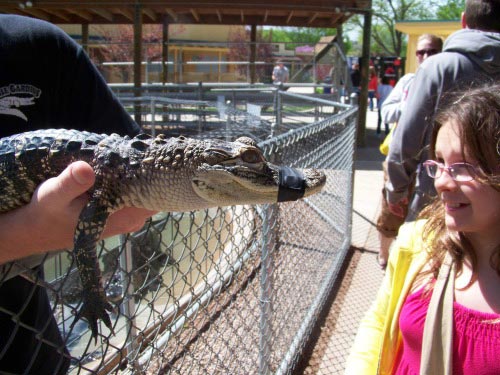 The last show is the Bird Show which was a great change from the reptiles. These are exotic birds and large birds of prey such as owls and falcons. First, we were introduced to a few talking parrots who put on a funny skit. We were also able to see a few large birds during the show.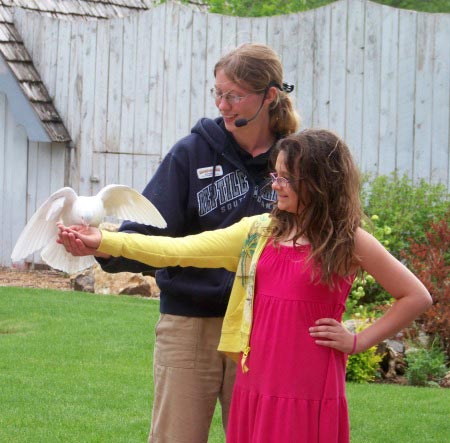 Kids will love the opportunity for volunteers from the audience to help out during the show. My daughter was thrilled when she was chosen to be one of the 'handlers' for the pigeons.
Don't miss the Glass Dome where you will see the majority of the residents of Reptile Gardens. They have a large collection of snakes, spiders, bugs and other reptiles who call this home. The dome has two levels with many different viewing areas. We spent more than an hour touring the exhibits and watching the animals.
One must see is Maniac, a huge gator who is more than 15 feet long and weighs more than 1200 pounds!
There's a beautifully landscaped tropical area at the center of the dome where you'll see many animals flying and crawling around you.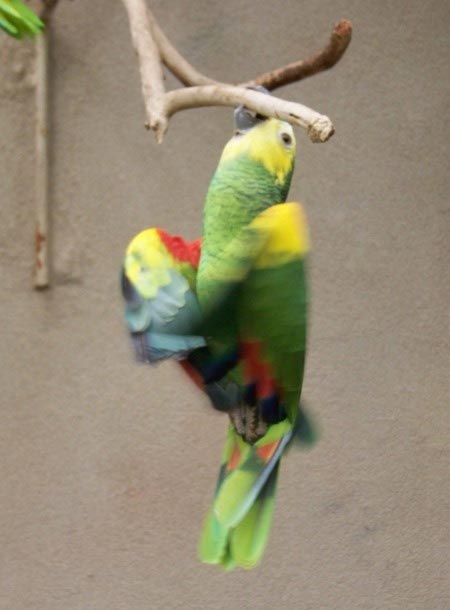 Some fun show-off parrots will entertain you with their tricks!
They also have a unique collection of entertainment items upstairs – fun house mirrors, a hen who will answer your questions and a number of fossils on display. We had a great time asking the hen questions that she would answer by pulling a lever – very unique attraction area.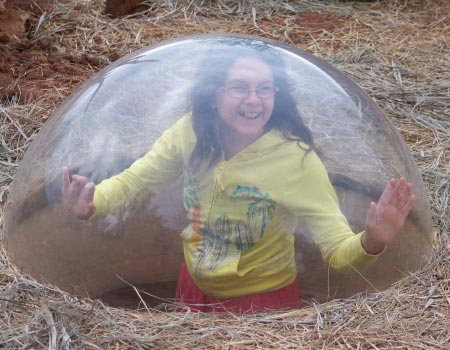 A few other areas to stop and visit include the giant tortoises and praire dog areas. Both of these are located near the back of the attraction so be sure to check your map. The kids can crawl under the ground and come up in domed areas to get a close-up look at the prairie dogs.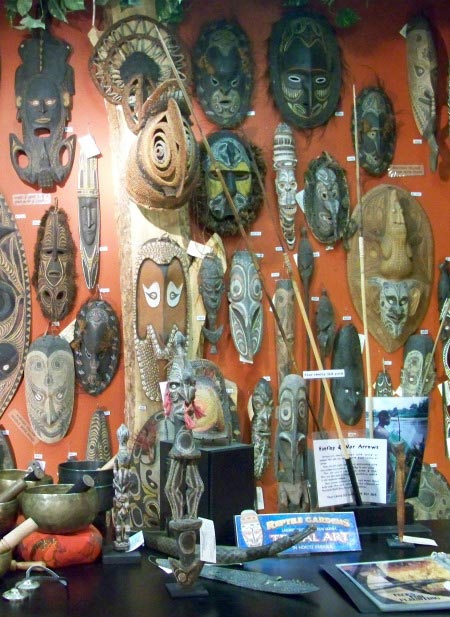 Your last stop should be the gift shop area but there's really something special here. Behind the large gift shop is the Outpost, an art gallery where all the items in the store originate from the same countries as the animals at Reptile Gardens. You will find original art from artists who live around the world.
We were very impressed with the carvings from tribes in New Guinea. Each piece of art has a story behind it and the shop keeper loves to talk about the people they work with from different villages and tribes.
Museum of Geology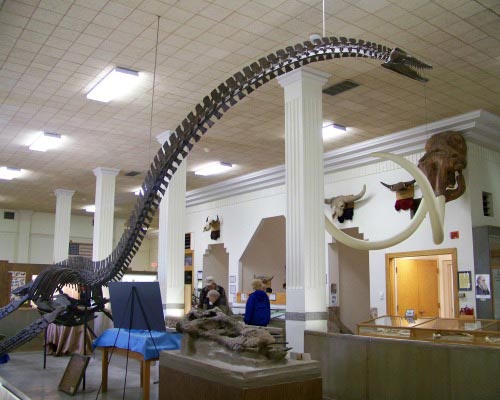 My daughter and I also spent a rainy afternoon touring a few fun spots in Rapid City while my son and husband hiked Harney Peak. She's really interested in fossils and rocks so we visited the Museum of Geology at the South Dakota School Mines & Techonology. The museum is free and open to the public (they do accept donations).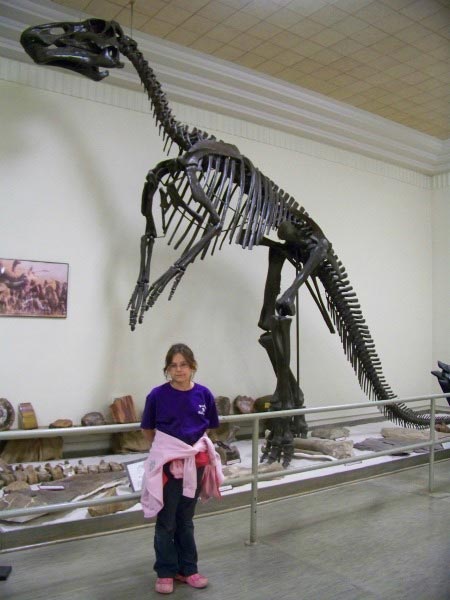 They house a HUGE collection of fossils, rocks and minerals from the area. Visitors are able to view a number of mounted skeletons and fossils; kids will enjoy the hands-on exploration area and the great exhibits. They also have a nice gift shop and museum staff love to answer questions about dinosaurs, fossils and rocks.
The museum can be toured in about an hour. Younger kids might want to play a little longer in the hands-on area and true rock hounds will definately enjoy a longer visit.
Storybook Island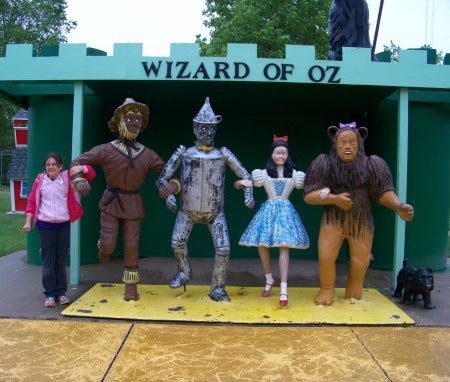 Rapid City is also home to Storybook Island, a free outdoor park that will be enjoyed by kids ages 2 – 12. The park is open from Memorial Day through Labor Day.
This is one of those dated parks that has so much charm! It still has the old type of playground equipment that we use to love as kids – merry go rounds that let you sit and spin and old statues to climb on — one of those places where 'time stood still'. My daughter just LOVED this place because it's so unique to her, nothing like all the boring new & safe playgrounds she has visited 🙂
The rain did not dampen her excitement as she ran from place to place to explore the different playsets. There are more than 30 different exhibits throughout the park. Kids can help Jack chop down the Beanstalk, step inside a whale, climb aboard a firetruck and locomotive and play with Raggedy Ann and Pooh Bear.
A few of our favorites: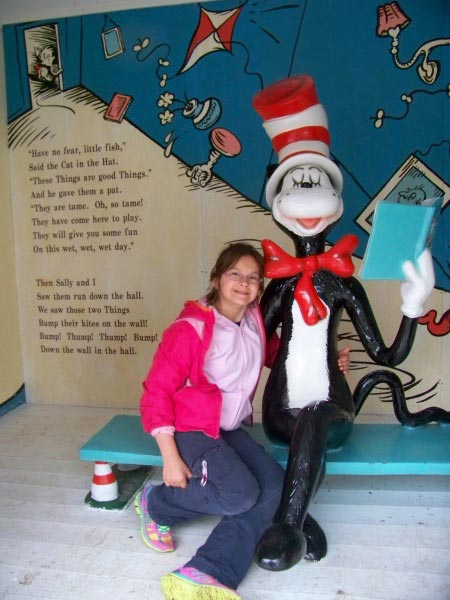 Stop to read with the Cat in the Hat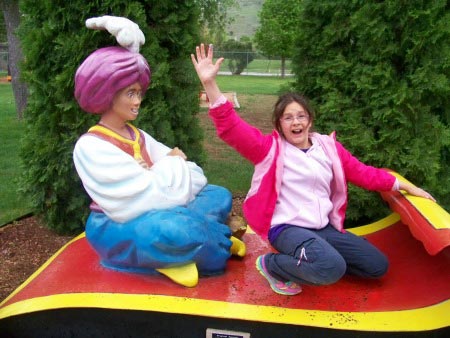 Ride with Aladdin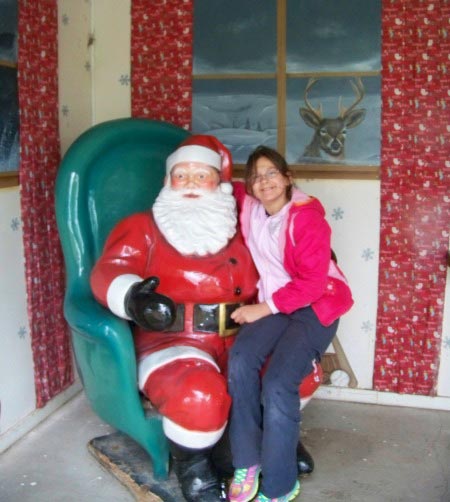 Sit on Santa's Lap
You can bring snacks or lunch to enjoy during your visit and there's also a cute gift shop with all things storybook. Toddlers will enjoy a special 'under 5' area where they can play and don't forget your camera!
For more information on attractions in the area, be sure to see the great lists at Visit Rapid City. And if you're interested in details about the Black Hills/Mount Rushmore area, see our post on Family Fun in the Black Hills of South Dakota.
We'd love to hear about your vacation experiences – be sure to leave us a comment and tell us about the fun places you've visited!
We'd like to thank Reptile Gardens for hosting us during our visit to the Black Hills. I received no other compensation for this post; as always, all opinions and ideas are my own – I only share places we loved!