Celebrate Chinese New Year and explore Chinese culture with these wonderful books and activiites!
Wouldn't it be wonderful to travel the world?
To be able to visit beautiful places and experience new cultures would be amazing!
But world travel is also expensive … and not so easy once you have a family.
Which is why I rely on using a variety of children's literature to introduce our kids to different cultures and places around the world.
Books are a great way to explore the world with your kids!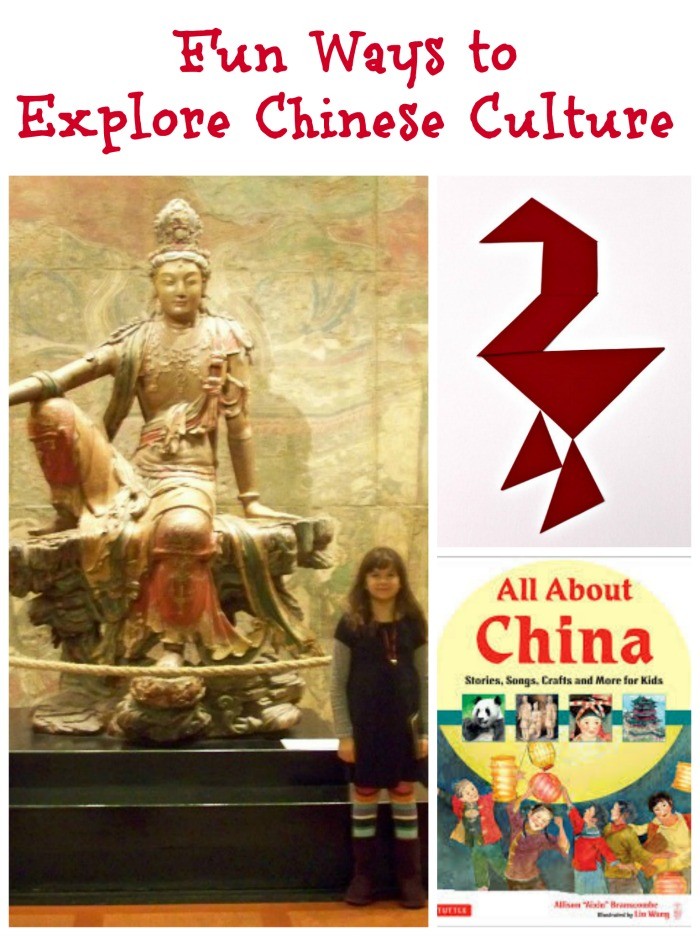 Learning about Chinese New Year & Culture
Books and stories are a great way to introduce kids to a new culture, theme or holiday!
Here are some of our favorite picks for Chinese culture and New Year along with affiliate links for your information and convenience.
Pictures Books for Chinese New Year

Happy New Year! / Kung-Hsi Fa-Ts'ai!
includes beautiful illustrations and a brief explanation of each tradition surrounding the New Year celebrations. A great book to add to your multicultural library!
Sam and the Lucky Money
is a story about Sam and how he decides to spend the money he's received for the New Year (a great book for young children with a wonderful moral!)
Ruby's Wish
is one of our favorites! Ruby is a young girl growing up in old China during a time when girls were expected to marry – however, Ruby wants to attend University instead and is persistent in finding a way to make this happen. The book is based on a true story – a must read for kids!
This Next New Year: Bilingual Edition
introduces kids to both Chinese New Year and another language in a fun & beautifully illustrated story.
Bringing in the New Year
follows the activities of a Chinese American family as they prepare for the Lunar New Year — everyone has a job to do in preparation for the celebrations! And Grace Lin is a favorite author of ours too!
Chapter Books
Older kids will enjoy learning about various traditions with these great chaper books that focus on Chinese New Year. These make great read-alouds for the family too!

A to Z Mysteries Super Edition #5: The New Year Dragon Dilemma
– Dink, Josh and Ruth Rose are in San Francisco during the Chinese New Year celebrations in this super-sized mystery. A great book for fans of the series.
In the Year of the Boar and Jackie Robinson
– one of our favorites! Shirley Temple Wong is new to Brooklyn in the year 1947. She's finding it difficult to make friends until a unifying activity happens – baseball & Jackie Robinson! This is an amazing book that introduces a number of different cultures and reminds the reader that America is a place where everyone can make a difference.
Tuttle Publishing also sent us a wondeful book about China to review — they have such an AMAZING collection of children's book titles that highlight world cultures, history and folktales.
For Multicultural Children's Book Day, we are sharing All About China: Stories, Songs, Crafts and More for Kids
. This is one of those books that has a little of everything!
To give you a brief overview, the book is 62 pages of stories, songs, games, crafts and resources! It's one of those books you will refer to as your kids grow — they might be interested in some of the songs and games when they are young and then will really enjoy the fables, recipes, writing and historic details once they are older. It's a wonderful book for kids ages 7 – 14 years old.
A few things in the book that we really enjoyed:
the maps! (we love maps)
the details of daily life in China
tips to Feng Shui your bedroom
learning about holiday customs and traditions
pronunciation guide for Mandarian
Book Activities for Chinese New Year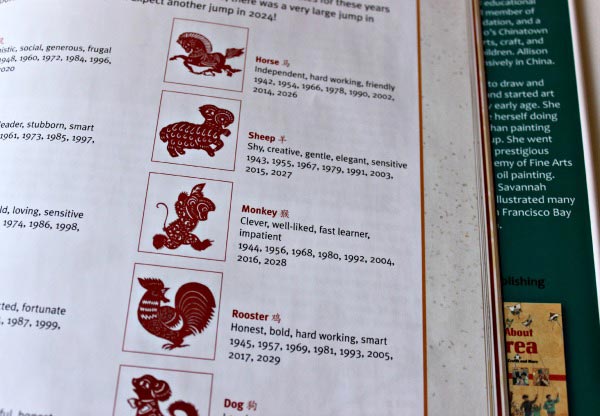 Learn about your zodiac sign!
We had a great time reading which sign belonged to each of our family members and deciding if the characteristics fit us.
2019 is the Year of the Pig — you can learn more about your own zodiac animal & traits here: Chinese Zodiac Animals & explanations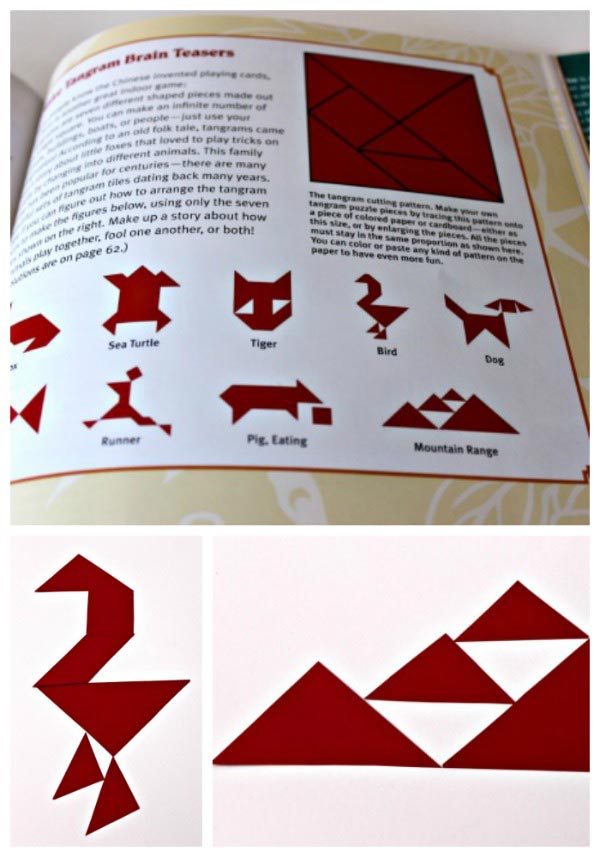 Play Tangrams!
Tangrams are shape puzzles — and a fun way for kids to practice math and strategic thinking.
The book has a beautiful list of fun challenges and a guide on how to decide your own tangrams — BUT …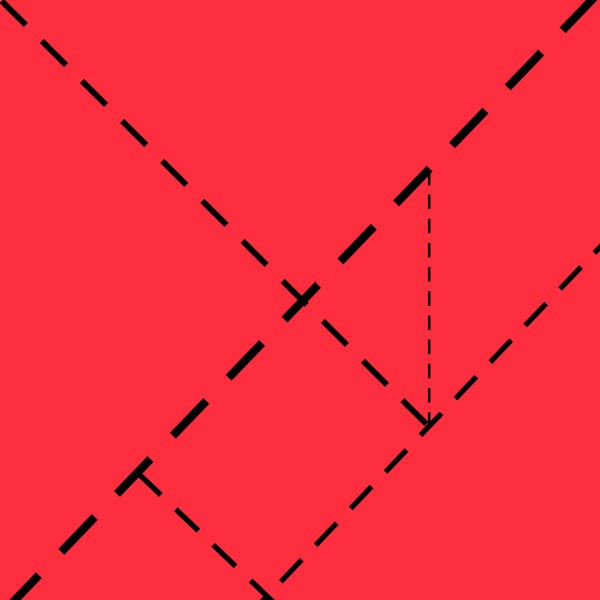 I always think it's so much easier if you have a quick way to get started so I created a free printable tangram sheet that you can use with the puzzles in the book.
Just print it off, cut on the dotted lines and you should have the following shapes:
2 large triangles
1 medium triangle
2 small triangles
1 square
1 rhombus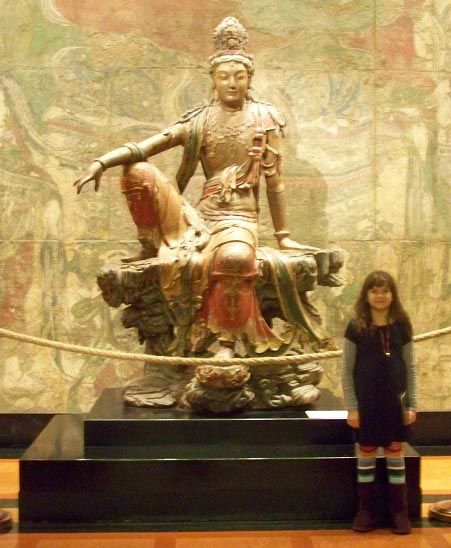 Take the book to a Chinese New Year festival or museum!
It's great to bring a book to life — visit a local art museum or New Year's festival so kids can learn more about Chinese culture and traditions.
My daughter was so enthralled with the 'Dance of a Thousand Hands' that we read about in the book so I thought I would share a video of it. Using the hands in folktale and dance has a long history in Chinese culture — it's really quite amazing!
I was also pleased to see the book included an "Opportunities for Action" section — a portion of book sales is donated to these nonprofit organizations and kids can learn more about each of the education, medical and environmental groups that help to support work in China!
Introducing Kids to Diverse Books & Literature
The goal of Multicultural Children's Book Day is to raise awareness about the importance of diversity in children's literature.
Our children need to see themselves within the pages of a book and experience other cultures, languages, traditions and religions in the stories they read.
When you visit the library or bookstore, be sure to introduce kids to books and book characters from around the world. There are so many wonderful books that share about different cultures and countries.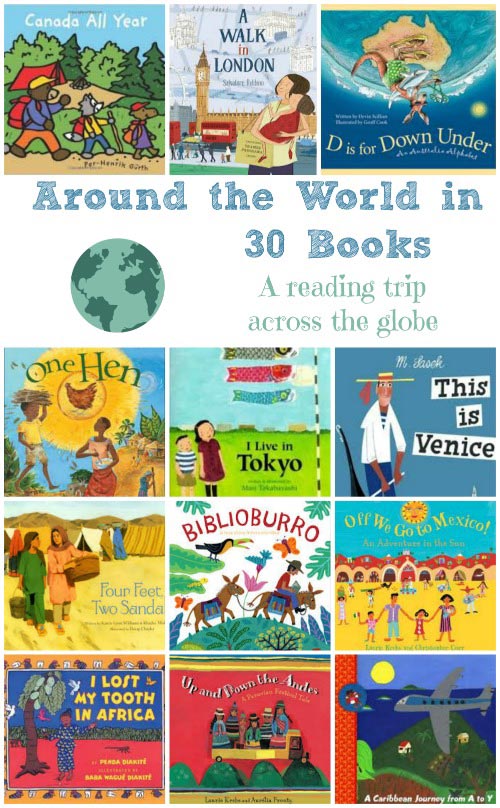 If you're not sure where to begin, try browsing the titles on some of our favorite books:
Around the World in 30 Books – A Trip Across the Globe — Edventures with Kids