Enjoy learning about the Winter Olympic Games with these kids' activities!
It's hard to believe that it's time for the Olympics again!
This year, the world will be watching all the winter activities in PyeongChang for the 2018 Winter Olympic Games.
It's a great opportunity to introduce something new to the kids — maybe a new winter sport or a quick tour of the globe to find the location of PyeongChang.
---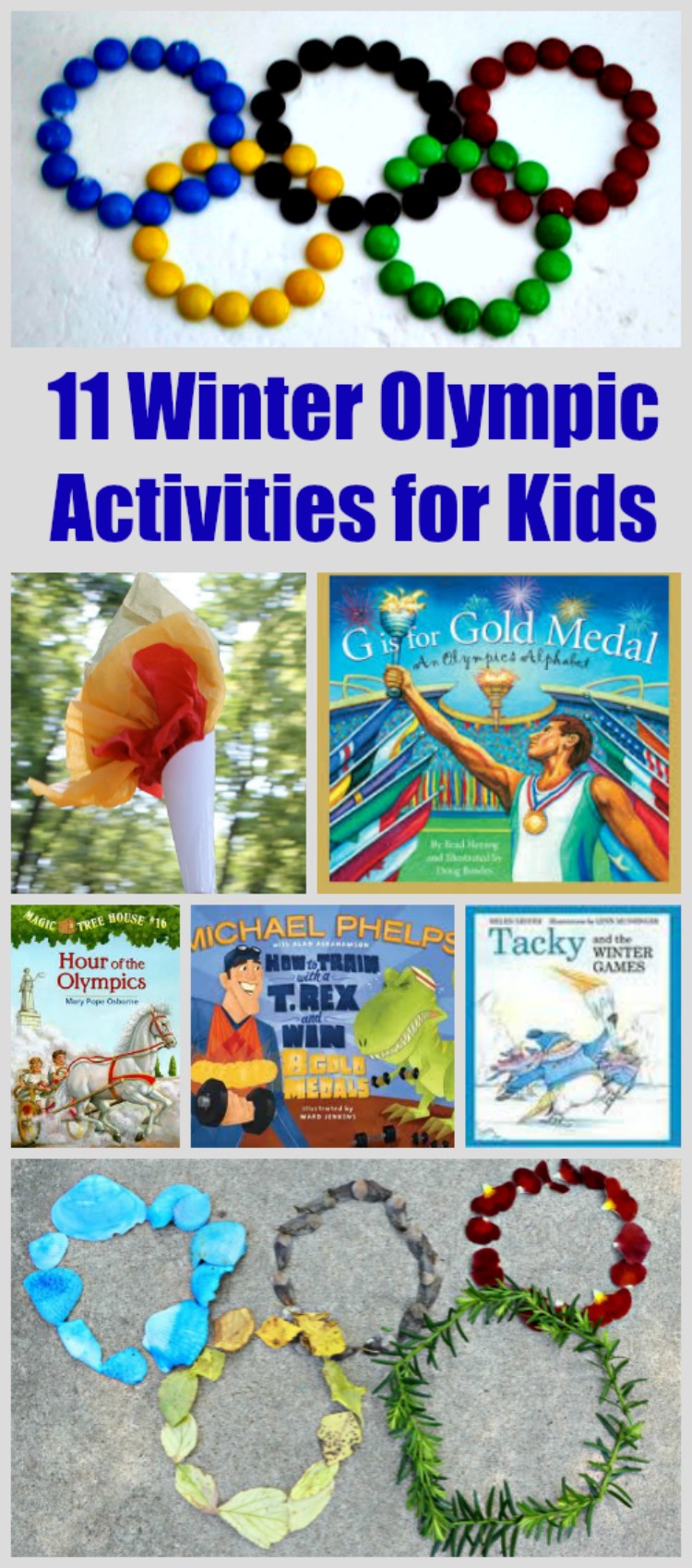 11 Winter Olympics Activities & Crafts for Kids
One of the unique things about the Olympics is that they happen every four years — which means your 8-year-old was 4 during the last Winter Olympics!
Or maybe you had a baby who is now interested in watching the bobsled and skating events this year.
Some kids will have taken up a sport since the last set of Olympics. Maybe you have a hockey player who can't wait to see the teams square off against one another.
Or even a teenager who dreams of traveling the world and is intrigued by the opportunity to see daily life in another country.
Each time the games begin, kids have a different outlook and interest in the two-week event.
Try using some of these resources to engage your kids in learning more about the sports, location and history of the Olympic Games.
You can also print off this FREE 2018 Winter Olympic Challenge Game and see how many activities your kids can complete to win their own medals!
Learn about the 2018 Olympic Games
Read a book together! There are lots of great kids books about the Olympics (both fiction and non-fiction) along with biographies about famous Olympic athletes.
Here's a few of our favorites with affiliate links for further information on the books:
Magic Tree House Fact Tracker #10: Ancient Greece and the Olympics
– great nonfiction facts about the ancient games.
Hour of the Olympics
– tavel with Jack & Annie back to the original Olympics.
G is for Gold Medal: An Olympics Alphabet
– TONS of details about all areas of the Olympics.
Geronimo Stilton Saves the Olympics
– fun fiction mystery read with your favorite mouse!
Tacky and the Winter Games
– great picture book for younger kids.
How to Train with a T. Rex and Win 8 Gold Medals
– LOVE the math and details shared in this story about Michael Phelps.
Explore PyeongChang, South Korea
National Geographic for Kids has some wonderful ways to explore South Korea on their website.
Use the videos to view some of the beautiful places and culture from around the country. Kids can also learn about the animals, geography and nature of the area too!
Another fun activity is to use some of the 10 Map, Geography & Culture activities to learn more about the location of the Olympics and the host country.
There are also some wonderful children's books that introduce kids to the culture, history and daily life in South Korea! We're including affiliate links to a few of our favorites so you can learn more about each of them.
All About Korea is perfect for kids ages 5 – 12 years old and shares stories, songs, crafts, traditions and cultural activities that can be done at home or in the classroom.
If You Were Me & Lived in South Korea is a multi-award winning non-fiction picture book that introduces kids to the Korean language, food, landmarks and daily live in the country.
Winter Olympic Sports for Kids
The Winter Olympics hosts 15 different sports — from bobsledding to figure skating, hockey to curling.
Head out and explore a new sport:
Spend the afternoon ice skating at a local rink.
Head to a sledding hill and have a bobsled or luge competition with friends.
If you've never tried skiing, now's the time! Many ski lodges will have equipment to rent. Or find a local cross country site in your area and enjoy an afternoon shusshing through the snow.
Olympic Activities for Kids
Be sure to visit these other posts for ideas on was to celebrate the Olympics this year!
2018 Winter Olympic Challenge Game for Kids — free bingo-themed printable with medals kids can win!
Kids Olympic Party or Field Day Event — includes a great way to make a DIY Olympic Torch!
7 Winter Olympic Activities that Get Kids Moving — ideas for integrating Winter Olympic sports into your activities!