I'm one of those parents that still believes in surprises during the holidays.
As in, I tell my kids you can make that Christmas list as loooong as you want to but there will be a few things under the tree that you never knew you wanted 😉
Each year, we brainstorm ideas for some unique gift that we can get each of them — something we just know they would LOVE but that probably didn't make it on their list.
We start by thinking about their current passions and obsessions. You know how kids get crazy for certain things — they become nuts over dinosaurs or horses, or all of a sudden they are infatuated with art or building. We like to find gifts that engage their minds and feed their curious side.
---
Creative Gifts for Your Child's Passion
One year, it was a telescope for my son. He started to get into other galaxies and space so it seemed like the perfect idea (and you know what, he's at college this year and studying space 🙂
My daughter has always been crazy for music. Recently, science kits have been high on the list too. And a few years ago she was crazy for whales — so we adopted her a whale that Christmas (which came with this great book, poster, tracking codes so we could follow its' migration and more).
The beauty of giving gifts that fit a passion is that the item will be well-loved and enjoyed for a long time, unlike some of those trendy but quickly tossed aside toys. For each area, we've included some of our all-time-favorites along with affiliate links so you can quickly learn more about each item — and to make holiday shopping just a little easier for you this year!
For Kids Who LOVE Animals
Let's face it, kids are drawn to animals. If you have a child who just can't wait for their next zoo visit, here are a few ideas:
Melissa & Doug Wooden Animal Nesting Blocks
are an amazing toy with lots of variety — there are pictures of zoo, farm, ocean and woodland animals on various sides of the blocks. Kids will also learn more about stacking, size, balance and pairing animals with their habitat. Tons of fun!
Inchimals
are great for preschool and elementary age kids! These cute animal 'rulers' come in various sizes and can teach kids about measurement, stacking, addition and more! They come with a book that includes fun math problems that kids can use with these hands-on manipulatives.
For Kids Who Adore Music
If you have a child that enjoys singing all the time, musical toys and instruments are a great gift choice!
Melissa & Doug Deluxe Band Set
is one of those toys we have had for years! It's a great option for inpromptu music play, always comes in handy when we need an instrument for something and has stood the test of time (and one bull-in-a-china-shop toddler!).
I love that the instruments are made from wood or metal — very sturdy. The only item not included that my kids really wanted was a drum so we paired it with the Little Tikes Tap-A-Tune Drum
And it's such a great set to have for some holiday caroling too!
This was one of those toys we got as a gift and the kids figured it out so much faster than us parents 🙂 The Munchkin Mozart Magic Cube
teaches kids how to recognize the sounds of different instruments and put them together as they create music.
It's a highly interactive toy that allows you to add and subtract instruments while the songs are playing. An excellent addition to any playroom!
For the Builder on Your List
For kids who love to stack, create and engineer amazing structures!
Another toy that has stood the test of time is our Geomag Color Variety Game Set. This is a magnetic building set with rods and balls that magically connect (well, not magically but that's what the kids will think 😉
We love that you can build, bend and manipulate the pieces. And it comes in very handy when we are discussing shapes or need to construct something for math homework. And younger kids will enjoy the Magformers Rainbow 30 Piece Set
which allows them to create magnetic structures with various colored shapes.
If There's a Mini-Einstein in Your Home
For kids who love to ask How? and Why? — try some of these interactive science kits this year!
For older kids who like to explore power and weather, the 4M Dynamo Torch
and 4M Weather Station Kit
let them create and learn about a specific area of science.
Another toy we have and love are the snap circuits sets! The Elenco Snap Circuits SC-300 Physics Kit
is a great place to start – kids connect the various pieces to create different types of circuits. Make things light up, create fun sounds and learn about physics and currents! And if you have kids who like to play with colors, try the Elenco Snap Circuits Lights
set.
Start younger kids off with this great Primary Science Set
perfect for kids ages 4 and up! The'll enjoy playing scientist and making new discoveries.
Another great science tool for kids ages 8 and up is a microscope. The Educational Insights Nancy B'S Science Club Microscope & Activity Journal
gives kids a way to see the micro world around them while writing about their new finds. Our kids loved looking at lettuce leaves, a strand of hair and even water under the microscope!
Don't forget the small stuff!
And one place I LOVE to tuck a few surprises are in the stockings! I always find some awesome retro items (you know, things that just require an imagination 😉 This year, Land of Nod has this AMAZING offer of $6.95 flat rate shipping no matter how much you order and they carry some awesomely cool items!
Take a peek at some of these one-of-a-kind toys that would be perfect to tuck in a stocking:
There are also some great toy brands to keep in mind when looking for educational items that will fuel your child's curiosity & passions -- you can learn more about the toys and games from each of these companies with the links below:
Tedco Toys
has some excellent science explorations toys & items.
Educational Insights
offers great hands-on toys & maniuplatives for fun and learning.
Smithsonian has a great assortment of science kits.
LeapFrog
toys are perfect for toddlers & preschoolers.
Discovery Toys
feature wonderful hands-on items for babies, toddlers & preschoolers.
and MindWare
offers fun games with a learning twist!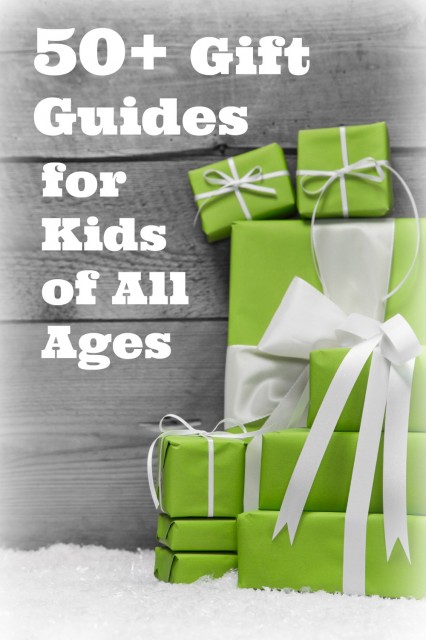 Be sure to visit our main Gift Guide page for more than 50+ Holiday Lists full of ideas for the whole family!
For more fun ideas, visit these other gift guides too:
7 Gift Ideas for Creative Kids

'