There are so many benefits to getting kids more involved in the kitchen — kids are more likely to try new foods, more likely to eat a wider variety of foods and less likely to complain about what's being made for dinner 🙂
But what to cook?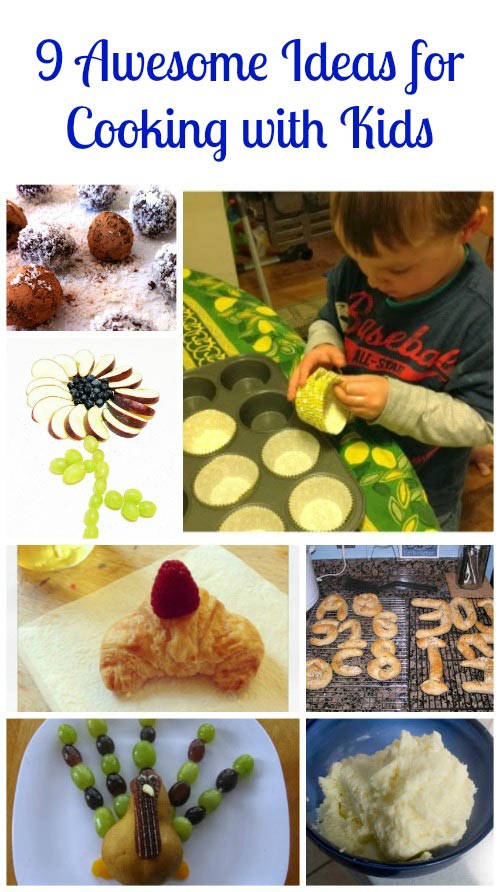 Kid-friendly Cooking Activities
Some of our creative friends shared a number of kid-friendly recipes that can be made almost entirely by the munchkins! Well, ok, there should be a little supervision from Mom or Dad (especially if there's any stove top involved) but turn over the cooking reins to the kids and see how they do!
Fruitful Turkey — JDaniel4's Mom
No Bake Chocolate Oat Balls — Powerful Mothering
Applesauce — Finding Teachable Moments
Homemade Butter — Life with Moore Babies
Soft Pretzel Letters & Numbers — What do We do All Day?
Banana Lollipops — Adventures in Wunderland
Create Food Art — Living Montessori Now
Applesauce Spiced Muffins — Kitchen Floor Crafts
Food Trays from Around the World — A Day in the Life of a Preschool Teacher
If you're looking for more fun & easy recipes, visit our list of Great Cookbooks for Kids to find some wonderful books that teach cooking skills.
More Life Skills Ideas from the Discover and Explore Co-hosts
Holiday Volunteer Activities for Families (KC Edventures)
Encouraging Toddler Independence at Snack Time (Buggy and Buddy)
Encouraging Independence and Creativity with a Creation Station (Fantastic Fun and Learning)
Promoting Life Skills in the Preschool Classroom (Teach Preschool)
Playing with Language (Twodaloo)
You might also like: