Summer Reading: Day at the Lake or Beach
Heading to a lake, beach or ocean this summer? Here's a list of books to bring for additional fun! Kids can learn science topics, explore items they may find one their visit or enjoy some downtime under the beach umbrella.
Clam-I-Am! All About the Beach by Tish Rabe
Learn about starfish, crabs, jellyfish, seagulls and more in this Cat in the Hat Learning Library book that features all kinds of creatures that can be found at the beach. Some of the science and nature topics also include tips about seaweed, drift wood, tide pools and waves. A must read for anyone visiting the beach this year!
What Lives in a Shell? by Kathleen W. Zoehfeld
This wonderful Let's-Read-and-Find-Out Level 1 science book is wonderful for younger kids. Kids love looking for and collecting shells on their visit to the beach. This book helps to enlighten kids on what types of creatures call a shell a home and how they use or find these homes.
Harry By the Sea by Gene Zion
Our favorite dog, Harry, travels to the seaside for a vacation. While on his vacation, he in entangled in a patch of seaweed and mistaken for a sea montster. Kids will enjoy this funny and charming picture book!
The Berenstein Bears Go on Vacation by Jan & Stan Berenstain
The Berenstain Bears are headed to the seaside for a family vacation. Travel along as the Bear Family swim, fish, build sandcastles and explore the town! Kids will enjoy comparing their own family vacation to the beach with that of the Berenstains.
Flotsam by David Wiesner
A beautifully illustrated, wordless story about a boy who visits the beach in search of 'flotsam' – anything that floats and has been washed ashore. He discovers all kinds of treasures, but none more facinating than an underwater camera with some amazing photos! Kids will love discussing all the amazing things they see in each picture.
The Magic School Bus On the Ocean Floor by Joanna Cole & Bruce
Go on another amazing field trip with Ms. Frizzle and the class as they explore the depths of the ocean. Kids will learn about coral reefs, water vents and various plant and animal life along with the class. One of the more amazing books in the series, the reader is introduced to many things in great detail with many fun and interesting facts.
Paddle-to-the-Sea by Holling C. Holling
A young boy carves a small canoe and rider out of a piece of wood. He names the rider Paddle-to-the-Sea and sets him off on a journey in the Great Lakes. Paddle travels through all five Great Lakes, up the St. Lawrence and out to the Atlantic Ocean. He meets a number of obstacles and some helpful people along his trip. An award-winning story that highlights nature and geography at its best!
Gone Away Lake by Elizabeth Enright
Two siblings travel to the country to spend the summer with their cousins. While there, they discover a forgotten lakeside resort that has been hidden away from the world. What will they find as they being to explore the old ghost town? A great summer read-aloud for kids of all ages.
Magic By the Lake by Edward Eager
Four siblings set off for summer vacation at a cottage near a lake with their mom and stepfather. While there, strange things begin to happen when the children make wishes. How are these wishes being granted and what wonderful adventures will the children take this summer? This sequel to the book "Half Magic" is highly recommended as a read-aloud for any age or chapter book for older kids.
The Mystery on the Great Lakes by Carole Marsh
This new series by Carole Marsh incorporates some great non-fiction information into a fictional mystery story. Climb aboard a boat that travels through all the Great Lakes and encounters many mysteries at lighthouses, shipwrecks and islands along the way. Kids will enjoy learning some fun facts about our Great Lakes!
You might also like:
Fun Books for your next Camping Trip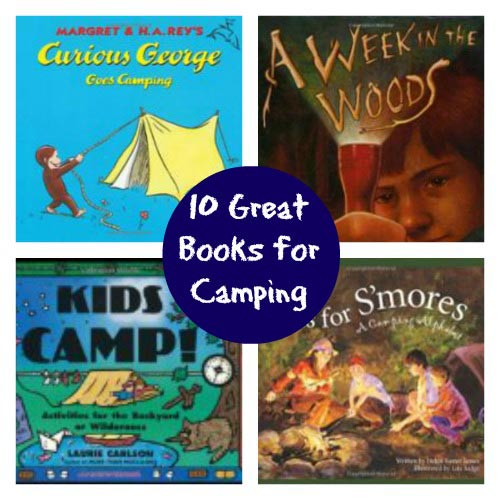 This post also contains affiliate links as a courtesy to my readers. If you choose to purchase an item, we may receive a small commission from that purchase; we'd like to Thank You for supporting us in this way & gratefully appreciate your patronage.