Hello, Hello! And most of all — Happy New Year!
I hope you had a wonderful time ringing in the New Year. We all slept in today (which is a real treat in our house) and are getting a slow start to the new year. Slow is good, right.
And we are also kicking off the new themes for the winter/spring Discover & Explore Linky today (yea!!). We have four amazing blogs hosting the linky each week and we all love to see all the great ideas and fun activities that are shared.
This week's theme is "The Best of 2013" — if you're a blogger, we'd love to have you share your favorite post from the past year.
First, I'd love to introduce you to each of our co-hosts by sharing my favorite post for each of their blogs —
Fantastic Fun & Learning
Shaunna blogs at Fantastic Fun & Learning where you will find AWESOME ideas and activities for kids ages toddler through kindergarten. She shares some great themes that involve the ABC's, math, science and more fun ways to learn. One of my most favorite posts from Fantastic Fun & Learning is their Seed Science Investigation post! It's a wonderful invitation to explore for kids of all ages.
Buggy & Buddy
Our next co-host joined us this past winter. Chelsey is the brains behind Buggy & Buddy, a wonderful place to find creative art and learning activities. She comes up with some really unique ideas and also shares some beautiful handmade items for kids! I love her Salt Art Project for Kids using colored salt and your imagination to create a beautiful piece of outdoor artwork.
Fireflies and Mudpies
And our newest co-host is Melissa from Fireflies and Mudpies. Melissa shares some wonderful ideas for nature activities and creative projects that are easy to do. We both share a love of vintage items and I just adore the Craft Stick Puzzle that she created using old pages from a Christmas storybook! You can use any type of book for this project which can easily be completed in less than an hour and enjoyed by the kids.
Edventures with Kids
I'm so thrilled to be co-hosting with these amazing ladies!
And what was one of the favorite activities at Edventures with Kids this year? We really enjoyed the ABC Architecture Scavenger Hunt — my daughter still scouts out letters that we find in the oddest places.
Here's the full list of our themes for that will take us through the winter & spring so be sure to visit us each Wednesday for tons of creative ideas!
We will host our feature post in the morning when we highlight the best ideas from the previous week and the new linky will go live each Wednesday afternoon.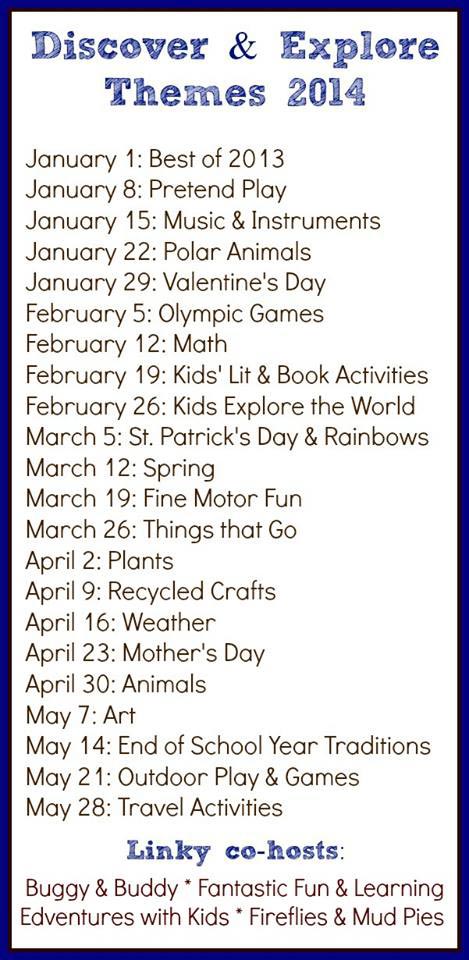 Share Your 'Best of 2013' Activities
So what was your favorite activity from the past year? Please share one of your best posts (it can be anything you'd like — most loved by readers, most pinned, the one you enjoy the most…) and be sure to hop around to see the best of everyone's kids activities! It's a great way to find some new ideas and get inspired for a fun 2014.
Fantastic Fun & Learning ** Buddy & Buddy ** Fireflies and Mudpies

Please read the following guidelines for sharing:
Share family-friendly posts related to the weekly topic — kids activities, crafts, recipes, nature outings, printables, etc.
By linking up, you are giving me permission to share your post including one photo in our weekly feature post and on social media channels.
Visit 2-3 other posts that have linked up, find some new ideas & meet new friends!
If you'd like, grab a button for your post — we love to share and want to find lots of great activities to highlight for you!
Each of the host blogs will feature some of the outstanding posts the week following the linky!