Enjoys this Gingerbread Scavenger Hunt — a fun Christmas game to play with kids and SO easy to put together!
When our family visits during the holidays, we've been known to entertain them with a few minute-to-win-it holiday challenges and a good game of Christmas charades is always great for getting the kids up & moving.
I love fun games that could be played either inside or outdoors and also one that is super easy to prep & play (the holidays are already busy enough so I don't need to stress myself out with 'complicated').
And the big plus — this game can be played with kids of all ages!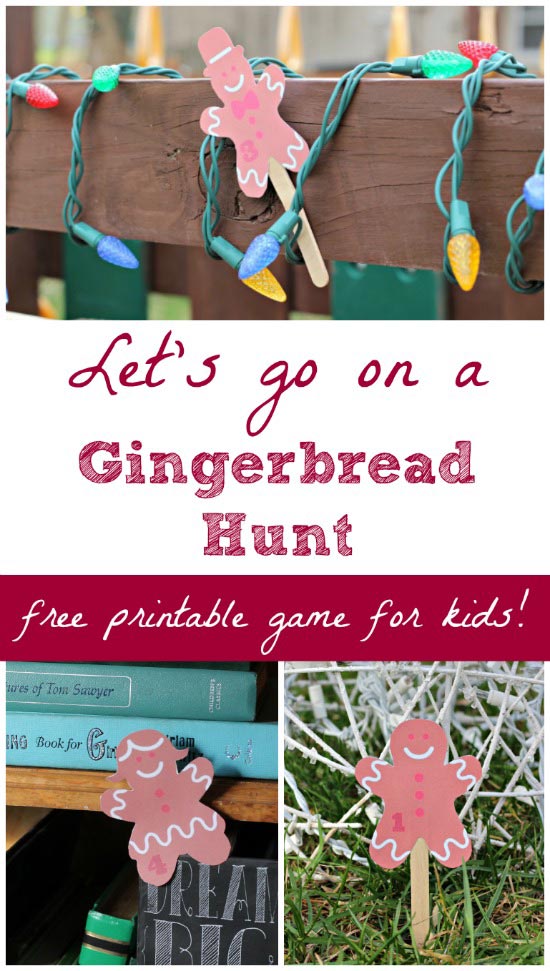 Christmas Games: Gingerbread Scavenger Hunt
Whether you're setting the game up as a surprise or using it for a class party or family gathering, it should only take about 15 minutes to get it all together.
I'm including 2 sets of free printables for this Christmas game along with affiliate links for items we used on our set-up —
the first page of free printables includes plain gingerbread people and
the second set includes numbered gingerbread people which can be used in a few ways (I'll share those below).
And it's easily paired with some of these wonderful gingerbread-man themed books too:
Gingerbread Christmas
The Gingerbread Man Loose at Christmas
Gingerbread Baby
And one of our favorite (very clever) retellings is The Library Gingerbread Man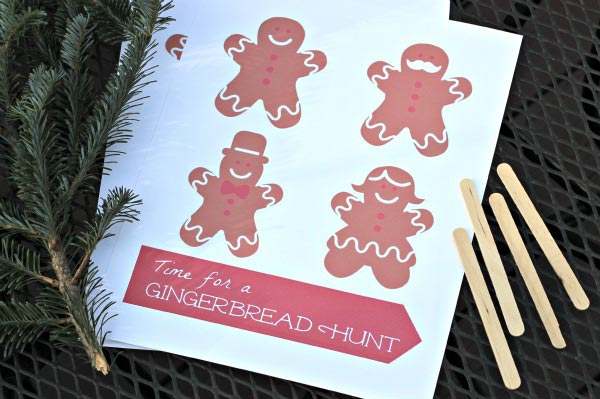 For the numbered pieces, you can either hide them all (#1 – #10) and have younger kids find each of them and then put them in order (great for some Christmas math skills!)
OR if you have quite a few kids, assign a number to each child and then make multiple copies of the pages to hide. So child #1 finds all the gingerbread men with a "1" on them, child 2 looks for the ones with a "2" and so on — this is the best for scout groups or class parties.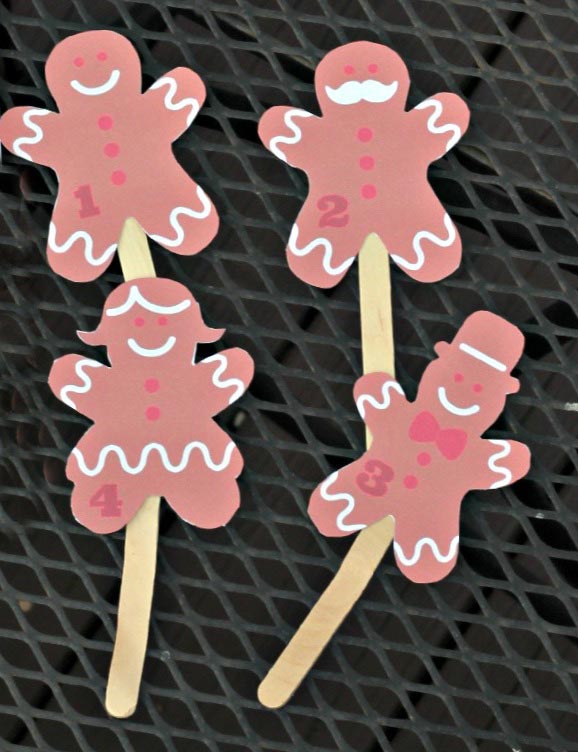 Choose & print which pieces you will use (we print them on white cardstock paper so they're sturdy), cut out the gingerbread people and tape them to craft sticks. This will make it easy to place them in different locations.
And yes, there is a gingerbread man with a 'stache 🙂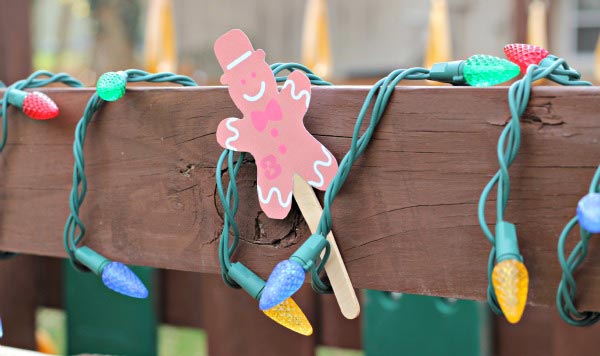 How to Play the Gingerbread Scavenger Hunt Game
Cut out the number of pieces you'll need for the game.
Hide the gingerbread people around your house or yard. If you use the numbered pieces, kids can look for them and put them into numerical order.
For younger kids, hide the pieces in easier locations and play the "hot/cold" game to help them as they search.
For older kids, hide each of the gingerbread person near an item that begins with the same letter — so if you choose "B", you can hide them near books, the bed, in the bathtub, etc. Then the kids have to brainstorm things in the house that begin with the letter in order to find all the people.
You can even have the kids play as teams if you're using them for a class party activity.
I love that this game can be played outside too! I hid a few gingerbread men in the Christmas decorations on the playset 🙂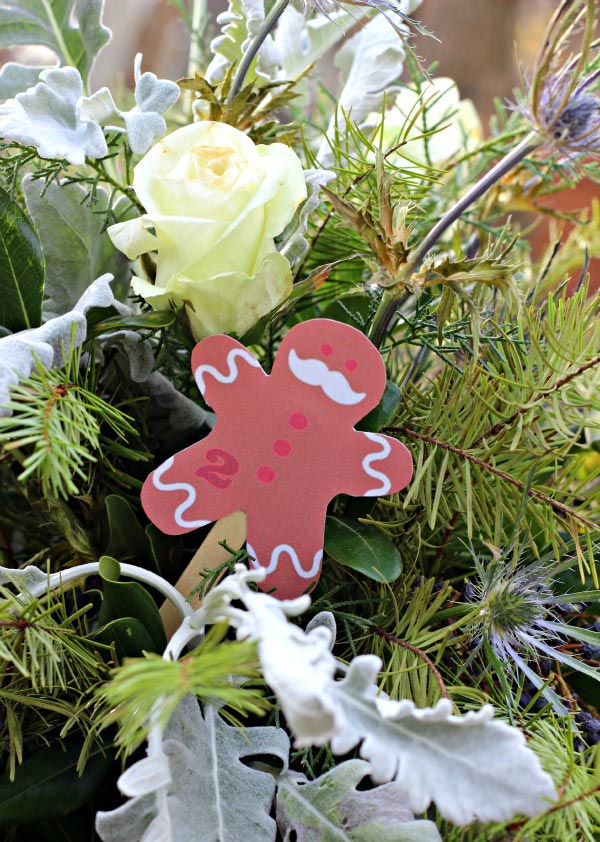 I thought I was so smart hiding one of ours in the Christmas flowers — I figured the kids probably didn't ever notice the flowers.
BUT that was the first one my daughter saw when she walked in the door after school.
"Mom? Why is there a gingerbread man in the flowers?"
Chalk up one for kids that pay attention to the details 🙂
Don't stress yourself out trying to hide these — it's kind of like an Easter egg hunt so anyplace around the house would be fun!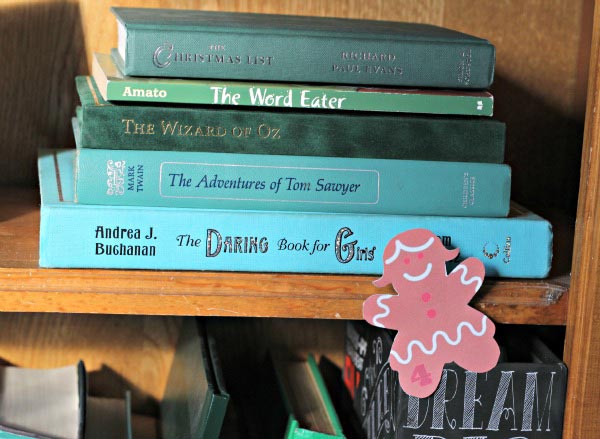 I tucked the gingerbread girl near one of our favorite books The Daring Book for Girls
(they have one for boys too:The Dangerous Book for Boys
— both make amazing Christmas gift ideas!) — I thought that was a good spot for her 😉
Print off the FREE GINGERBREAD HUNT CHRISTMAS GAME and decide if you want to use the plain or numbered pieces.
I like to have at least 4 gingerbread people per child for a good hunt!
I hope this Christmas game keeps the kids entertained so you can sneak off a wrap a few more packages before they notice!
Happy Holidays!
~ Jacquie
More Christmas Games:

12 Christmas Minute to Win It games
25 Printable Christmas Games & Activities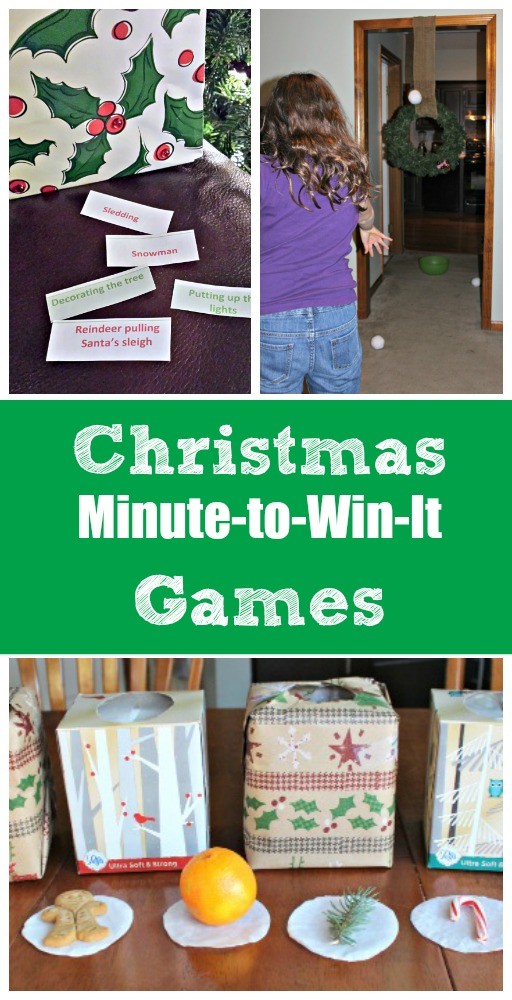 More Christmas Activities:
25 Ways to Slow Down & Enjoy the Holidays
100 Ideas for Your Advent Countdown
20 Great Stocking Stuffers for Kids