Kids will enjoy this easy Easter-themed science experiment as we find out — Can you dye brown eggs for Easter?
Thanks to my not-so-quick thinking last Easter, we were treated to an unexpected, yet fun science experiment.
During my grocery run the week before Easter, I had eggs on my list (of course 😉 Well, I guess EVERYONE who visited Target had eggs on their list too because when I got to the dairy department, there were only brown eggs left on the shelves.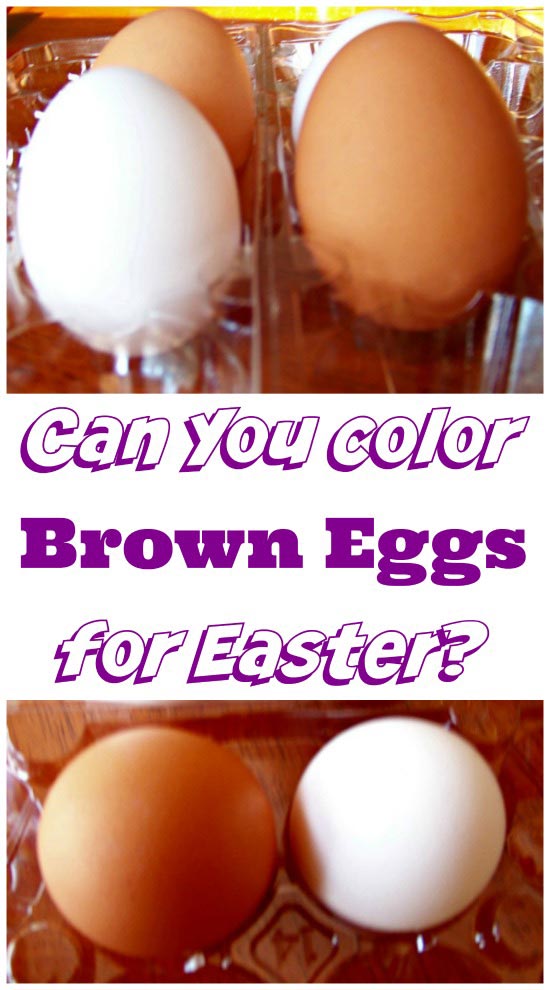 Can You Dye Brown Eggs for Easter?
Being the "get in and out quick" type of shopper I am, I scooped up a carton of brown eggs knowing that I had a few things I would be baking that week….
…. and not even thinking about the fact that we dye Easter eggs every year (duh!)
So, home I go and begin to unpack the groceries, when my daughter nearly falls over …
"Mom! The eggs are brown?!!!"
So I remind her that yes, eggs come in two colors — white & brown.
"But can we dye brown eggs for Easter?!"
Huh, I really had no idea — and thus our science experiment began ….
In addition to having an Easter Egg hunt (or two!) each year (grab your FREE set of egg hunt clues here!), we also enjoy dying eggs as one of our family traditions. However, this was our first ever attempt at dying brown eggs.
Luckily, we had a few white eggs in the fridge from the last shopping trip! This was perfect because we wanted to be able to compare how well the dying technique would work with both egg colors.
Below you'll find out what we used to dye our eggs, how to set this up as a mini-science project for your kids and also links to affiliate items we used for your convenience.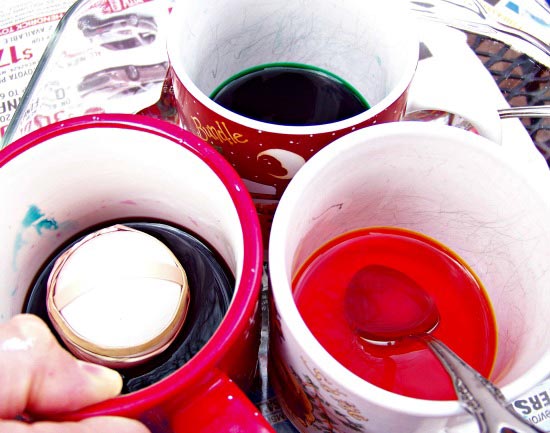 How to Color Brown Eggs with Food Coloring
We didn't use anything fancy for dying — just the regular food coloring mixed with water/vinegar. You'll find the mixture details on the food coloring box you buy. You can also try the Paas Egg Dye kits (since they include colored tablets made of powder instead of liquid – tends to be a little neater when setting up 😉
Here's a list of egg-dying supplies to have on hand:
hard boiled eggs!!! NOT fresh eggs (be sure they are boiled first)
food coloring OR an egg dying kit
white vinegar
a few cups or small bowls – one for each color you want to try (you'll mix the dye in these)
spoons to lift the eggs out of the cups
newspaper or an old towel (dye can stain fingers, clothes and tables to cover your space first!)
a pair of vinyl gloves (optional but wear them if you're worried about fingers being stained)
And for the record, we used chicken eggs. I know there are other types of eggs (duck, turkey, etc) so if you raise those types, you'll have to give the experiment a try and let us know how it works with different egg shells.
Let your kids choose which colors they'd like to try with their experiment. That's the fun of an experiment anyway — making predictions of how things will turn out!
My daughter chose two colors: a pinkish dye that she mixed herself and the light aqua blue that was listed on the food coloring box.
I decided to add in a dark green color (since I'm a nature gal 😉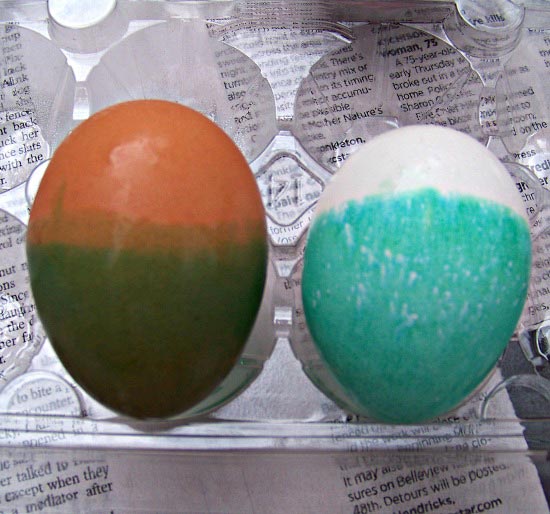 Easter Egg Dye Science Experiment
First attempt: We placed both eggs in the dark green dye for 3 minutes and let them sit.
Result: Once they were removed, you can see that the green dye DOES work on the brown egg!
I was actually a little surprised at this! I reall thought that the darker color dye would just be muted on a darker egg shell. Plus, I think the green dye looks more uniform on the brown egg vs. the white egg — you can see quite a few white spots showing through which I'm sure we could hide if we let it sit in the dye longer or put it in for a second dunk.
And I love the deeper green look on the brown egg 🙂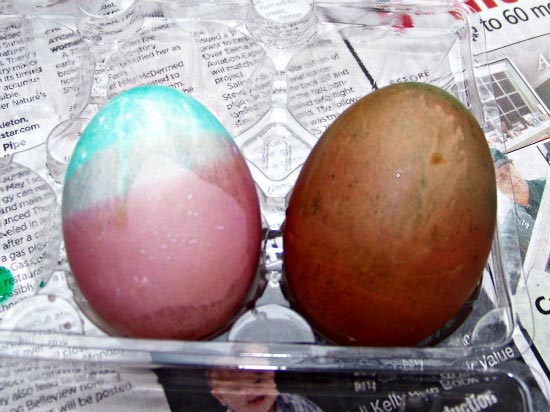 Second attempt: My daughter decided to dye the eggs with the light aqua on the top and the pinkish color on the bottom. Again, we left the eggs in the dye for about 3 minutes.
Result: Bleah!
Definately not the results we wanted 🙁
Neither color showed up well on the brown egg — just some light streaks of dull colored water. Even the white egg should be left in longer for the light aqua to show up better. The pinkish color shows up nicely but still with some white spots.
So, Can you Dye Brown Eggs using Food Coloring?
Yes, you can!
They may not look very spring-like in their color (I would suggest a dark green, deep red or midnight blue), but you can still enjoy an egg dying session with your kids!
You might also try experimenting with a mixture using more vinegar and food coloring to see if it results in a deeper color.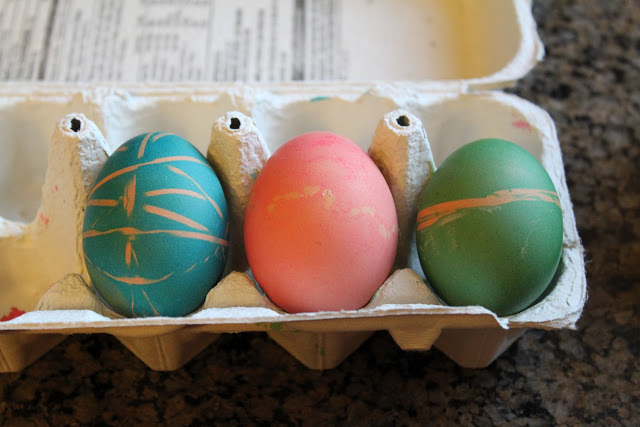 How to Dye Brown Eggs with a Paas Kit or Natural Dyes
My friend Kristen at Busy Kids, Happy Mom also ran into the issue of only having brown eggs but she used a Paas dye kit to color her brown eggs so be sure to pop over and see how pretty their eggs turned out!
And if you're looking to use natural dyes, be sure to visit My Pet Chicken for 10 natural dye options for brown eggs!
More Easter Activities for Kids:

Outdoor Easter Egg Scavenger Hunt with Printable Clues!
50 Fun Learning Items for the Easter Baskets
8 Classic Easter Stories for Kids